Pistachio Fluff (Watergate Salad)
This post may contain affiliate links, meaning that I may receive a commission at no cost to you if you use a link provided. All opinions shared are my own. You can review my full disclosure policy here.
Whether you call it Pistachio Fluff, Pistachio Salad, or Watergate Salad, this creamy green fruit salad with marshmallows whips up in just 5 minutes, with only 5 ingredients. A great make-ahead recipe for holidays and potlucks.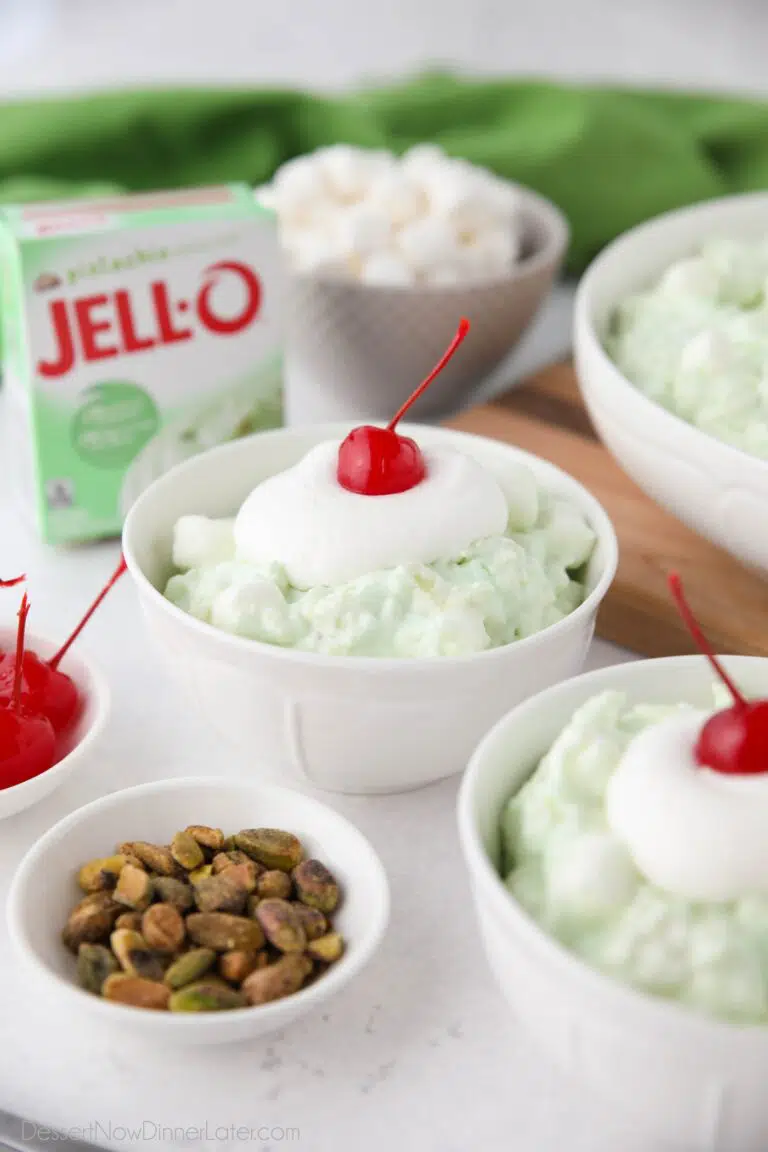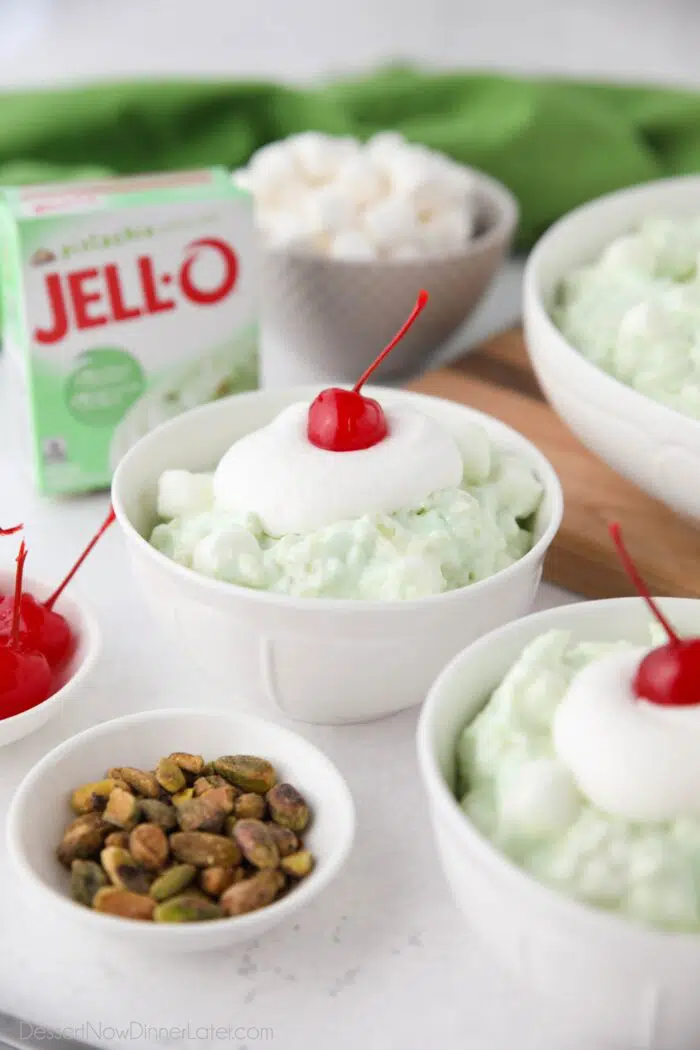 Pistachio Fluff (Watergate Salad)
This Pistachio Fluff is so nostalgic and well-known that almost everyone has their own favorite version and name for it.
Some people simply call it Pistachio Salad. Other names include: Watergate Salad, Pistachio Fruit Salad, Pistachio Dump Salad, or Pistachio Pudding Salad.
We can't forget Green Stuff, Green Fluff, and Green Goop.
Who knows?! There's probably even more names.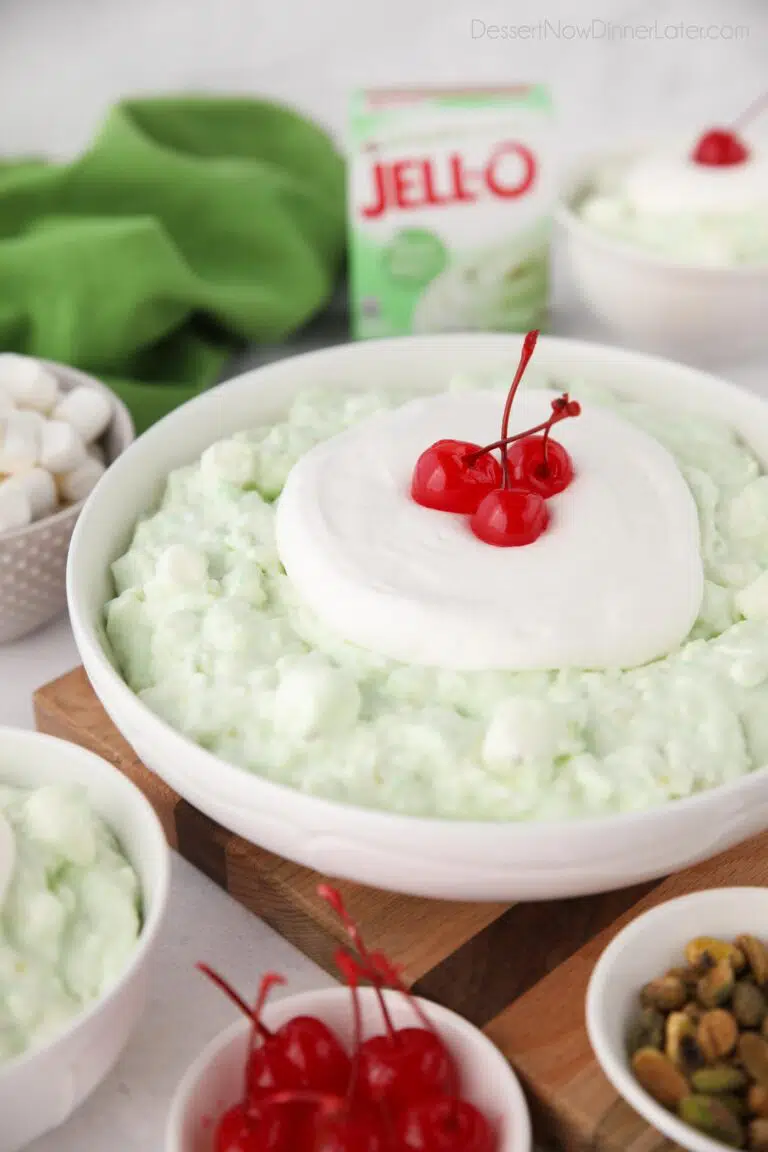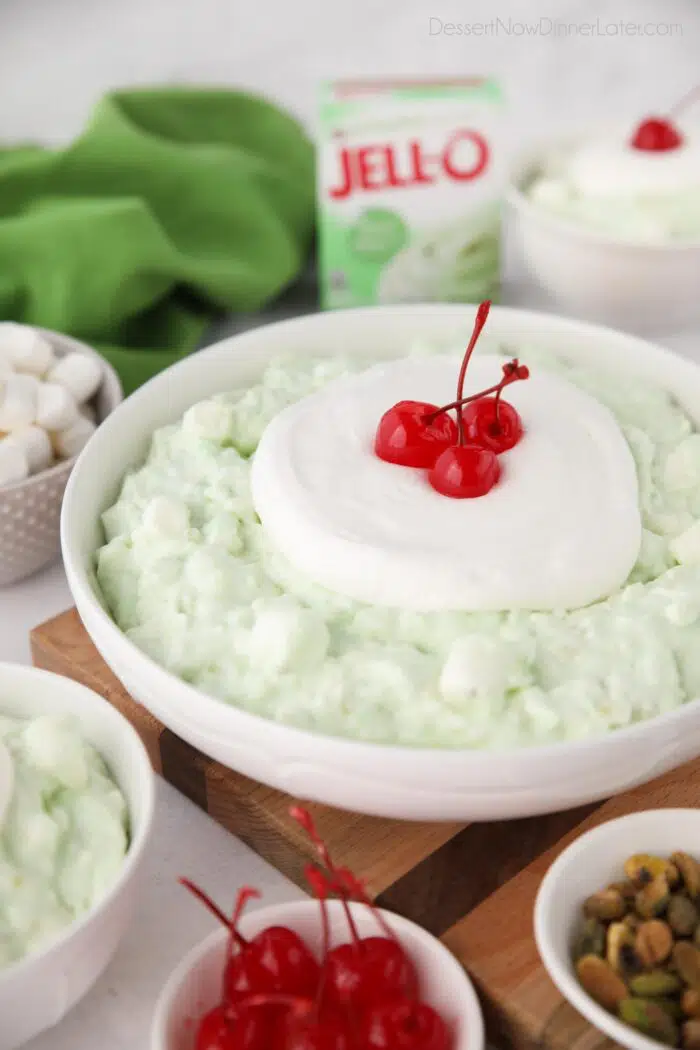 What is Pistachio Salad?
Pistachio Fluff salad is a no-bake dessert typically made with pistachio jello pudding mix, crushed pineapple, mini marshmallows, whipped topping (aka Cool Whip) and sometimes nuts.
This old-fashioned recipe possibly originated from Kraft foods in 1975. Back then it was simply pistachio pudding mix and whipped topping, but has since evolved to include fruit, marshmallows, and (sometimes) nuts.
MY variation, includes cottage cheese. It mellows out the sweetness, increases the volume, and adds a bit of protein. That almost makes it "healthy." Haha. (Don't knock it until you try it!)
If you like fruit with cottage cheese, you won't mind it in this pistachio fluff salad.
If you hate cottage cheese, just leave it out. Problem solved! I've got instructions for both ways.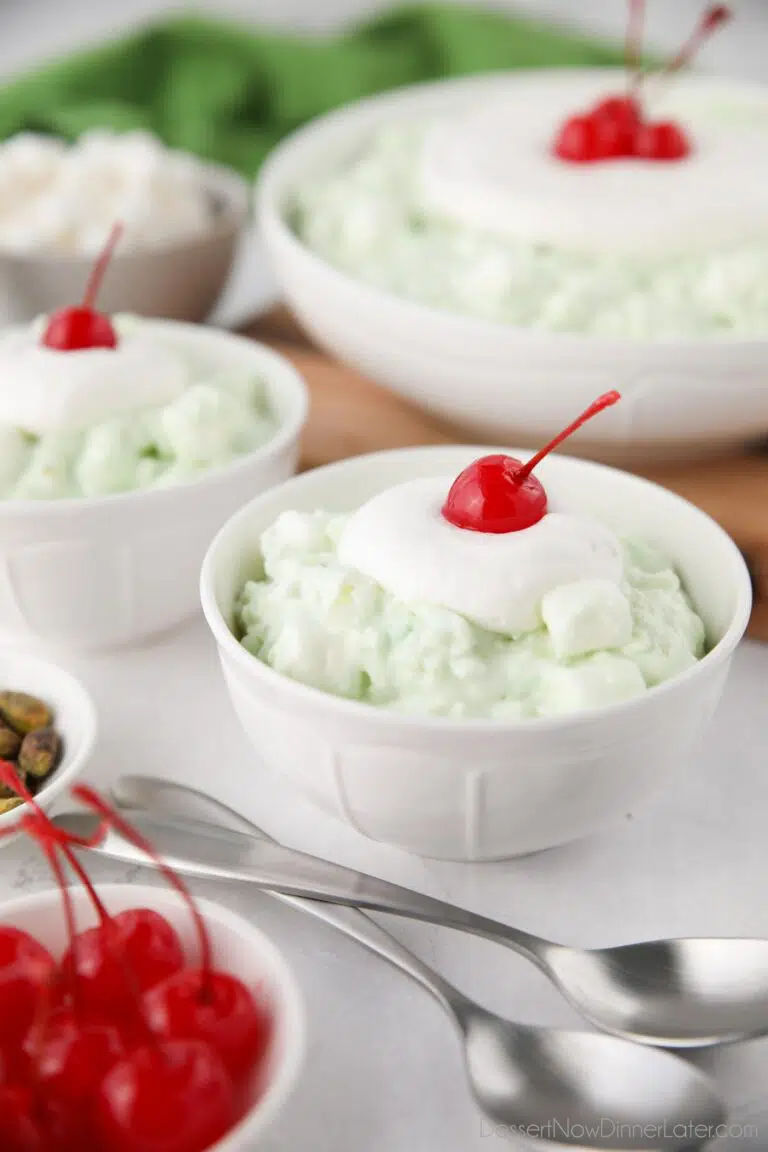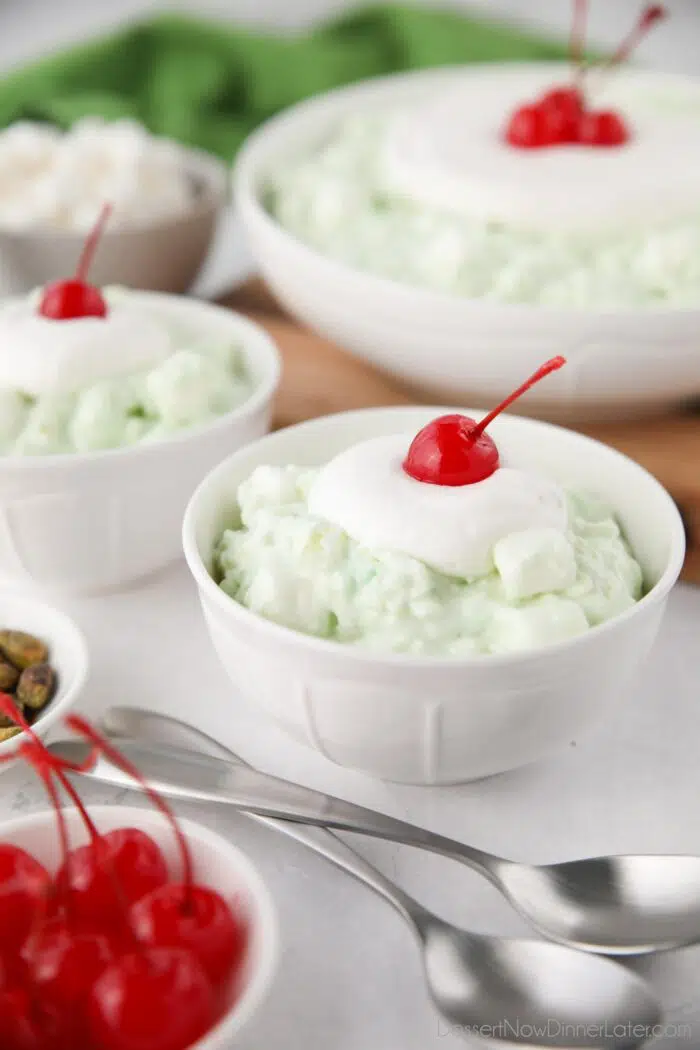 A No-Bake, Make-Ahead Dessert
The best thing about fluff recipes is that they are made in one bowl. They require no baking. You can make them ahead of time. And they feed a crowd, which makes them some of the easiest desserts you can make.
This type of fruit salad, or jello salad, is great for potlucks, barbecues, baby showers and parties.
The green color of this pistachio fluff also makes it a festive treat for holidays like St. Patrick's Day, Christmas, or Easter.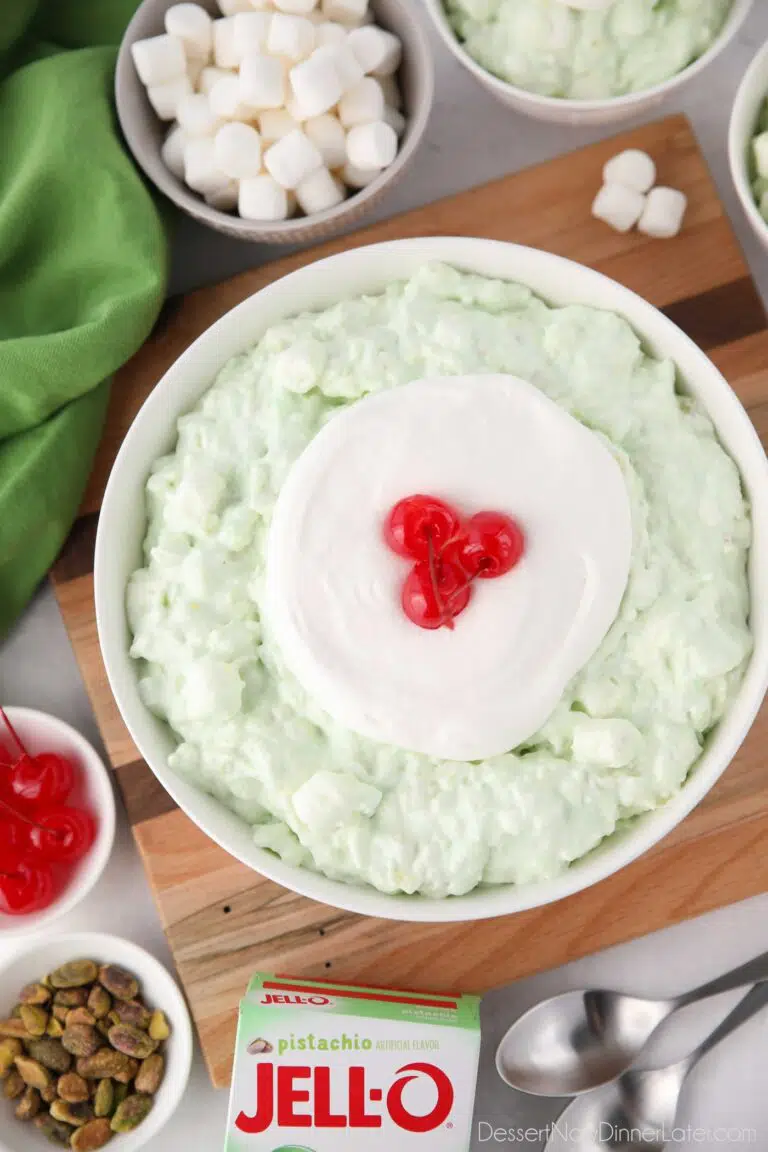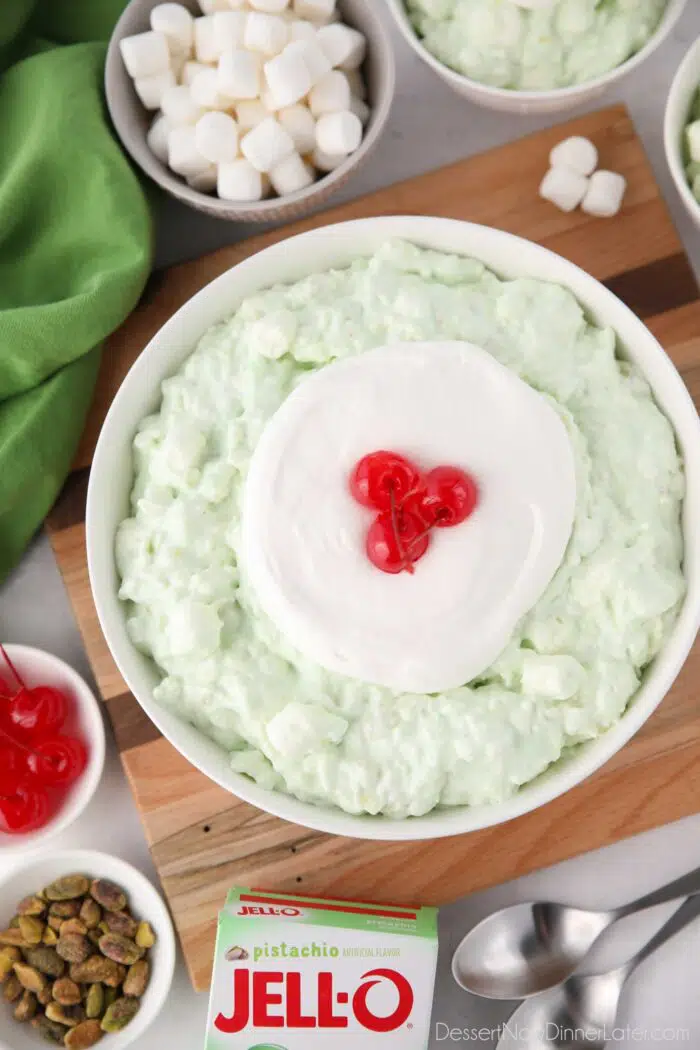 Ingredients
You only need five ingredients to make this Pistachio Fruit Salad.
Pistachio Instant Pudding Mix
Crushed Pineapple (drained, if using cottage cheese — OR — with the juices, if omitting the cottage cheese)
Mini Marshmallows
Whipped Topping (aka Cool Whip)
Cottage Cheese (Optional)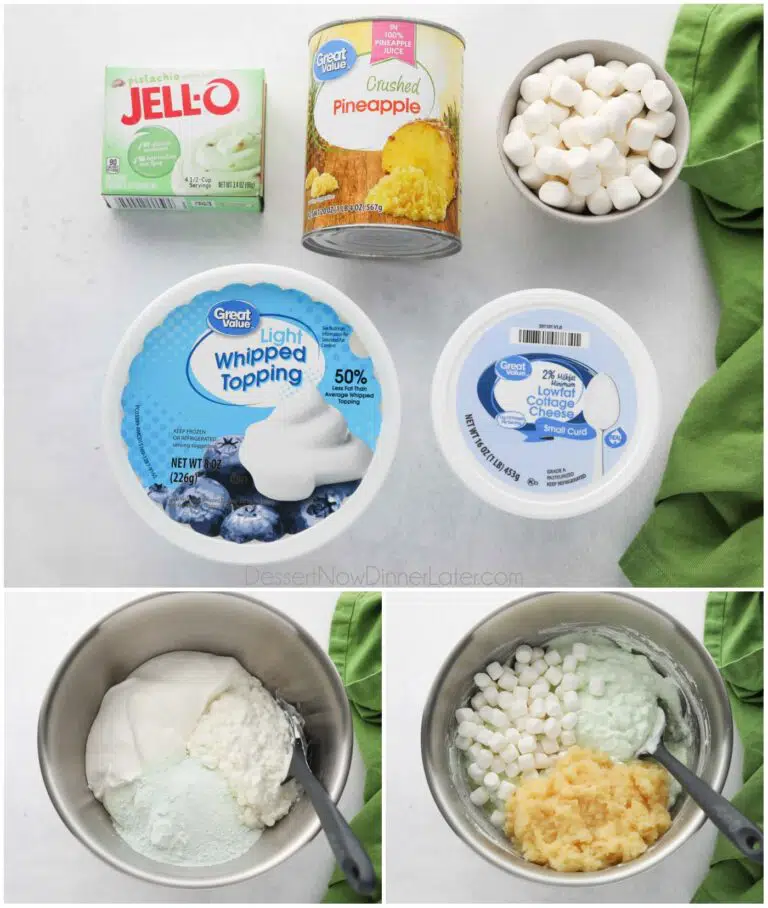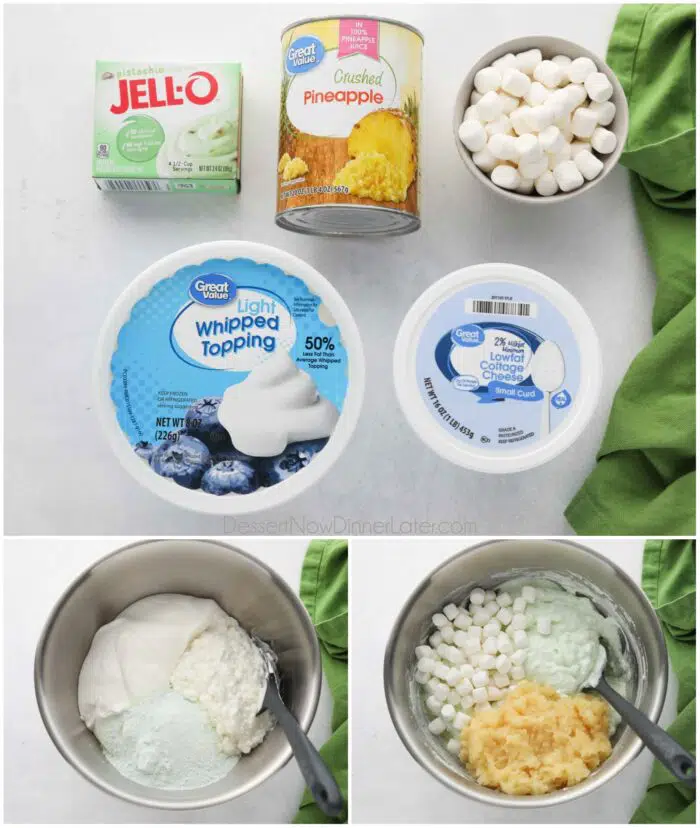 How to Make Pistachio Fluff
Combine the pudding mix with the whipped topping and cottage cheese.
Then fold in the crushed pineapple and mini marshmallows.
That's it! You can serve this pistachio fluff salad right away, but it is best after being chilled for 1 hour or so.
Chilling the pistachio fluff gives the pudding mix time to absorb into the other ingredients which makes it thick and fluffy. It is called "pistachio fluff" after all.
NOTE: If omitting the cottage cheese, mix the pudding with the crushed pineapple in its juices first. Then fold in the whipped topping and mini marshmallows.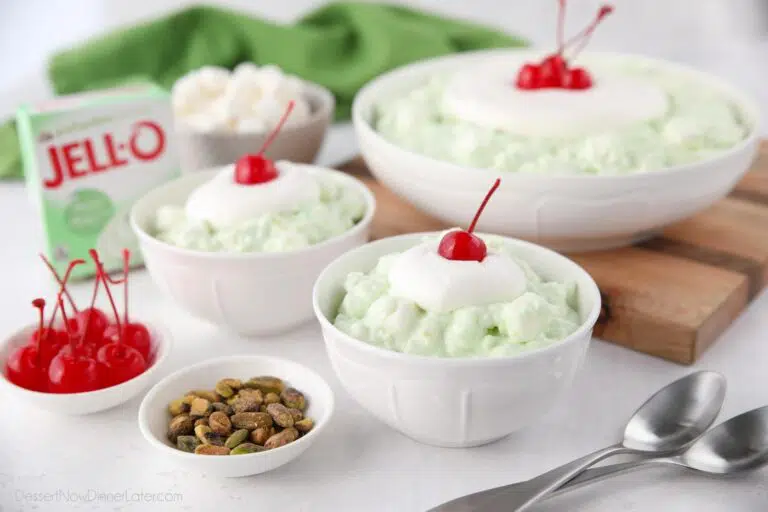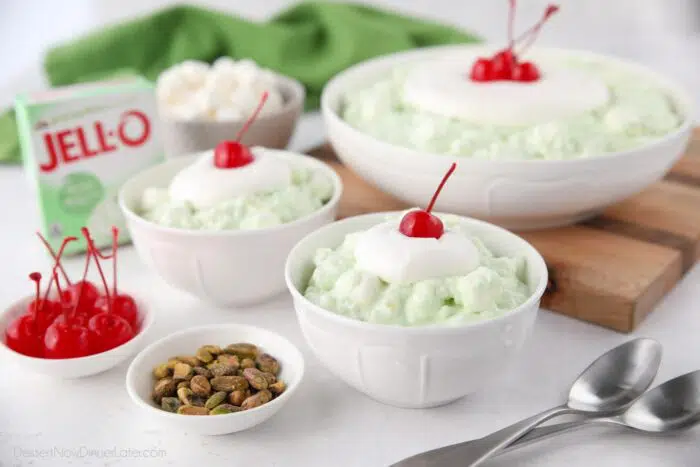 Optional Mix-Ins
Pistachio Salad is great with additional chopped pistachios or other nuts, like pecans. Sweetened coconut flakes are also a hit in these kinds of jello salads.
You can also substitute the crushed pineapple with fruit cocktail, mandarin oranges, or halved maraschino cherries.
This is a very versatile recipe. Feel free to make it your own.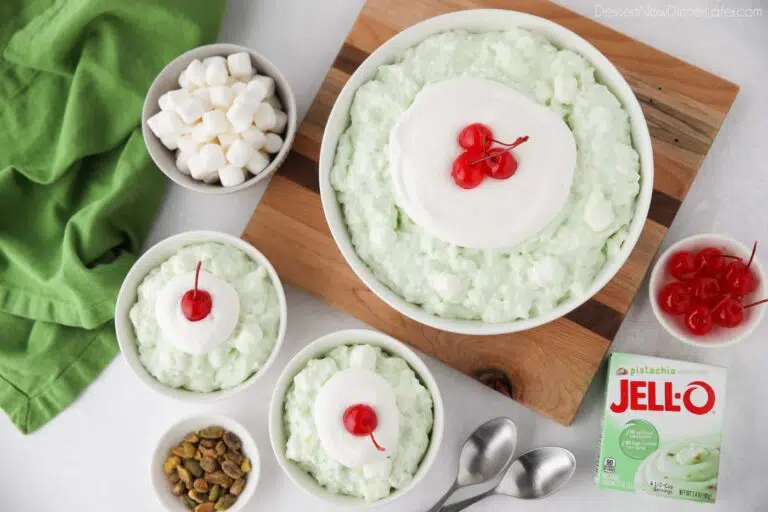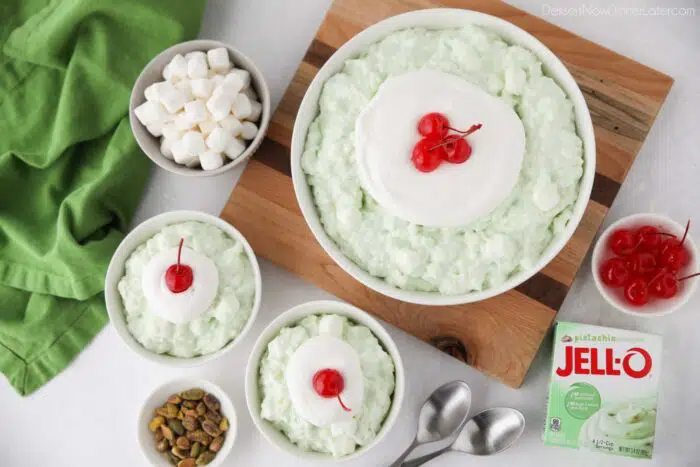 More Dessert Salads
If you like this recipe, you might also want to try these other dessert salads:
If You Make This Recipe, Please Rate and Review it in the Comments Below. THANKS!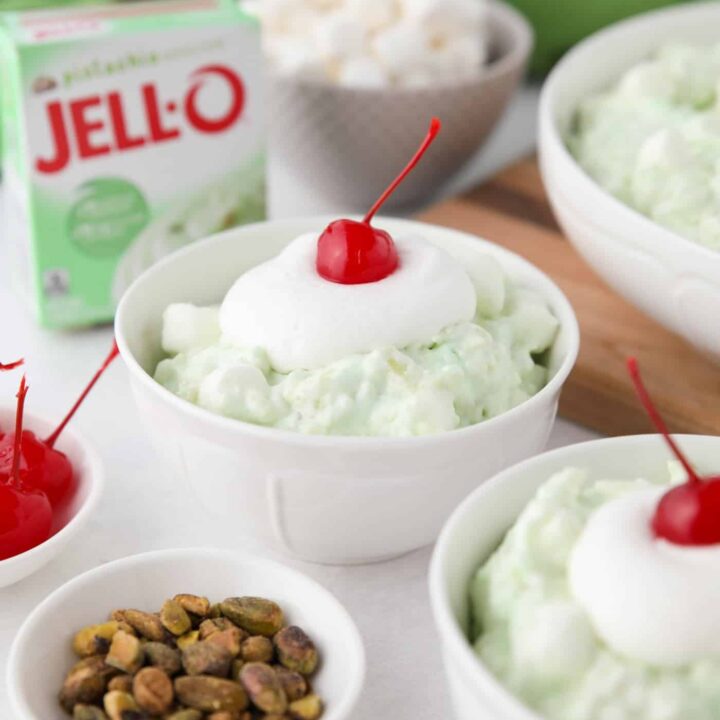 Pistachio Fluff
Prep Time: 5 minutes
Total Time: 5 minutes
Yield: 12 servings
A fluffy fruit salad with pudding mix and whipped topping. Perfect for potlucks!
Ingredients
1 small (3.4oz) box instant pistachio pudding mix
1 (8oz) tub light whipped topping, thawed
1 (16oz) tub small curd low-fat cottage cheese*
1 (20oz) can crushed pineapple, drained
1 cup mini marshmallows
Instructions
In a large bowl, combine the pudding mix with the whipped topping and cottage cheese.
Fold in the drained crushed pineapple and mini marshmallows.
Chill for 1-2 hours for a fluffier texture, or serve immediately. Store in an airtight container in the refrigerator up to 7 days.
Notes
Makes about 6 cups, or twelve (1/2 cup) servings.
To make without cottage cheese: Do NOT drain pineapple. Mix the pudding with the crushed pineapple in its juices first. Then fold in the whipped topping and mini marshmallows.
Optional Mix-ins: Chopped Nuts (pistachios or pecans), Sweetened Coconut Flakes, Mandarin Oranges, Fruit Cocktail, or halved Maraschino Cherries.
Recommended Products
As an Amazon Associate and member of other affiliate programs, I earn from qualifying purchases.
Nutrition Information:
Yield: 12
Serving Size: 1
Amount Per Serving:
Calories: 144
Total Fat: 3g
Saturated Fat: 2g
Trans Fat: 0g
Unsaturated Fat: 0g
Cholesterol: 5mg
Sodium: 245mg
Carbohydrates: 25g
Fiber: 0g
Sugar: 17g
Protein: 4g
This data was provided and calculated by Nutritionix, and is an estimation only.