Coconut Flour Brownies
This post may contain affiliate links, meaning that I may receive a commission at no cost to you if you use a link provided. All opinions shared are my own. You can review my full disclosure policy here.
These gluten-free brownies are made with coconut flour for a delicious wheat-free treat!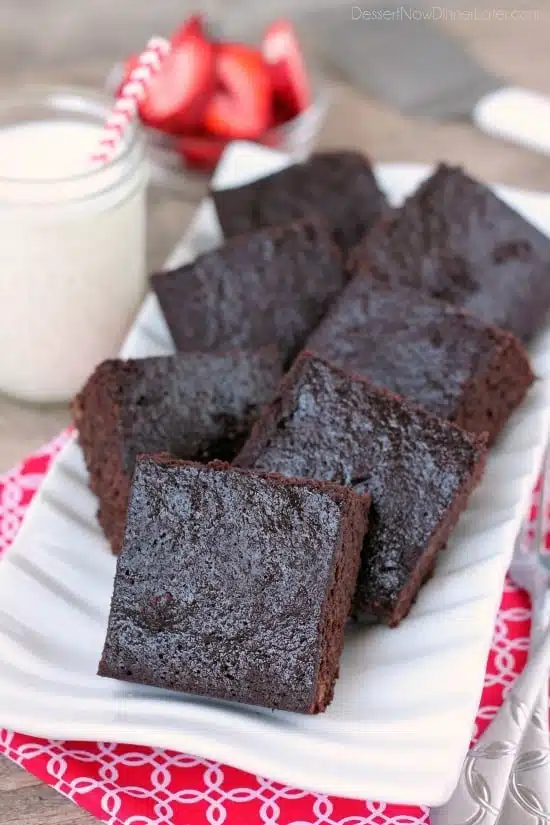 I've been super intimidated about making recipes for special diets. Our family is lucky enough that we don't "have" to eat gluten, dairy, nut, or allergy free, but I want to try dabbling in some of those kinds of recipes for those of you who do have special diets. It will help me understand better how to make recommendations on my other recipes as well.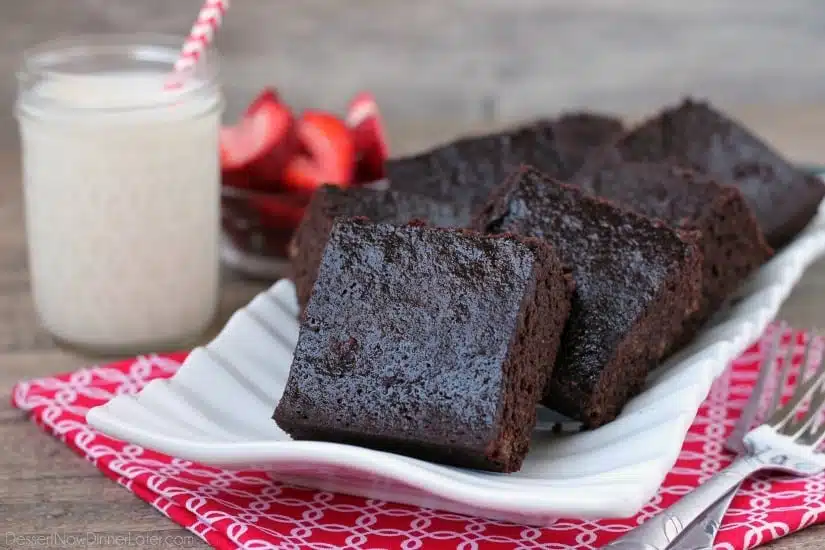 So today, I'm starting with a gluten-free recipe for a classic dessert: brownies! These coconut flour brownies are almost cake-like in texture, but they are still good. I used coconut sugar too, which was another first for me.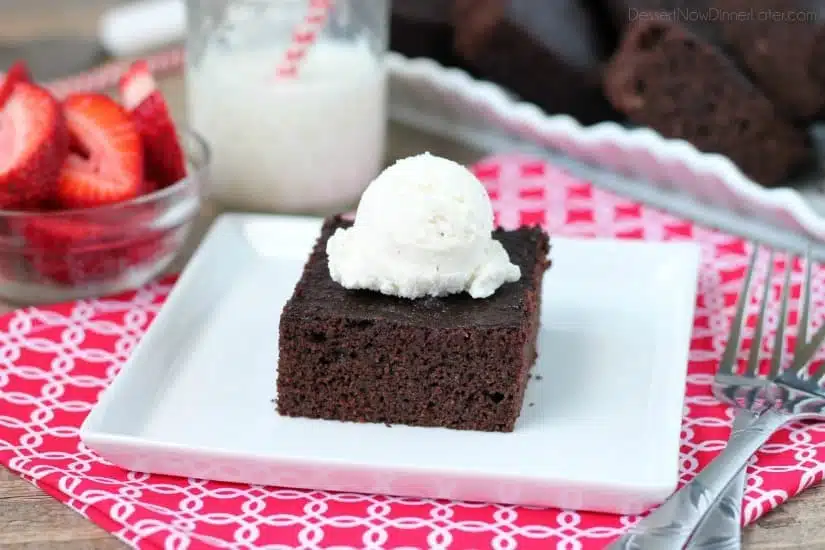 It kind of made me giddy when I whipped up these unfamiliar ingredients and it magically turned into a brownie. At first, I had no idea that you use very little coconut flour compared to white flour (1/4 cup coconut flour for every 1 cup of white flour) and a lot more eggs (about 1 egg per 1-ounce of coconut flour). There is no leavening in this recipe besides the eggs, but it totally works! I'm no food scientist, so this stuff is really wow-ing me.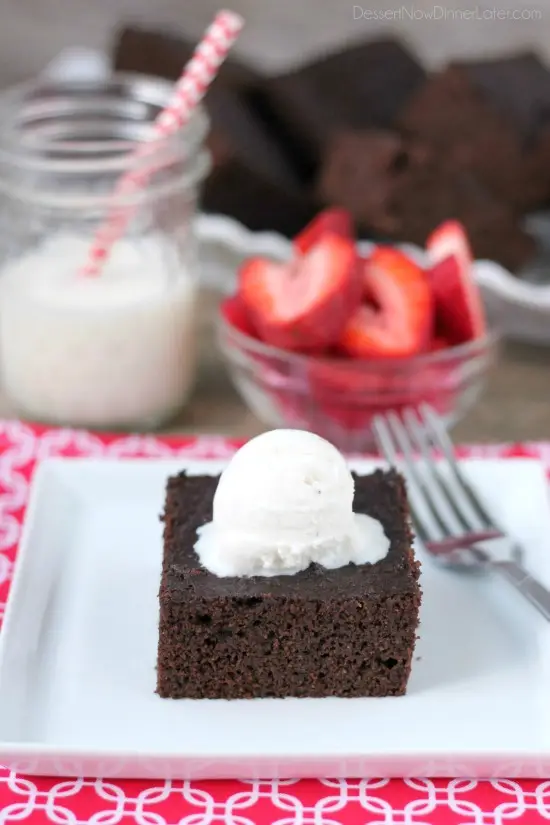 We enjoyed our coconut flour brownies with a scoop of ice cream and freshly sliced strawberries. I think a quick chocolate frosting on top would be phenomenal too! We even blended some up into a milkshake! I love brownie milkshakes! Yum!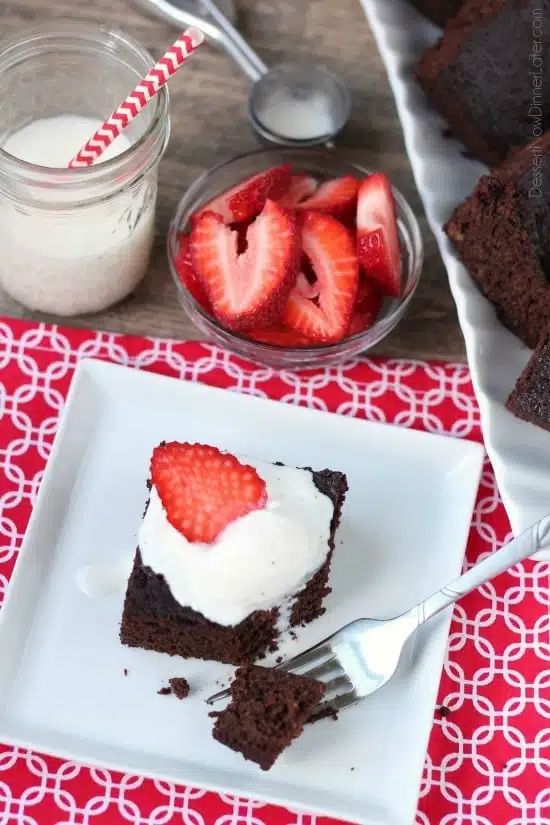 If you have any other suggestions for what to try with coconut flour, I bought a lot from the bulk section of Winco, so ideas are definitely welcomed! Tell me what you've made with coconut flour in the comments below!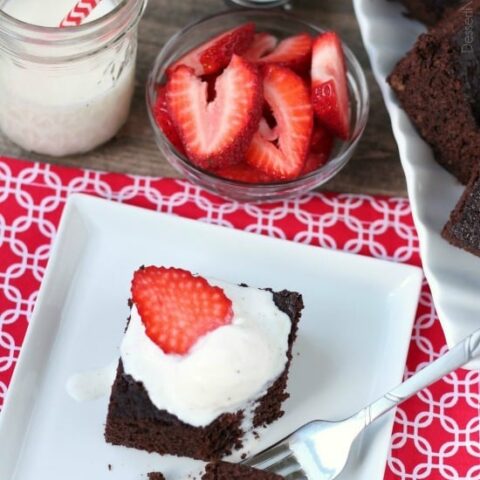 Coconut Flour Brownies
Ingredients
1/3 cup coconut oil
1/2 cup cocoa powder
6 large eggs
1 cup coconut sugar
1/4 cup milk, any variety
1/4 tsp salt
1/2 cup coconut flour
Instructions
Heat oven to 350 degrees Fahrenheit.
Melt the coconut oil in a small saucepan with the cocoa powder. Remove from heat. Cool slightly.
In a large bowl, whisk together the eggs, coconut sugar, milk, and salt.
Briskly whisk in the cocoa mixture. Whisk in the coconut flour until combined.
Pour batter into a greased 8x8-inch square baking dish.
Bake for 25 to 30 minutes until a toothpick comes out clean in the center.
Notes
*One reader suggests using ½ cup of milk and only 4 eggs.
Recipe slightly altered from
Our Small Hours
Nutrition Information:
Yield: 9
Amount Per Serving:
Unsaturated Fat: 0g
Recipe added 5/26/16. Also seen on Super Healthy Kids.