Raspberry Chocolate Chip Cookies + Video
This post may contain affiliate links, meaning that I may receive a commission at no cost to you if you use a link provided. All opinions shared are my own. You can review my full disclosure policy here.
Raspberry Chocolate Chip Cookies takes your favorite chewy chocolate chip cookies to the next level with the addition of sweet and tangy fresh raspberries.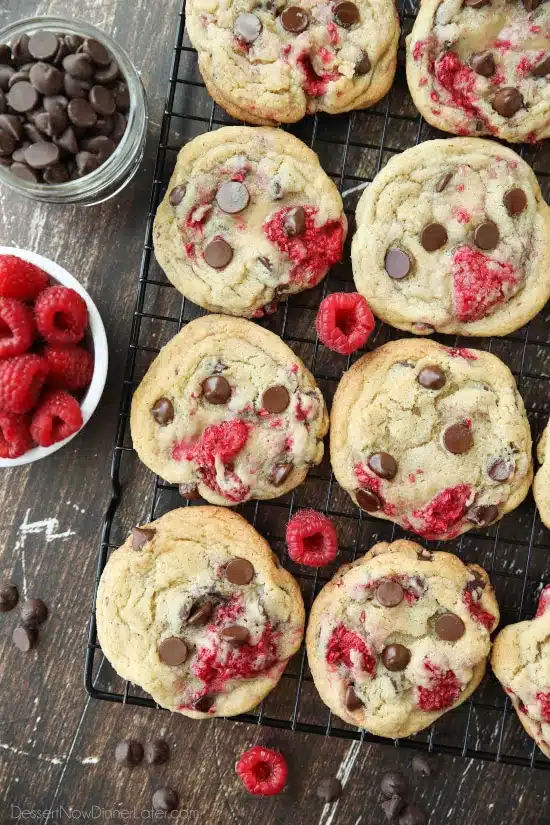 We all know that fruit and chocolate go well together. Fresh summer raspberries add a pop of color and flavor to these traditional chocolate chip cookies. The tartness from the berries really brightens up the richness of the chocolate in an easy to eat treat.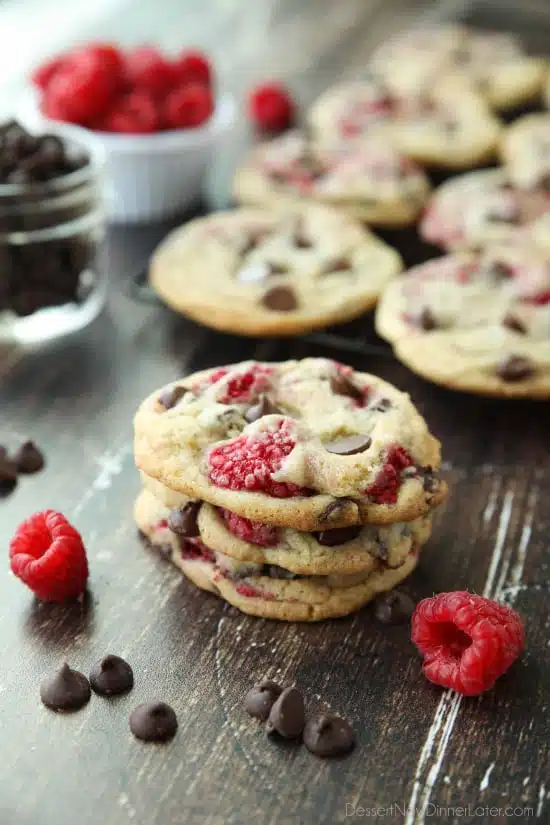 Fresh or Frozen Raspberries?
Adding fresh fruit to these raspberry chocolate chip cookies can be a little bit tricky. So this is what I learned from my recipe testing.
Use fresh raspberries that are still firm, not soggy. Fresh raspberries that have been frozen at home overnight on a sheet tray will work fine but DO NOT use store-bought pre-frozen fruit. The fruit in the freezer section of the store tends to release more liquid and has a duller color. (During my recipe testing, the frozen raspberries turned my cookies grey. Not very appetizing!)
Toss the fruit in 1-2 tsp of the flour mixture from the cookie recipe before gently folding them into the dough. You want just enough to lightly dust the outside of the berries. This helps keep the raspberries from bleeding into the cookies.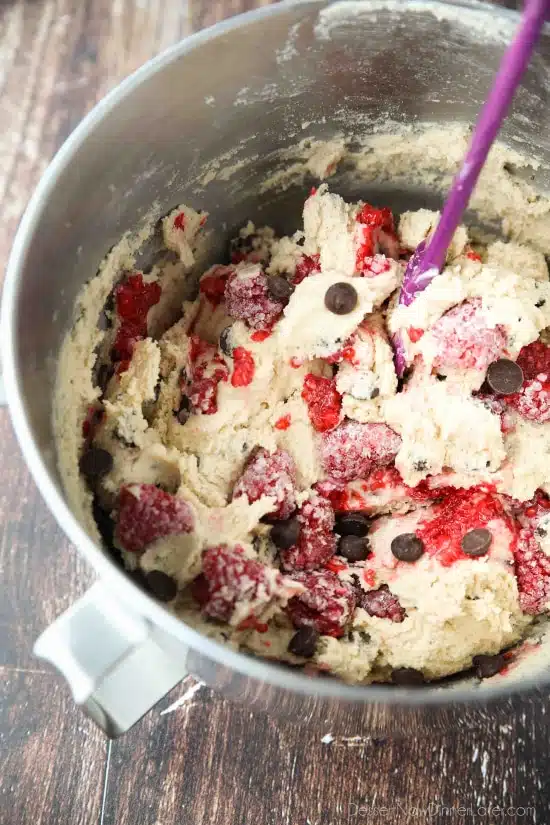 Gently fold the raspberries into the dough. Think about creating layers of dough, fruit, dough, fruit, and barely fold it with a spatula 2-3 times. I will flatten the dough, place some raspberries on top, then lift and fold the dough over the top; then add more raspberries and fold the dough once or twice more. (Don't press/squish the dough down on top of the berries. Keep it light.) The raspberries will continue to incorporate into the dough as you scoop the cookie dough balls. If you over-mix the raspberries, you will end up with a lot more bleeding and spreading, instead of bites with big chunks of fruit.
Keep the unbaked dough refrigerated. I scoop all of my cookie dough at once so it won't have the chance to bleed as much. Then store the dough balls that are waiting to be baked in the refrigerator. This helps prevent the berries from releasing more juices into the dough before baking.
Bake the cookies longer than you usually would. All that added moisture from the fruit is going to make the dough more wet. Bake the cookies until nice and golden brown on the bottom and edges. The centers should be matte, not shiny. (You can still achieve a soft, chewy cookie without under-baking it.)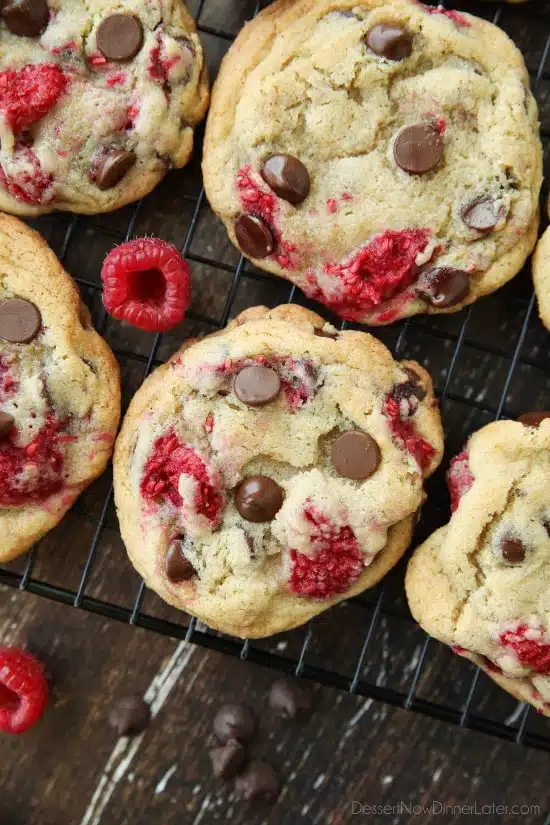 Raspberry Chocolate Chip Cookies
Classic chocolate chip cookies are great and all, but adding fresh raspberries makes these cookies have a delicious summer flair. I just can't say no to raspberries and chocolate. Definitely give these a try!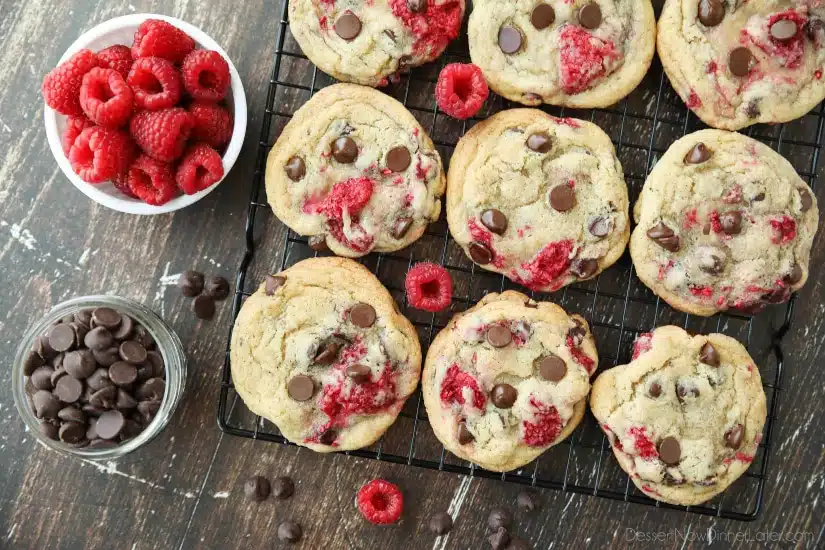 Love chocolate chip cookies? I have so many more variations to choose from. Like Soft Baked, Peanut Butter, Mint, Pumpkin, Almond Coconut, or sweet and salty Caramel Pretzel. It's so hard to pick a favorite!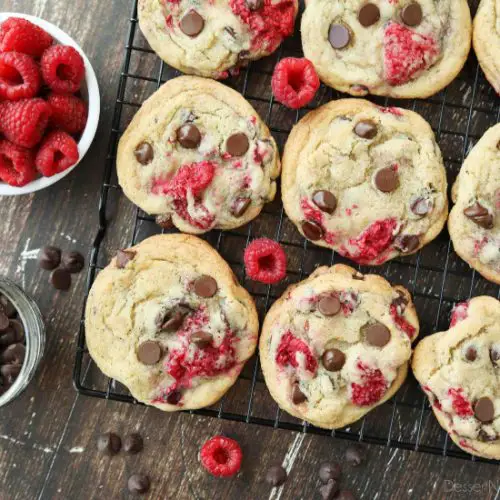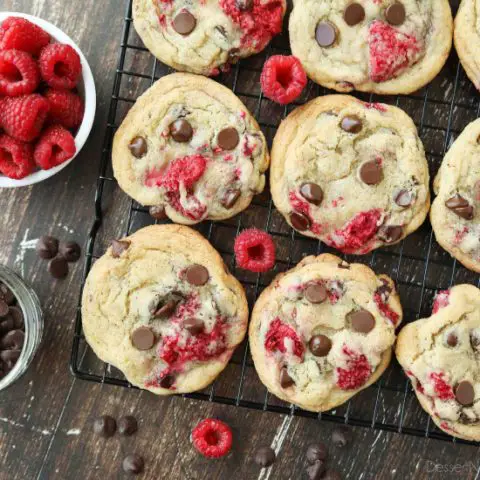 Raspberry Chocolate Chip Cookies
Prep Time: 10 minutes
Cook Time: 13 minutes
Total Time: 23 minutes
Yield: 30 cookies (approx.)
Chewy chocolate chip cookies are taken to the next level with the addition of sweet and tangy fresh raspberries.
Ingredients
1 cup (2 sticks) butter, room temperature
3/4 cup granulated sugar
3/4 cup brown sugar, packed
2 large eggs
2 tsp vanilla extract
3 cups all-purpose flour
3/4 tsp salt
3/4 tsp baking soda
1 cup semi-sweet chocolate chips
1 cup fresh raspberries
Instructions
Preheat oven to 350 degrees Fahrenheit.
In the bowl of an electric mixer with the paddle attachment, cream the butter with the sugars. Add the eggs and vanilla. Mix and scrape bowl.
In a large bowl whisk together the flour, salt, and baking soda.
Rinse raspberries, drain excess water, then dry berries in a salad spinner or on a paper towel. Gently toss with 1-2 tsp of the flour mixture. Just enough to lightly coat the berries. Set aside.
Add the flour mixture to the butter mixture and mix until just combined. Fold in chocolate chips.
Then gently fold in the raspberries. TIP: Flatten dough and place half of the raspberries in the center. Fold sides of the cookie dough up and over the berries without pressing down and squishing the fruit. Add the remaining berries and fold 2 more times cutting through the center of the dough like an "X". Do not over-mix! The raspberries will distribute more as you scoop.
Scoop cookie dough balls (with a #30 scoop; about 2 Tbsp) onto parchment or silicone lined baking sheets, spaced a couple inches apart.
Bake at 350˚F for 12-13 minutes or until the edges and bottom are brown and the centers (especially any dough near the fruit) is matte, not shiny (raw). ***Scoop all dough immediately and keep extra cookie dough balls refrigerated on a cookie sheet until ready to go in the oven.
Nutrition Information:
Yield: 30
Serving Size: 1
Amount Per Serving:
Calories: 118
Total Fat: 2g
Saturated Fat: 1g
Trans Fat: 0g
Unsaturated Fat: 1g
Cholesterol: 12mg
Sodium: 97mg
Carbohydrates: 23g
Fiber: 1g
Sugar: 13g
Protein: 2g
This data was provided and calculated by Nutritionix, and is an estimation only.