Soft Baked Chocolate Chip Cookies
This post may contain affiliate links, meaning that I may receive a commission at no cost to you if you use a link provided. All opinions shared are my own. You can review my full disclosure policy here.
These Soft Baked Chocolate Chip Cookies include a special ingredient to make them perfectly thick, chewy, and soft! Plus tips and techniques for baking the best chocolate chip cookies!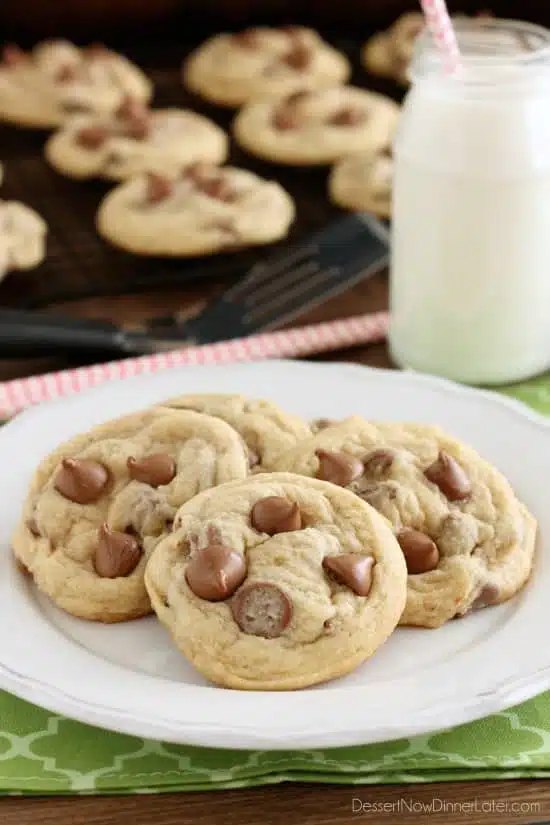 I can't believe I have been blogging for 3 1/2 years and I have not shared a classic chocolate chip cookie recipe with you! This recipe has a special ingredient in it, and I am going share with you my tricks to get gorgeous, thick, soft cookies!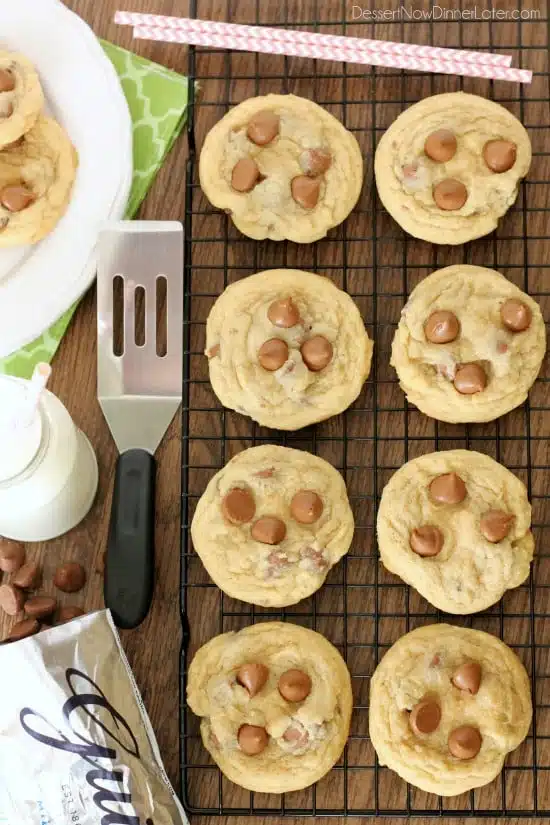 First things, first. Use quality ingredients! I ALWAYS use Guittard Chocolate Chips. The milk chocolate variety are bigger than the average chocolate chip and are MELT IN YOUR MOUTH DELICIOUS! Semi-sweet are great too! The reason why I love Guittard is because they don't put wax fillers in their chocolate. It's high-quality, legit chocolate, and you can taste the difference! I actually keep a bag of Guittard Milk Chocolate Chips in my pantry to snack on during those chocolate cravings. 😉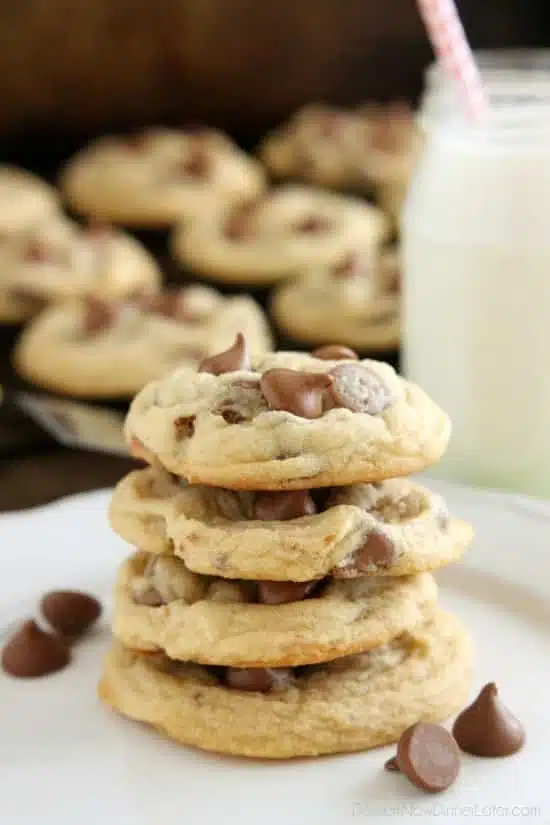 Besides chocolate, let's talk about butter. I had price matched some butter at Walmart a while back and used some of the Great Value brand in the first batch I made for this post. Well, they turned out quite yellow and they spread out more than I had hoped. I made them again with Land O Lakes Butter and 1/4 cup more flour to help the spreading and I got these gorgeous, light cookies. It definitely pays off to pay a little more for a high quality butter! Check out my instagram post to see the difference! And while we are on the subject of butter…
UNSALTED BUTTER vs SALTED BUTTER – What's the difference? Purely the salt content (and shelf life of the butter). I was told in culinary school to ALWAYS use unsalted butter so you can control the amount of salt that goes in. Each brand of butter has different amounts of salt, so it's hard to adjust recipes accurately. If you are using salted butter, you should probably consider halving the amount of salt called for in the recipe, or omit any additional salt completely. Salted butter does last longer (because salt is a preservative), but butter freezes really well. We actually use unsalted for baking, and salted to spread on bread/rolls. It's up to you what you choose to do, but salted butter definitely effects the flavors more, so I highly recommend using unsalted.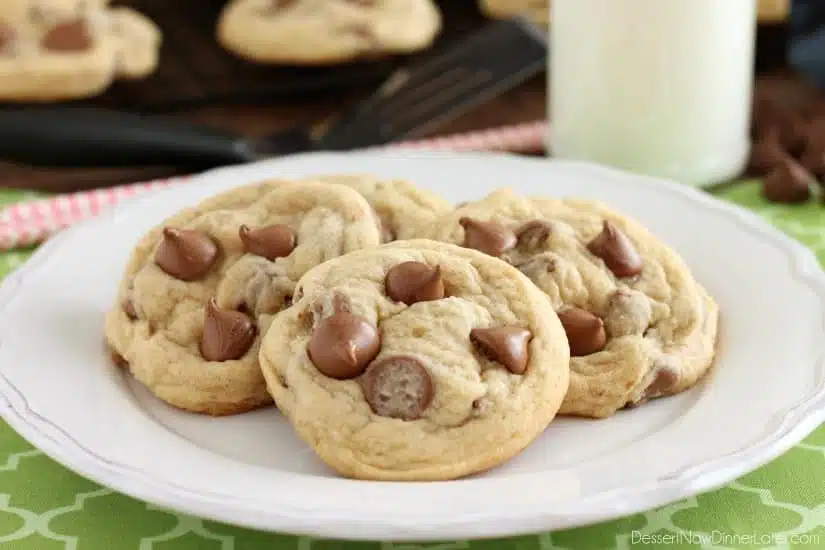 This chocolate chip cookie recipe requires NO REFRIGERATION. I am impatient and hate to wait, so you will rarely get a cookie recipe on my blog that makes you refrigerate the dough. My tricks to get a cookie that doesn't spread:
– Use a cookie scoop. If you use your hands to roll the dough into balls, you are warming up the butter, which will make your cookies spread further. Use a cookie scoop to put the dough balls directly on the baking sheet without warming it with your hands. I used a #30 cookie scoop for the medium/large cookies pictured in this post. It's about 2 Tablespoons worth of cookie dough. If I want a smaller cookie, I use my #50 cookie scoop. It's about 1 Tablespoon worth of cookie dough. If you are at the store, and trying to figure out what size a scoop is, look at the inside of the scoop on the part that pushes the dough out to find the number. Most scoops are engraved with a number and it's totally weird, but the larger the number, the smaller the scoop and vice versa.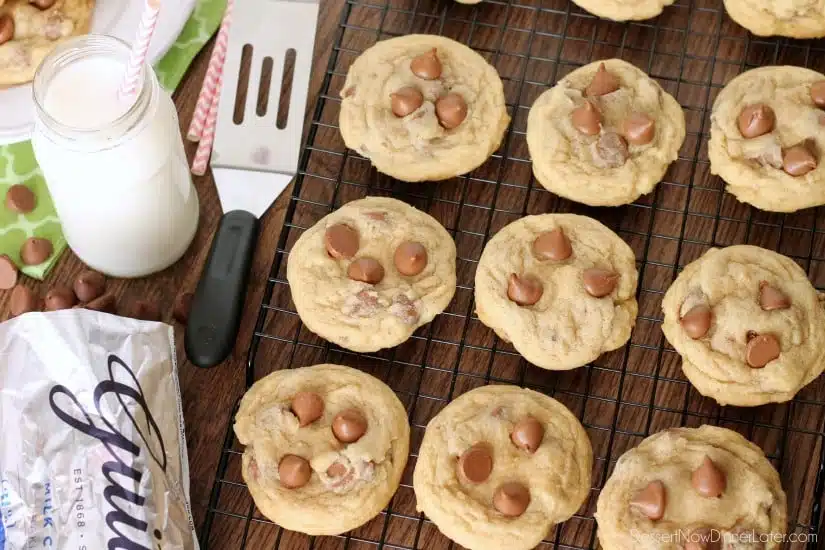 – Use a silicone baking mat and half sheet pans. I have 4 silicone baking mats and I use them for almost everything I bake on a tray! Cookies slide right off and don't spread as badly as they do using a baking sheet greased with cooking spray. Parchment paper works fine, but I like to be able to re-use my mats and not throw my money away with the paper. They wash easily with soap and water. The half sheet pans are perfect for a dozen cookies and you can use them for cake rolls and other things too.
– ALWAYS do a test cookie first! There are a whole myriad of factors (your altitude, the weather, your oven, etc.) that can effect any good recipe from turning out well. I always bake one cookie first, right in the center of the tray, to see how it's going to do. If it spreads and flattens, I will add 1/4 cup more flour to the batch and do a second test cookie. If it's perfect, I start scooping and baking the rest of the dough!
– Bake the cookies until just set, remove the tray from the oven, and let them rest on the warm pan for a few minutes before moving them over to a cooking rack. This carry over cooking during the resting time helps the cookie finish setting up without being over-baked.
– Allow the cookie sheet to cool before re-loading it with cookie dough balls. Same concept as rolling the balls with your hands. Warm baking trays can start melting the butter in your cookies before they go in the oven, resulting in flatter cookies. Keep the dough in a cooler area of the kitchen (or in the refrigerator if it's especially hot, like in the summer-time) and scoop the cookies onto the tray right before you bake them.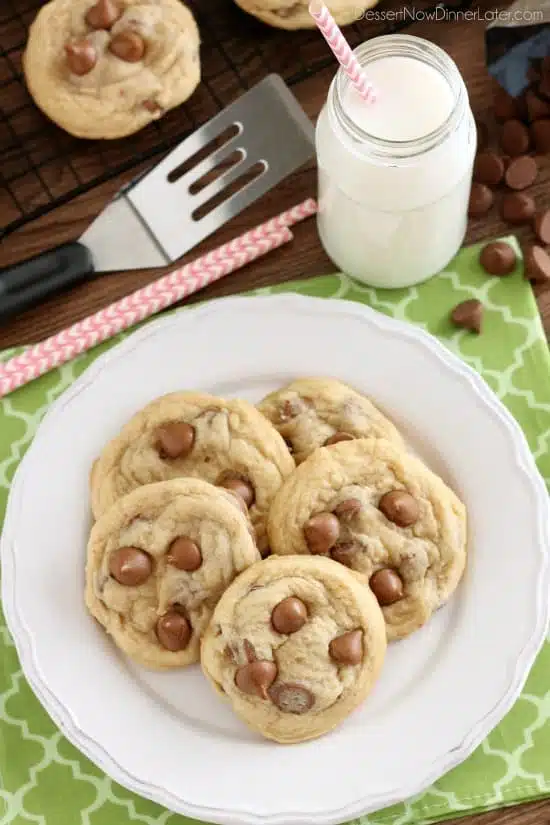 Last but not least, let's talk about the secret ingredient in these cookies. CORNSTARCH! It's a tenderizer, so it helps make these cookies soft and chewy. Have you ever had a meltaway cookie? They're made with cornstarch, so they melt-away in your mouth. Same idea, but just enough cornstarch is added to produce the tenderness needed to make these soft baked chocolate chip cookies! I hope you learned something new today! Now get to baking!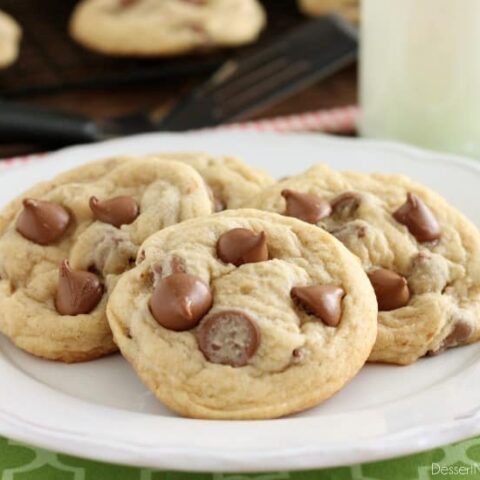 Soft Baked Chocolate Chip Cookies
Prep Time: 10 minutes
Cook Time: 10 minutes
Total Time: 20 minutes
Yield: 2 dozen+ medium/large cookies (about 26)
These Soft Baked Chocolate Chip Cookies include a special ingredient to make them perfectly thick, chewy, and soft! Read the whole post for tips and techniques for baking the best chocolate chip cookies!
Ingredients
1 cup (2 sticks) unsalted butter, room temperature
1/2 cup brown sugar
1/2 cup granulated sugar
2 large eggs
1 tsp pure vanilla
2 1/2 to 2 3/4 cup all-purpose flour (start with less, do 1 test cookie, and add more if needed)
1 tsp baking soda
1 tsp salt
1 Tbsp cornstarch
1 (11-12oz) bag Guittard Milk Chocolate Chips
Instructions
Cream the butter and sugars together in a stand mixer with the paddle attachment.
Add the eggs and vanilla. Mix well, then scrape the bowl.
Combine the flour, baking soda, salt, and cornstarch in a bowl. Add dry ingredients all at once into the butter mixture, and mix just until incorporated.
TEST COOKIE DOUGH: Scoop 1 test cookie onto a silicone lined baking sheet. Bake at 350 degrees Fahrenheit for 9 to 11 minutes, until just set in the center. If the cookie spreads, add ¼ cup more flour to the remaining dough and do another test cookie.
Scoop the cookie dough onto cool (not warm) silicone lined baking sheets, bake at 350 degrees Fahrenheit for 9 to 11 minutes, until just set in the centers. (10 minutes was perfect for my oven.)
Allow cookies to rest on the cookie sheet for 2 to 3 minutes, then transfer cookies to a wire rack to cool. Store cookies in an airtight container.
Nutrition Information:
Yield: 26
Serving Size: 1 grams
Amount Per Serving:
Calories: 210
Total Fat: 3g
Saturated Fat: 2g
Trans Fat: 0g
Unsaturated Fat: 1g
Cholesterol: 18mg
Sodium: 166mg
Carbohydrates: 40g
Fiber: 1g
Sugar: 12g
Protein: 5g
This data was provided and calculated by Nutritionix, and is an estimation only.