Pineapple Avocado Dressing
This post may contain affiliate links, meaning that I may receive a commission at no cost to you if you use a link provided. All opinions shared are my own. You can review my full disclosure policy here.
**This post has been compensated by DOLE as part of the Mom It Forward Blogger Network. All opinions are mine alone. #DolePineappleJuice #AYearofSunshine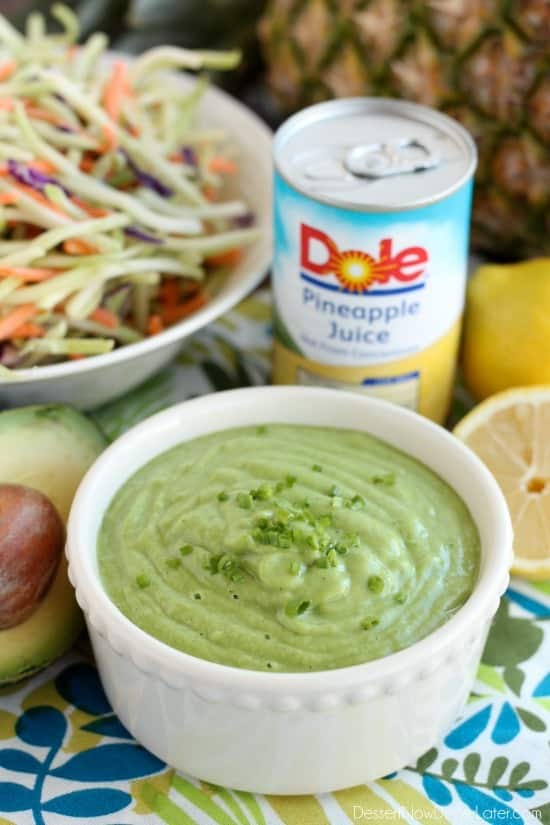 As a pregnant lady in 80 degree May weather, I think it's safe to say that summer is here and so are all of my favorite summer flavors! This Pineapple Avocado Dressing is made with two of my favorite summer flavors: pineapple and avocado! DOLE pineapple juice, fresh herbs, and a ripe avocado combine together to make this creamy dressing that is great on kale or as a dressing for broccoli slaw. We tossed our dressing with broccoli slaw and really liked it!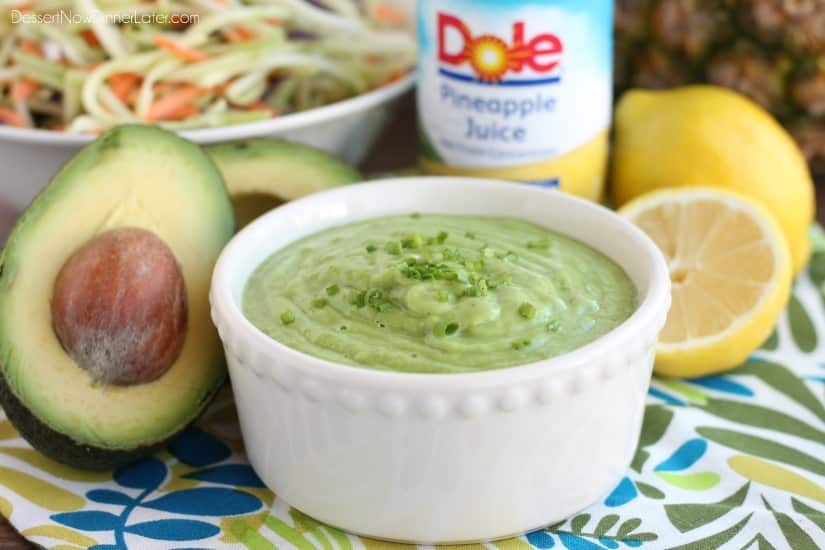 I love how thick and creamy this dressing is with just the avocado and 1 Tbsp of olive oil. It was sweet from the pineapple juice, fresh thanks to the herbs, and combined with the broccoli slaw, it became a great alternative to regular cole slaw for a summer bbq!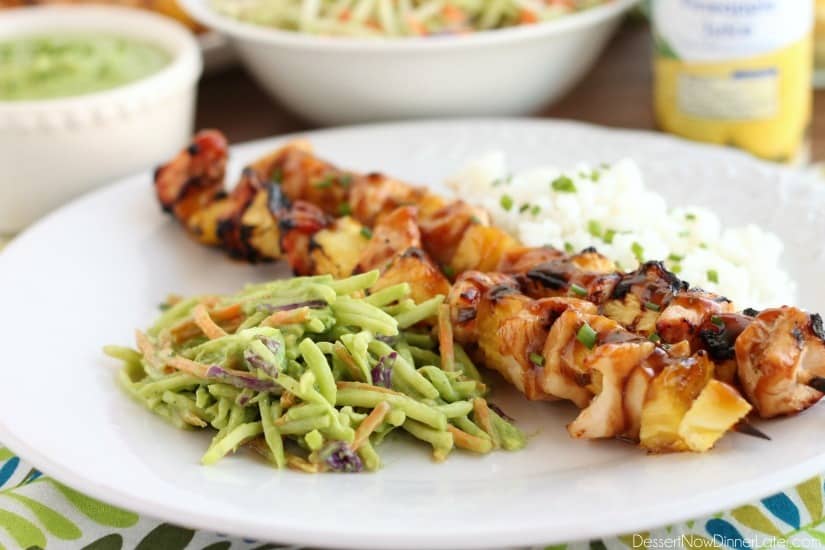 I know I've mentioned this many times, but we LOVE to grill! And now that it feels like summer, (even though school is still going through the whole month of May) we are totally out there grilling as much as possible!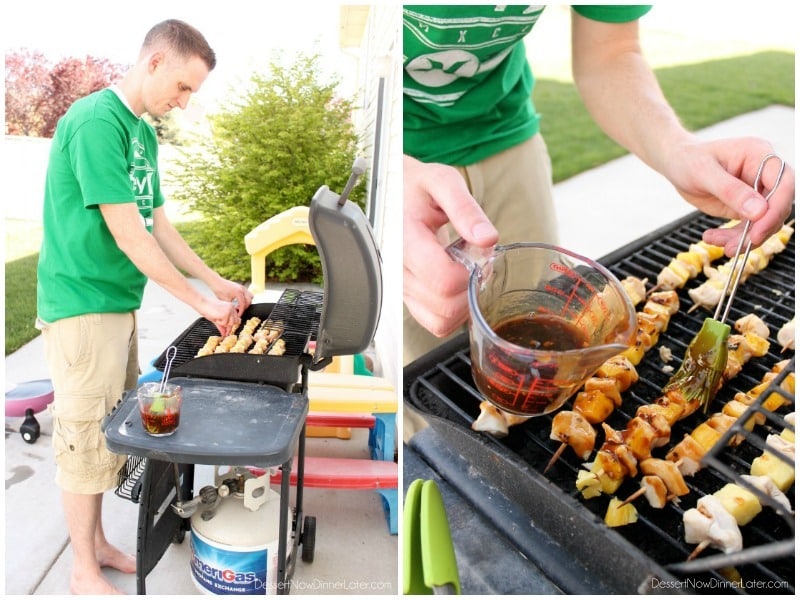 And since it's been perfect grilling weather, we wanted to grill something to go with our broccoli slaw and delicious Pineapple Avocado Dressing. We decided to go for a tropical theme, and made some Island Chicken Skewers that have a sweet and savory pineapple juice glaze. We added fresh DOLE pineapple chunks to the skewers because I, personally, cannot get enough pineapple, especially when it's fresh.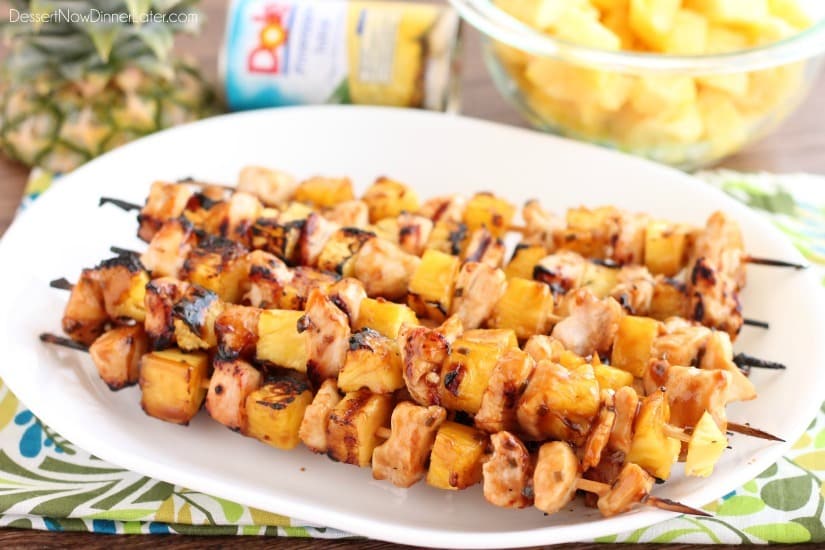 Now, if those glossy chicken skewers don't make you hungry, there is something wrong with you! Of course if you want to make these recipes you better grab this $1.00 off #coupon for any 46oz or 6-pack of DOLE Canned Pineapple Juice. Find DOLE Canned Pineapple Juice in the shelf-stable juice aisle of grocery and super-center stores nationwide. The great thing about DOLE pineapple juice is that it's 100% juice (not from concentrate), it's a great source of vitamins C, A, & E, it's naturally gluten free, it's stored in BPA free packaging, it's non GMO, and last but not least, it's a great pantry staple!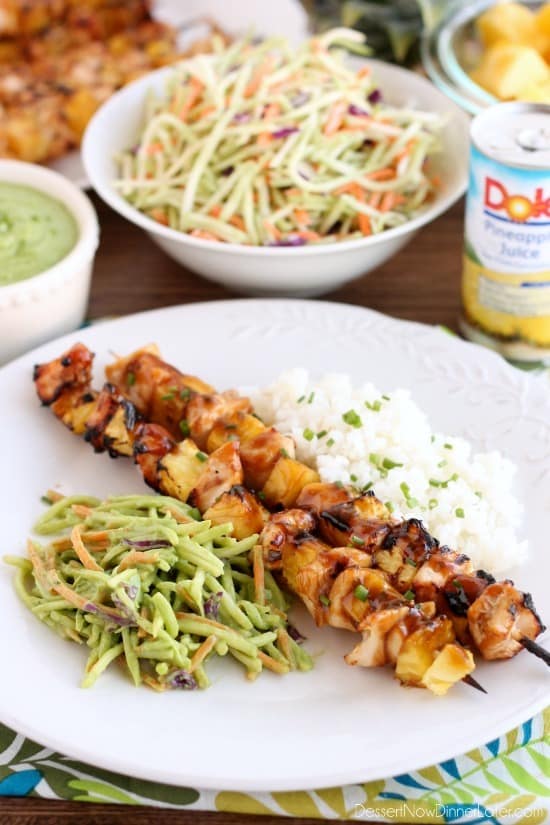 DOLE is celebrating a Year of Sunshine to help you slow down and celebrate the everyday, special occasions, and holidays with a splash of pineapple juice! Keep in touch with DOLE on Facebook, Twitter, and Pinterest or visit http://dole.com/sunshine to learn more about DOLE Canned Pineapple Juice's Year of Sunshine and for more recipe inspiration!