Parmesan Ranch Croutons
This post may contain affiliate links, meaning that I may receive a commission at no cost to you if you use a link provided. All opinions shared are my own. You can review my full disclosure policy here.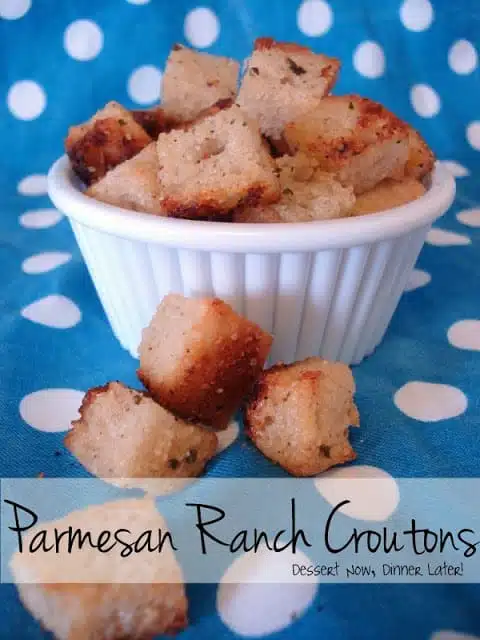 Making croutons is inexpensive & easy. It's kind of silly to pay for the ones in the bag at the store because you get so much more for your buck, they are fresh from your oven & taste just as good, if not better homemade. You don't even need to buy special bread. If you have a loaf going stale, use that up. My kids like to munch on these like chips too, so even better!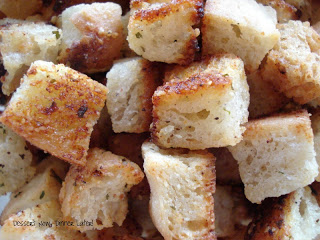 We also used to make these croutons in a restaurant I worked in & they would last forever too! They have a good month or longer shelf life. Put them on top of salads or in soups; you can even blend them up to bread chicken. Just make some! Come back Thursday to see what I used these croutons for, you are going to love it!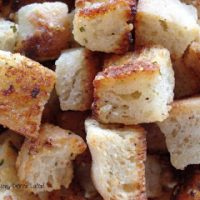 Parmesan Ranch Croutons
Ingredients
5 cups cubed (stale) bread (I used homemade ciabatta)
4 Tbsp butter, melted
3 Tbsp (1 packet) dry ranch mix
2 Tbsp grated parmesan cheese
Instructions
Make sure your bread is cut into 1-inch cubes & place them in a lunch paper sack or gallon size plastic bag.
Pour melted butter over bread. Sprinkle with dry ranch mix & parmesan cheese. Close/seal bag & shake it all up to evenly coat the croutons.
Spread croutons on a seasoned baking sheet. Bake at 350*F for 15 minutes, flipping/stirring halfway through until browned & crispy. Make sure to keep them kind of close together because the ones on the edges cook the fastest.
Allow to cool before using. Store in an airtight container for up to 1 month.