Strawberry Balsamic Vinaigrette
This post may contain affiliate links, meaning that I may receive a commission at no cost to you if you use a link provided. All opinions shared are my own. You can review my full disclosure policy here.
This Strawberry Balsamic Vinaigrette is a fruit and yogurt based dressing with tangy balsamic vinegar, for a mere 13 calories per serving!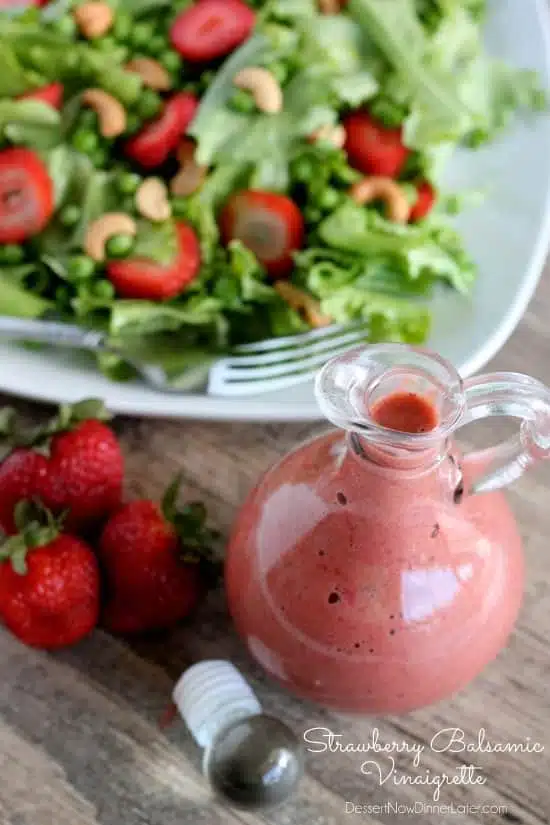 Most of you know that I am participating in a 6 week health challenge. I basically have to communicate with my team daily (easy to do with Facebook), sleep a minimum of 7 hours each night, drink 12 cups of water a day, and stay within my meal plan.
I chose 1400 calories a day; mostly whole foods, whole grains, and only 1 piece of something sweet a day up to 45 calories (which I have been eating these Milk Chocolate Raspberry Bliss Chocolates for only 37 calories a piece.)
I can eat the calories I burn if I feel like I need to, but I only did that once and it was only 35 calories over, which was most definitely burned during my 40 to 60 minute workouts.
For the challenge, you have to workout 20 minutes a day, get rid of a bad habit (I chose to not have my cell phone at dinnertime) and gain a good habit (I chose flossing; I just never did it, but hey, I've never had a cavity!).
You can't drink any soda, diet soda, or alcohol the whole 6 weeks, but you do get 1 day off of each of the other elements of the game with extra points for a perfect week or 1% weight loss (which you choose at the beginning of the game; I picked a perfect week because I can control my habits, not my weight loss.)
Our game actually ends tomorrow, and I have never felt better! I feel great with a full night's sleep, daily physical activity, healthy food choices, and have enjoyed dinner conversations with my family. Our team is totally tied for 1st! Not sure what happens with that, but I will find out tomorrow!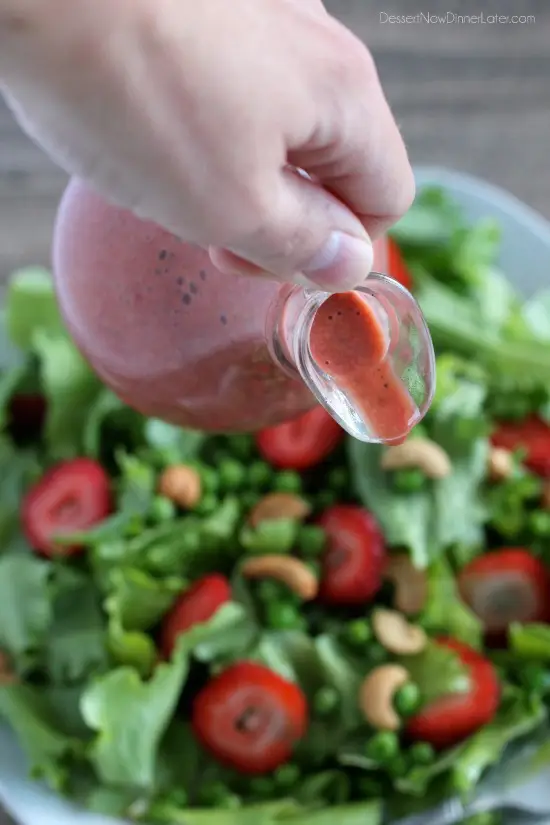 So anyway, I got way off track. The point of me sharing about the health challenge is that I was eating a lot of salads with whole fruits, veggies, and sometimes nuts on top, and I was getting tired of my typical dressing, so I made this Strawberry Balsamic Vinaigrette!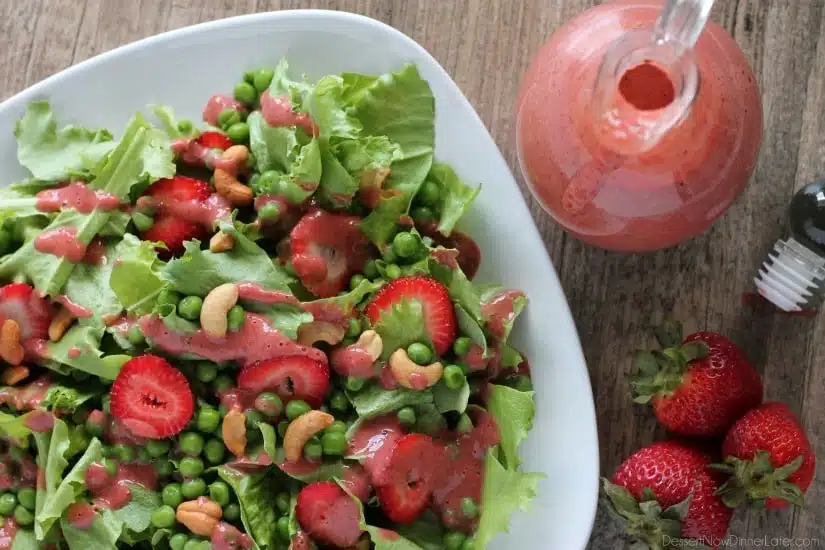 Strawberries are on sale big time during the summer, so I almost always have some in my refrigerator and I thought it would be fun to mix up a fruit and yogurt based dressing with some tangy balsamic vinegar.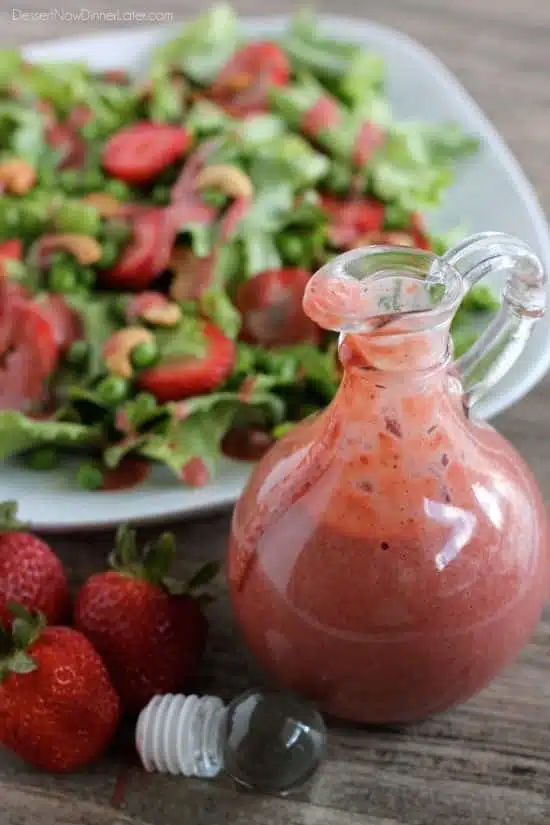 Now if I computed everything right into My Fitness Pal, which is my favorite calorie counting app, 2 Tbsp of this dressing is a mere 13 calories! Seriously, you can drench your salad in dressing! Enjoy!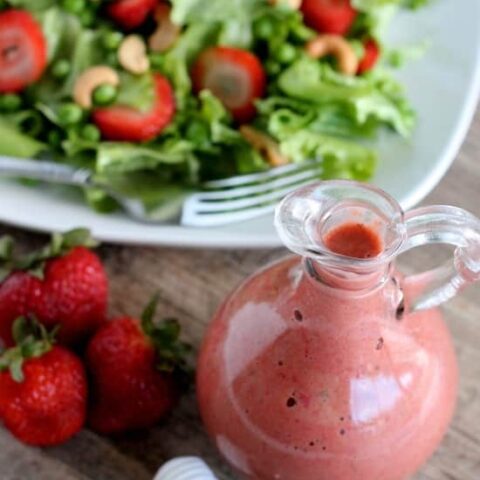 Strawberry Balsamic Vinaigrette
Ingredients
2 cups whole strawberries, rinsed and stems removed
1/3 cup Vanilla Oikos Greek Yogurt
2 Tbsp diced red onion
1/3 cup Pompeian Balsamic Vinegar
1/4 tsp ground black pepper
1/2 tsp sea salt
1/2 tsp dried basil
Instructions
Place all the ingredients into a food processor or blender.
Blend until everything is smooth, scraping the sides of the bowl as necessary.
Keep refrigerated and use within 7 to 10 days.
Nutrition Information:
Yield: 2
Serving Size: 2 Tbsp
Amount Per Serving:
Unsaturated Fat: 0g