Crockpot Chicken and Black Bean Taco Salad
This post may contain affiliate links, meaning that I may receive a commission at no cost to you if you use a link provided. All opinions shared are my own. You can review my full disclosure policy here.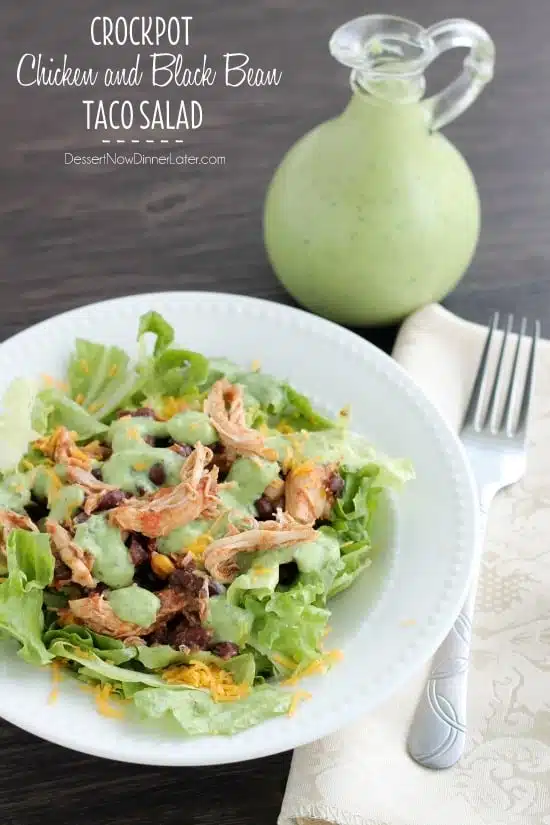 If you follow me on Instagram, then you know that I am participating in a 6 week health challenge. It will be 3 weeks tomorrow, and I'm feeling great! I can always use a healthy meal low in calories, yet filling and easy like this Crockpot Chicken and Black Bean Taco Salad!
Another fun part about this meal, for me, is that I got to use greens from my own garden! We have two different kinds of lettuce: salad bowl lettuce, and head lettuce (green leaf). We've got a square foot garden and have 4 squares with 8 heads of lettuce that we trim down every few days. We have only had lettuce from our garden so far this summer. It's been great! Growing your own food really makes it that much more fun to eat!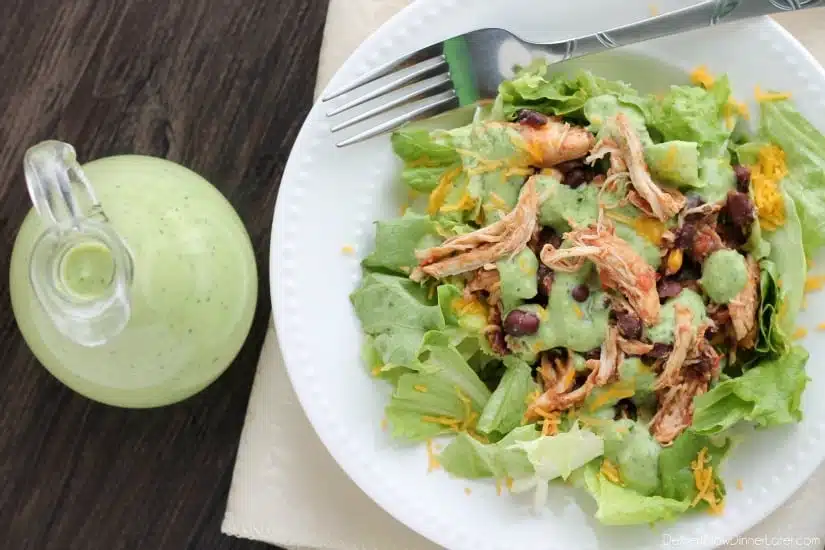 Anyway, back to this meal! It's fabulous and fresh. The avocado and cilantro dressing really gives it a southwest flavor. Delicious and healthy!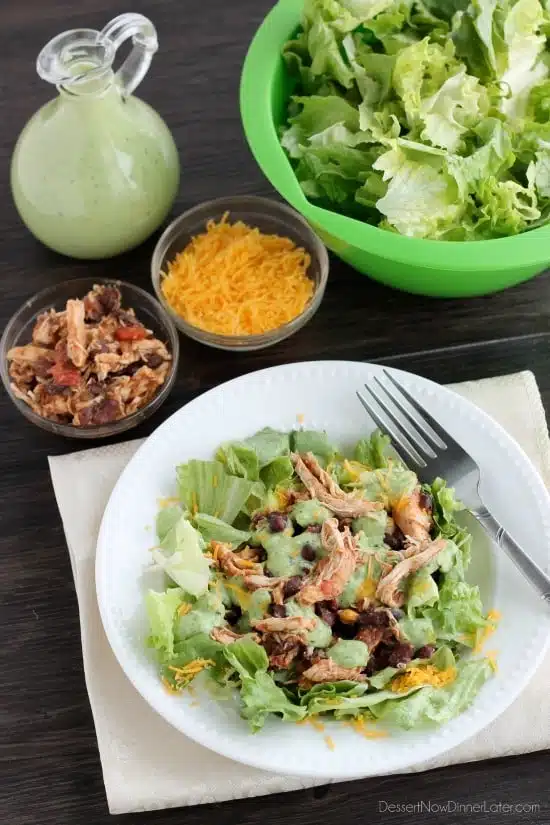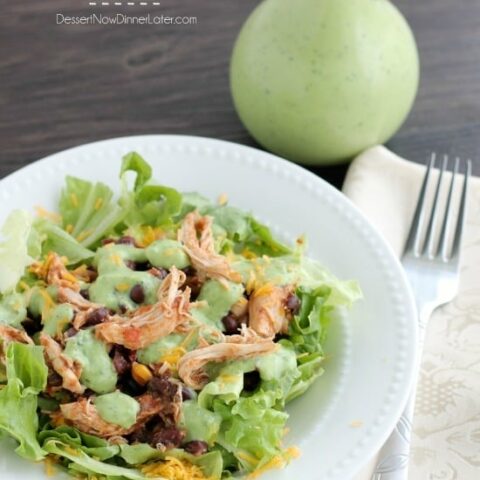 Crockpot Chicken and Black Bean Taco Salad
Ingredients
For the crockpot chicken:
2 large chicken breasts (16 oz or 1 lb)
1 Tbsp low sodium taco seasoning
1 (15oz) can black beans, drained and rinsed
1 cup chunky salsa
One-half cup of this Zesty Avocado Cilantro Buttermilk Dressing (recipe makes 1 1/2 cups):
1 cup buttermilk (or 1 cup milk plus 1 tsp lemon juice)
1 small jalapeño, deseeded
1/4 cup cilantro
1 medium avocado
1 clove garlic
1 green onion
2 Tbsp lime juice
1/8 tsp cumin
1/4 tsp pepper
1/4 tsp salt
For the salad:
6 cups chopped green leaf lettuce
1/4 cup shredded cheddar cheese
Instructions
Place the chicken in a small crockpot. Season the chicken with taco seasoning, and then top it with black beans and salsa.
Cook on low for 4 hours. Shred with two forks. Makes 3½ cups.
To make dressing: Combine all ingredients in a food processor or blender. To thin, add more buttermilk until desired texture. Makes 1½ cups.
To assemble salad: Place 1½ cups lettuce on each plate, top with ¾ cup chicken and bean mixture, 1 Tbsp cheese and 2 Tbsp dressing. Enjoy!
Nutrition Information:
Yield: 4
Amount Per Serving:
Unsaturated Fat: 0g
Recipe lightly altered from Skinny Taste