Teriyaki Chicken and Rice
This post may contain affiliate links, meaning that I may receive a commission at no cost to you if you use a link provided. All opinions shared are my own. You can review my full disclosure policy here.
This Teriyaki Chicken and Rice dinner is savory, sweet, kid-friendly, and super easy to make!
This is a sponsored conversation written by me on behalf of Uncle Ben's. The opinions and text are all mine.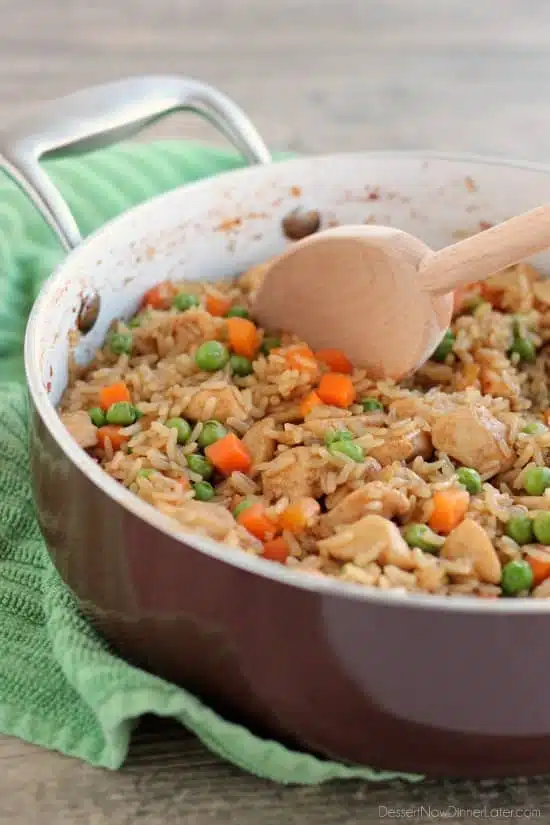 You know those days where you have spent a good amount of time in the kitchen cooking dinner, only to have your kids stick their noses up at what's on their plate? Yeah, happens to us a lot, and it sucks! Luckily, this Teriyaki Chicken and Rice is one of those dinners that my kids approve of and happily eat.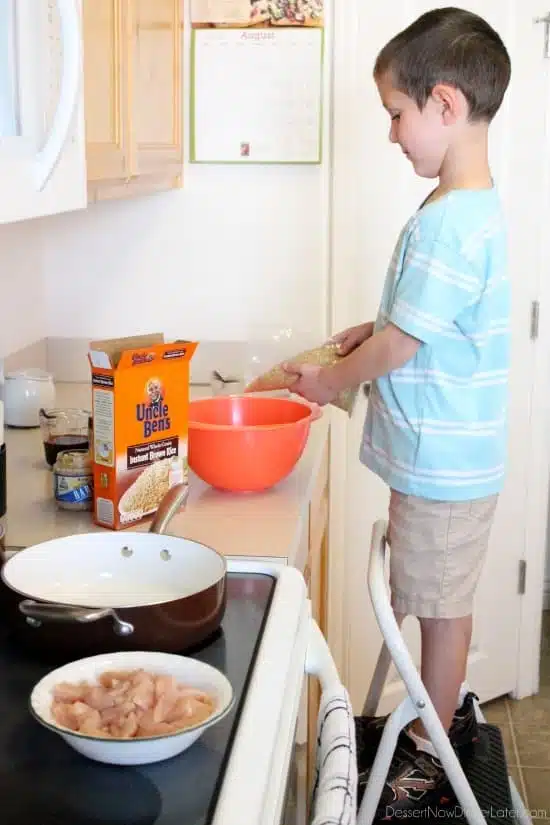 I have found that when I let my children help cook the meal, they are more likely to happily try it and eat more of it. My 5 year old son especially loves to help measure and pour things. Sometimes I will pre-measure everything and just have my kids pour the ingredients into the dish we are cooking the food in because it saves me from extra messes. 😉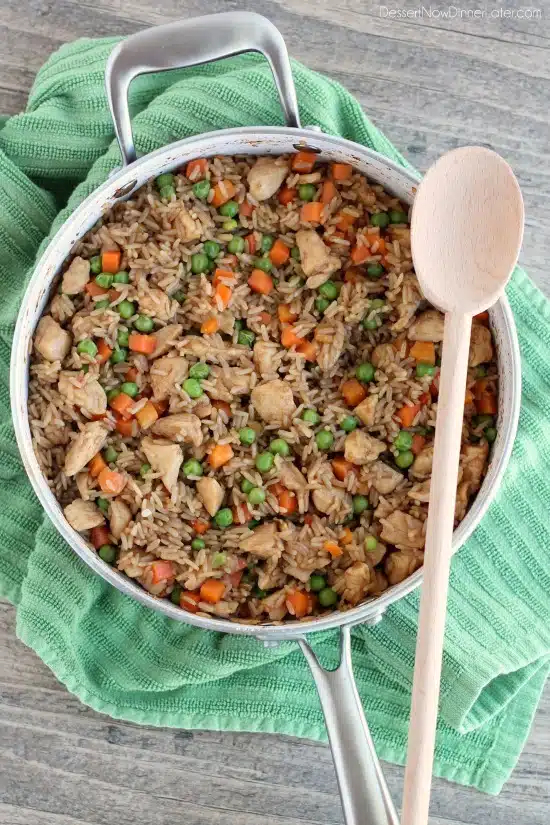 Research shows that cooking with your kids early on teaches them better eating habits later. According to University of Michigan's Project EAT, kids who prepare meals with their parents are more likely to eat healthier as adults, while those who are not taught cooking skills resort to quick fixes like fast food. In other words, teaching them how to cook teaches them how to eat. I can see why that is, and I definitely want my children to learn to choose and cook well-rounded meals their whole lives.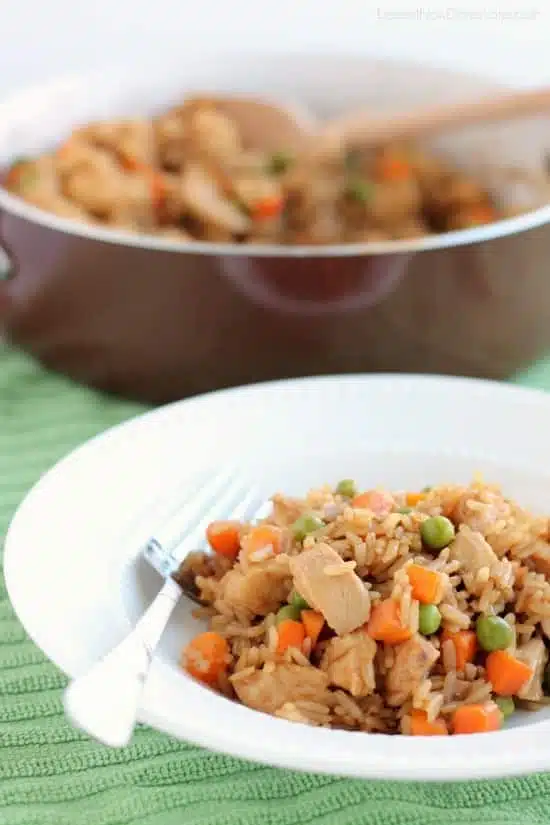 Going on right now is the Ben's Beginners Cooking Contest. It's a nationwide cooking video competition for kids that brings families together to cook a healthy rice based meal. Now, you can't use my recipe, but how fun would that be to have your kid enter the contest and possibly win?! Even if they don't win, think of the fun memories you will make creating a video of your child cooking in the kitchen! Children in Kindergarten through eighth grade are eligible to win the grand prize. Check out Uncle Ben's facebook page www.facebook.com/unclebens or website www.unclebens.com for more information about the competition. You never know, your kid could be the winner!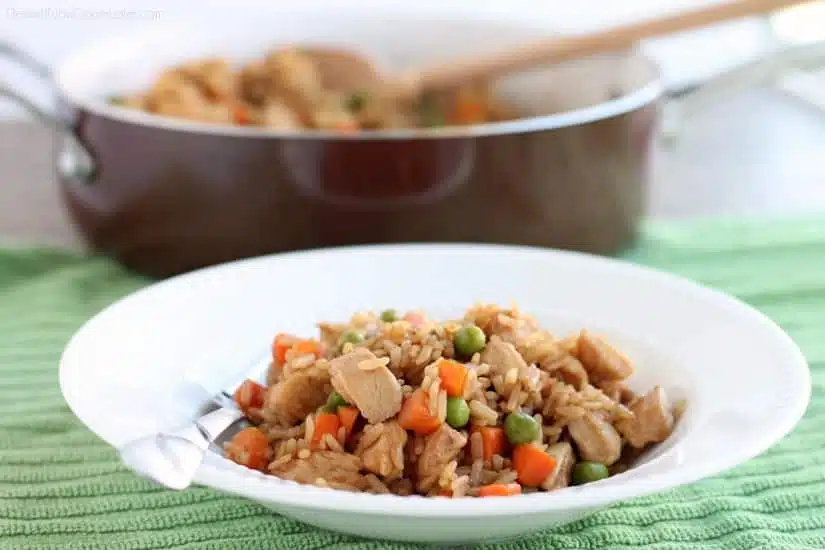 The recipe for this Teriyaki Chicken and Rice dinner is savory, sweet, kid-friendly, and super easy to make! It's actually a spin off of my Cheap Korean Beef recipe, which my husband and I love, but has chicken instead of ground beef, and peas & carrots instead of a California blend of vegetables, which my children are more likely to eat. Adults and kids like this one! Enjoy!
Cooking with your children makes for a great beginning! Visit www.unclebens.com and click on The Ben's Beginners™ Cooking Contest page to learn more!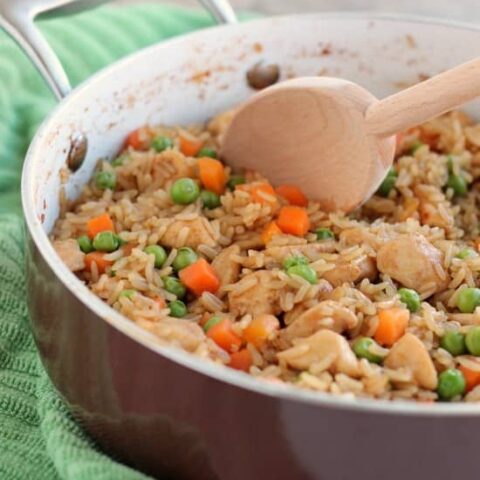 Teriyaki Chicken and Rice
Ingredients
1 1/2 cups dry, uncooked Uncle Ben's Instant Brown Rice
2 1/2 cups water
1 Tbsp butter
1/2 (16oz) bag frozen peas and carrots
1/2 Tbsp sesame oil
1 1/2 tsp minced garlic (about 3 cloves)
2 boneless skinless chicken breasts, cut into 1/2-inch cubes
1/2 cup brown sugar
1/2 cup low-sodium soy sauce
1 tsp minced ginger
salt and pepper, to taste
Instructions
Combine rice, water, and butter in a saucepan. Bring to a boil. Reduce heat and cover. Simmer 10 to 12 minutes or until water is absorbed. Alternately follow the box directions for cooking the rice in the microwave. Keep warm.
Meanwhile, place frozen peas and carrots in a pot with just enough water to cover the vegetables. Simmer for 6 to 7 minutes or until tender.
While rice and vegetables are cooking, heat the sesame oil in a large skillet. Add garlic and stir until fragrant; 30 seconds. Add cubed chicken and cook until lightly brown and cooked all the way through.
Drain peas and carrots of any excess water, then add the vegetables and cooked rice to the skillet with the cooked chicken. Add brown sugar, soy sauce, and ginger to the pot. Stir and let simmer until the rice absorbs most of the sauce; about 3 to 5 minutes. Season with salt and pepper to taste. Serve hot.
Nutrition Information:
Yield: 6
Amount Per Serving:
Unsaturated Fat: 0g