Red White and Blue Pie Parfaits
This post may contain affiliate links, meaning that I may receive a commission at no cost to you if you use a link provided. All opinions shared are my own. You can review my full disclosure policy here.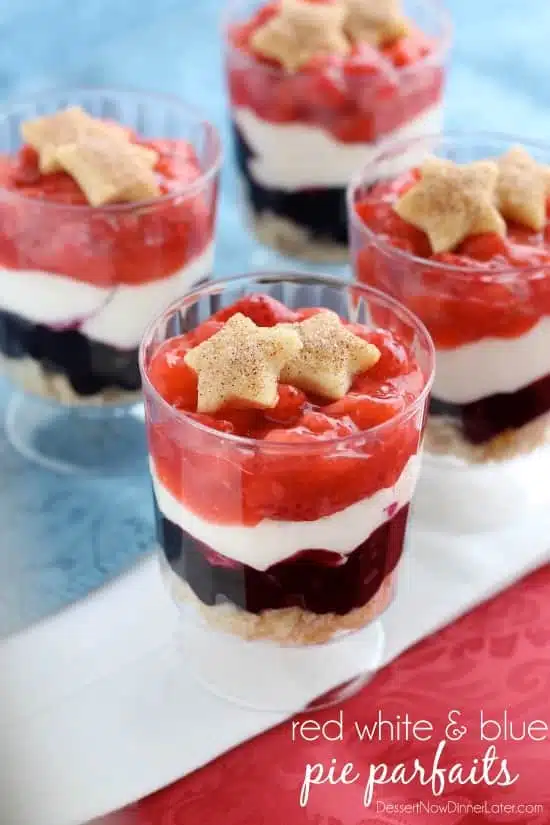 Hello friends! Are you excited for the extra long weekend? I am! Today I am sharing these Red White & Blue Pie Parfaits on Studio5 a local lifestyle television show here in Utah. It airs at 1pm MST, and you can watch online, so be sure to tune in! For those coming from Studio5, WELCOME! Scroll on down for the recipe. 🙂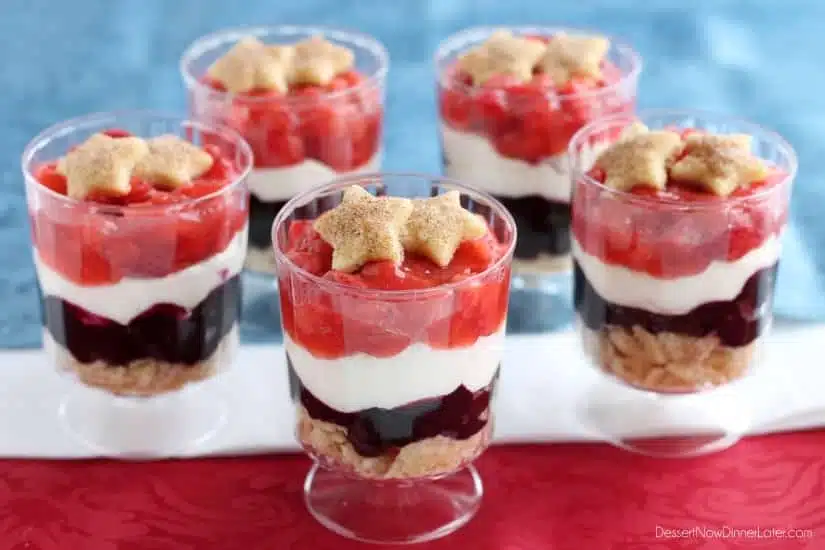 So, I have another confession to make. I do that a lot on here – confess things. They are mostly food confessions, but where better to talk about food than on a food blog? I love pie! Especially fruit pies, and I absolutely love pie crust! The buttery flakey pie crust amongst thick, chunky fruit glaze is the best!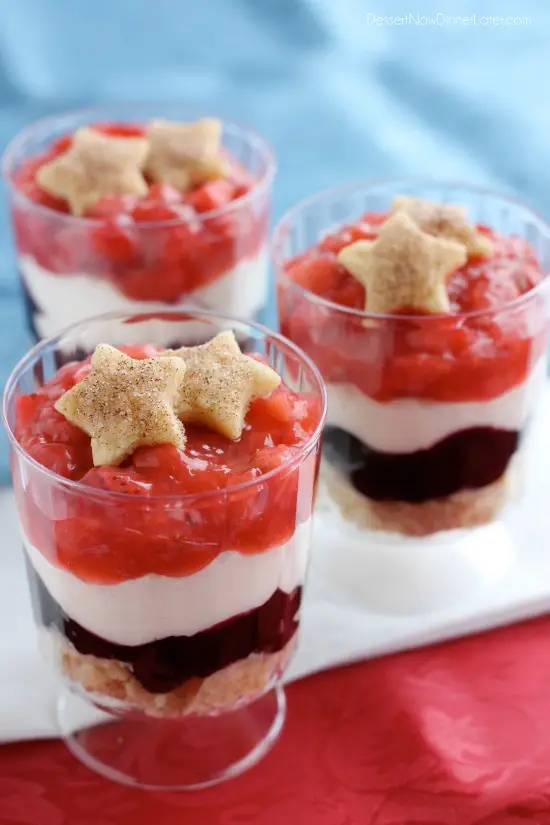 So, I thought it would be fun to deconstruct a pie into these parfaits! And since it's a holiday weekend, why not make some red white and blue desserts? Hence, the strawberry and blueberry pie fillings! My only suggestion would be to put a little more pie crust on the bottom and a few more stars on top. I like my ratio of crust to fruit to be a little more like 2/3 fruit to 1/3 crust. These parfaits also have a no bake cheesecake layer right in the middle, so it's creamy and fruity! YUM!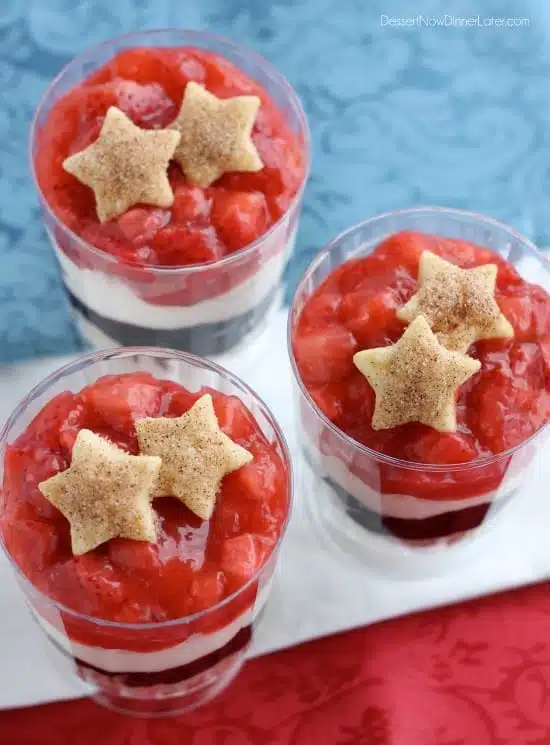 You've got to keep these treats in the refrigerator, but I totally ate one for breakfast the next day. Think of it as a glorified breakfast parfait! Anyway, how fun would it be to serve these for a family gathering over this memorial day weekend?! If you already have your plans set, save the recipe for your 4th of July party! Either way, these parfaits can be prepped ahead of time and brought out of the refrigerator when you are ready to serve! We loved these!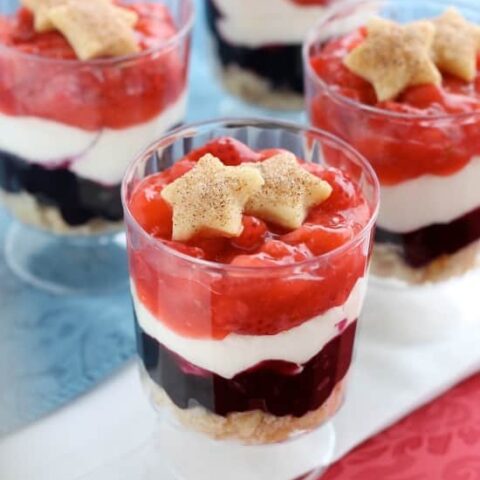 Red White and Blue Pie Parfaits
Ingredients
Pie Crust:
1/2 cup butter flavored Crisco shortening
1/2 tsp salt
1 1/2 cups all-purpose flour
1/2 whisked egg
2 1/2 Tbsp ICE cold water
1/2 Tbsp white vinegar
Cinnamon Sugar
Blueberry Pie Filling:
16 oz frozen blueberries
1/4 cup sugar
3 Tbsp corn starch
3/4 cup water
Strawberry Pie Filling:
16 oz strawberries, hulled and cubed/diced
1/4 cup sugar
3 Tbsp cornstarch
3/4 cup water
Whipped Cream Cheese:
8 oz cream cheese
1/2 cup sugar
1/2 (8oz) tub cool whip (or 3/4 cup heavy cream, whipped with 3 Tbsp powdered sugar)
Instructions
For the pie crust: In a bowl, combine salt & flour. Cut Crisco into flour mixture with a pastry blender or fork until shortening pieces are the size of a pea. Add egg, water & vinegar and work dough into a ball. Flatten into a disc, double wrap with plastic wrap & let sit in the freezer for 10 minutes.
Remove pie crust from freezer & roll out to about ¼" thickness on a floured surface. Cut out at least 15 stars (30 is better and uses about half the crust). Place stars & extra pie crust onto an un-greased baking sheet. Sprinkle tops with cinnamon sugar & bake at 350 degrees Fahrenheit for 10 to 15 minutes or until light brown. Remove from oven & cool completely.
Meanwhile, to make the blueberry pie filling: Combine the sugar & cornstarch together and pour it over blueberries in a small saucepan. Stir. Cook over medium heat, stirring constantly, until mixture bubbles and becomes thick. Allow to COOL completely in the refrigerator. REPEAT the process with strawberries in a separate saucepan. (If you have two saucepans you can make both fillings at the same time.)
For the whipped cream cheese: Place cream cheese & sugar into a medium sized bowl. Beat with a hand mixer until sugar dissolves. Add cool whip & beat on high until the beaters leave ripples in the cream cheese mixture. Keep cold until ready to assemble.
To assemble: Place all fillings in separate zip-top bags. Cut off one corner from each bag to be able to pipe the filling into the cups. Break up the pie crust, except the stars, to make crumbs. In small, clear, 5 oz plastic cups, layer with crumbs, blueberry pie filling, whipped cream cheese, and strawberry pie filling. Place stars on the very top layer for decoration. Enjoy!
Notes
I got my 5oz plastic cups at
Dollar Tree
. The label said, "water glasses."
Nutrition Information:
Yield: 10
Amount Per Serving:
Unsaturated Fat: 0g