Mini Boston Cream Donuts
This post may contain affiliate links, meaning that I may receive a commission at no cost to you if you use a link provided. All opinions shared are my own. You can review my full disclosure policy here.
These Boston cream donuts are seriously mouthwatering and easy to make with fried biscuit dough, stuffed with vanilla pudding, and dipped in chocolate ganache.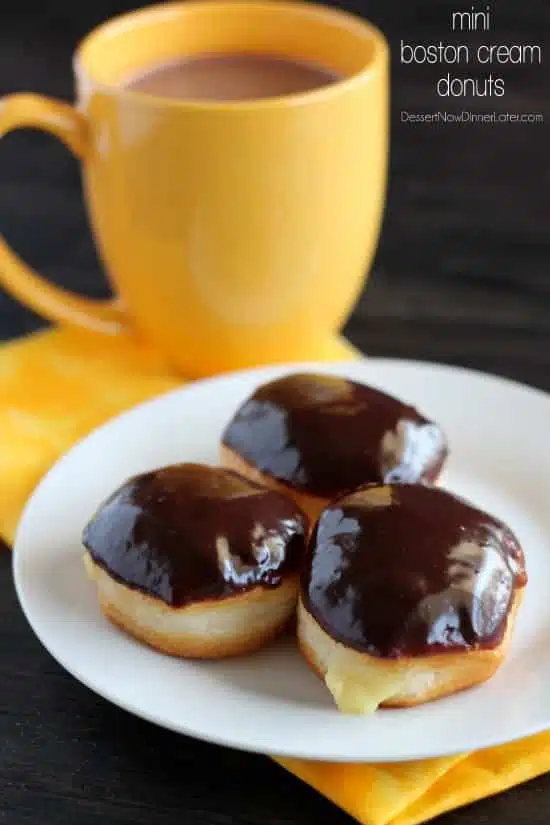 Oh, hello there little Boston Cream Donuts! You are so adorable and equally delicious! Haha. Ya'll are never going to guess how easy these are to make…SUPER EASY! They are messy to make AND eat, but easy nonetheless. I am super excited to be doing a blog hop today with 9 other fabulous bloggers all featuring mini donuts! Scroll to the bottom of this post to see all 10 mini donut creations!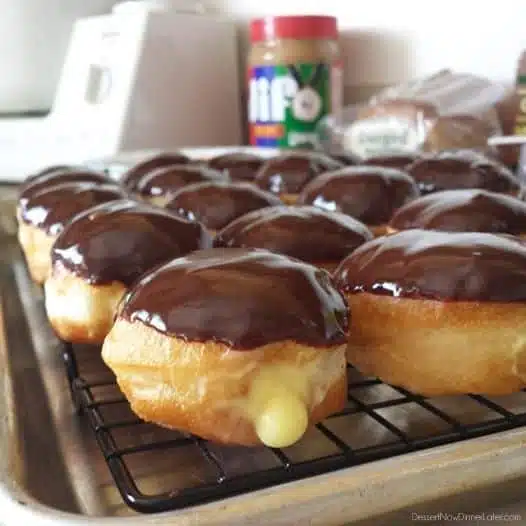 If you're not following me on instagram, you missed the sneak peak photo above. Seriously mouthwatering fried biscuit dough, stuffed with vanilla pudding, and dipped in chocolate ganache. I had to run these bad boys to my neighbors so I wouldn't eat them all! It doesn't help that "mini" foods make you feel like you can have more because they're mini, ya know what I'm sayin'?! Oh, how I wish!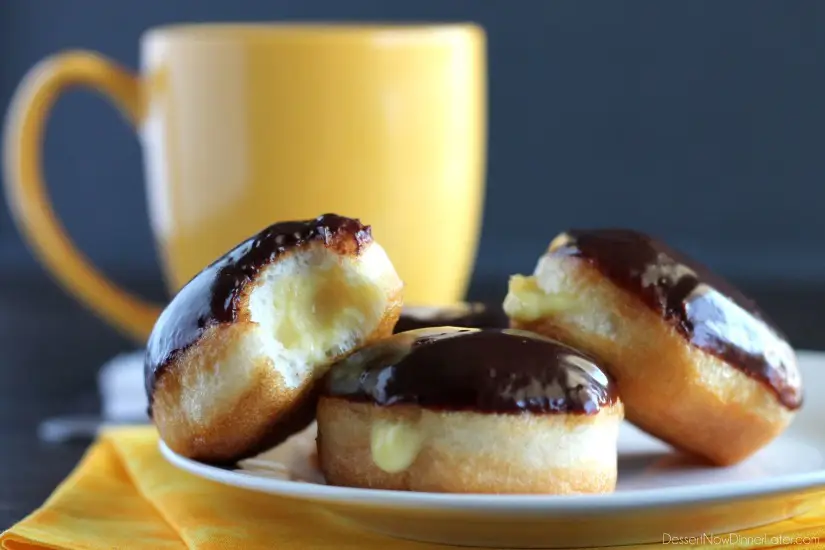 My daughter is obsessed with donuts, so I may or may not have fed her like 3 of these for lunch the day I made them. 😉 That makes me the best mom ever, right?! Right! Haha.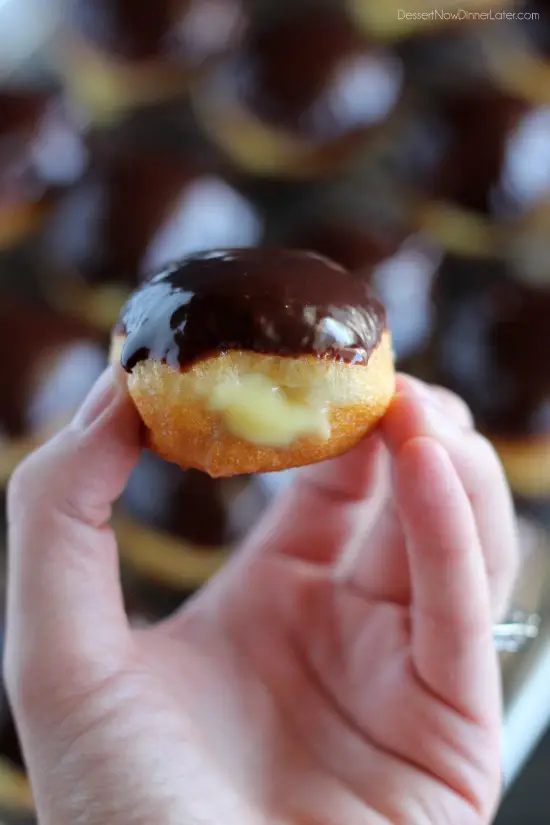 I don't fry things, like at all, around my house, but these were worth it, and I may or may not have another donut creation (or two) coming up in the future with a similar method to these ones. I actually used to work in a bakery and filled and decorated the donuts, so besides using pudding instead of a bucket of pastry cream, and real ganache compared to a bucket of chocolate frosting, these are similar to bakery-bought boston cream donuts.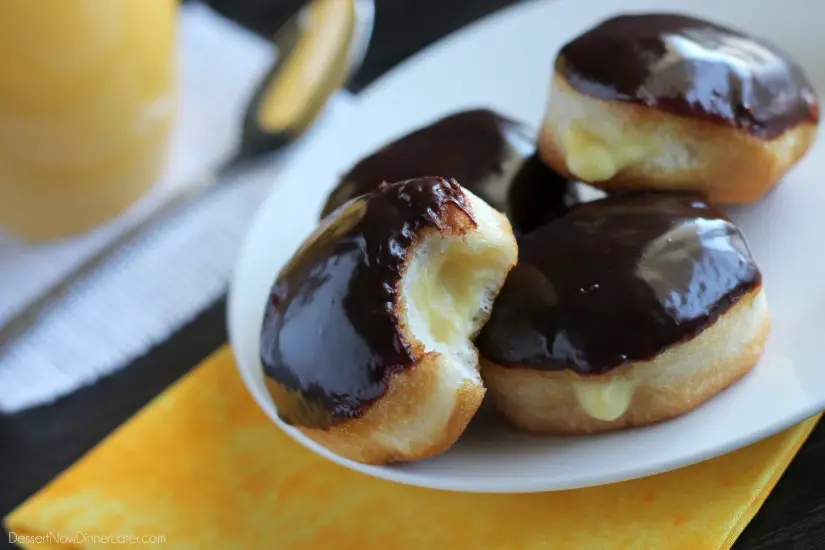 These are so cute and fun to make, and I can guarantee they will get gobbled up super fast! Enjoy!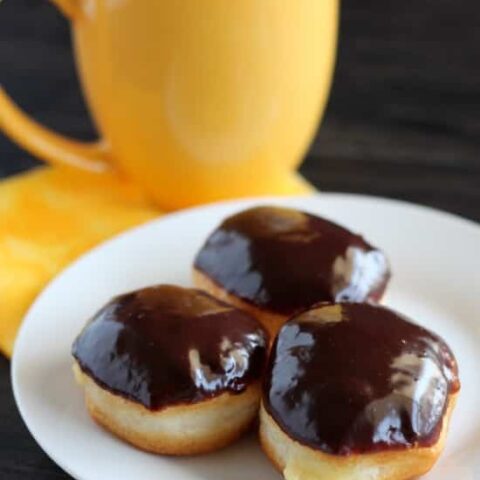 Mini Boston Cream Donuts
Ingredients
Donuts:
2 (10 count) Pillsbury Refrigerated Buttermilk Biscuit Dough tubes
Canola/Vegetable oil for frying
Cream Filling:
1 (3.4oz) box instant vanilla pudding
1 3/4 cups 2% milk
Chocolate Ganache:
3 oz (1/2 cup) semi-sweet chocolate chips
2 oz (1/4 cup) heavy cream
Instructions
Prepare pudding by combining the dry pudding mix with milk. Whisk until smooth and refrigerate until ready to use.
Pour oil into a deep stock pot at least 2-inches high from the bottom. Heat over medium heat (a #5 or #6 heat on a 10 level dial) until ready to fry. Open a tube of biscuits and fry 5 at a time, turning each piece of dough when golden brown, and removing the donuts when browned on each side. Place cooked donuts onto a cooling rack that has been placed inside a baking sheet to catch any oil drippings. I used a metal spatula to turn my donuts and remove them from the pot. Repeat with remaining biscuit dough.
While donuts cool, heat heavy cream in the microwave for 30 seconds or until it simmers, but watch it to make sure it doesn't spill over. Pour hot cream over chocolate chips and stir until smooth. Set aside.
Use a pastry bag with a coupler and #5 Wilton round tip. Fill the bag with pudding and twist the end of the bag shut. Using the tip, poke a hole in the side of a donut and squeeze the pudding into the center while zig-zagging the tip back and forth from side to side, creating a pocket to fill the pudding inside the donut. Stop squeezing when it starts spilling out. Repeat on the opposite end of the donut, to fill the inside thoroughly. You want the donut to feel heavy for it's size, so you know it's filled well enough.
Dip the top of the donut in prepared ganache and then set it back on the cooling rack to dry.
Repeat process with remaining donuts. Enjoy! Store any extra donuts in a container with a lid for a day or two.
Nutrition Information:
Yield: 20
Amount Per Serving:
Unsaturated Fat: 0g
 Make sure you check out the other 9 fabulous donut recipes participating in the hop today. Just click on the picture or title below to grab the recipe.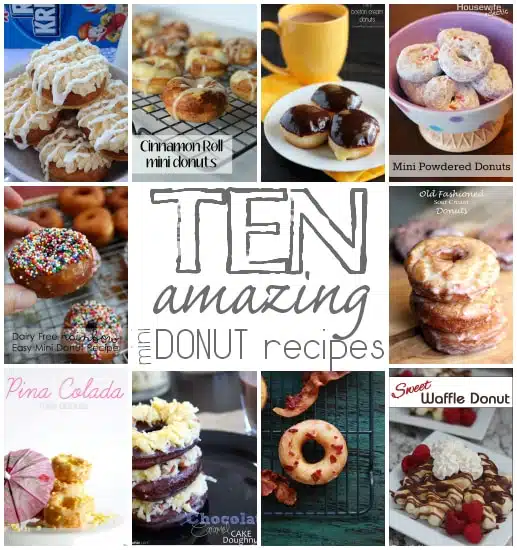 Rook No 17 – Mallow Krispy donuts Our Thrifty Ideas – Cinnamon Roll donuts Dessert Now Dinner Later – Boston Cream donuts Housewife Eclectic – Powdered donuts Rae Gun Ramblings – Dairy Free donuts Tastes Better from Scratch – Sour Cream Old Fashioned donuts Snap Creativity – Pina Colada donuts Messes to Memories – Chocolate Caramel Cake donuts One Sweet Appetite – Maple Bacon donuts Over The Big Moon – Sweet Waffle donuts