Buckeye Cookies
This post may contain affiliate links, meaning that I may receive a commission at no cost to you if you use a link provided. All opinions shared are my own. You can review my full disclosure policy here.
Buckeye Cookies – a chocolate brownie cookie base, topped with peanut butter balls, all covered in chocolate! These are insanely delicious!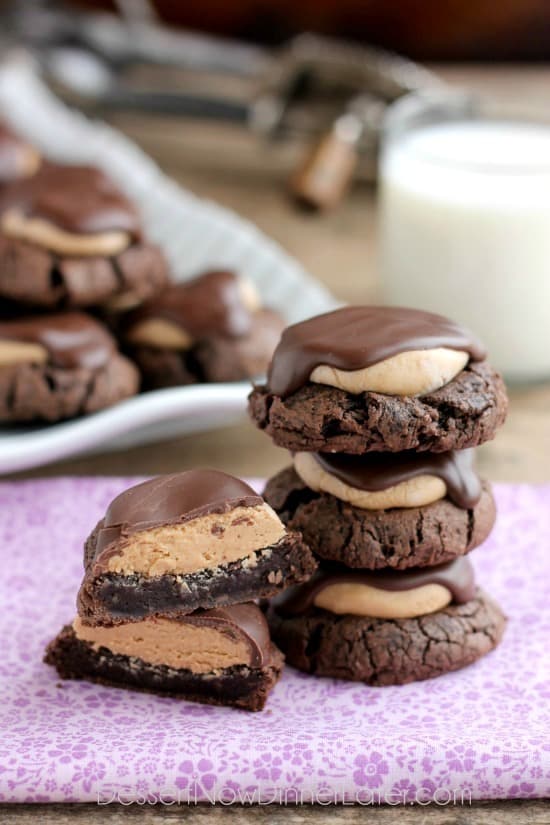 So I think I found heaven on earth in the form of a cookie! My husband might disagree because he isn't as much of a peanut butter/chocolate fan as I am, and thinks these are way too rich, but that's why you only eat one. Each bite is pure bliss!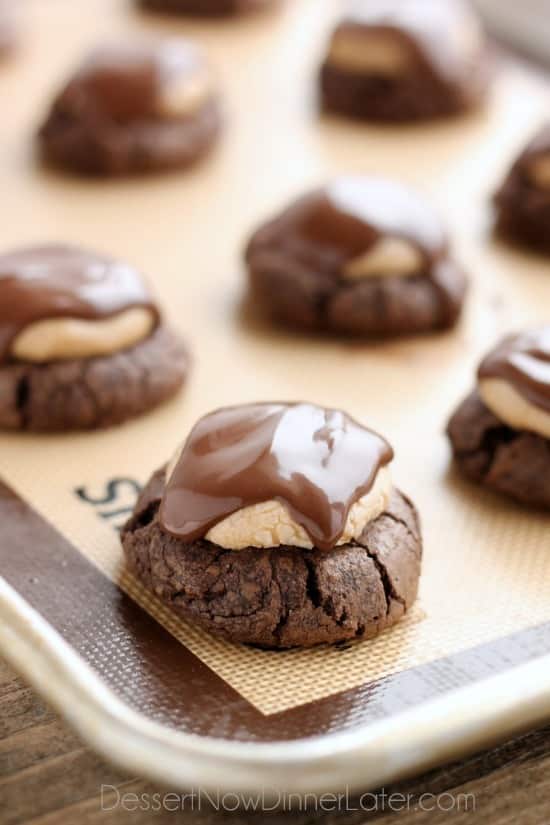 Eating these buckeye cookies warm from the oven…. OH. MY. GOSH! It's hide in the closet and enjoy a treat away from your kids, good! And since you can't (or shouldn't) eat these all in one sitting, heating one up in the microwave for 10 seconds before devouring it is almost as good as eating them fresh from the oven. 😉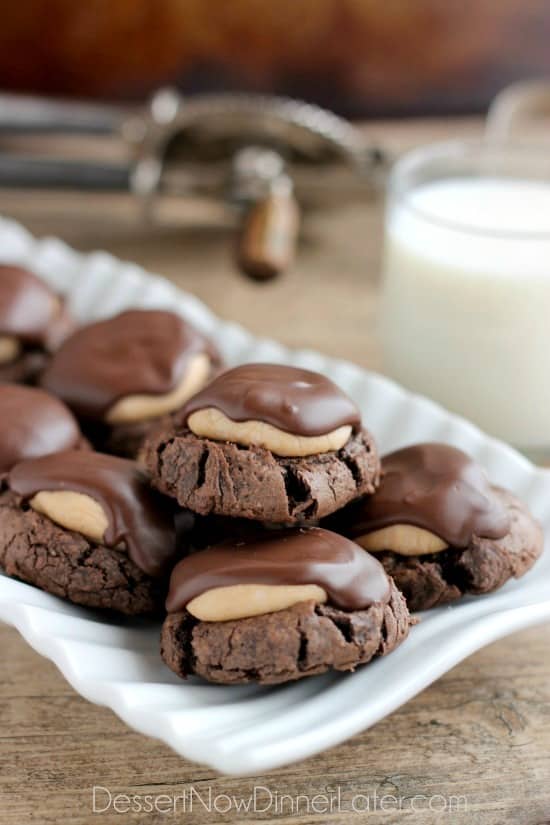 These are so easy to make, my son even helped me. 7 ingredients and you get 24 of these bad boys!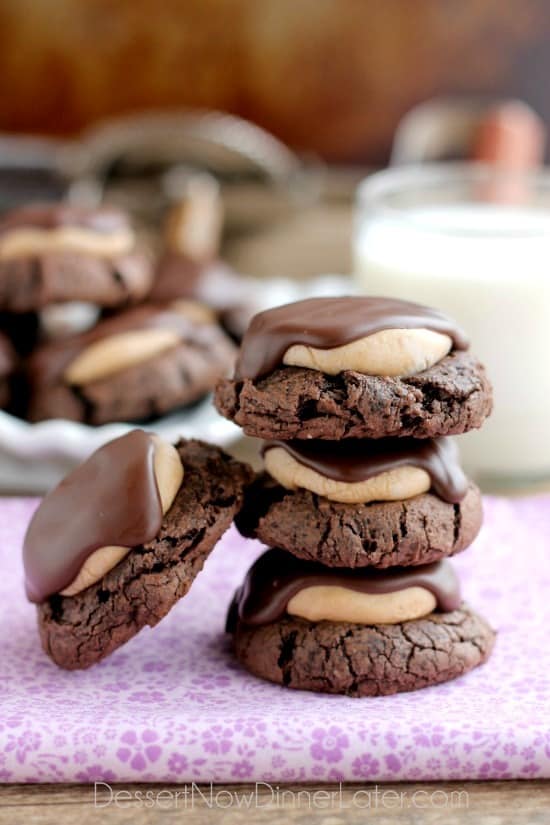 The only part that is a little messy/time consuming is rolling the peanut butter balls, but it's worth the effort, I promise! You HAVE TO, have to, HAVE TO make these!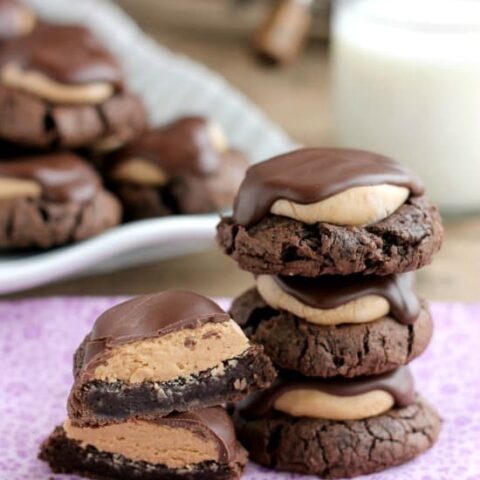 Buckeye Cookies
Ingredients
1 family size box Fudge or Dark Chocolate Brownie Mix
1/4 cup butter, melted
4 oz (1/2 pkg) cream cheese
1 egg
1 cup powder sugar (plus more for rolling the peanut butter balls)
1 cup creamy peanut butter
4 blocks (4oz) Chocolate Candiquik (Comes in a 16oz package with 16 rectangular blocks.)
Instructions
In a stand mixer using the paddle attachment, beat the brownie mix, butter, cream cheese, and egg. The dough will be thick, and slightly sticky.
Scoop the dough onto two silicone lined baking sheets, making 24 cookies. Smooth the edges of each dough ball to form a round cookie. A dab of water or cooking spray on your fingers helps!
In a separate bowl, mix the powdered sugar and the peanut butter until it is completely combined. Form the mixture into twenty four, 1-inch balls. You may need a little extra powdered sugar to roll the balls, but don't dry them out. Set aside.
Bake the cookie dough at 350 degrees Fahrenheit for 12 minutes, keeping an eye out to make sure the cookies don't over-bake or under-bake.
As soon as the cookies come out of the oven, press a peanut butter ball lightly into the center of each cookie. The peanut butter mixture will soften slightly, but that's okay. Let the cookies cool for 5 minutes. You can transfer them to a wire rack to cool completely or keep them on the cookie sheet.
Melt the 4 blocks of chocolate Candiquik in a bowl in the microwave for 45 seconds. Stir the chocolate and melt for additional 15 seconds or until the chocolate is completely melted.
Spoon about ½ Tbsp of melted chocolate on top of each cookie so it covers the peanut butter ball. Let the chocolate set. Store in an airtight container.
Nutrition Information:
Yield: 24
Amount Per Serving:
Unsaturated Fat: 0g
Recipe from Tastes of Lizzy T and re-written in my own words.