Blueberry Stuffed Pull-Apart Bread with Lemon Cream Cheese Glaze
This post may contain affiliate links, meaning that I may receive a commission at no cost to you if you use a link provided. All opinions shared are my own. You can review my full disclosure policy here.
Blueberry Stuffed Pull-Apart Bread with Lemon Cream Cheese Glaze – Sticky, lemony-blueberry stuffed pull-apart bread with lemon cream cheese glaze. Add some sunshine to your wintery day!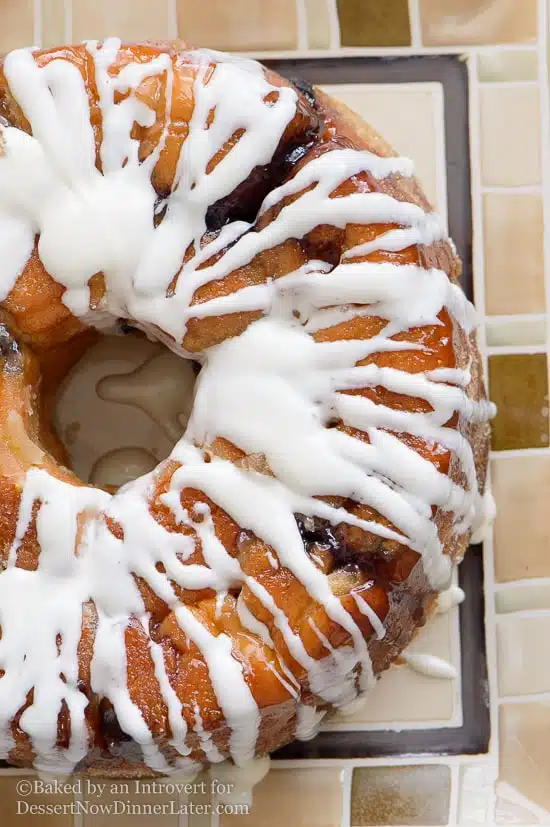 Hey, I'm Jen from Baked by an Introvert and I'm so happy to be back again with another great treat for you!
This pull-apart bread is made completely from scratch. And each piece is stuffed with blueberry preserves so you will get the wonderful taste of blueberry with each bite.
It feels as though it has been a long winter. Do you agree? On dreary days I often long for sunshine, so on this particular day I decided to make my own.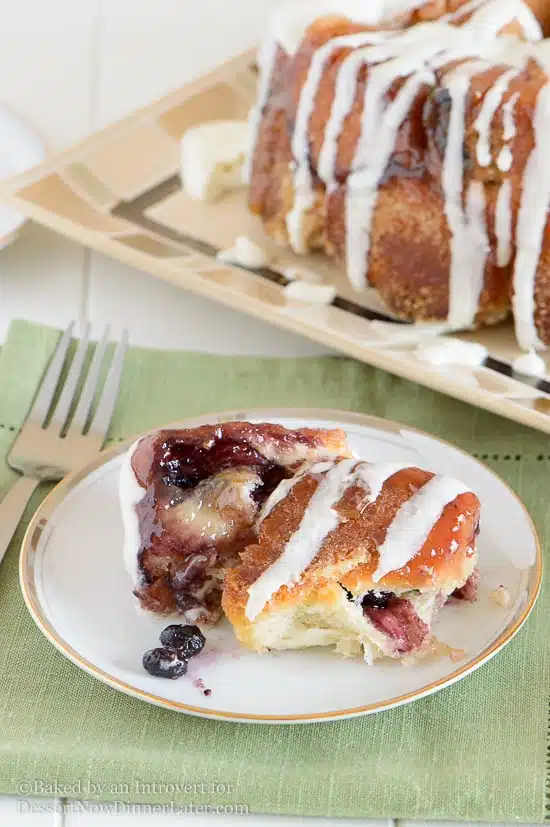 I dove head first into pull-apart bread and had a complete failure. I was however, determined to make my own "sunshine" that day. So I shot Amber a message and asked for her guidance. I guess you can say this recipe is a collaboration of sorts. I certainly cannot take all the credit here.
This bread is sweet, tangy, sticky, and baked in a bundt pan. I took balls of dough and stuffed them with the blueberry preserves. The bread gets baked together with melted butter and wonderful lemon zested sugar. There's our sunshine and it tastes divine.
To brighten this bread even more, I drizzled the top with lemon cream cheese glaze. I saw no reason not to. So I went for it. It was the best decision. Thanks to Amber and her wonderful advice, this pull-apart bread came into fruition.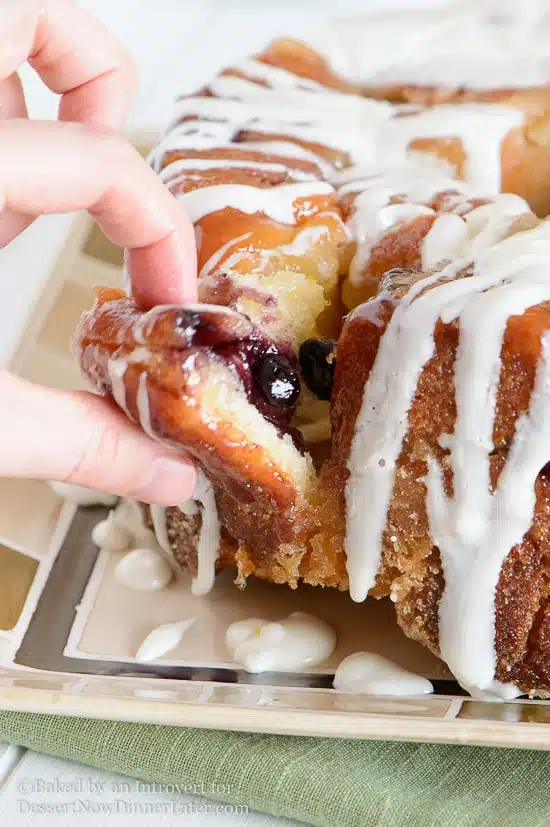 Trust me when I say you must try it! It is out of this world delicious!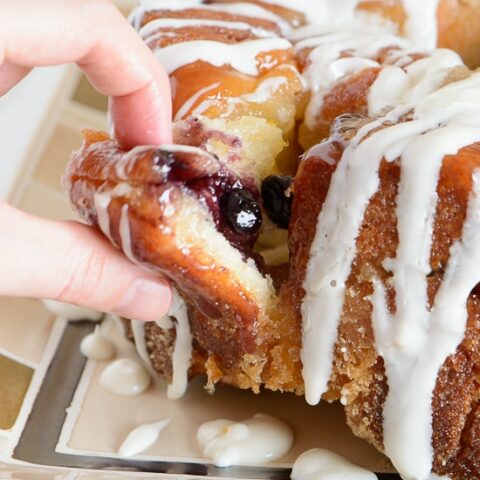 Blueberry Stuffed Pull-Apart Bread with Lemon Cream Cheese Glaze
Sticky, lemony-blueberry stuffed pull-apart bread with lemon cream cheese glaze.
Ingredients
2 1/4 tsp active dry yeast
1/4 cup warm water (about 105 – 110 degrees Fahrenheit)
3 to 3 1/2 cups all-purpose flour
1 tsp salt
1/4 cup sugar, divided
1 large egg, lightly beaten
3/4 cup warm buttermilk
1 tsp vanilla extract
3 Tbsp unsalted butter, melted
1 cup blueberry preserves
For the coating:
3/4 cup unsalted butter, melted
1 cup white sugar
3 Tbsp finely shredded lemon peel
For the glaze:
4 ounces cream cheese softened
3 Tbsp lemon juice
1 1/2 cups powdered sugar
Instructions
In a small cup, combine the yeast, warm water, and 1 Tbsp of the sugar. Stir to dissolve; let sit for 5 minutes.
In a large mixing bowl, combine 1 cup of the flour, salt, remaining sugar, egg, buttermilk, vanilla, and butter. Mix until well blended and smooth. Gradually add in enough of the remaining flour to make a stiff dough. Turn the dough out onto a lightly floured surface and knead until smooth and elastic, about 6 to 8 minutes. Dough is ready when it springs back when poked with a finger. Place the dough in a greased bowl, cover, and let rise in a warm place until it doubles in size (about 1 hour).
Meanwhile, melt the butter for the coating in a small bowl. In a separate bowl combine the sugar and lemon peel. Set aside.
Spray a 10 cup bundt pan with cooking spray. Set aside. Punch the dough down gently. Divide the dough in half. Then divide each half into 16 balls. You should have 32 dough balls. Cover the dough balls with a damp towel as you work to prevent them from drying out. Pat each dough ball into a 2 ½-inch circle. Place 1 tsp of blueberry preserves into the center of the dough. Pinch the edges together to form a seal, making the shape of a ball. Dip the ball into the melted butter then generously roll it into the sugar coating. Arrange the dough ball seam side down in the prepared bundt pan. Repeat until all of the dough has been filled and rolled. Add any remaining coating or butter to the top of the dough balls, making sure to cover the exposed surface. Cover and let rise once more for 45 minutes.
Preheat the oven to 350 degrees Fahrenheit. Bake for 30 to 35 minutes. Cool for 5 to 10 minutes. Invert the bread onto a serving plate.
Make the glaze: Beat together the cream cheese and lemon juice. Gradually whisk in enough powdered sugar to form an icing drizzle. Drizzle the glaze over the bread while the bread is still warm.
Nutrition Information:
Yield: 12
Amount Per Serving:
Unsaturated Fat: 0g