*This post is brought to you by Rhodes Bake-N-Serv. Thanks for supporting the brands that make Dessert Now Dinner Later possible.
These easy Pesto Breadsticks are soft and flavorful with savory basil pesto and cheesy mozzarella twisted inside. A great appetizer or side for soup, salad, or pasta.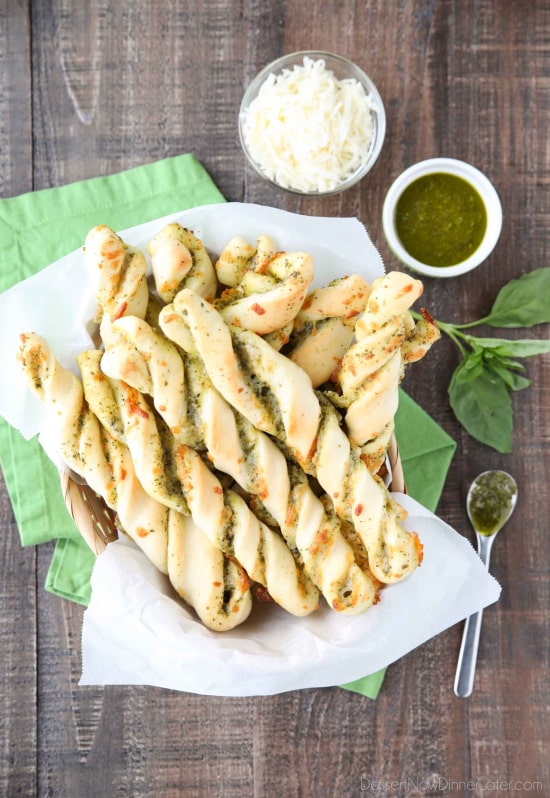 Baking bread can sometimes feel like a huge process that can sometimes be tricky to get just right. Luckily, it doesn't have to be that way thanks to Rhodes frozen dough.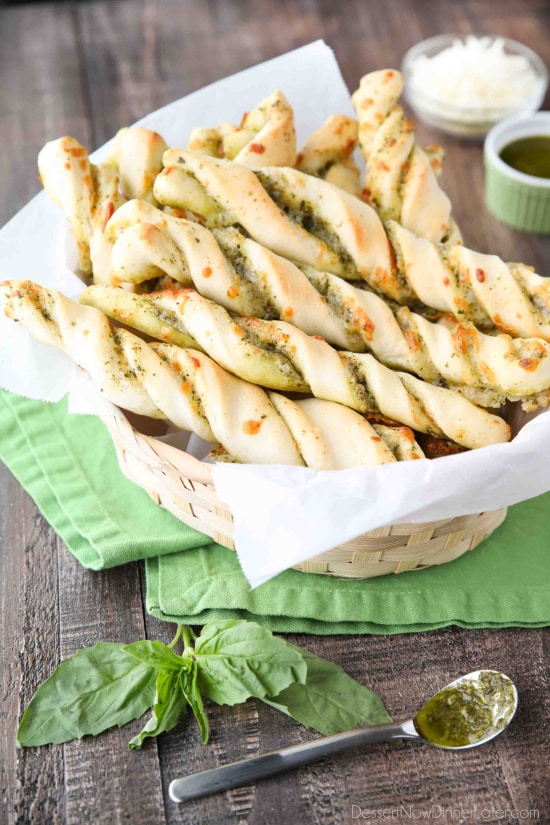 I can have fresh bread for dinner any night of the week with minimal effort as long as I have Rhodes dough in my freezer. (Which I always keep stocked and ready to go!)
These pesto breadsticks are easy to make with Rhodes bread. They make a great appetizer for game day. They go wonderfully with soup, salad, or pasta. And they even have a hint of green for St. Patrick's Day. So many reasons to make them!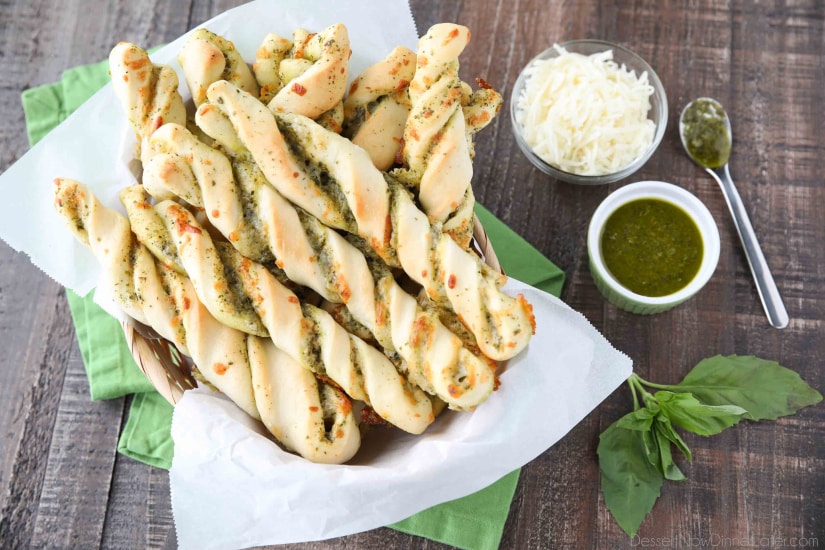 PESTO BREADSTICKS
Pesto Breadsticks are super easy to make with 1 loaf of Rhodes White Bread or 12 Rhodes Dinner Rolls. Then all you need is some basil pesto (I prefer homemade or a fresher refrigerated variety over the shelf-stable jars) and some shredded mozzarella cheese.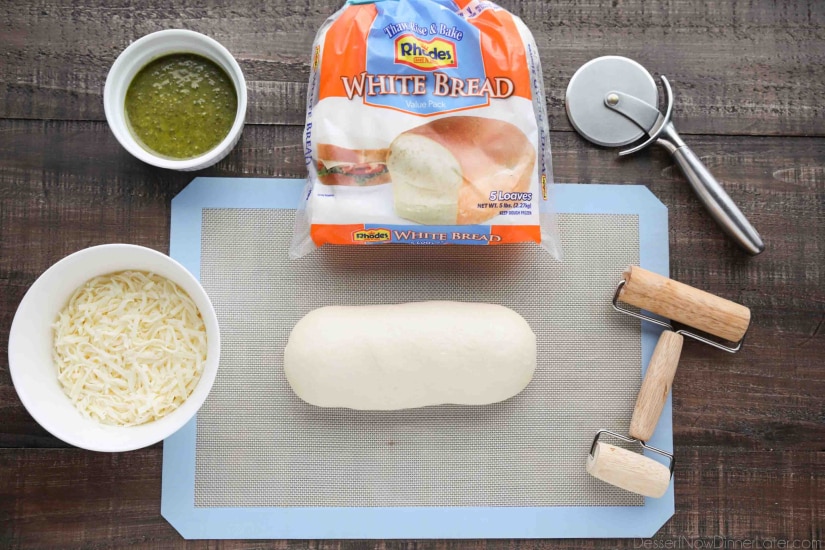 Roll the thawed dough into a large rectangle about 12×18-inches (the size of a half sheet tray). Spread a layer of pesto over the dough.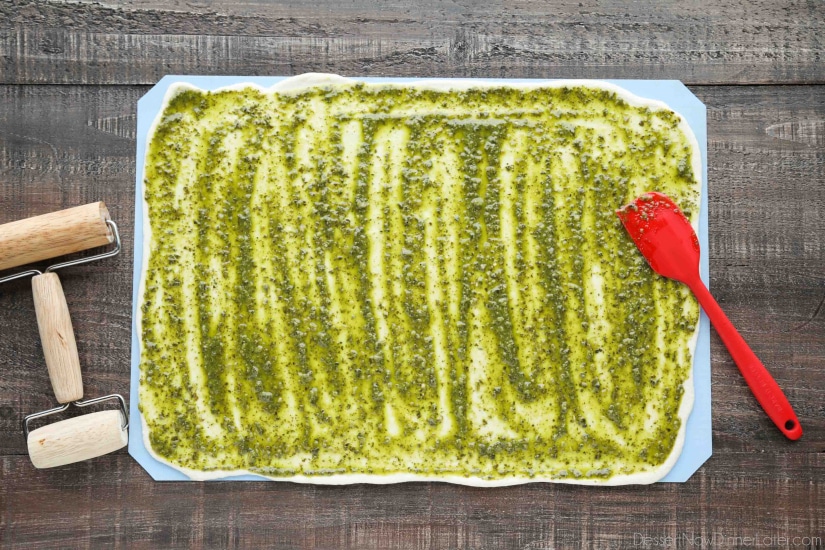 Sprinkle generously with shredded mozzarella cheese. Then fold the dough in half with the shorter ends together, so the dough is stacked with the cheese and pesto inside.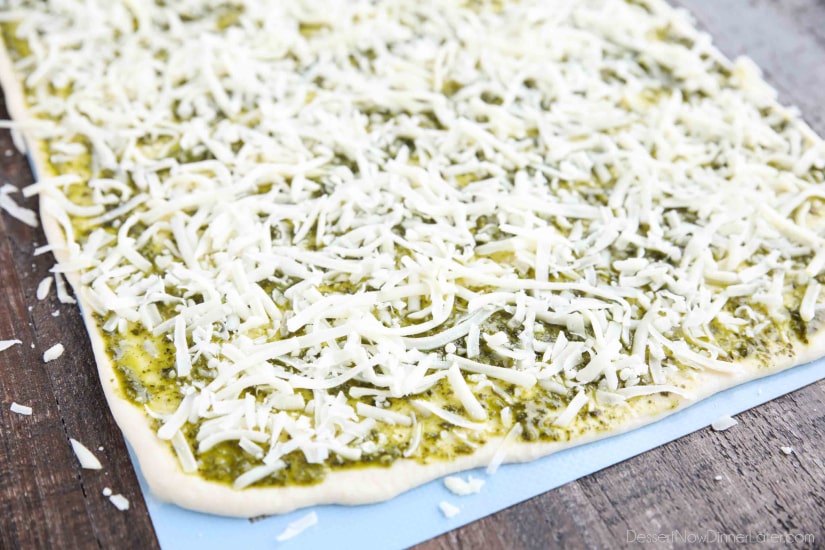 Use a pizza cutter to divide the dough evenly into twelve, 1-inch strips. (If using a silicone mat underneath the dough [like shown], be careful not to press so hard that you cut the mat.)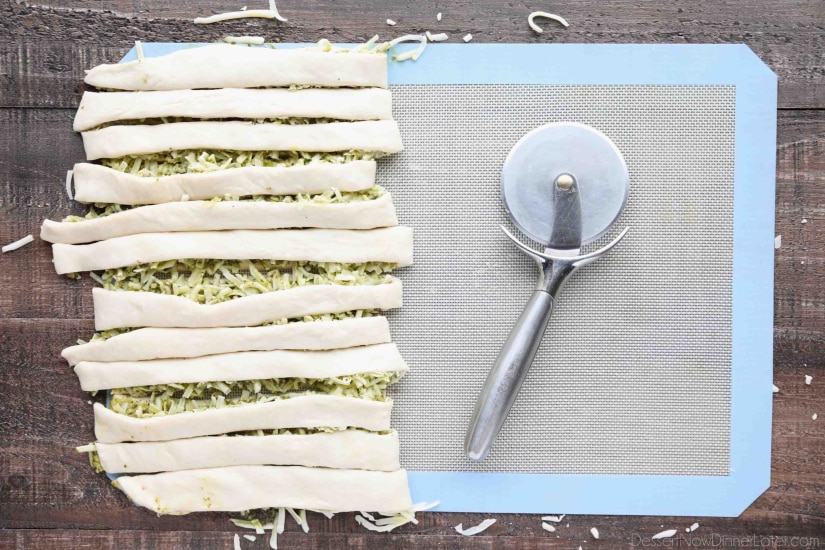 Gently twist the dough to make breadsticks, keeping as much of the filling inside as possible. Place the pesto breadsticks about 1-inch apart on a prepared baking sheet. Cover with sprayed plastic wrap and let the dough rest for 20-30 minutes.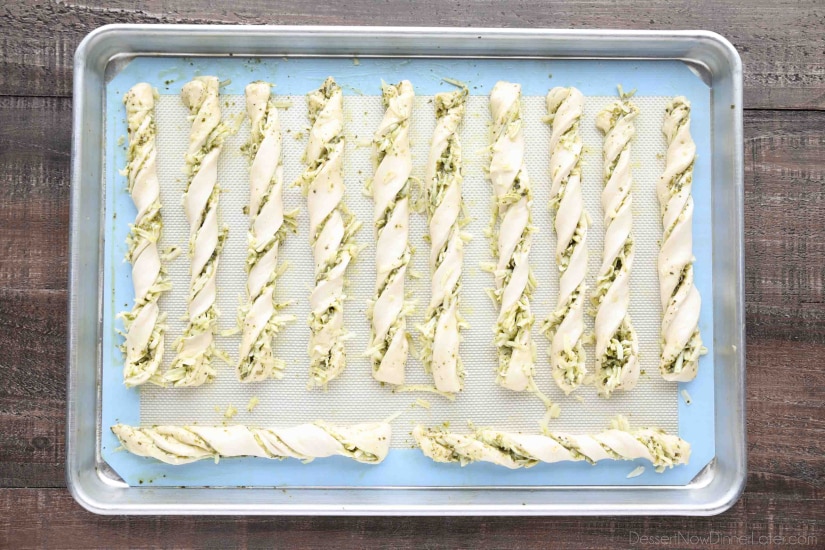 Bake at 350 degrees Fahrenheit for 15-20 minutes. Brush the tops with melted butter mixed with garlic salt for added flavor. Enjoy these pesto breadsticks warm!