Homemade Oreos
This post may contain affiliate links, meaning that I may receive a commission at no cost to you if you use a link provided. All opinions shared are my own. You can review my full disclosure policy here.
These easy Homemade Oreos are made completely from scratch. Soft, fudgy (brownie-like) chocolate cookies are stuffed with a simple, vanilla cream filling.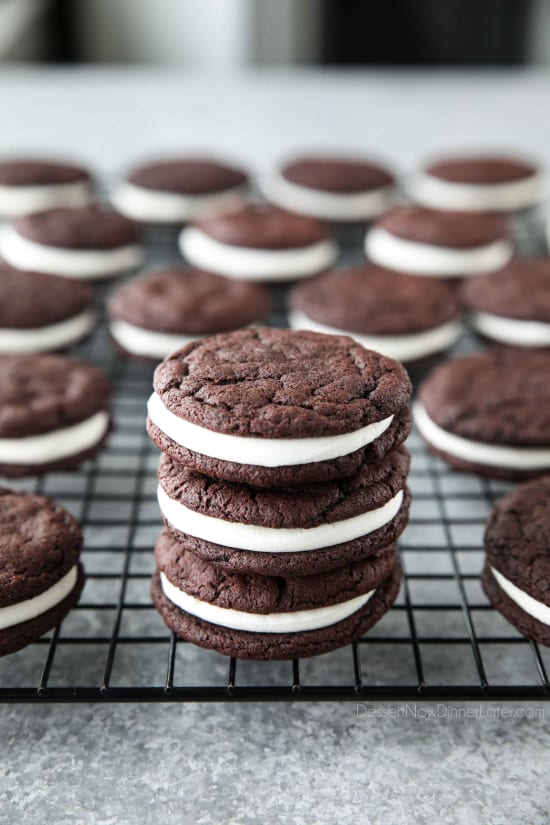 Four years ago I shared some Homemade Mint Oreos on my blog and they were SO good. The cookie was crisp, yet tender and made a great sturdy sandwich cookie.
While reminiscing about that recipe, I had a desire to recreate some classic homemade Oreos, but with a softer cookie. I remembered that my friend Erin used to make some soft Oreos for Christmas neighbor plates, so I asked her for her recipe.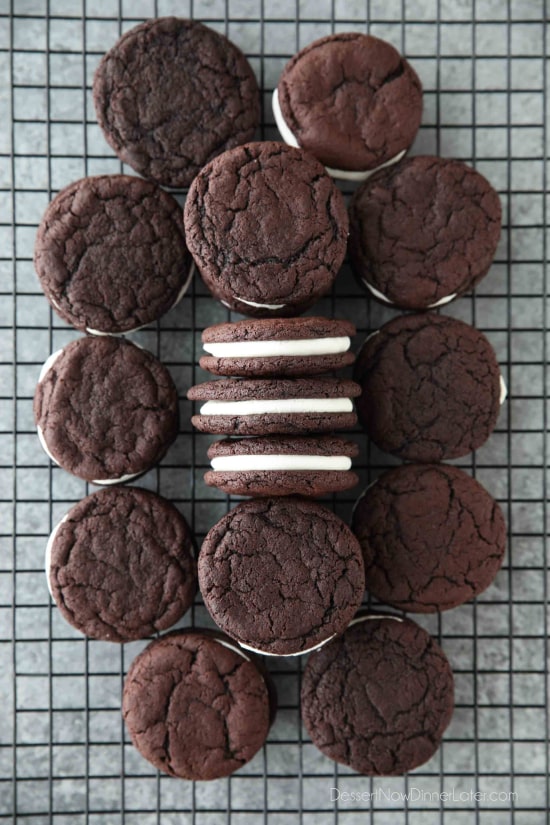 Her recipe uses a boxed cake mix, which is fine, but I wanted something from scratch, so into the kitchen I went to start creating this recipe for you.
It was tricky to get a softer texture without it being too thick and cakey like a whoopie pie, but I am SO happy with the results that I achieved.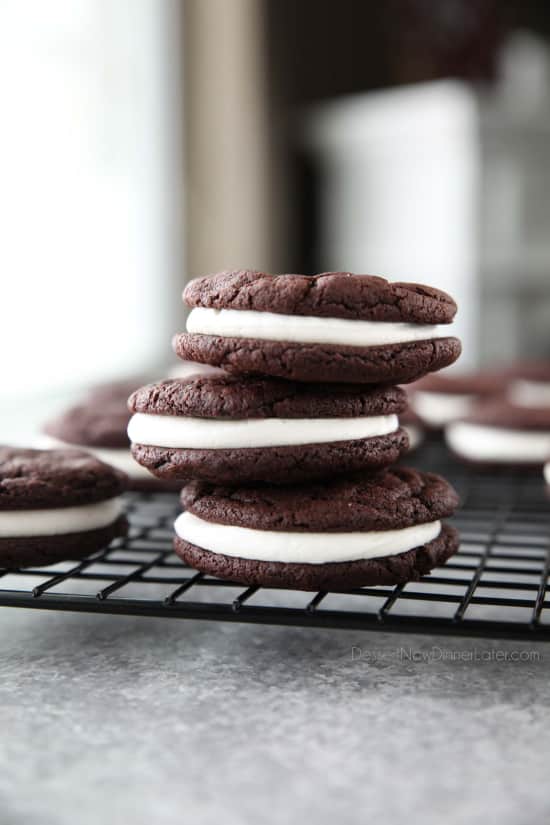 HOMEMADE OREOS
The cookies in these homemade Oreos are moist and fudgy; almost like a brownie. They're soft, but not cakey. They taste wonderful by themselves, but the addition of the vanilla buttercream filling creates the tastiest sandwich cookie.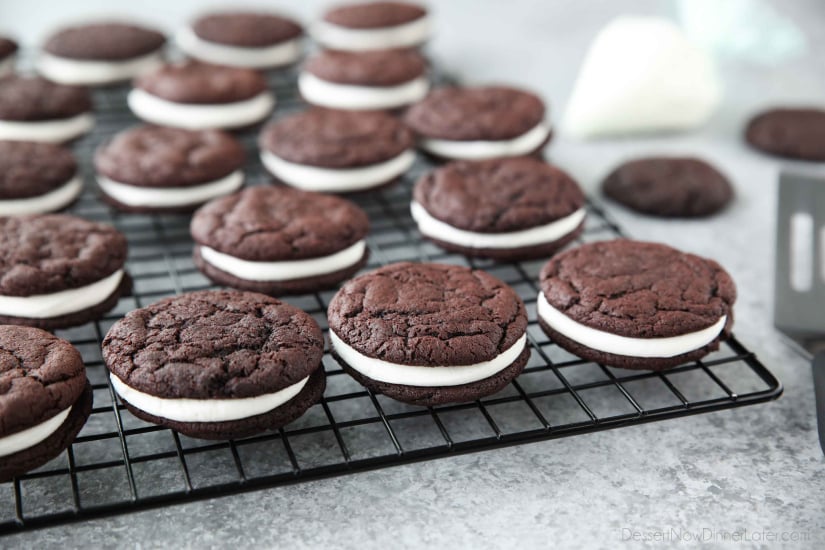 My friend Erin's homemade Oreos recipe uses a cream cheese frosting in the middle, which I wouldn't object to, if I wasn't trying to keep it classic.
If you prefer cream cheese frosting, be sure to use my recipe for the BEST Cream Cheese Frosting. It's lightly sweet and perfect for piping into cookies like these Carrot Cake Whoopie Pies. You're going to love these from scratch, homemade Oreos!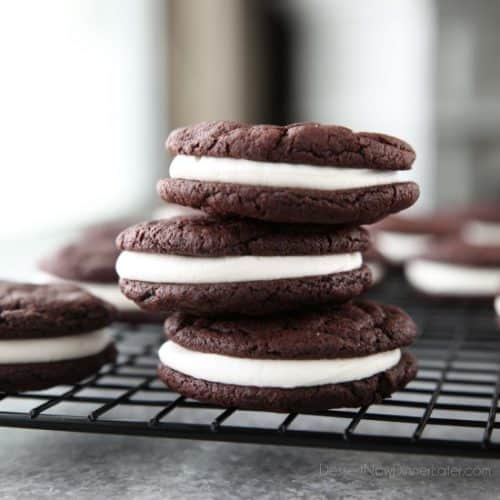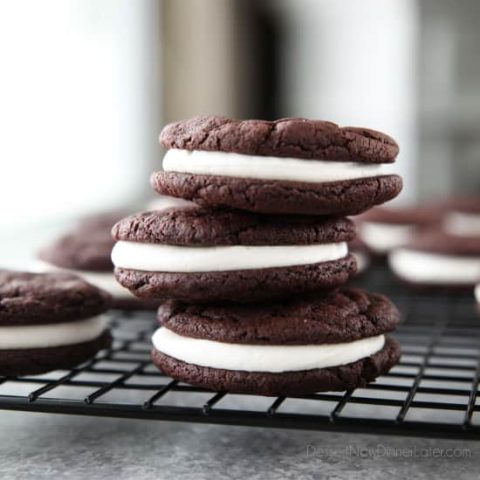 Homemade Oreos
Yield: 18 cookie sandwiches
Prep Time: 15 minutes
Cook Time: 6 minutes
Total Time: 21 minutes
These easy Homemade Oreos are made completely from scratch. Soft, fudgy (brownie-like) chocolate cookies are stuffed with a simple, vanilla cream filling.
Ingredients
Chocolate Cookie:
1 1/2 cups all-purpose flour (stir, spoon & level)
1/2 cup Hershey's Special Dark Cocoa
1 tsp baking soda
1/2 tsp baking powder
1/4 tsp salt
1/2 cup (1 stick) unsalted butter, room temperature
3/4 cup granulated sugar
1/4 cup brown sugar
1 large egg
1 tsp vanilla
2 Tbsp milk
Vanilla Cream Filling:
1/3 cup unsalted butter, room temperature
1/3 cup coconut oil/shortening
2 cups powdered sugar
1 tsp vanilla extract
1-2 tsp milk
Instructions
Preheat oven to 350 degrees Fahrenheit. Line cookie trays with parchment paper or a silicone baking mat.
In a large bowl, whisk together the flour, cocoa powder, baking soda, baking powder, and salt. Set aside.
In a stand mixer with the paddle attachment, cream the butter with the sugars. Add the egg, vanilla, and milk. Mix completely. Scrape bowl.
Add the dry ingredients to the wet ingredients and mix completely. Dough will be thick.
Scoop about 1 Tbsp of cookie dough (the size of a quarter), round dough into a ball, and place it onto the prepared cookie sheets a few inches apart. (12 cookies per half sheet tray. You should get close to 36 cookies to make 18 sandwich cookies.)
Use the bottom of a measuring cup to press the cookie dough balls half way down. (Grease the bottom of the cup with cooking spray if needed, to help with sticking.)
Bake at 350 degrees Fahrenheit for 6-7 minutes, until just baked through, for a soft, fudgy cookie. Let cookies rest for 3 minutes before transferring to a wire rack to cool completely.
To make filling, beat the butter and coconut oil/shortening until smooth in a large bowl with an electric hand mixer. Add the powdered sugar, vanilla, and milk. Mix until smooth.
Place the filling in a zip-top plastic bag and cut off the corner. Pipe filling onto the bottom of a cookie. Top with the bottom of another cookie. Repeat until all cookies are paired together and filled. Store leftover cookies in an airtight container or covered with plastic wrap.
Nutrition Information:
Yield: 18
Serving Size: 1
Amount Per Serving:
Calories: 244
Total Fat: 11g
Saturated Fat: 7g
Trans Fat: 0g
Unsaturated Fat: 3g
Cholesterol: 21mg
Sodium: 127mg
Carbohydrates: 35g
Fiber: 1g
Sugar: 26g
Protein: 2g
This data was provided and calculated by Nutritionix, and is an estimation only.