Oatmeal Cream Pies
This post may contain affiliate links, meaning that I may receive a commission at no cost to you if you use a link provided. All opinions shared are my own. You can review my full disclosure policy here.
Oatmeal Cream Pies – Soft and chewy oatmeal cookies filled with vanilla buttercream frosting. Inspired by Little Debbie, but made fresh and delicious in your own home!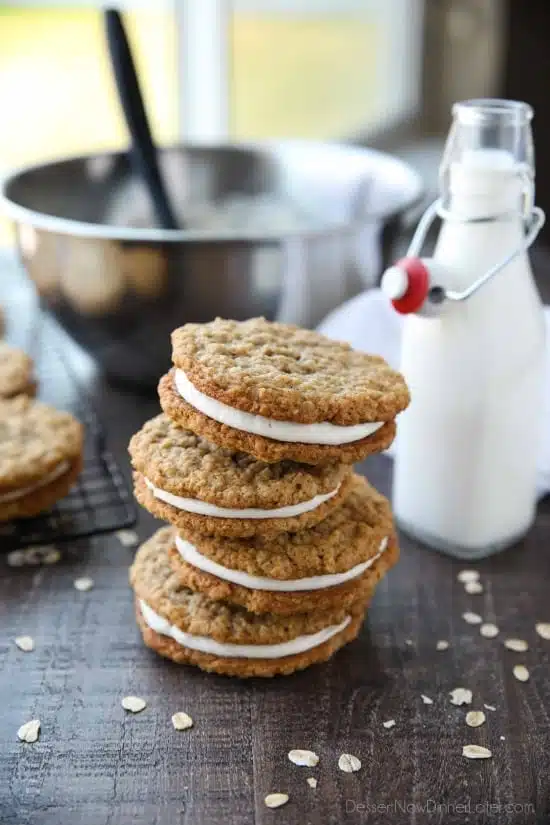 Little Debbie Oatmeal Creme Pies take me back to childhood. We never bought them very often, but they were one of my favorite treats. The soft and chewy oatmeal cookies sandwiched between sweet vanilla frosting was a treat I'd eagerly rip out of the wrapper, but now I make them at home!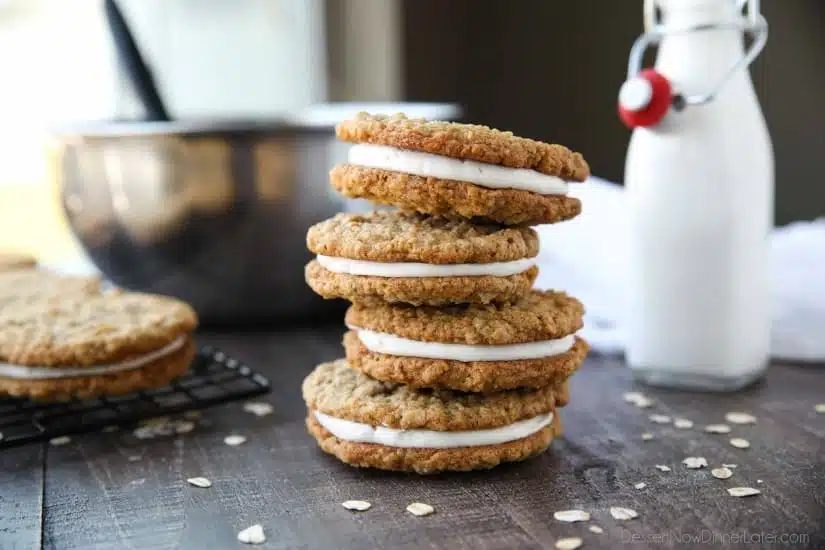 I LOVE oatmeal cookies. I even like them with raisins! (I know you raisin haters are gasping right now.) But there's something wonderful about a sandwich cookie that takes the cake – er cookie!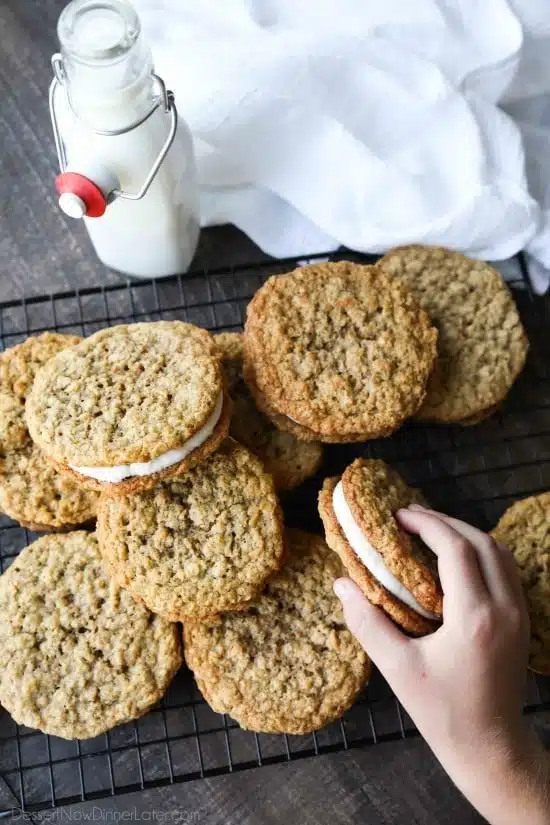 These oatmeal cookies are made with a hint of cinnamon that brings a warmth-ness to every bite. The sweet and buttery vanilla frosting is smooth and creamy making the perfect "glue" to hold the two cookies together.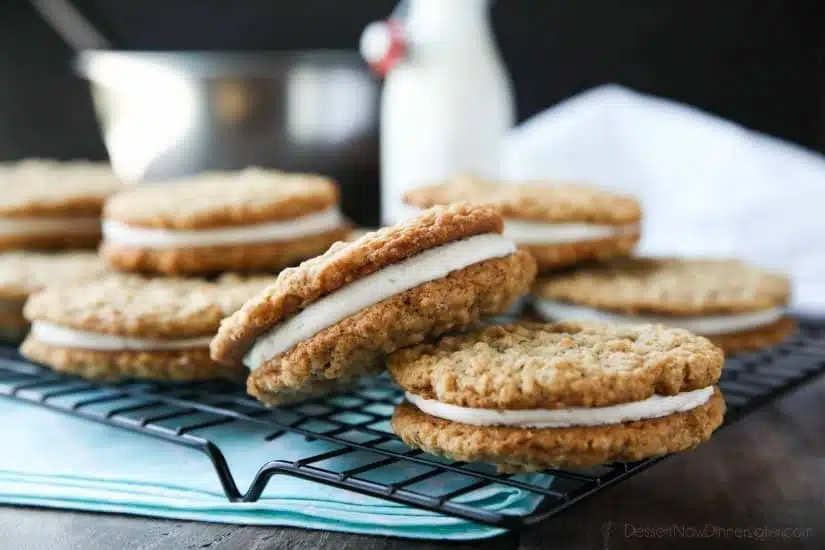 Sunday baking, school lunch boxes, and cookie cravings are all good reasons to make these oatmeal cream pies! The point is — to make them! I hope you love them as much as we do! My husband would have devoured the whole batch himself, but I shared them with neighbors before he could. Haha. I don't blame him though. They are that good! Another reason I had to get them out of the house fast! Enjoy my friends!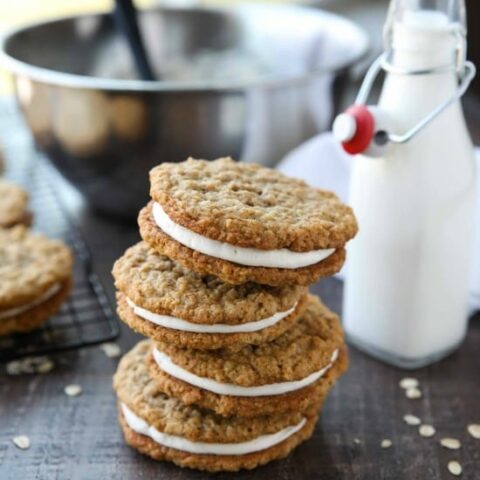 Oatmeal Cream Pies
Prep Time: 20 minutes
Cook Time: 12 minutes
Total Time: 32 minutes
Yield: 14 sandwich cookies
Ingredients
Cookies:
1 cup (2 sticks) unsalted butter, softened
3/4 cup brown sugar
1/2 cup granulated sugar
2 large eggs
1 tsp vanilla extract
1 1/2 cups all-purpose flour
1 tsp baking soda
1 tsp cinnamon
1/2 tsp salt
3 cups quick or old fashioned oats (I used both - half of each)
Cream Filling:
3/4 cup (1 1/2 sticks) unsalted butter, softened
2 1/2 cups powdered sugar
1 tsp vanilla extract
1 Tbsp milk
Instructions
Preheat oven to 350 degrees Fahrenheit. Line baking trays with parchment paper/silicone baking mats.
In the bowl of a stand mixer fitted with the paddle attachment, cream the butter and sugars until light and fluffy. Add the eggs and vanilla. Mix until combined.
In a separate bowl, mix the flour, baking soda, cinnamon, and salt. Slowly add the flour mixture to the wet ingredients until almost combined. Add the oats and mix until incorporated. Scrape the bowl and mix again for 10 seconds. (To make sure no clumps of butter/sugar were hiding at the bottom of the bowl.)
Scoop 6 to 8 cookie dough balls onto prepared baking trays, about 2 Tablespoons each. Do not crowd the cookies. Bake for 11 to 12 minutes or until light brown. Let cookies rest on baking trays for a few minutes before removing them to a wire rack to cool completely.
CREAM FILLING: In a large bowl with an electric hand mixer, beat the butter until light and fluffy. Add powdered sugar and mix until completely incorporated. Add the vanilla and milk. Beat until light and fluffy, adding more milk 1 teaspoon at a time, if needed, until desired consistency.
To assemble, pipe or spread the cream filling on the bottom side of half the cookies. Place the remaining cookies on top, sandwiching them together. Store in an airtight container.
Notes
-Use a cookie scoop for uniform cookies and do NOT put more than 8 on a tray. It effects the spread and cook time.
*Recipe from My Baking Addiction
Nutrition Information:
Yield: 14
Amount Per Serving:
Unsaturated Fat: 0g