Butterscotch Cookies
This post may contain affiliate links, meaning that I may receive a commission at no cost to you if you use a link provided. All opinions shared are my own. You can review my full disclosure policy here.
Pudding mix and baking chips make these Butterscotch Cookies soft, chewy, and extra tasty!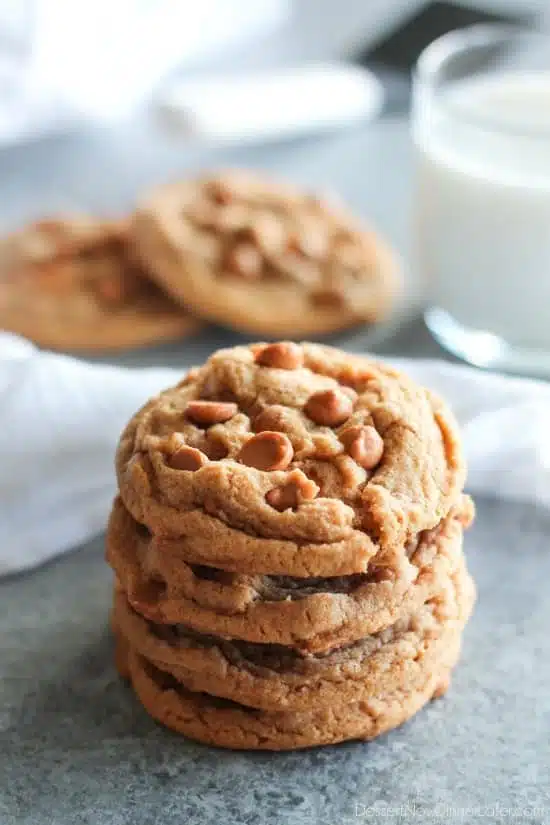 It's been a while since I've been able to just play in the kitchen and make whatever I want. I used to blog religiously 3x a week (Sundays, Tuesdays, and Thursdays), but ever since I had my sweet baby boy (child #3) last June, I just can't seem to keep up with that. It's been survival of the fittest around here, but I took a day and baked some recipes that I've been wanting to do for a while and this recipe for butterscotch cookies was one of them!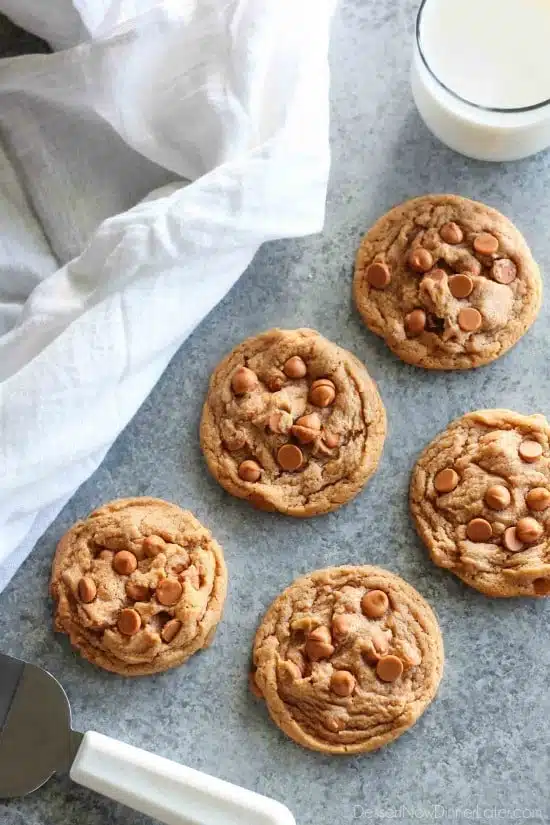 First off, don't these butterscotch cookies look fabulous on my new Erickson Woodworks board? I'm so in love with the beauty of their boards that I ordered two more. I got to test out several boards at a food photography workshop I went to in July. They are all beautiful! I've been gone every other weekend for blog stuff since mid-July. My second trip in July was to IFBC (International Food Blogger Conference) in Sacramento. Such a pretty place to be. The classes weren't my thing though, but there were a lot of big bloggers there that I had the chance to meet, so that was fun.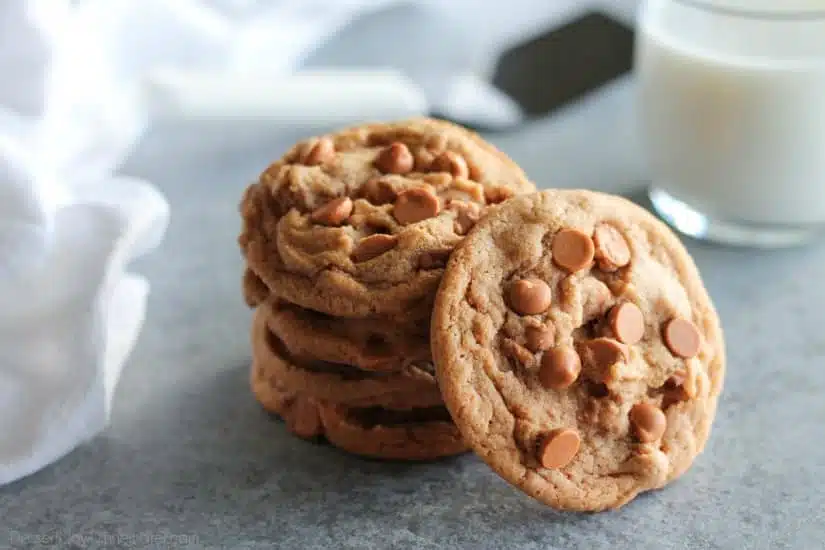 I'm leaving later today to go to a Food Bloggers Retreat with Camp Chef at Conestoga Ranch (a "glamping" destination) in Garden City, UT near Bear Lake. My husband gets to go with me this time, his parents are here from California babysitting our three kids, and I can't wait! It's the first trip we've had alone since we started having kids 7 years ago! My last blog trip this year won't be until BlogHer Food in October in Austin, Texas. I've never been to Texas, and I can't wait!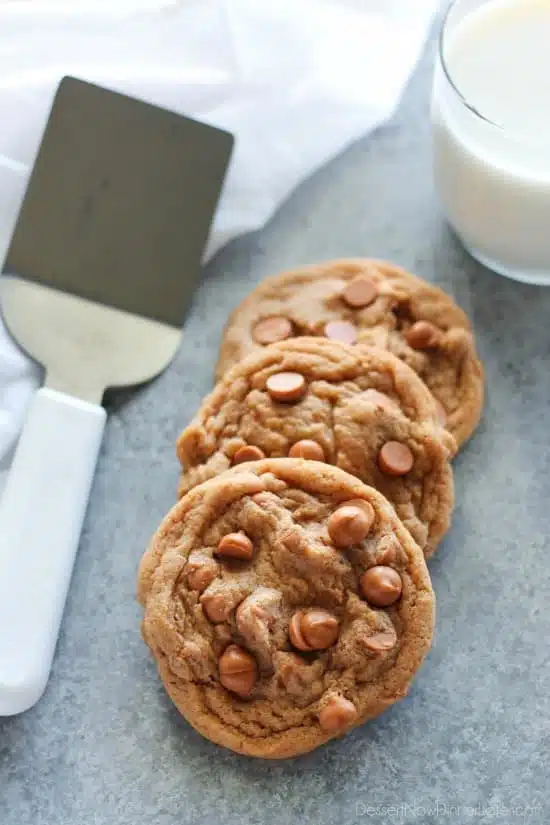 Anyway, let's get back to these butterscotch cookies! They have butterscotch pudding in the dough, and are loaded with butterscotch chips, for a cookie full of buttery, scotch-y (is that a word?) flavor! They are so soft and chewy too. If you're a butterscotch fan, I highly recommend these cookies! Give them a try and tell me what you think.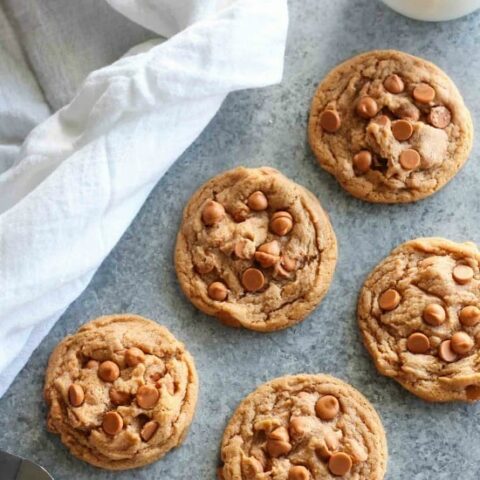 Butterscotch Cookies
Prep Time: 15 minutes
Cook Time: 12 minutes
Total Time: 27 minutes
Yield: 2 dozen cookies
Pudding mix and baking chips make these Butterscotch Cookies soft, chewy, and extra tasty!
Ingredients
3/4 cup (1 1/2 sticks) butter, softened
3/4 cup brown sugar
1/4 cup granulated sugar
1 tsp vanilla
1 large egg
2 cups all-purpose flour
1 small (3.5oz) box instant butterscotch pudding mix (dry, not prepared)
1 tsp baking soda
1 tsp salt
1 (12oz) bag butterscotch chips
Instructions
Preheat oven to 350 degrees Fahrenheit.
In the bowl of a stand mixer with the paddle attachment, cream the butter and sugars. Mix in vanilla and egg until smooth.
In a medium bowl, whisk together flour, dry butterscotch pudding mix, baking soda, and salt. Add dry mixture to wet ingredients and mix until combined. Stir in butterscotch chips.
Scoop about 2 Tablespoons of dough and roll into balls. Place on lightly greased baking sheet about 2-inches apart.
Bake 10 to 12 minutes. Allow to rest on baking sheet for 5 minutes before transferring to a wire rack to cool completely. Store in an airtight container at room temperature up to 5 days.
Nutrition Information:
Yield: 24
Amount Per Serving:
Unsaturated Fat: 0g