Coconut Snowballs
This post may contain affiliate links, meaning that I may receive a commission at no cost to you if you use a link provided. All opinions shared are my own. You can review my full disclosure policy here.
No-bake Coconut Snowballs are simple and delicious! The perfect healthy dessert to curb that sweet-tooth craving! Bonus: They're egg, dairy, and gluten free!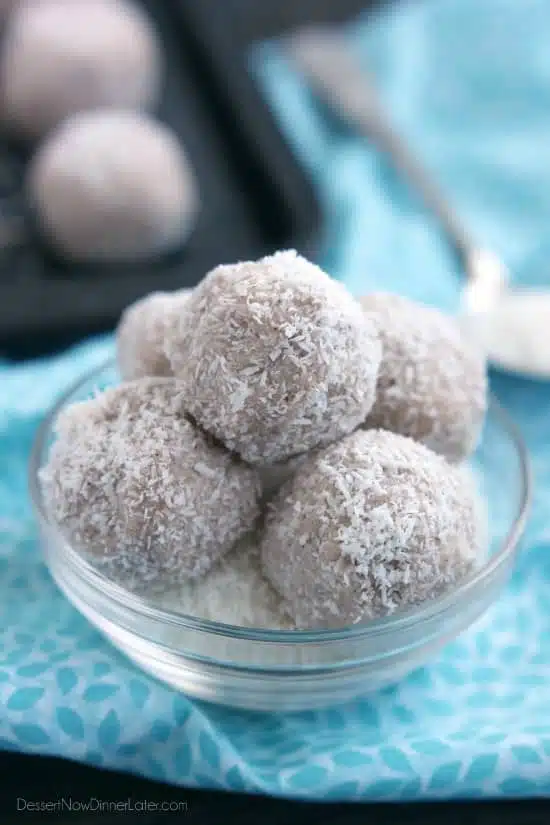 I had a baby 6 months ago, and as much as I hate to admit it, I've still got quite a bit of baby weight leftover. In fact, that's what my kids refer to my baby pouch as, "leftovers." It's sad, but true. Haha.
So, I committed to eating better the week before Thanksgiving, which seems impossible right? Wrong! I lost weight over the holidays the winter after I had my daughter so I knew I could do it again, and I did! I even lost 3 lbs during that week before Thanksgiving and have been working hard and getting closer to my pre-pregnancy weight ever since. Still have some to go, but I'm proud with how far I've come.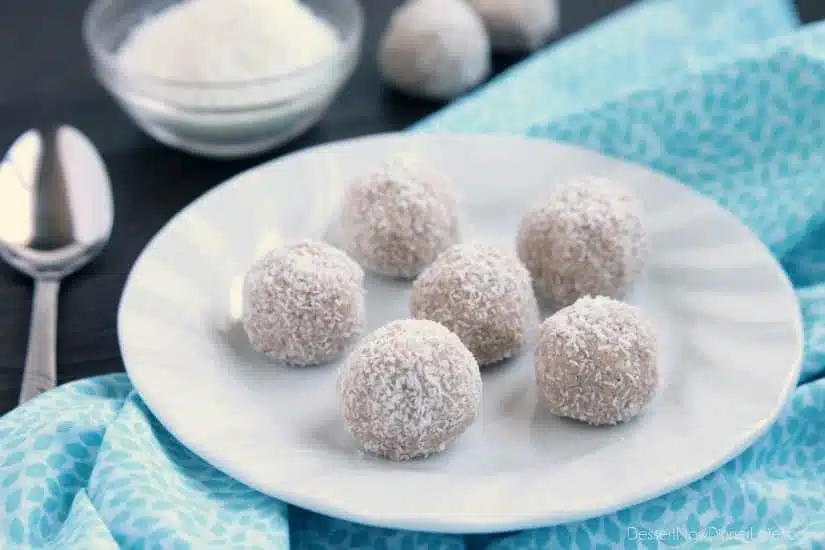 Well, the last thing I want to do, is to undo all that hard work it took to get me this far, but I still want to feel like I can have a treat or bring something to share at a holiday party without feeling totally guilty about it and coconut is totally one of my favorite things to put in desserts, so…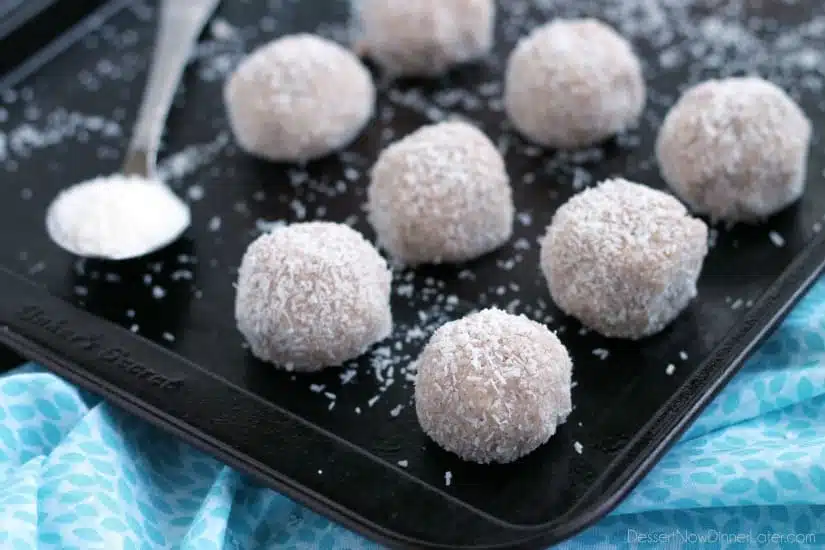 I thought it would be fitting to make a coconut dessert that is also fun for the holidays: Coconut Snowballs. These are super easy to make. You don't cook them or anything! Throw the ingredients in a food processor (or Blendtec Twister Jar) and you have yourself some no-bake cookies!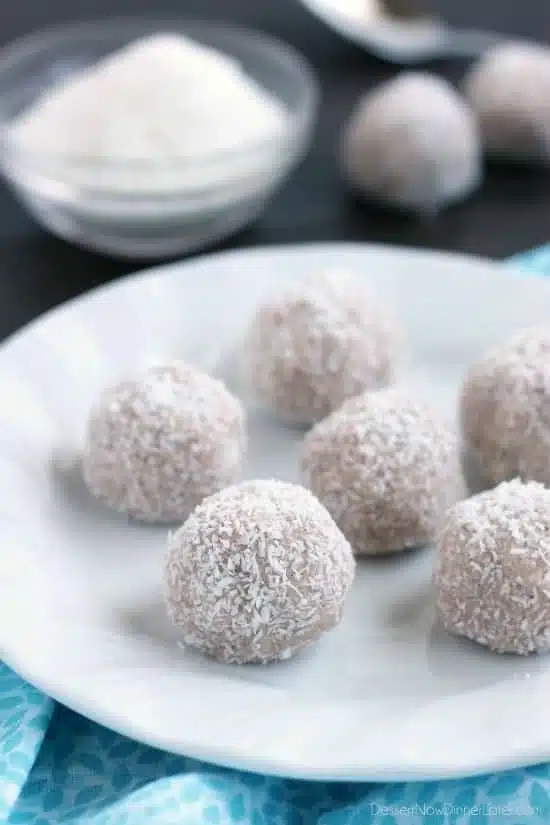 These Coconut Snowballs, are thick, chewy, and definitely satisfying. They are lightly sweet which takes care of that sweet-tooth without going overboard. Plus, they are egg-free, dairy-free, and gluten-free. That makes them healthy, right?!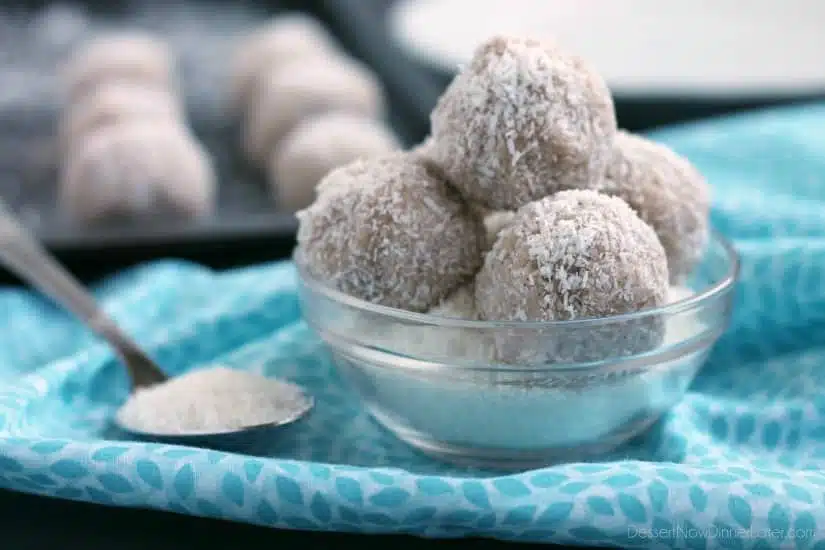 If you are looking for something delicious that's not full of refined sugar and all that, then make these Coconut Snowballs. I've considered dipping half of them in dark chocolate for a little extra indulgence too. Yum!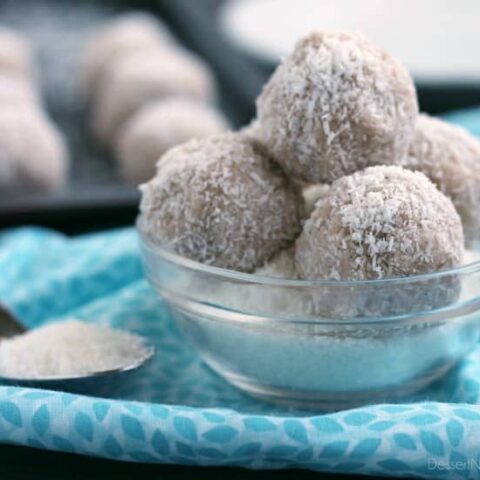 Coconut Snowballs
No-bake Coconut Snowballs are simple and delicious! The perfect healthy dessert to curb that sweet-tooth craving! Bonus: They're egg, dairy, and gluten free!
Ingredients
1 3/4 cups unsweetened shredded coconut, divided
2 tsp melted coconut oil
3 Tbsp organic raw honey
2 Tbsp unsweetened coconut milk
1/2 tsp pure vanilla extract
1/2 tsp ground cinnamon
1/8 tsp sea salt
Instructions
Melt the coconut oil and place it with 1 cup of the shredded coconut in a food processor. Process on high speed, scraping down the sides periodically until it reaches a paste-like consistency. (It does not have to be completely smooth like coconut butter; some texture is good.)
Add the honey, coconut milk, vanilla, cinnamon, and salt and process until well combined. Add ½ cup plus 2 Tablespoons of shredded coconut and pulse until just combined.
Shape the mixture into 12 (1-inch) balls and coat with the remaining 2 Tablespoons of shredded coconut. Refrigerate for at least an hour and up to 5 days. Eat cold or bring to room temperature before eating, depending on personal preference.
Notes
*Swap the honey with pure maple syrup to make these vegan.
**Recipe lightly altered from
the kitchn
Nutrition Information:
Yield: 12
Amount Per Serving:
Unsaturated Fat: 0g
Recipe added 1/11/16. Also seen on Super Healthy Kids.