Caramel Apple Snickerdoodles
This post may contain affiliate links, meaning that I may receive a commission at no cost to you if you use a link provided. All opinions shared are my own. You can review my full disclosure policy here.
These Caramel Apple Snickerdoodles are soft, chewy cookies, coated in cinnamon-sugar, with bits of tender apples, and drizzled with caramel on top.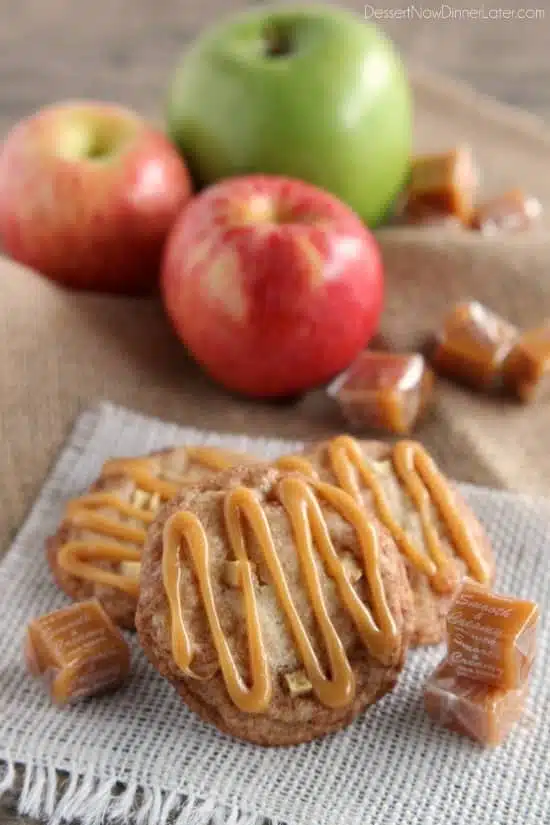 My oh my! The air is crisp, it's definitely fall time, so I'm whipping out the fall recipes! These Caramel Apple Snickerdoodles came about after a disastrous recipe fail. I originally wanted to make these Caramel Apple Cookies, but the caramels I bought were NOT working out, no matter how small I cut them, they melted and spread EVERYWHERE – twice! And yes, even I have recipe flops!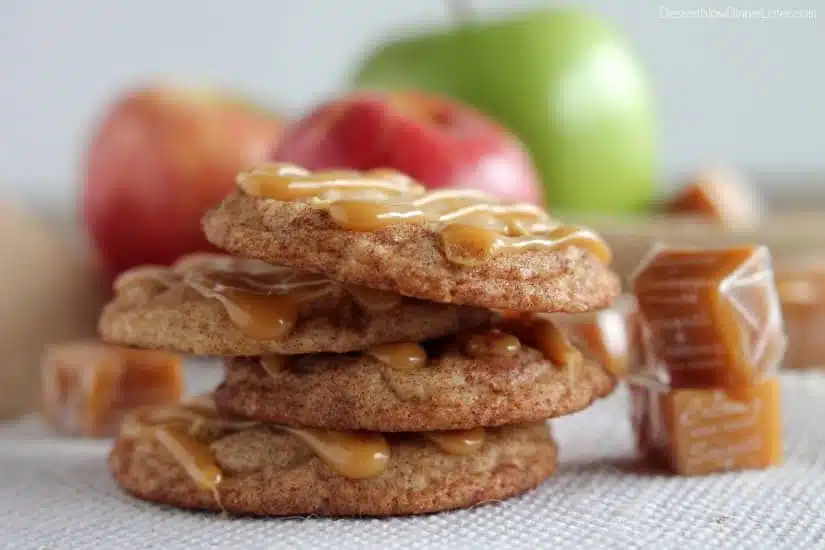 Since that recipe attempt failed me twice, I decided to try something different. Cinnamon-sugar and apples go together well so I'm like, "SNICKERDOODLES!" And they weren't that pretty until I drizzled some caramel on top, so that's how these Caramel Apple Snickerdoodles came about!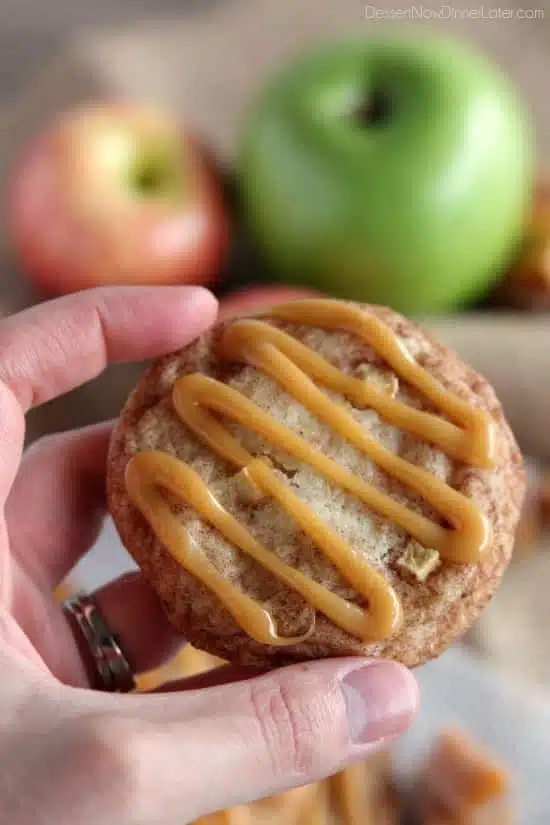 I will warn you: Do NOT stack these cookies (like I did in the picture) because they will stick to each other, and it's kind of sad. The caramel stays soft and chewy, which is great for eating, just not great for stacking on a plate for neighbors. Single layers my friends! Enjoy!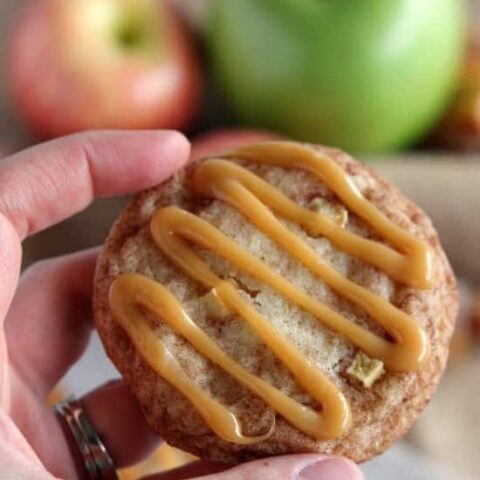 Caramel Apple Snickerdoodles
Ingredients
1/2 cup butter, unsalted
3/4 cup sugar
1 egg
1/2 tsp vanilla
1 1/2 cup flour
1 tsp cream of tartar
1/2 tsp salt
1/2 tsp baking soda
3/4 to 1 cup apple, peeled and diced small (1 apple)
1/4 cup sugar
1 1/2 tsp cinnamon
20 caramels, unwrapped
Instructions
Preheat oven to 350 degrees Fahrenheit.
Cream the butter with ¾ cup of sugar in a large bowl. Add egg and vanilla, mix well.
In a separate bowl, mix the flour, cream of tartar, salt, and baking soda. Add dry ingredients to the wet mixture and mix until combined. Fold in the diced apple pieces.
In a small bowl, combine the ¼ cup sugar and 1½ tsp cinnamon. Scoop cookie dough balls, roll into the cinnamon sugar mixture, and place on a prepared baking sheet with pan spray or a silicone baking mat.
Bake cookies for 10 to 12 minutes or until brown on the edges. Allow to cool.
Heat caramel squares in a bowl in the microwave for short bursts of 15 seconds at a time until just melted. Place in a zip-top bag and cut off the corner. BE CAREFUL the caramel will be hot. I actually used a winter glove to hold the bag at this point. Pipe a zig-zag of caramel over the tops of the cookies; allow to set. DO NOT stack cookies together. Store cookies in a single layer on a baking sheet covered with plastic wrap (make sure the plastic wrap doesn't touch the top of the cookies.)
Nutrition Information:
Yield: 2
Amount Per Serving:
Unsaturated Fat: 0g