Brown Sugar Glazed Apple Scones
This post may contain affiliate links, meaning that I may receive a commission at no cost to you if you use a link provided. All opinions shared are my own. You can review my full disclosure policy here.
These Brown Sugar Glazed Apple Scones are moist, tender, full of apples and spices, and even some whole wheat flour!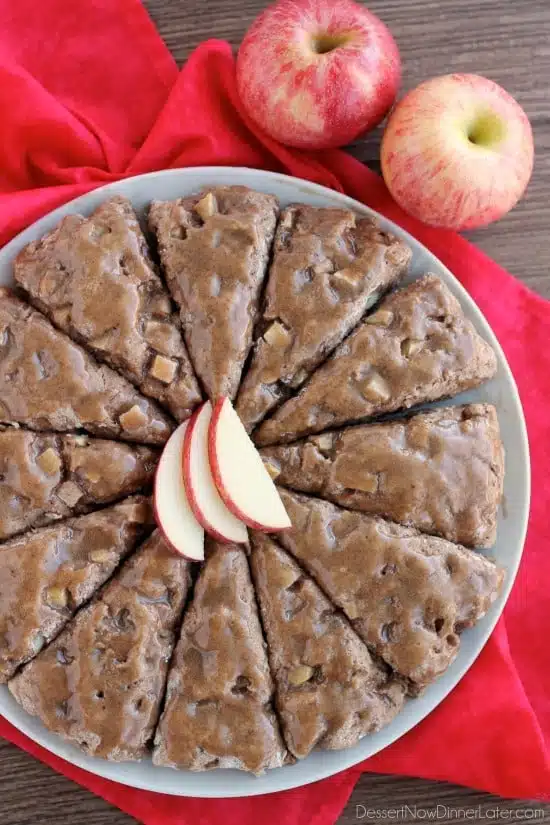 I'm trying to suppress the pumpkin fever that is coming over everyone with some apple recipes first. I love both apple and pumpkin equally, so I'm good with whatever, but I'm happy to gently switch summer flavors to fall flavors in their proper time frame.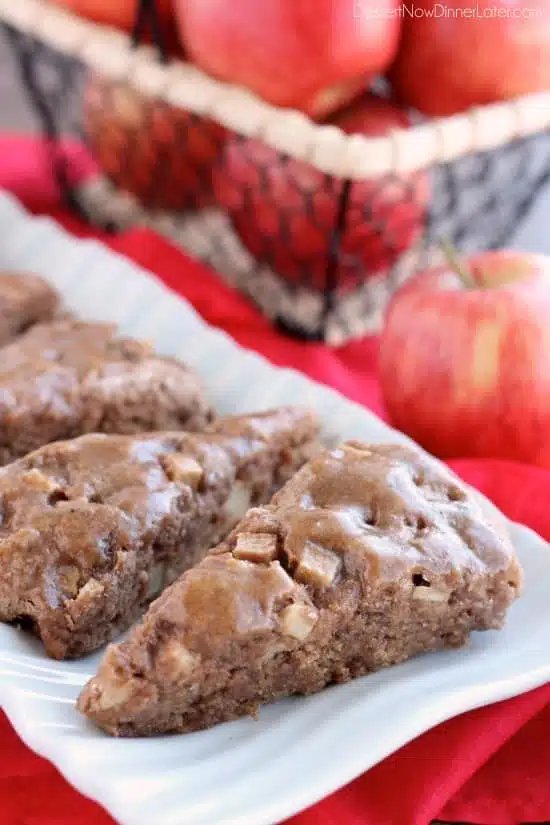 These Brown Sugar Glazed Apple Scones are so flipping fabulous! I baked them close together so they are soft and tender instead of crunchy and dried out. You can obviously bake them apart from each other if that's how you prefer your scones (like those of you who dip yours in coffee), but holy delicious! The brown sugar glaze on top of these apple scones was like icing on cake! It lightly absorbed into the scone and made it even more moist and delicious!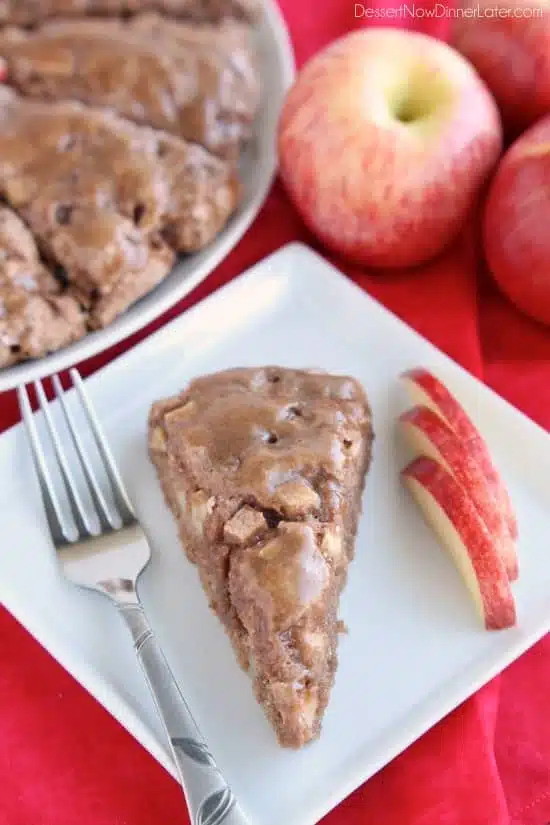 The tender bits of apples paired with cinnamon and nutmeg were just delightful! Also, did I mention these are made with some whole wheat flour? I eat wheat regularly, but I didn't think they were dense and heavy like some wheat creations can be. They were tender and light!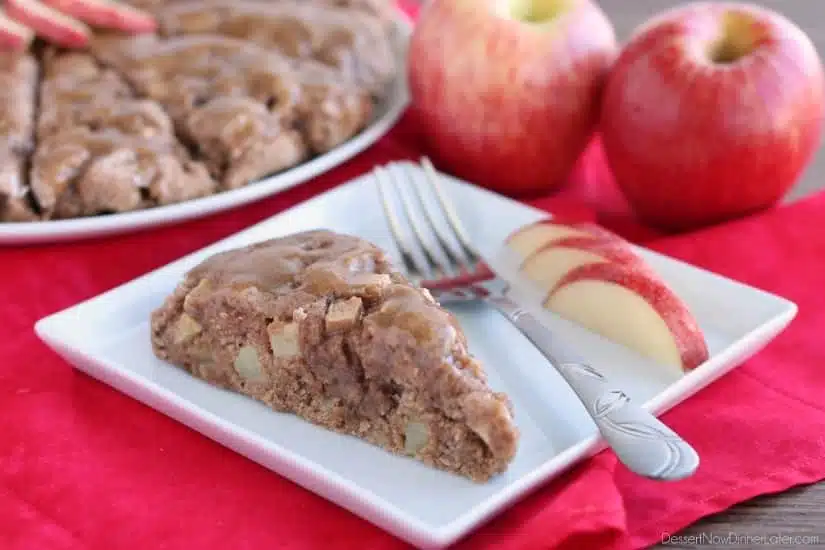 These Brown Sugar Glazed Apple Scones have become a great after school snack for our family as well! I hope you enjoy!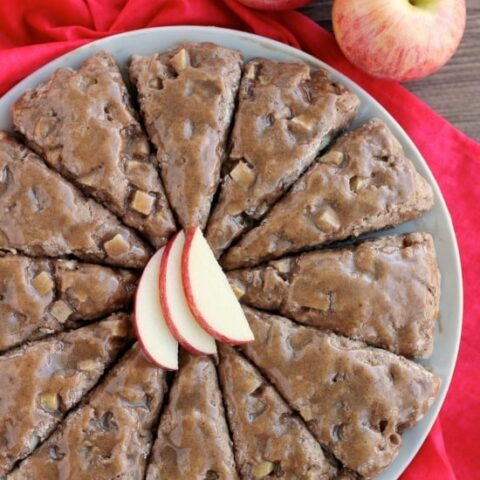 Brown Sugar Glazed Apple Scones
Ingredients
Apple Scones:
1/2 cup cold buttermilk
1/4 cup unsweetened apple sauce
1/4 cup brown sugar, packed
2 tsp vanilla
1 large egg
1 cup whole wheat flour
1 cup all purpose flour
1 Tbsp baking powder
1 Tbsp cinnamon
1/4 tsp nutmeg
1/2 tsp salt
3 Tbsp chilled butter, must be cold
2 cups peeled, diced apples (I used Gala)
Brown Sugar Glaze:
1/4 cup brown sugar, packed
1 Tbsp butter, melted
2 Tbsp milk
1/4 tsp cinnamon
2 Tbsp powdered sugar
Instructions
Preheat oven to 375 degrees Fahrenheit.
Whisk the buttermilk, apple sauce, brown sugar, vanilla, and egg in a medium sized bowl.
Spray a baking sheet with cooking spray or line it with a silicone baking mat.
Combine the flours, baking powder, cinnamon, nutmeg, and salt in another large bowl, stirring with a whisk. Cut in the chilled butter with a pastry blender until small and crumbly. Fold in diced apples.
Add the buttermilk mixture to the flour mixture, stirring until just moist.
Place dough onto a floured surface and knead lightly four times with floured hands. Form dough into a 9-inch circle on the prepared baking sheet, about ¾" thick.
Using a bench scraper or knife (be careful if your dough is on a silicone mat), cut dough into 12 wedges all the way through. Leave dough in a circle for soft scones, or separate the triangles for crisp scones.
Bake for 18 to 20 minutes or until golden. Let cool 10 minutes.
Meanwhile prepare glaze by whisking the brown sugar into the melted butter, until dissolved. Add milk, cinnamon, and powdered sugar. Let rest at room temperature to thicken slightly. Drizzle glaze over the scones using a spoon. Glaze will harden as it sits. Store leftovers in an airtight container at room temperature.
Nutrition Information:
Yield: 12
Amount Per Serving:
Unsaturated Fat: 0g
Recipe lightly altered from Skinny Taste