Banana Oatmeal Chocolate Chip Cookies
This post may contain affiliate links, meaning that I may receive a commission at no cost to you if you use a link provided. All opinions shared are my own. You can review my full disclosure policy here.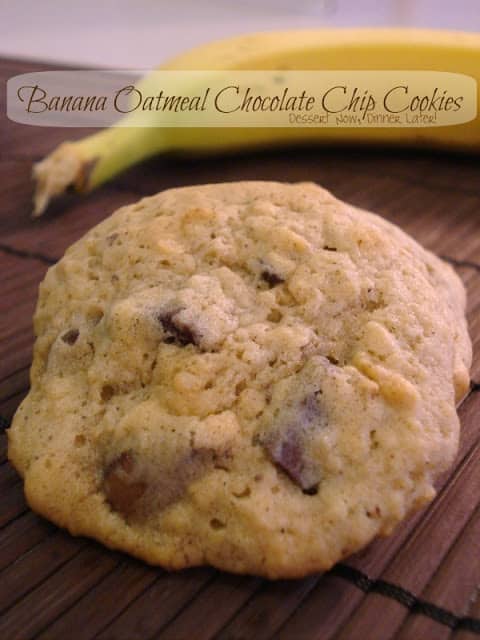 A few years ago I quit my job in a bakery to be a stay-at-home mom for my little boy. Every now & then my friend Jason would bring me some bagels (asiago cheese were my favorite!) & cookies & things from the bakery since he was my best friend while working there.
One of those times he brought me these cookies & I loved them! I had never thought of mixing banana, oatmeal & chocolate chips together to make a cookie.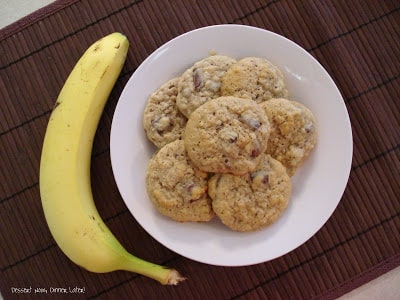 I was craving some the other day so I was looking for a recipe to make them & all the photos resembled a really thick very oat-y cookie. That was not what I wanted.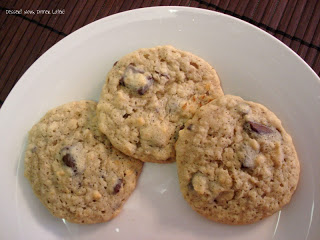 So I had Jason text me the recipe & of course it was for a large bakery batch having 8lbs of sugar & such, so I had to adjust it down.
It's not as small of a batch as I usually make (I only like 2 or 3 dozen cookies per batch), but it worked out great so I will keep it as is. These cookies are soft & moist. They taste like banana bread with oats & chocolate chips. Great combo! I love these!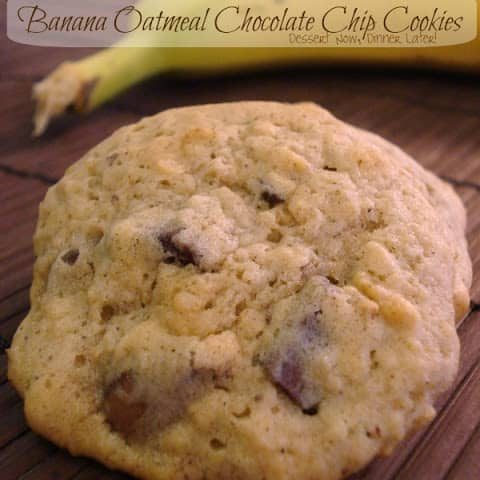 Banana Oatmeal Chocolate Chip Cookies
Ingredients
1 1/4 cups sugar
3/4 cup shortening
1 tsp salt
1 1/2 tsp baking soda
1 1/2 tsp baking powder
1 1/2 tsp cinnamon
1 1/4 cups plus 2 Tbsp oats
1 1/2 bananas (about 1 cup mashed or broken up into pieces)
2 large eggs
1/4 cup water
2 cups plus 2 Tbsp flour
1-2 cups chocolate chips (more or less depending on your preference)
Instructions
In a stand mixer cream sugar, shortening, salt, baking soda, baking powder, & cinnamon for 3 minutes.
Add oats & mix. Add bananas & mix for 2 minutes more.
Add eggs & water; incorporate & scrape the bowl well.
Add flour & chocolate chips. Mix until incorporated. Lower bowl, remove paddle & fold mixture a few times with a spatula, making sure everything was mixed properly & is the same texture.
Scoop tablespoonfuls onto parchment lined baking sheets. (*I highly recommend the parchment b/c the batter is more cake-y when it's baked & it comes off the pan easier that way.)
Bake at 350*F for 12-14 minutes. Edges will be lightly browned. Do not over-bake.
*Recipe from Jason/USU Triple Beam Bakery