Dark Chocolate Caramel Cashew Cookies
This post may contain affiliate links, meaning that I may receive a commission at no cost to you if you use a link provided. All opinions shared are my own. You can review my full disclosure policy here.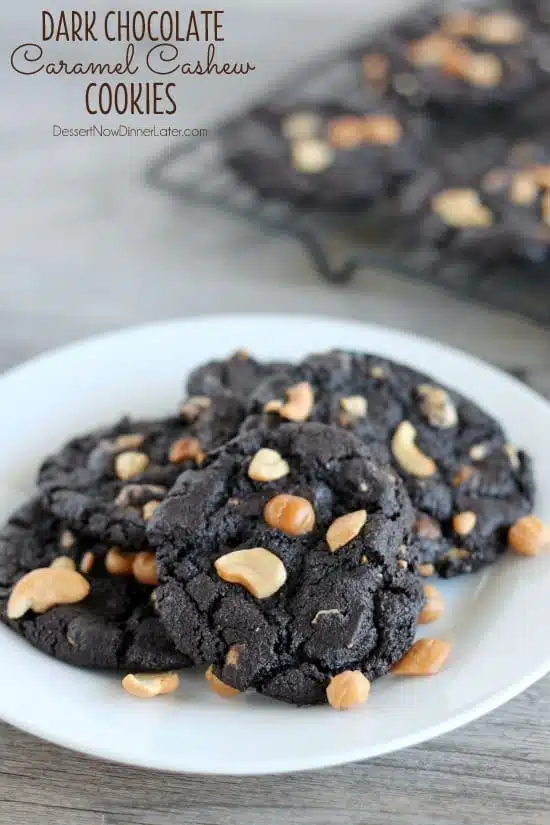 I recently saw some dark chocolate m&m cookies over at my friend Becky's blog, and knew I had to use that cookie dough base to create a delicious cookie of my own. I mean, the dark chocolate makes these cookies gorgeous to gawk at and delicious to eat!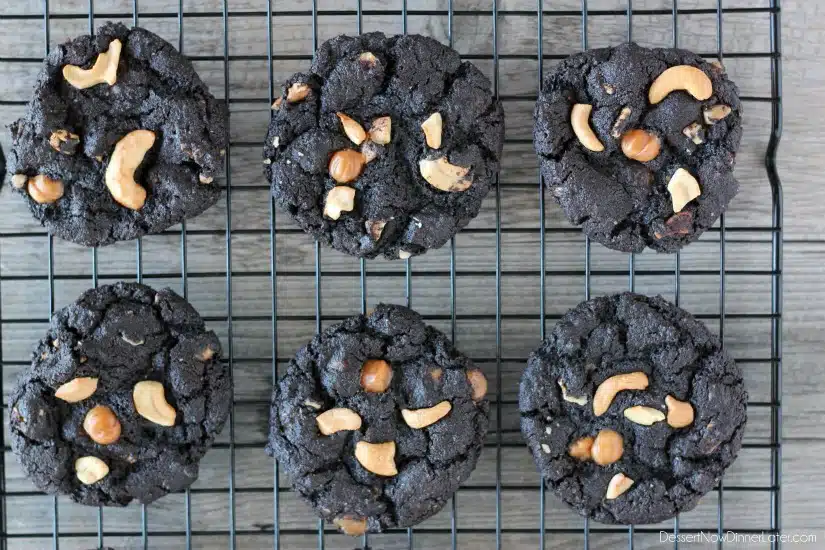 If you didn't know, I have a hunkering for sweet and salty combinations. It's a balance that my mouth just craves. If I have a salty snack like chips, I have to have something sweet like fruit or a cookie to balance that out, so I like to combine the two when I can.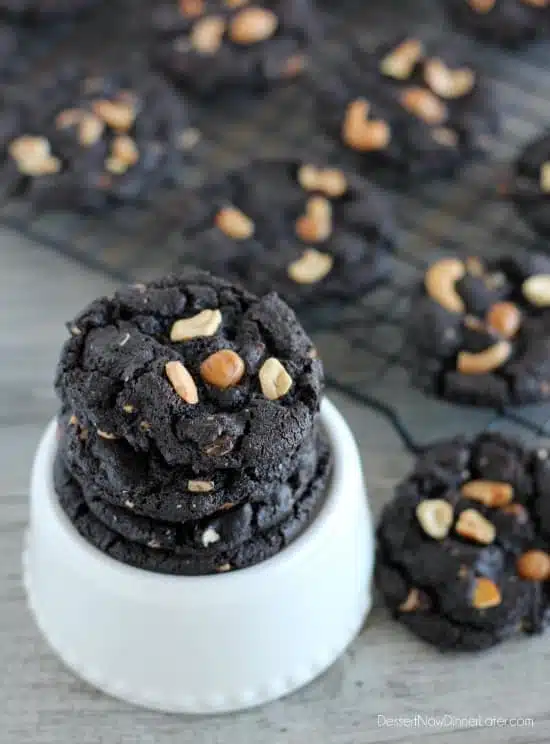 Up until now, I have usually combined pretzels with my sweet snacks. Check out my Peanut Butter Chocolate Chip Pretzel Bars, Caramel Pretzel Chocolate Chip Cookies, Peanut Butter Pretzel Granola Bars, Caramel Pretzel Magic Bars, Pretzel White Chocolate Chip Cookies, or Salted Caramel Pretzel Brownies to name a few.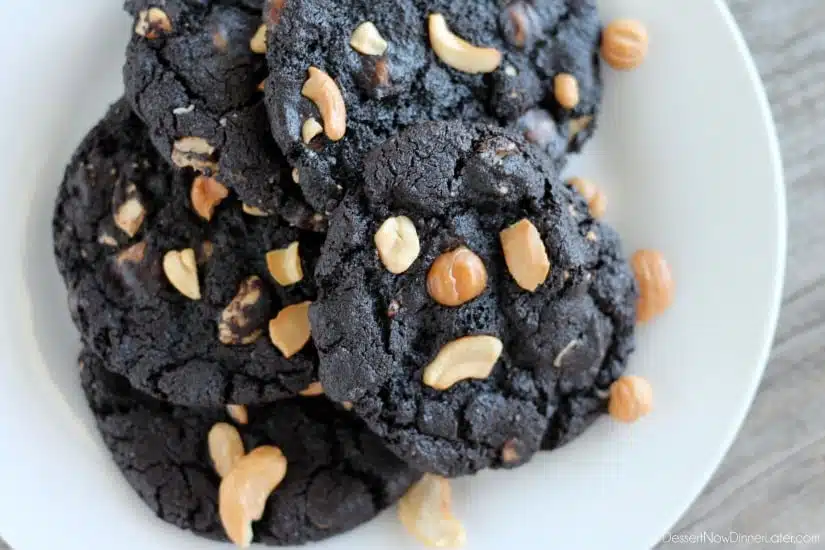 But today, I am using one of my favorite salted nuts: CASHEWS! I love cashews! They might be more fatty or oily, I don't know what makes them melt in my mouth, but they are fabulous in these Dark Chocolate Caramel Cashew Cookies! And if you haven't used Kraft Caramel Bits in your baking, you need to get on that! They are so fun to create with!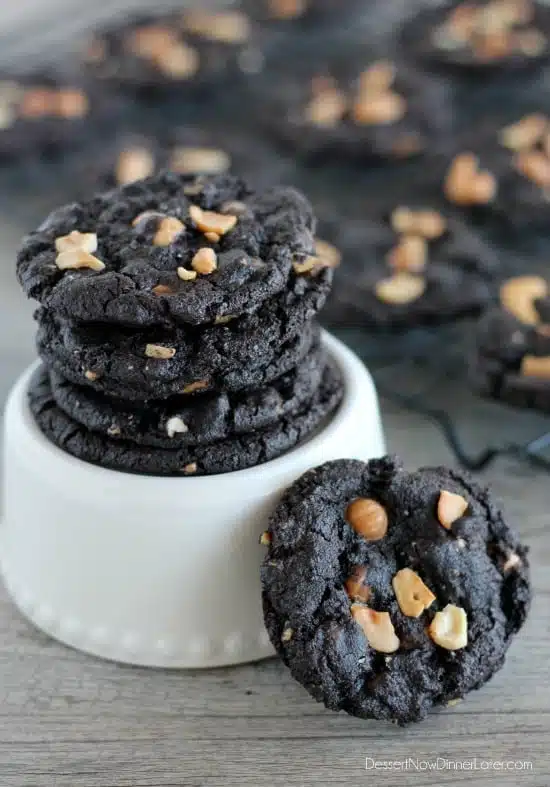 These Dark Chocolate Caramel Cashew Cookies have a crisp exterior, soft and chewy caramel bits, and nutty cashews wrapped in a tender dark chocolate cookie. You are going to love them!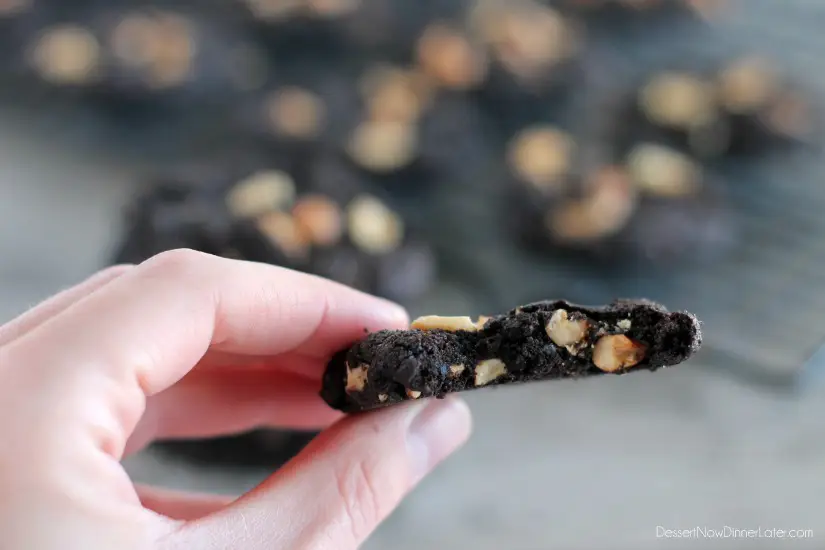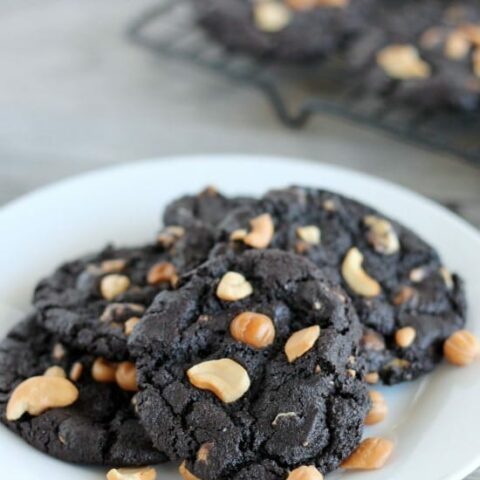 Dark Chocolate Caramel Cashew Cookies
Ingredients
1 cup unsalted butter, room temperature
1 cup sugar
1 cup brown sugar
2 eggs
2 tsp vanilla
2 cups flour
1 cup Hershey's Special Dark Cocoa
2 tsp baking soda
1 tsp salt
1 (11oz) bag Kraft Caramel Bits
1 cup cashew pieces/halves
Instructions
In the bowl of a stand mixer with the paddle attachment, beat the butter and sugars. Add eggs, and vanilla. Blend well. Scrape bowl if needed.
In a separate bowl, whisk the flour, cocoa, baking soda, and salt. Gradually add the dry ingredients to the wet ingredients until incorporated.
Fold in the caramel bits and cashew pieces/halves; you may save some of each to press onto the tops of the cookie dough balls before baking, if you like.
Using a #50 cookie scoop (about 1½ TBSP), scoop the cookie dough balls onto a parchment lined baking sheet. Press a few pieces of cashews and caramel bits on top, if desired.
Bake at 350 degrees Fahrenheit for 9 to 10 minutes. Allow cookies to rest on the baking sheet for 3 to 5 minutes before moving them to a cooling rack. Store cookies in an airtight container.
Nutrition Information:
Yield: 4
Amount Per Serving:
Unsaturated Fat: 0g