Coconut Lime Sugar Cookies – an easy sugar cookie recipe with a tropical fruit twist. You'll love these moist sugar cookies with a hint of lime, creamy coconut frosting, and a fresh lime wedge to squeeze on top. A Twisted Sugar copycat recipe.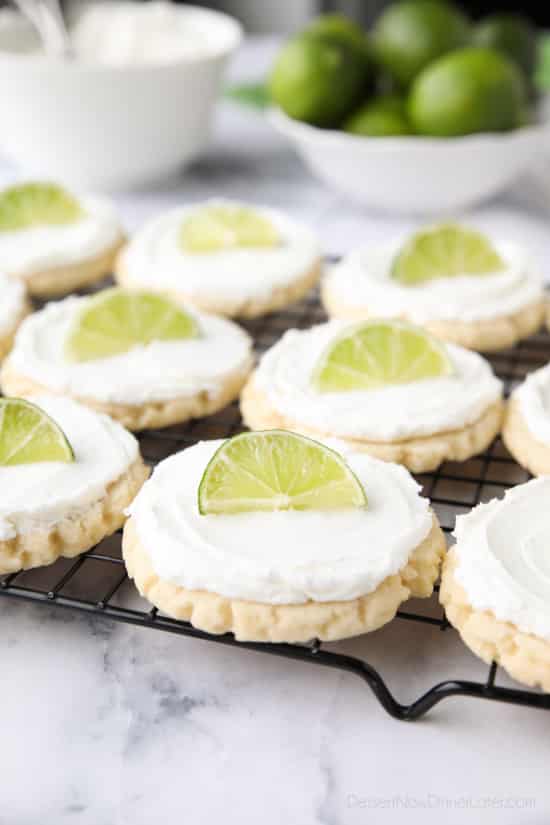 I first tried these Coconut Lime Sugar Cookies at a soda and cookie shop here in Utah called Twisted Sugar. It's one of their signature cookies. It's also one of my favorite fruit combinations, so I knew I had to re-make it!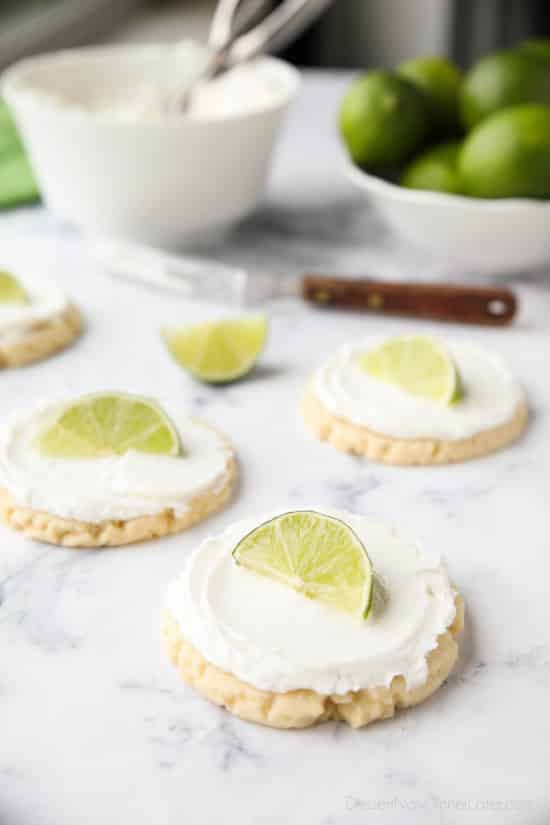 COCONUT LIME SUGAR COOKIES
The sugar cookie base for these coconut lime sugar cookies is a lot like Swig's, which copycat sugar cookie recipe is my favorite. All I did was add some lime zest and juice to the cookie for more flavor. Then I added my favorite coconut frosting with coconut creamer instead of milk. Holy delicious!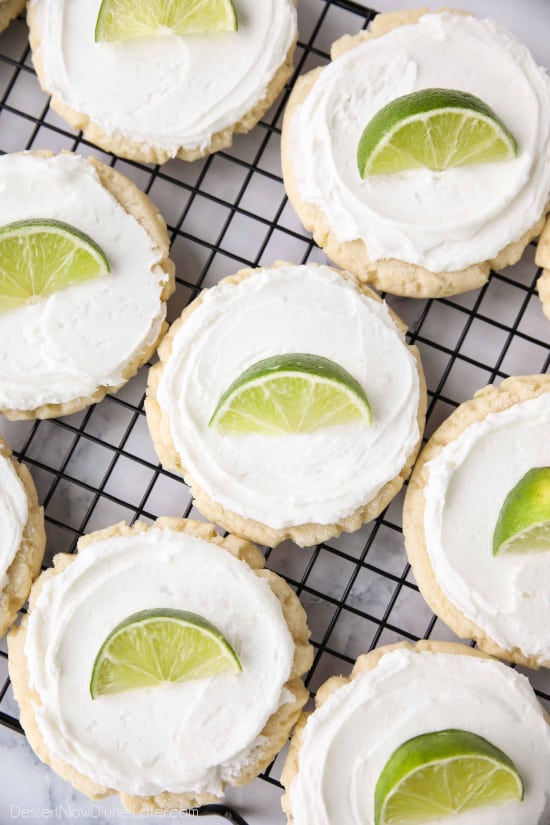 One of my favorite parts of this cookie is the fresh lime wedge on top. You squeeze the juice over the frosting right before you eat it and the flavor is dynamite!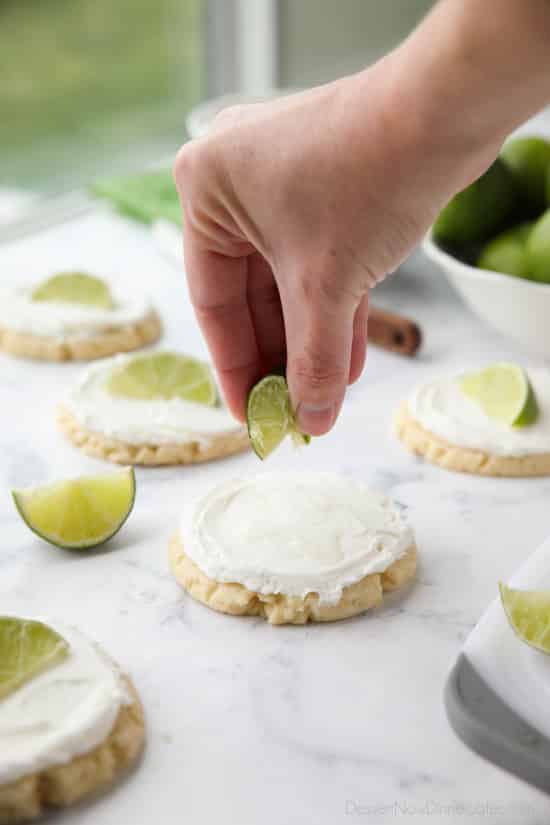 HOW TO CUT LIME WEDGES
The best way to cut lime wedges for squeezing is to cut the lime in half width-wise down the middle of the fruit (like you would do if you were juicing it).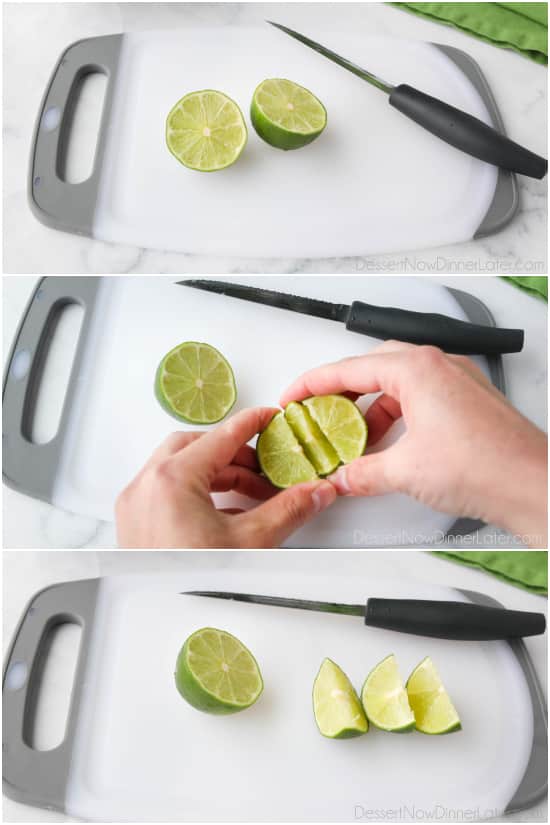 Then cut each half into thirds (at about a 45 degree angle) from the center of the fruit. Voila! Perfect lime wedges for squeezing. Plus they look the prettiest sliced this way.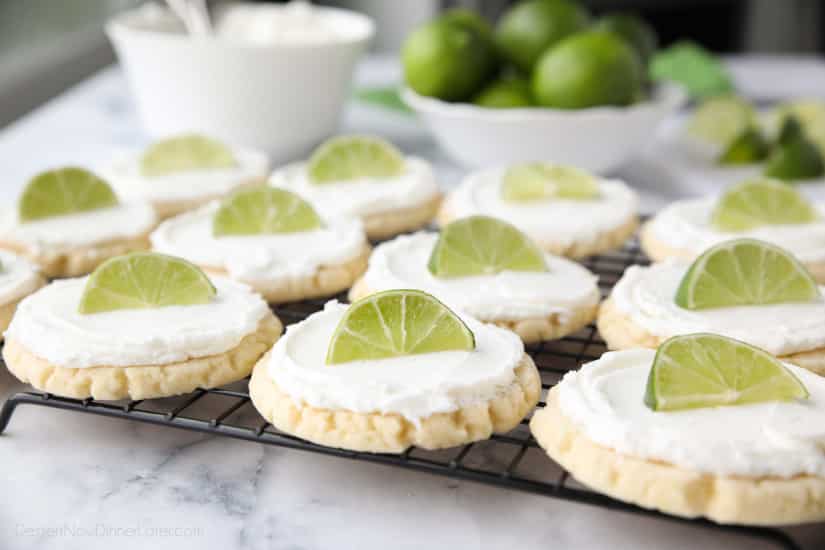 CAN I FREEZE THESE SUGAR COOKIES?
These coconut lime sugar cookies are moist, which makes them great for freezing. You can freeze them alone, or topped with the coconut frosting. Just be sure to lay them flat and put wax paper between each layer.
You'll have slightly better results if you freeze the cookies and frosting separate though. You can re-whip the thawed frosting, adding extra milk or coconut creamer if needed.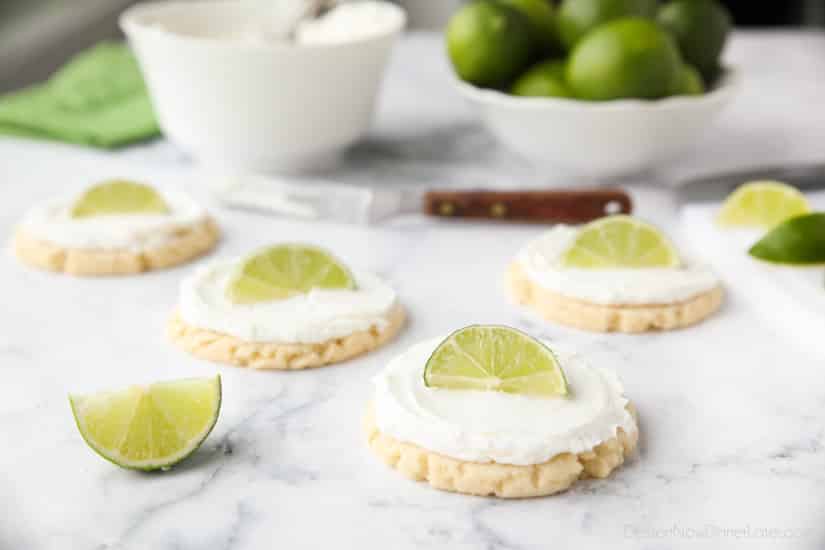 If you love the coconut lime combination, be sure to check out some of these recipes:
Coconut Lime Cupcakes – the perfect mix of tropical and citrus flavors, with a lime and coconut cupcake base, coconut cream cheese frosting, and toasted coconut on top!
Coconut Key Lime Pie – coconut in the crust, cream of coconut in the key lime filling, and toasted coconut on top! A tropical dessert that's creamy, sweet, and tart.
Frozen Coconut Limeade – a family friendly frozen drink to keep you cool in the hot summer months.