The BEST Sugar Cookies
This post may contain affiliate links, meaning that I may receive a commission at no cost to you if you use a link provided. All opinions shared are my own. You can review my full disclosure policy here.
The ingredients list might surprise you with these scoop, press, and bake rustic-looking sugar cookies. With a soft, sweet, melt-in-your-mouth cookie base, topped with a smooth and dreamy buttercream frosting — these really are the BEST sugar cookies you will make at home!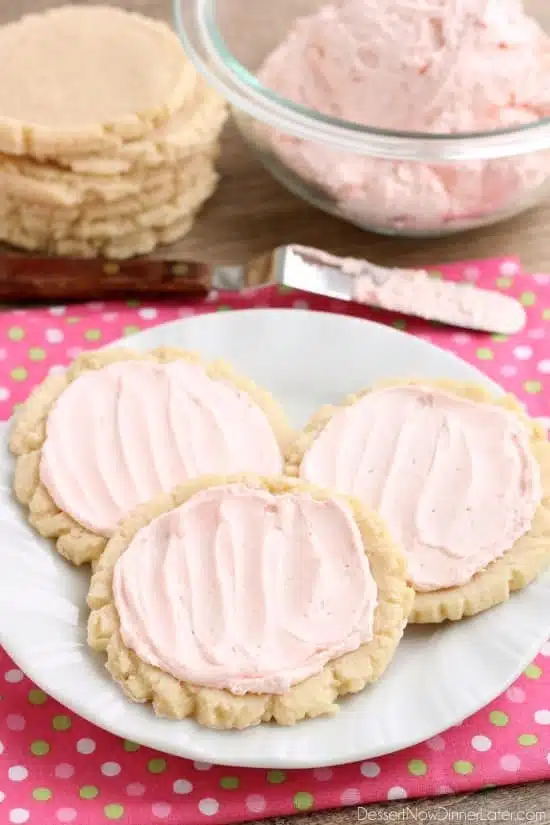 Let me start off by saying that normally, I'm not a sugar cookie fan. Don't hate! I just feel like sugar cookies are loaded with too much buttercream to compensate for a dry, tasteless cookie. Well, these Sugar Cookies have changed my life completely! The base is sweet, and it literally melts in your mouth like a meltaway cookie, but is more durable and super delicious!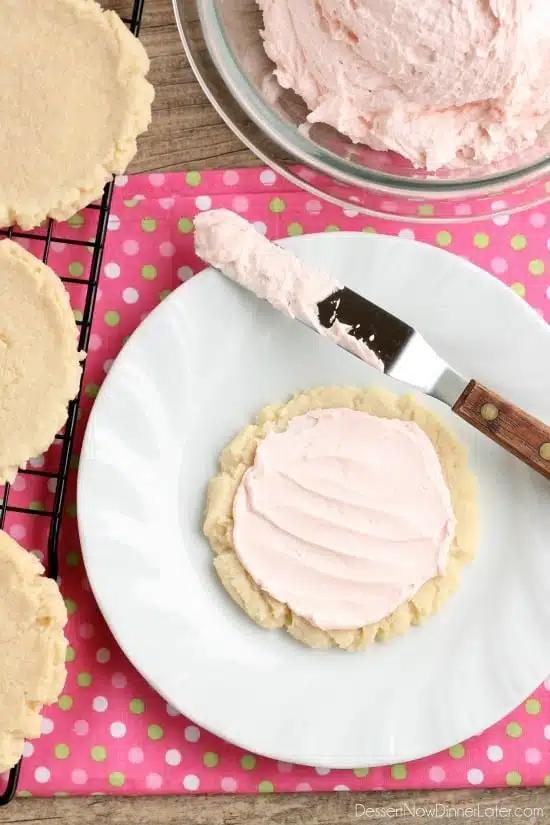 I've been hesitant to post a sugar cookie recipe with you all based on a particular post in the past, because y'all can be pretty picky about your sugar cookies. The thing about these cookies though, is that they are the BEST! I just had to share the recipe with you! I highly doubt you'll be disappointed, and if you are, you're crazy!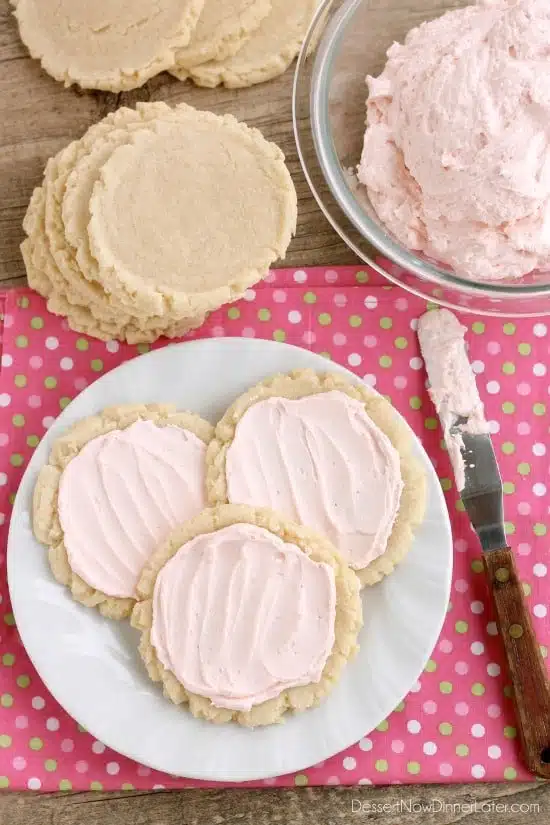 Once you check out the ingredients list, you might be a little confused. Oil, in cookies? What?! Yes, you need the oil. Do not substitute all butter. The oil seriously keeps these things from drying out, unless you over-bake them.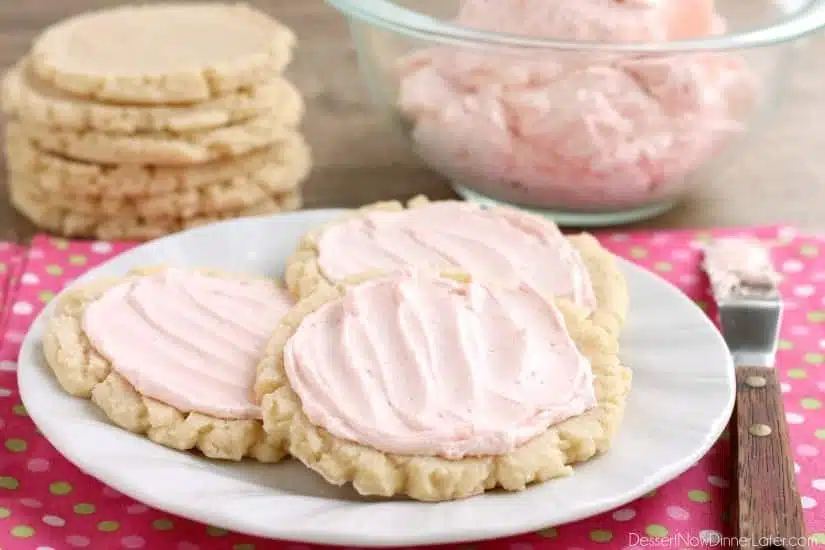 The other secret ingredients in this cookie base are the powdered sugar and cream of tartar, both of which add a tenderizing, melt-in-your mouth texture to these cookies. The way a sugar cookie should be!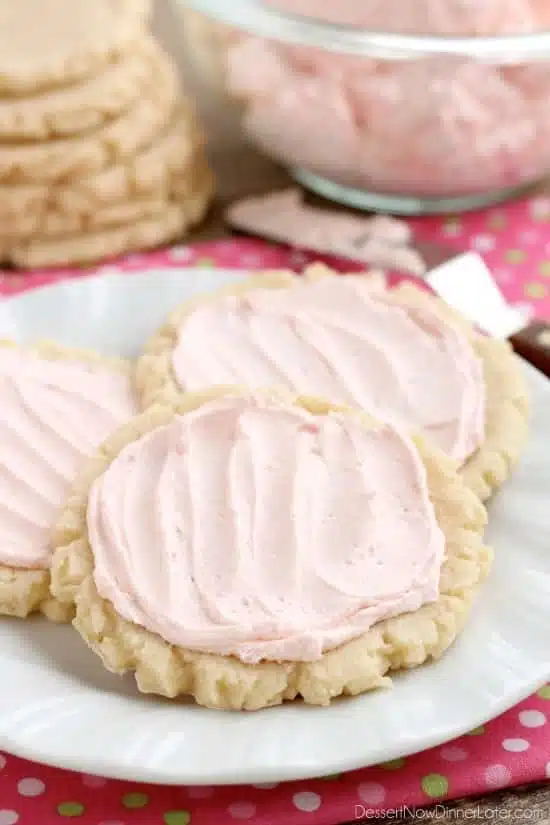 The buttercream frosting is the icing on the cake for these cookies! It's so smooth and creamy. I use solid coconut oil in my frosting with the butter to make it hold up better than a pure butter buttercream frosting, and I think it tastes better that way too! I tinted mine pink, because when you think of sugar cookies, you think pink frosting, right?! I do. It's cuter with color anyway.
I haven't tried rolling this dough and cutting shapes yet, but It seems like it would work out okay. Keep the dough thicker though because it does spread a little more than a typical sugar cookie dough would. Try this recipe! ASAP! You won't regret it!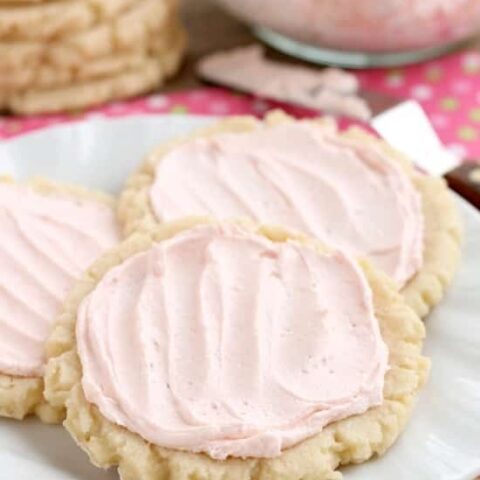 The BEST Sugar Cookies
Prep Time: 15 minutes
Cook Time: 8 minutes
Total Time: 23 minutes
Yield: 40 cookies
Ingredients
Cookies:
1 cup butter, room temperature
1 1/4 cups granulated sugar
3/4 cup powdered sugar
3/4 cup oil (vegetable/canola)
2 Tbsp water
2 large eggs
1 tsp vanilla
5 1/2 cups all-purpose flour (stir, scoop, and level the flour when you measure it)
1/2 tsp baking soda
1/2 tsp cream of tartar
1 tsp salt
*an extra 1/4 cup sugar for flattening the cookies
Frosting:
8 Tbsp (1/2 cup or 1 stick) butter, room temperature
1/2 cup solid coconut oil (I use LouAna Coconut Oil. All coconut oils are different; try to find one that says there is no coconut flavor or aroma. If you don't have coconut oil, you can substitute with shortening, but I highly recommend the coconut oil.)
4 cups powdered sugar
2 tsp pure vanilla
2 Tbsp milk
red food coloring; optional
Instructions
In a mixer with the paddle attachment, cream the butter with the sugars until smooth. Then add the oil, water, eggs, and vanilla. Mix well.
In a separate bowl combine the flour, baking soda, cream of tartar, and salt. Add all at once to the wet ingredients, and mix until everything comes together. It should be slightly crumbly and not sticky at all.
Using a #30 cookie scoop (about 2 Tbsp of cookie dough) scoop dough balls onto a silicone or parchment lined baking sheet (no more than 8 per tray.)
Put ¼ cup granulated sugar on a small plate. Dip the bottom of a glass cup into the sugar, and press it into the center of each dough ball until about ½-inch thick. If your glass cup is bowed in the center, you may find it helpful to rock it in a circular motion to flatten the cookies more evenly.
Bake at 350 degrees Fahrenheit for 7 to 8 minutes. Do NOT over-bake! The tops will look matte instead of glossy when they are finished.
With an electric hand mixer and a large bowl, beat the butter and solid coconut oil together until smooth. Add the powdered sugar, vanilla, and milk. Mix thoroughly. Add up to ½ Tbsp extra milk for a smoother consistency. Tint with a drop or two of red food coloring for a pink hue.
Spread frosting over cooled cookies and enjoy! Store cookies in a sealed container at room temperature up to 5 days.
Notes
*You may also refrigerate the cookies. They taste yummy that way too!
Nutrition Information:
Yield: 40
Serving Size: 1 cookie
Amount Per Serving:
Calories: 253
Total Fat: 12g
Saturated Fat: 6g
Trans Fat: 0g
Unsaturated Fat: 6g
Cholesterol: 22mg
Sodium: 117mg
Carbohydrates: 34g
Fiber: 0g
Sugar: 21g
Protein: 2g
This data was provided and calculated by Nutritionix, and is an estimation only.