Chocolate Biscotti with Peanut Butter Cream Cheese Glaze
This post may contain affiliate links, meaning that I may receive a commission at no cost to you if you use a link provided. All opinions shared are my own. You can review my full disclosure policy here.
Biscotti-lovers won't be able to resist this rich chocolate-y biscotti that's drizzled with a luscious peanut butter glaze.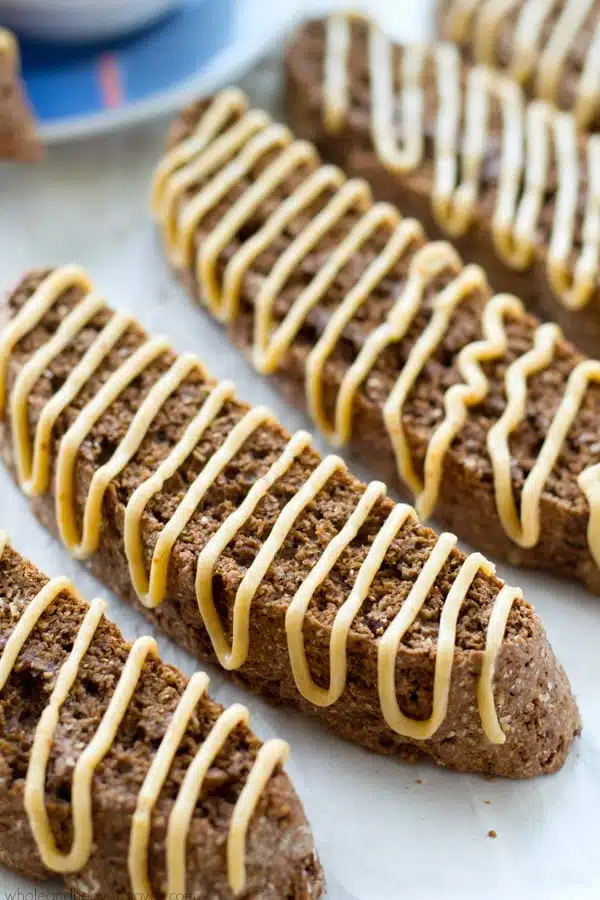 Hi there friends! Sarah from Whole and Heavenly Oven here again today and ready to ROCK your Saturday with 'zee sweets. I mean could you expect any less from someone with the ginormous and slightly-ridiculous sweet tooth that I obviously have? You KNOW the weekend means cookie-time so we're totally making it happen today. Prepare.

So I'm just gonna get straight into it: My weekend is going fabulously thus far and would you like to know why? It's been filled with BISCOTTI.
Friends, that right there is the way you make a weekend awesome. Forget about sleeping in 'til noon and binge watching Food Network shows. (No experience there, honest!) Homemade warm biscotti with a cup of homemade cappuccino is the only way to go on a weekend. Okaaaaay, well you can still do biscotti WHILE watching Chopped all morning. Past experience there obviously. 😉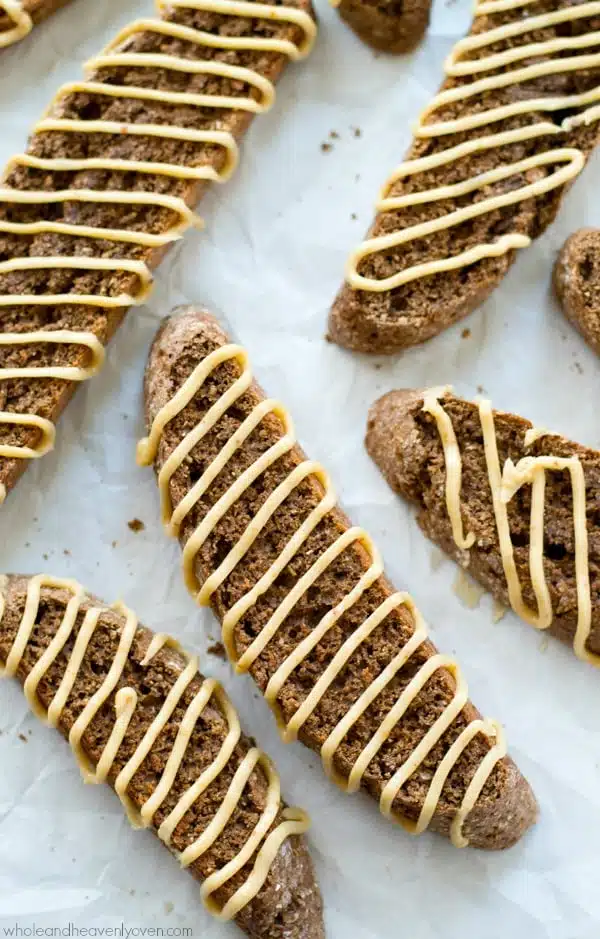 I like to think of biscotti as grown-up cookies. Sure, it's something that the kids will love too, but honestly? I just think that biscotti was MADE for those kinda people who like something a little more sophisticated than a little 'ol cookie.
I am clearly not one of those people since I am a total cookie monster, but I still HEART biscotti. Undoubtedly, because of the dynamite texture: crunchy on the outside + soft and tender on the inside = totally my cup of tea. 'er, COFFEE!
A lot of chocolate biscottis I've had were less than a pleasant experience, because most of them were dry, dry, DRY! Yes, I'd like a biscotti that doesn't chip my tooth and that I don't have to wash down with half a cup of coffee, please and thank you.
These little babies are the exact opposite of dryness. They're perfectly crisp on the outside, but still hold that moist, chewy texture that we all LOVE on the inside. We don't do mediocre biscotti around here, guys. Bring on the GOOD stuff.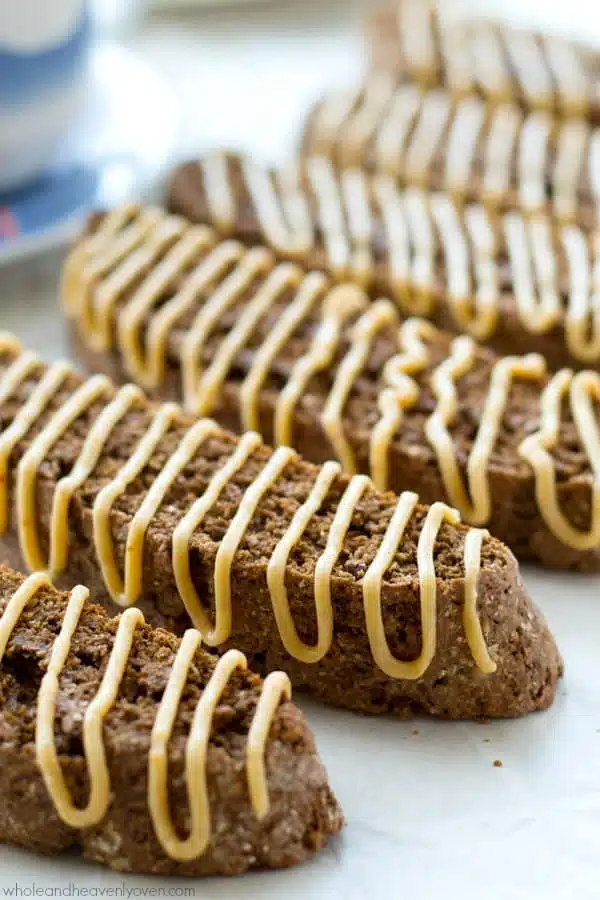 And glaze. Oh my gosh, the GLAZE! Guys, you just cannot do biscotti without a killer good glaze. I won't allow it.
Specifically a peanut butter cream cheese glaze. I seriously wanted to (and kinda did) slurp this glaze right outta the bowl through a straw. That spoon business just isn't working for me anymore. Gimme a straw for ALL that labor-intensive glaze-tasting work.
Any leftovers of the glaze that you don't end up eating straight from the bowl can get drizzled right on top of that perfect biscotti.
Try not to cry at the glorious sight.
And then that perfect biscotti can go straight to that plate next to that cup of Saturday-morning coffee.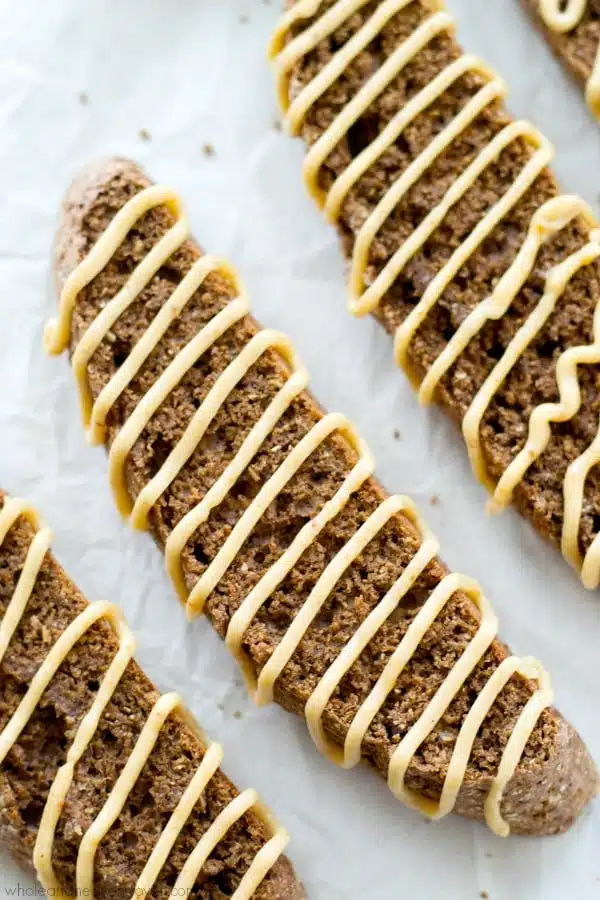 Any biscotti leftovers? STASH THEM. HIDE THEM. BURY THEM OUT OF SIGHT. Just do it. Now let us devour. Bon appétit!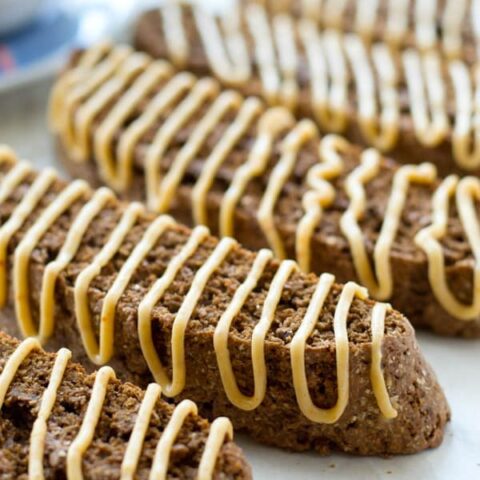 Chocolate Biscotti with Peanut Butter Cream Cheese Glaze
Ingredients
BISCOTTI:
2 cups white whole wheat flour
1/4 cup unsweetened cocoa powder
3/4 cup coconut sugar (or brown sugar)
1 teaspoon baking powder
1/2 teaspoon baking soda
1/2 teaspoon ground cinnamon
1/4 teaspoon salt
1/4 cup butter, softened
3 large eggs
3 Tablespoons milk
1 teaspoon vanilla extract
GLAZE:
2 oz cream cheese, softened
1/4 cup powdered sugar
2 Tablespoons creamy peanut butter
1/2 teaspoon vanilla extract
2 to 3 tablespoons milk
Instructions
Make the biscotti: Preheat oven to 350 degrees Fahrenheit. Line a baking sheet with parchment paper. Set aside.
In a large bowl, combine flour, cocoa, sugar, baking powder, baking soda, cinnamon, and salt. Using a pastry cutter or a fork, cut in butter until mixture is crumbly.
In a separate bowl, whisk eggs, milk, and vanilla until smooth. Pour over dry mixture until dough just comes together.
Turn dough onto a floured surface and very gently knead a few times until dough is smooth and non-sticky. Transfer dough to prepared sheet and pat into a 10-in long log.
Bake biscotti at 350 degrees Fahrenheit for 20 to 22 minutes or until golden brown. Remove from oven and cool 5 minutes. Then, using a serrated knife, cut biscotti into 1-inch thick cookies. Arrange biscotti cut-side down on baking sheet.
Return biscotti to oven and bake 5 minutes. Flip biscotti and bake an additional 5 minutes on the opposite side. Cool biscotti on a wire cooling rack.
Make the glaze: Place cream cheese, powdered sugar, and peanut butter in a medium bowl. Using a handheld electric mixer, beat on medium speed until creamy. Beat in vanilla and just enough milk to achieve a drizzling consistency.
Drizzle glaze over biscotti and enjoy!
Nutrition Information:
Yield: 10
Amount Per Serving:
Unsaturated Fat: 0g
You'll love my other cookies! Heck, just make 'em all this weekend!
Thick and Chewy Coconut Oil Chocolate Chip Cookies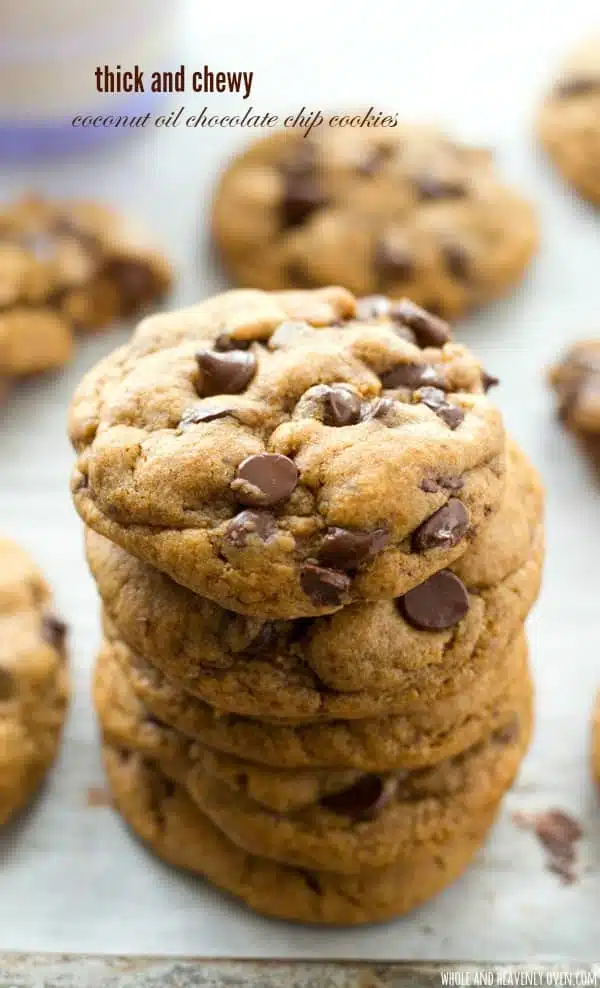 Browned Butter Peanut Butter Sugar Cookies