Baked Stuffed Apples with Peanut Butter Granola
This post may contain affiliate links, meaning that I may receive a commission at no cost to you if you use a link provided. All opinions shared are my own. You can review my full disclosure policy here.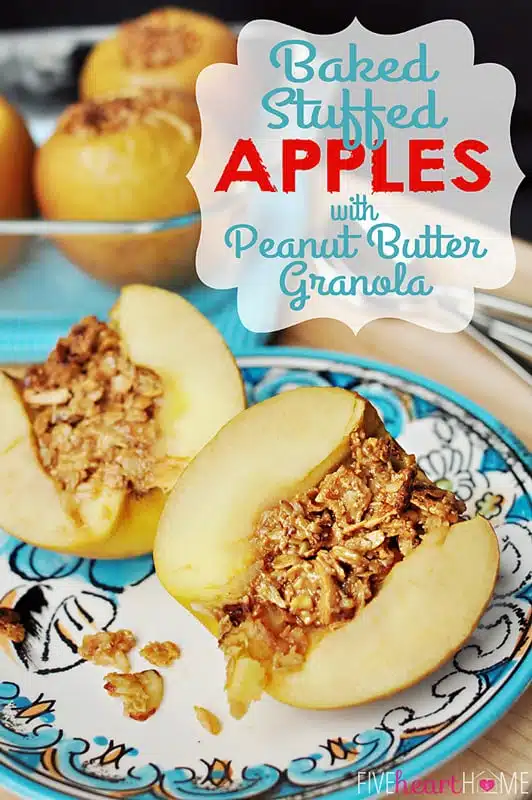 *My friend Samantha is here today & I absolutely love her food ideas & photography, so I hope you enjoy what she has to share! ~Amber
Hi, everyone! My name is Samantha, and I blog quick and easy, family-friendly recipes over at Five Heart Home. I was so excited when Amber invited me to take part in her Healthy Food, Healthy You series, and I am thrilled to be here today! I've been preceded by some amazing bloggers and fabulous recipes so far this month, and I'm honored now to have the opportunity to contribute to the line-up.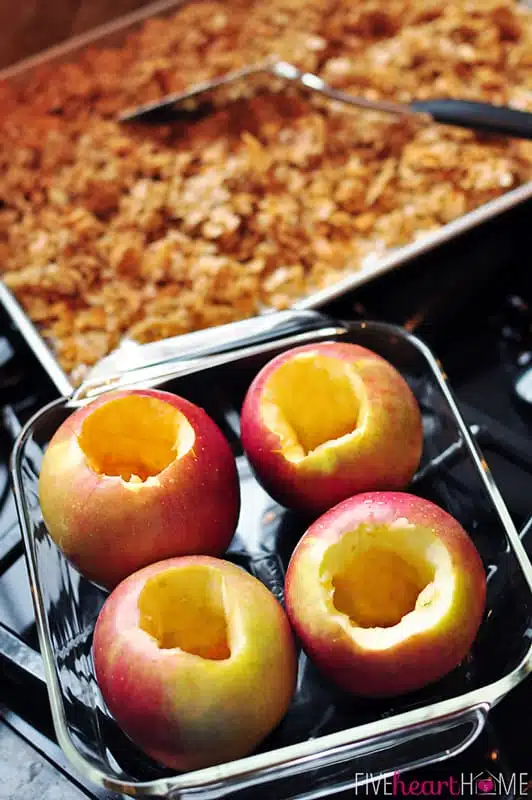 Today I'm sharing a sweet treat that's also — you'll never guess — healthy! This recipe tastes decadent enough to pass as dessert, but it's nutritious enough that I have no problem feeding it to my kids for breakfast…and believe me when I say that they don't put up an argument when that happens! Most of you have probably had (or made) baked apples that are stuffed with a combination of oats, brown sugar, and spices, then topped with a pat of butter. Well, today's recipe is a super simple, 3-ingredient variation of that. And I bet you can figure out from the title what those three ingredients are???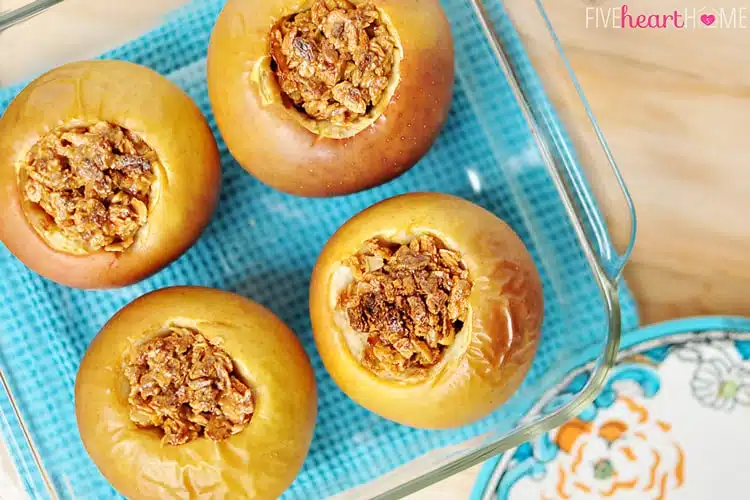 That's right, folks. After coring out the center of each apple, simply stuff it with granola that's been mixed with a little bit of peanut butter. My family loves granola, and I almost always keep a tub of homemade granola on hand for breakfast and snacking. Not all granolas are created equal as far as health benefits go, but my favorite recipe is packed with nuts and coconut, features superfood coconut oil, and relies on honey as a natural sweetener. Of course, if you don't have time to whip up a batch of homemade granola, you can certainly throw together these baked apples very quickly by using your favorite store bought brand of granola.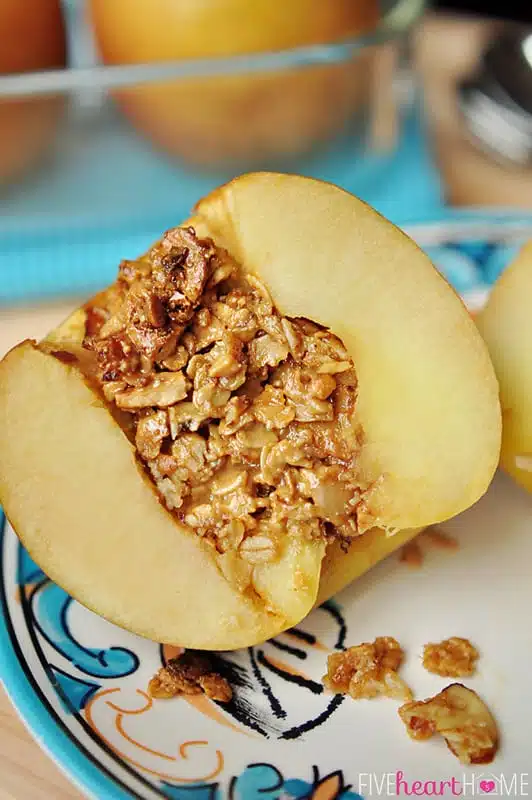 To your preferred granola, you'll simply add a few tablespoons of peanut butter for a dose of protein, vitamins, and "good fat," not to mention loads of flavor. And after stuffing the apples, all that's left to do is bake them until soft and sweet while the granola gets chewy in the center and crunchy on top.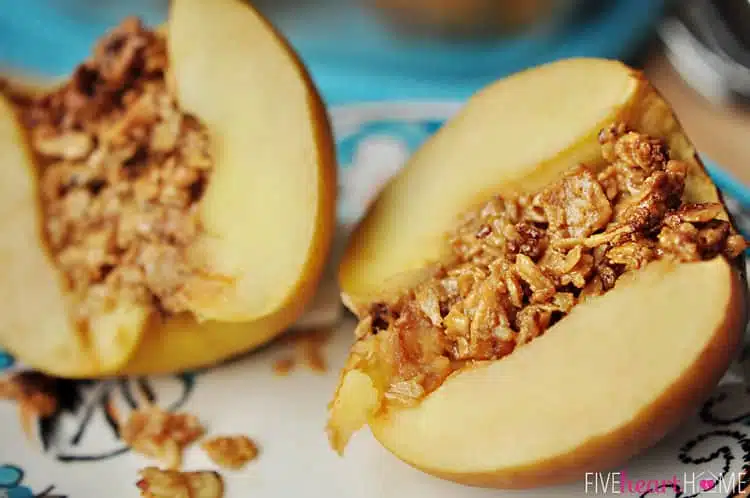 The final result is a nutritious breakfast, a healthy after-school snack, or a wholesome dessert. In fact, since Baked Stuffed Apples fall under the "good for you" category, you shouldn't feel too guilty if you decide to balance out all of that apple/oat/peanut butter goodness with a nice scoop of vanilla ice cream melting down over the top. But seeing as how I'm here to promote Healthy Food, Healthy You today…shhhh! You didn't hear that idea from me. 😉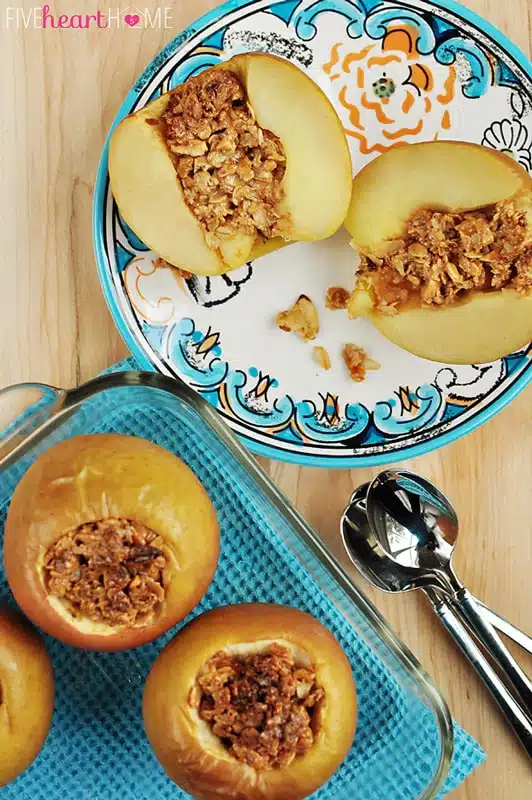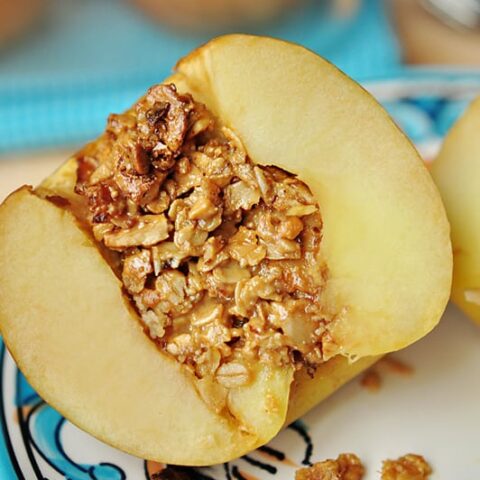 Baked Stuffed Apples with Peanut Butter Granola
Ingredients
4 baking apples (such as Fuji, Golden Delicious, Jonagold, Braeburn, McIntosh or Rome Beauty)
1 cup granola
2 to 3 Tablespoons peanut butter (creamy or crunchy)
1 cup hot water
Instructions
Preheat oven to 350*F.
Prepare apples by using an apple corer, small knife, melon baller, and/or spoon to remove the stem and scoop out the seeds, leaving a ½-inch at the bottom of the apple intact and creating a hole that's a little less than 1 inch wide.
Measure the granola into a medium bowl, and use the back of a spoon to work the peanut butter in until it's evenly incorporated. Use more or less peanut butter depending on your preference (I use 3 tablespoons when I make this recipe).
Place apples in an 8-inch square baking dish and carefully pour hot water into the bottom of the dish. Cover dish with foil and bake for 30 minutes. Remove foil and bake for an additional 20 to 25 minutes, or until apples are to your desired tenderness and skin looks wrinkly. (Test by inserting a sharp knife into the center of an apple where it touches the granola. There should be little to no resistance. Certain varieties of apples and larger apples will take longer to soften. If apples are still too firm at the end of the baking time, you may want to recover them with foil before cooking any longer so that the granola doesn't get too dark.)
Nutrition Information:
Yield: 4
Amount Per Serving:
Unsaturated Fat: 0g
I'd love to have to have you stop by and visit for more easy, healthy recipes!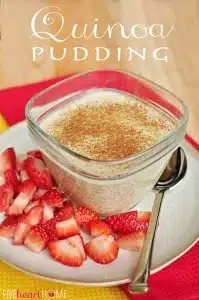 Quinoa Pudding with Coconut Milk & Maple Syrup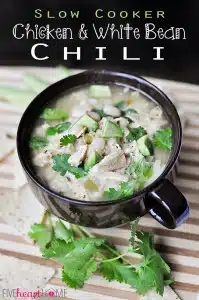 Slow Cooker Chicken & White Bean Chili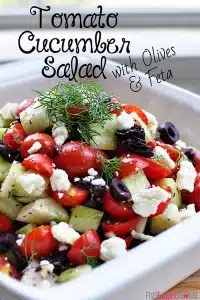 Tomato Cucumber Salad with Olives & Feta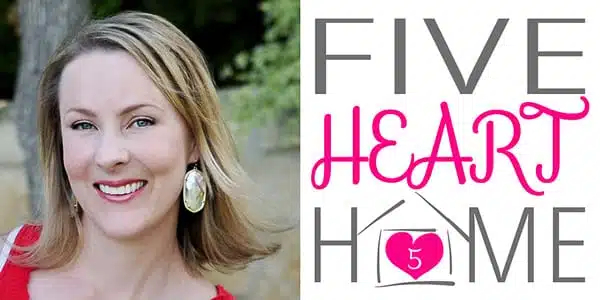 Over at Five Heart Home, the days are crazy but the love is plenty between the five hearts that make up our home! I'm a former first grade teacher and current stay-at-home mama living in the heart of Texas with my hubby, our two energetic boys, and our sweet baby girl. My love of writing, cooking, and photography were a natural fit for blogging, and in turn, blogging has evolved into a creative outlet and a place to share my arsenal of fresh, tasty, family-friendly recipes…most of which are quick and easy to prepare and all of which are approved by the toughest of critics (ages 6, 4, and 1). I also enjoy designing the occasional free printable to share with my readers. When I'm not wrangling my offspring or blogging, I can be found eating chocolate for breakfast, obsessing over college football, taking way too many pictures of my kids, and honing my dry sense of humor.
Let's stay in touch!
Facebook | Google+ | Pinterest | Twitter | Instagram
Sign up to have Five Heart Home blog posts sent to your inbox!