Apple Cinnamon Muddy Buddies
This post may contain affiliate links, meaning that I may receive a commission at no cost to you if you use a link provided. All opinions shared are my own. You can review my full disclosure policy here.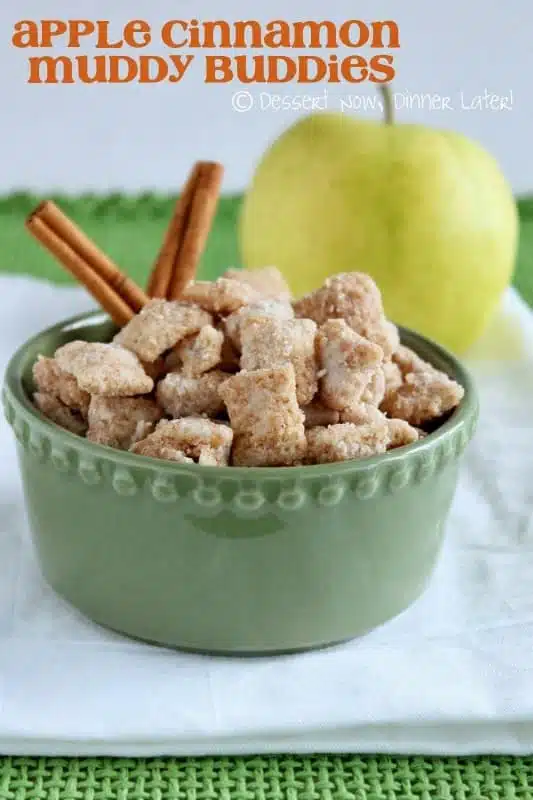 It's time for some more muddy buddy treats! I love these little things, probably too much! Like, they are so yummy to munch on that I eat too many most of the time. And I may or may not eat so many that my tummy aches a little bit….(Who me?!)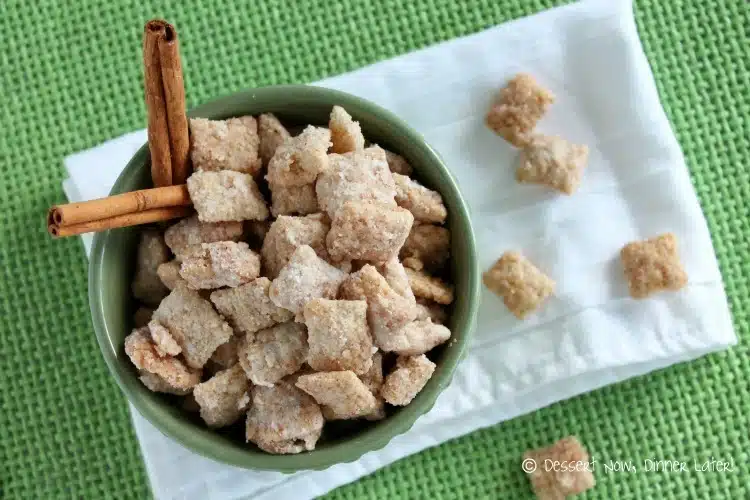 This is a Fall variation. It was either Apple or Pumpkin & I went with Apple this time, but don't be surprised if you see a Pumpkin variation later on down the road. These are a great little after school snack for my kids to munch on while I cook dinner, but that's like eating dessert before dinner, so I guess that makes me a bad mom… or a cool mom! Haha. Enjoy!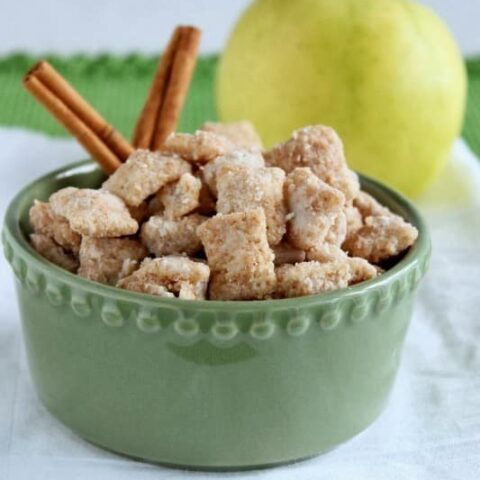 Apple Cinnamon Muddy Buddies
Ingredients
1 (10-12oz) bag white chocolate chips
1 Tbsp shortening
5-6 cups Apple Cinnamon Chex Cereal
1 (7oz) box Jiffy Apple Cinnamon Muffin Mix (about 1 1/4 cup)
1/4 cup powdered sugar
1 tsp cinnamon
1/8 tsp nutmeg
Instructions
Melt white chocolate chips with shortening in a LARGE bowl in the microwave on HALF POWER for 60 seconds. Stir. Repeat until melted. (Mine took 2 minutes.)
Add the Chex cereal to the melted chips & fold gently.
In a gallon size zip-top bag combine, muffin mix, powdered sugar, cinnamon & nutmeg. Add the white chocolate coated cereal, zip the bag shut & shake until everything is covered with the dry mixture.
Snack away!!!
Nutrition Information:
Yield: 12
Amount Per Serving:
Unsaturated Fat: 0g