Peanut Butter Stuffed Chocolate Cookies
This post may contain affiliate links, meaning that I may receive a commission at no cost to you if you use a link provided. All opinions shared are my own. You can review my full disclosure policy here.
These Peanut Butter Stuffed Chocolate Cookies are soft and indulgent, but use peanut powder for less fat, without compromising taste!
This is a sponsored conversation written by me on behalf of The J.M. Smucker Company. The opinions and text are all mine.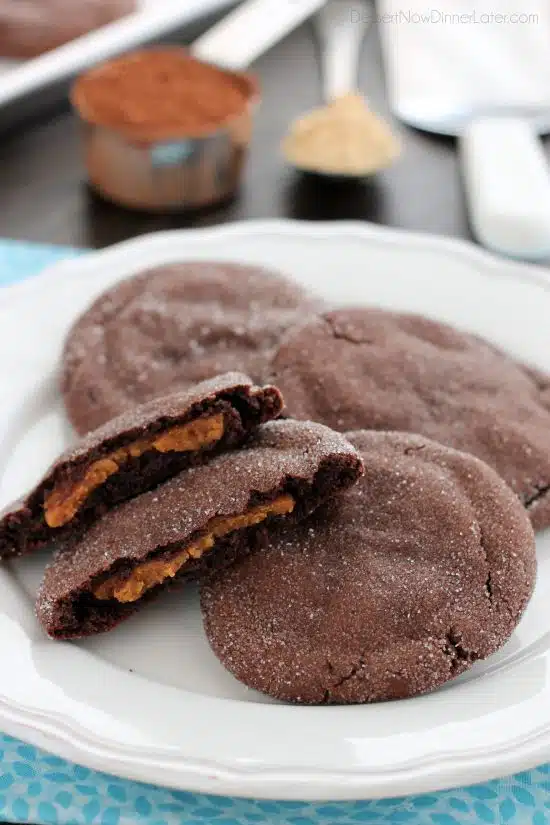 I was compensated by The J.M. Smucker's Company to see if I could come up with a recipe using their new product. So I took a quick trip to Walmart to grab a package of Jif Peanut Powder so I could get started. I know a lot of people use peanut powder in smoothies, but I wanted to go the baking route! And after a small learning curve (which I'll tell you about), I created these delicious peanut butter stuffed chocolate cookies!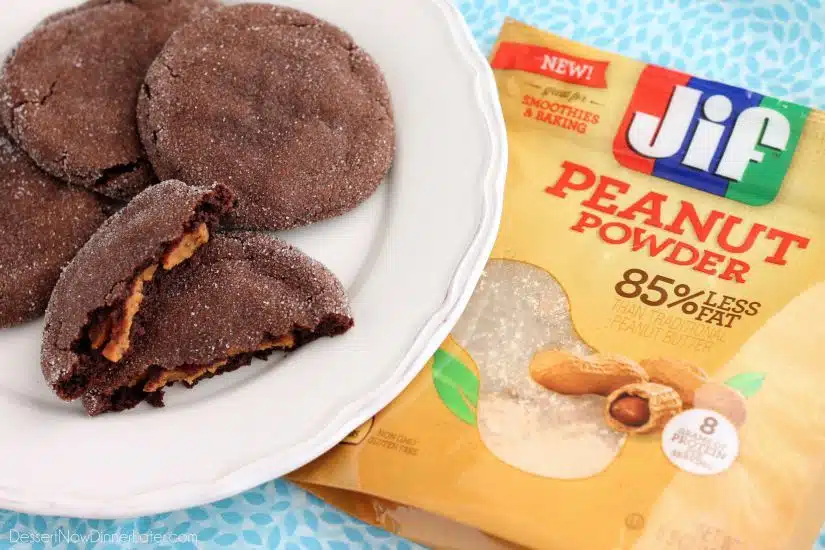 When I first grabbed the package, I couldn't help but notice that the peanut powder has 85% less fat than traditional peanut butter with 8 grams of protein per serving. Awesome! I didn't quite know how to get started, but luckily there are reconstitution directions on the back of the package. You can simply add water, OR you can add water, sugar (or honey), and salt. Easy enough!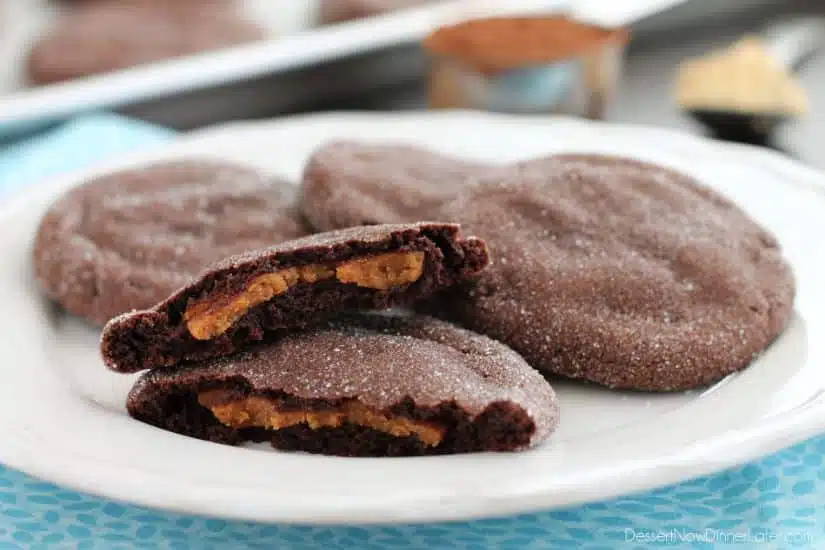 I found this cookie recipe that I wanted to mimic with the peanut powder, so I started by reconstituting some of the powder with plain water (since I was using sugar and salt in the rest of the recipe), but as soon as I added powdered sugar to the reconstituted peanut powder for the filling, it went soupy on me. Yikes! So… I decided that the peanut powder works best "as is" in most baking recipes with just a slight bit of water, if needed.
The second time worked like a charm! I had a stiff filling to stuff the middle of my cookies with. Then I made the chocolate cookie dough, which I actually used reconstituted peanut powder with success, and rolled each dough into a log to cut equal pieces.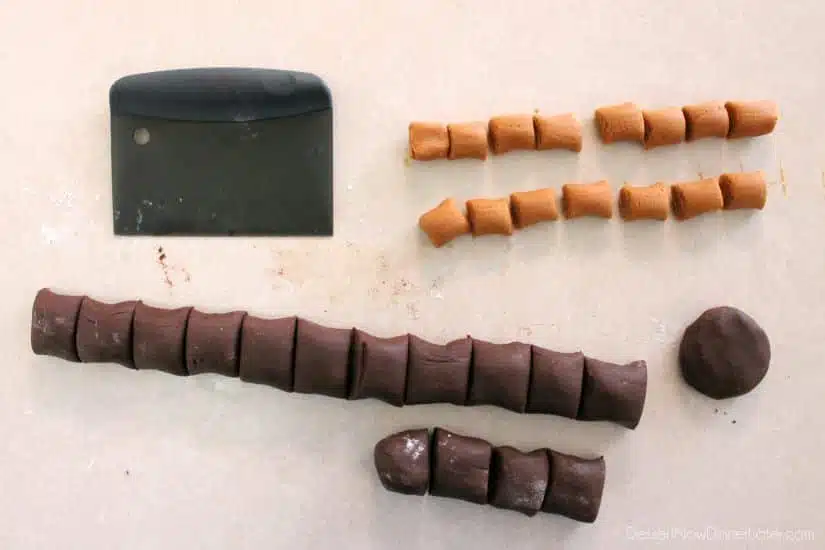 All I had to do next was flatten each dough, fold the chocolate dough over the peanut dough, pinch the seams together, flatten and shape the cookie one last time, and dip the top and sides in sugar before throwing them into the oven to bake.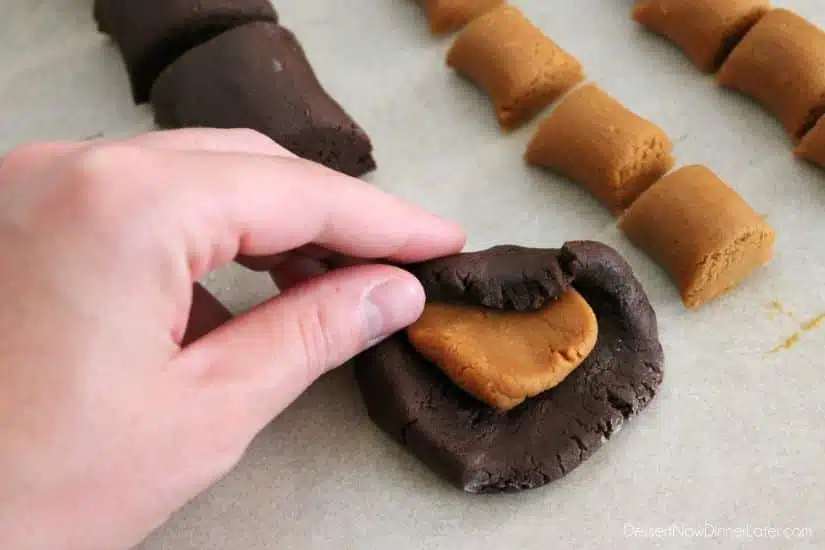 The results were delicious! Soft, indulgent, peanut butter and chocolate cookies! They were sweet, but not overly sweet, and they were definitely full of roasted peanut flavor! Who knew this peanut powder could be turned into a sweet treat?! Give them a try! #JifPeanutPowder #WalMart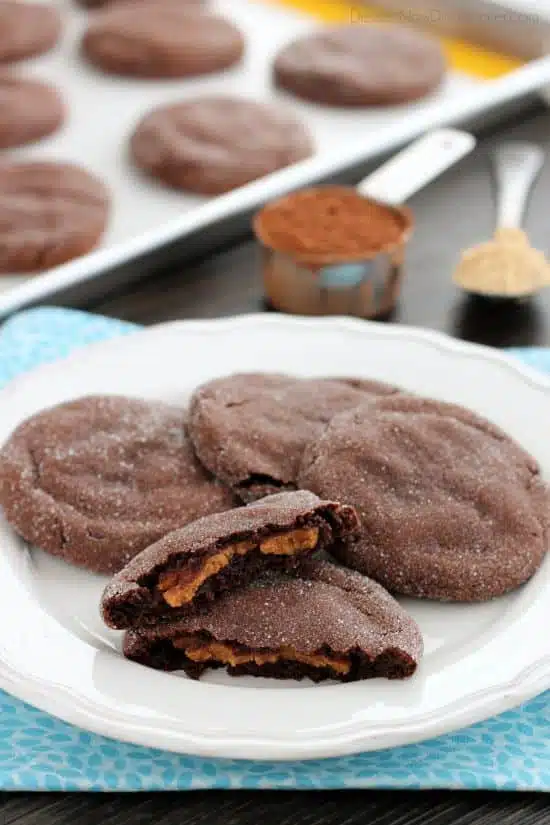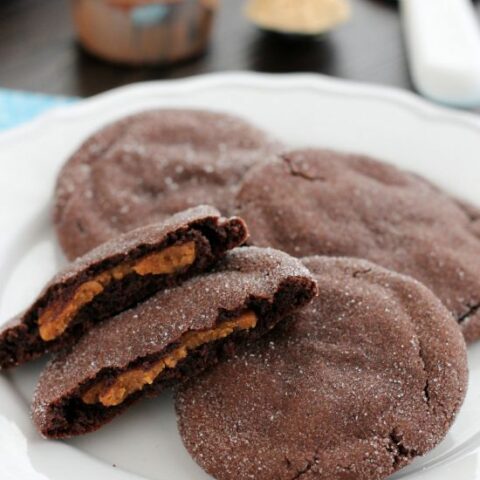 Peanut Butter Stuffed Chocolate Cookies
These Peanut Butter Stuffed Chocolate Cookies are soft and indulgent, but use peanut powder for less fat, without compromising taste!
Ingredients
1 1/2 cups all-purpose flour (up to 1/4 cup extra, if needed)
1/2 cup unsweetened cocoa powder
1/2 tsp salt
1/2 tsp baking soda
1/2 cup butter, softened
1/2 cup granulated sugar
1/2 cup brown sugar
1/4 cup Jif Peanut Powder
2 Tbsp water
1 tsp vanilla
1 large egg
3/4 cup Jif Peanut Powder
3/4 cup powdered sugar
1/4 tsp salt
3 1/2 Tbsp water
1/4 cup granulated sugar for coating
Instructions
In a medium bowl, combine the flour, cocoa, salt, and baking soda.
In the bowl of a stand mixer, cream the butter with both sugars using the paddle attachment. Reconstitute the peanut powder with the water and add it to the butter mixture. Mix until incorporated. Add the vanilla and egg. Mix well.
Add the dry ingredients into the wet ingredients all at once and mix until incorporated. Test dough for stickiness with finger and add an extra ¼ cup flour if needed. Roll dough into a log and cut 16 equal pieces.
For the Peanut Butter Filling: Stir the ingredients in a small bowl until a dough forms. Roll the dough into a log and cut 16 equal pieces.
Press one piece of chocolate dough into a flat circle. Press a piece of peanut butter dough flat and place it in the center of the chocolate dough. Wrap the chocolate dough around the peanut butter dough and pinch the seams. Re-flatten the cookie until about ½-inch thick and coat the top and sides of the cookie in granulated sugar. Place cookie on a silicone lined baking sheet. Repeat with remaining pieces of dough placing cookies 1-inch apart.
Bake at 350 degrees Fahrenheit for 8 to 9 minutes until dough starts to crack on the edges. Allow to cool sightly before removing from baking sheet.
Nutrition Information:
Yield: 16
Amount Per Serving:
Unsaturated Fat: 0g