Almond Cherry Sugar Cookie Cake
This post may contain affiliate links, meaning that I may receive a commission at no cost to you if you use a link provided. All opinions shared are my own. You can review my full disclosure policy here.
Almond flavored sugar cookie cake with slivered almonds throughout and topped with cherry frosting. The best sugar cookie you will ever have!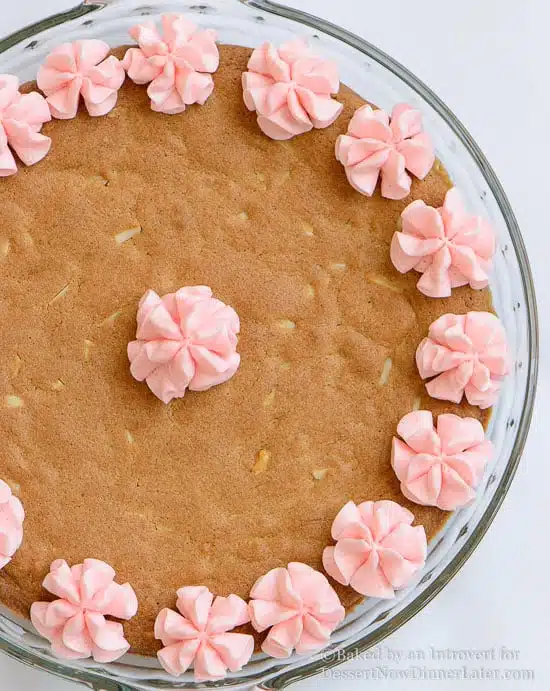 Hi friends! I'm Jen from Baked by an Introvert and I'm back with a recipe for the best sugar cookie you will ever taste!
Do you have a go to recipe for birthdays or special occasions? Typically those recipes are a cake of some sort. Am I right? Well, it's time to change it up and step outside the box. That's where this super easy cookie cake comes in. It's loaded with almond flavor, has slivered almonds throughout, and the cherry frosting is to die for.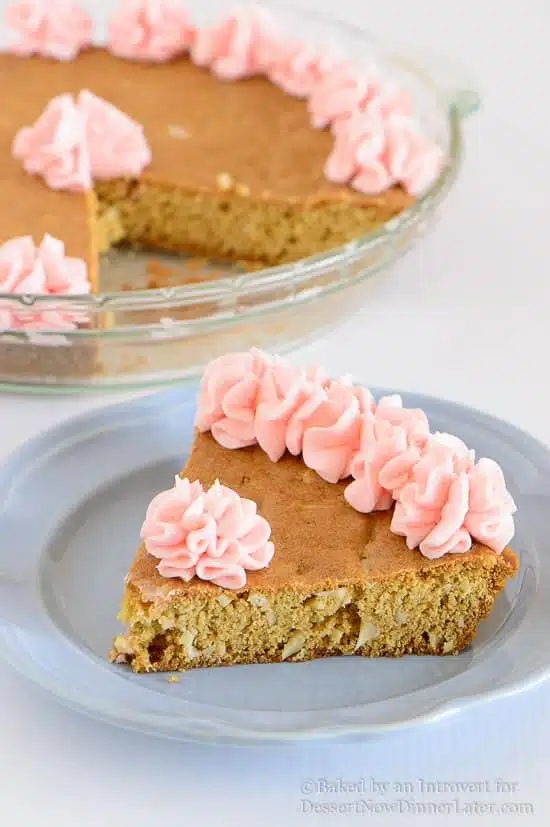 The recipe is quite simple. Mix the wet ingredients, mix the dry ingredients, and then combine the two. This is a common technique in most baking recipes. I used one egg and one egg yolk in this recipe. Using the extra yolk provides just the right amount of moisture so that the cookie isn't overly moist and gooey. I was aiming for a crunchy texture, much like the sugar cookies you get in the grade school cafeteria. The goal was to have a cookie that would crumble and melt in your mouth. Spread the batter into a 9-inch pie dish. A very important thing to note: make sure you use a deep pie dish and not a shallow one. I first tried this in my shallow dish with largely angled sides. The cookie baked up and spilt over the edges resulting in a sunken center. Although it was still tasty, it was very unattractive.
The cookie needs to bake for around 25 to 30 minutes. Watch it closely at around 20 minutes. Every oven is different and you may need to remove yours sooner if begins to get too brown.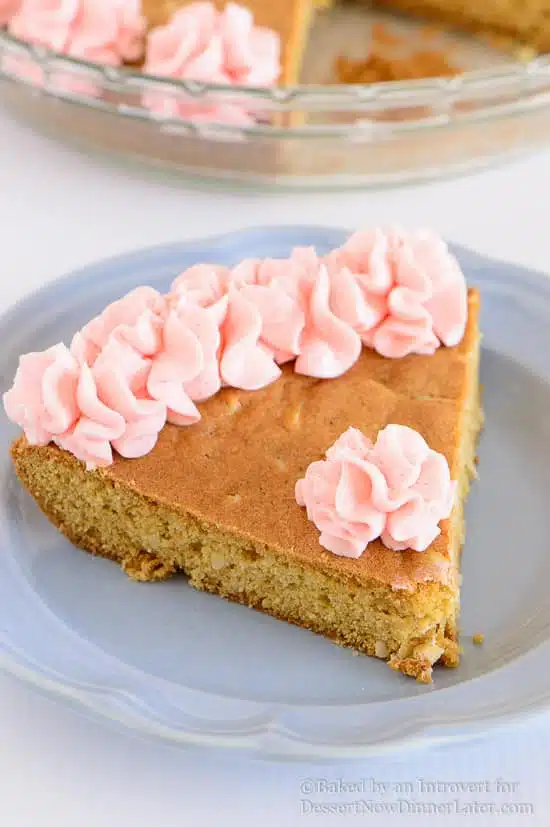 Let the cake cool and it's ready to be frosted. I made a thick cherry frosting using basic buttercream ingredients and flavored it with maraschino cherry juice. If you think you will want more of the cherry flavor, you can also mix a half cup of drained cherries into the cookie batter before baking. Cherry and almond pair wonderfully together.
This sugar cookie cake is perfect for when you want to do something different for a birthday or special occasion.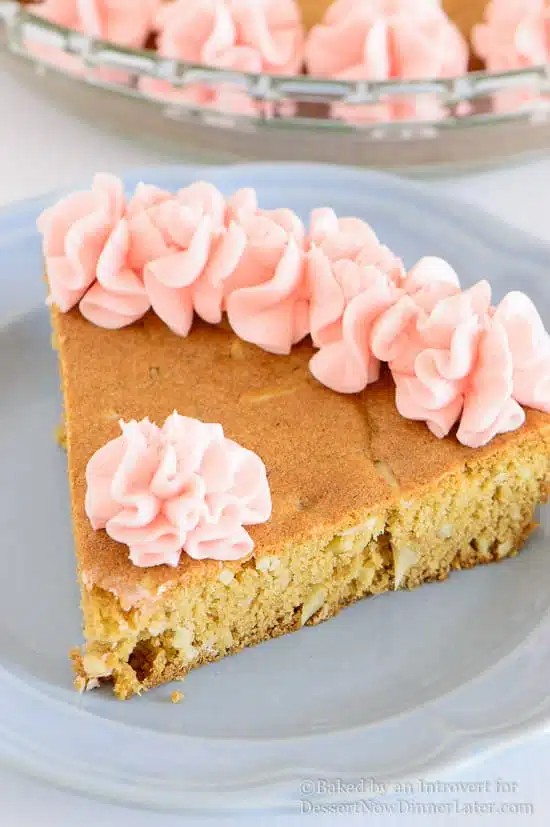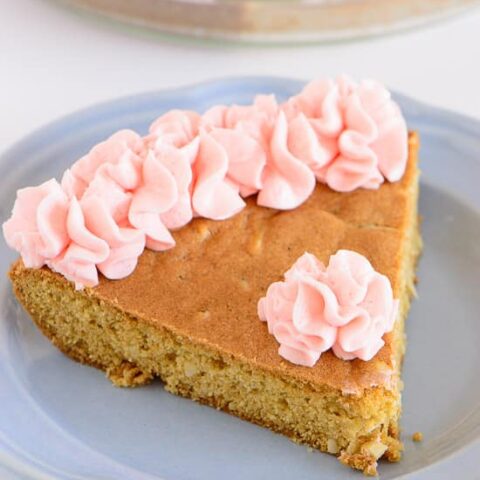 Almond Cherry Sugar Cookie Cake
Almond sugar cookie cake with slivered almonds throughout and topped with cherry frosting. The best sugar cookie you will ever have!
Ingredients
1/2 cup unsalted butter, softened
3/4 cup packed light brown sugar
1 large egg
1 large egg yolk
1 tsp almond extract
1 1/3 cups all-purpose flour
1/4 tsp salt
1/2 tsp baking soda
1/2 cup slivered almonds
For the Frosting:
3/4 cup unsalted butter, softened
3 cups powdered sugar
3 Tbsp maraschino cherry juice
Instructions
Preheat the oven to 350 degrees Fahrenheit.
In a large mixing bowl, beat together the butter and sugar until fluffy. Beat in the egg, egg yolk, and almond extract.
In a separate bowl, combine the flour, salt, and baking soda. Stir with a whisk. Add the flour mixture to the butter mixture. Mix just until moistened. Fold in the slivered almonds.
Spread the batter evenly into a 9-inch pie pan. Bake for 25 to 30 minutes or until lightly browned and cooked through. Cool completely on a wire rack.
Make the frosting: Beat the butter and powdered sugar together until smooth. Add the cherry juice, beat until incorporated. Frost the cookie cake as desired.
Notes
For a stronger cherry flavor, mix ½ cup of drained maraschino cherries into the batter with the slivered almonds. Keep in mind this will change the texture of the cake since the cherries will leak moisture into the batter.
Nutrition Information:
Yield: 8
Amount Per Serving:
Unsaturated Fat: 0g