Classic Pesto
This post may contain affiliate links, meaning that I may receive a commission at no cost to you if you use a link provided. All opinions shared are my own. You can review my full disclosure policy here.
Fresh basil, toasted pine nuts, shredded parmesan cheese, fresh garlic cloves, pure olive oil, and sea salt come together to create this Classic Pesto that can be used on pasta, sandwiches, or in soups!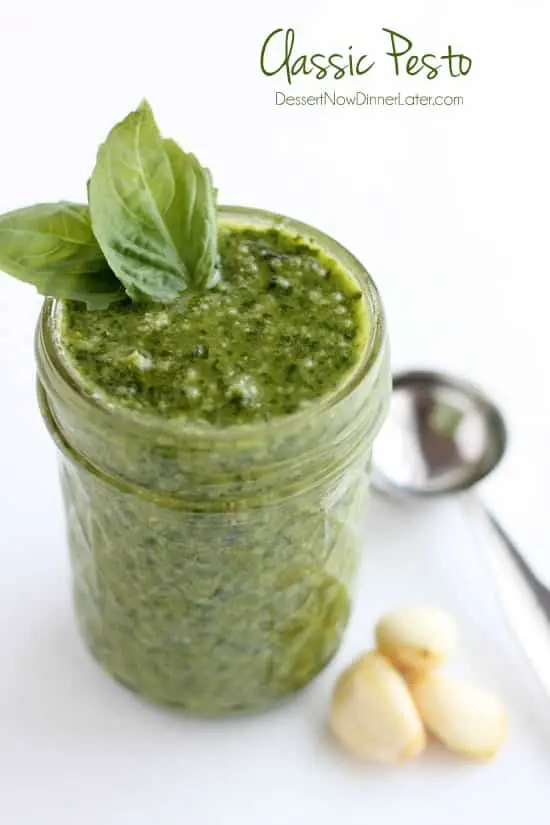 It has taken me way too long to get around to sharing this recipe with you! I'll be honest. I'm kind of lazy when it comes to making sauces. If I can buy a decent version in a jar from the store then I do, because it's more convenient, but then when I finally do get around to making it homemade, I wonder why I don't do it more often!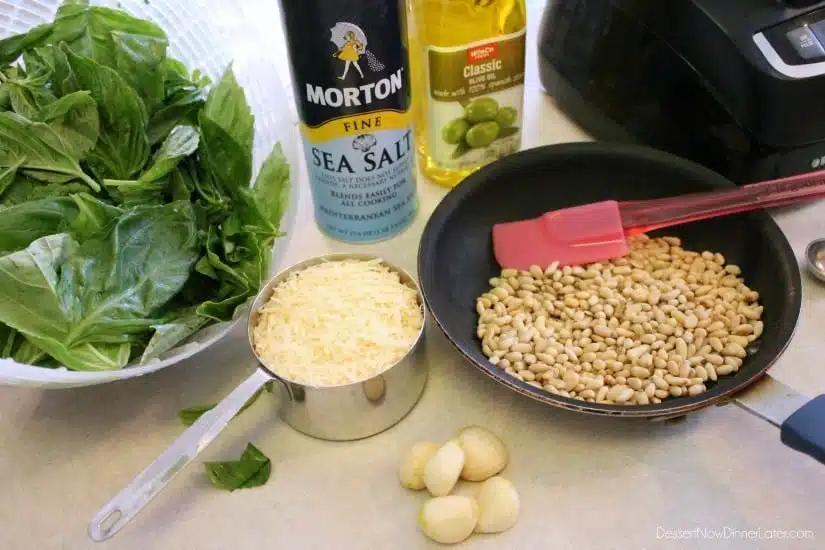 When I worked in a restaurant as a prep cook, we would make pesto all the time. It was a cheater pesto though, half real basil, half spinach, but was still delicious!
This is the real deal, classic pesto recipe that you can use for pasta, sandwiches, soups, chicken, pizza, you name it! You can even freeze this pesto in an ice cube tray and thaw a cube or two when you're ready to use it!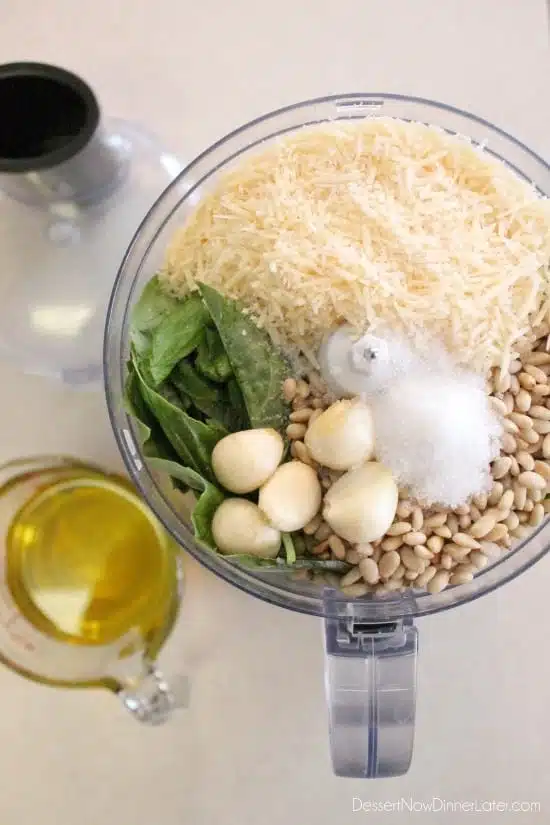 The ingredients are simple: fresh basil, toasted pine nuts, shredded parmesan cheese, garlic cloves, sea salt, and pure olive oil. Use a blender or food processor to mix it up. I like to run my food processor while I'm pouring the olive oil to help it mix better.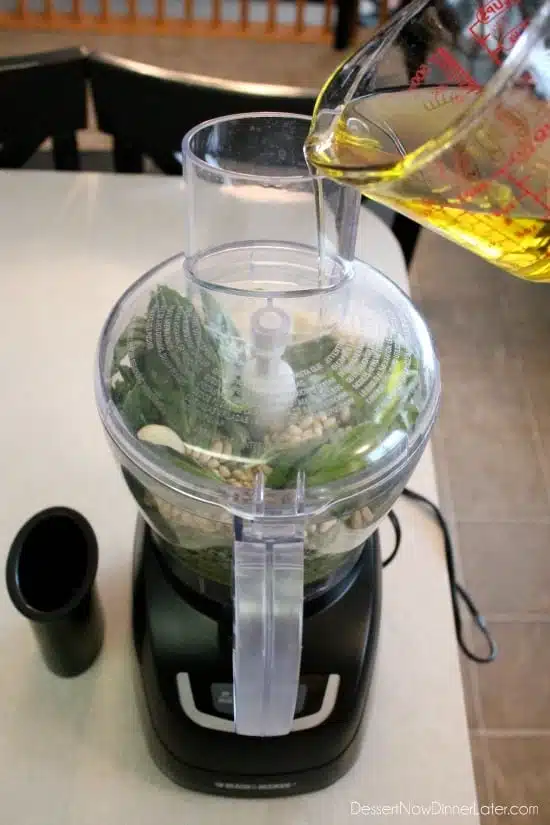 Voila! Bright, vibrant green pesto that I can literally eat with a spoon (and I did)! It's that delicious!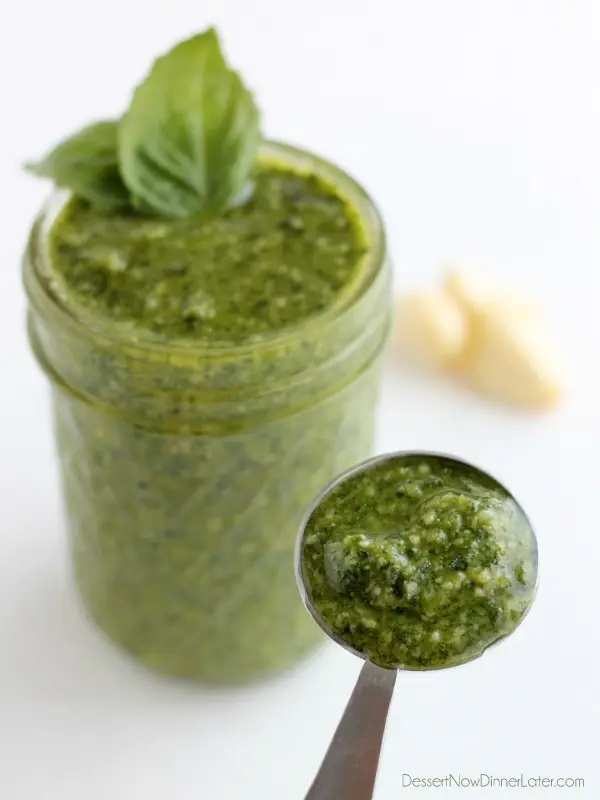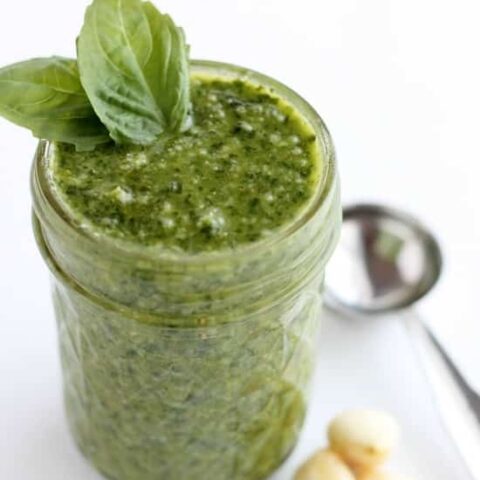 Classic Pesto
Ingredients
4 oz fresh basil (Around 2 cups, packed; I bought two 2oz containers available at my store.)
1 cup pine nuts, toasted (details in instructions)
1 cup shredded parmesan cheese
5 large cloves of garlic
2 tsp sea salt
1 1/2 cups pure olive oil
Instructions
Wash and dry the fresh basil. I spin mine in a salad spinner and then dab it dry with a paper towel. Pluck the leaves off the stems and place the leaves in a food processor or blender.
Heat a small skillet over medium heat. Add pine nuts and cook for 1 to 2 minutes stirring frequently until starting to brown. Watch them carefully so they don't burn. This brings out the aroma and flavor of the pine nuts. Allow to cool slightly, then add to food processor or blender.
Add the shredded parmesan cheese, garlic cloves, and sea salt.
Place the lid on and run the machine pouring olive oil into the section of the lid that can be removed while the machine is running. Mix thoroughly, stopping to scrape the sides if necessary.
Pour pesto into a jar and cover with a thin layer of olive oil to keep the herbs fresh for 2 to 3 weeks in the refrigerator. Seal jar with a lid before storing in the refrigerator.
Alternately freeze pesto in an ice cube tray and then place frozen cubes in an airtight freezer bag for 3 to 6 months. (You may consider leaving the cheese out until ready to use the pesto if you are freezing it, because some say that freezing the pesto with the cheese inside changes the flavor. If you choose to wait to add the cheese, I would use fresh grated parmesan instead of shredded parmesan, so you don't have to blend it up again.)
Notes
*You may adjust the amounts of garlic, olive oil, or salt depending on personal taste preferences.

Use pesto in pasta, sandwiches, soups, on chicken, bread, pizza, etc.
Nutrition Information:
Amount Per Serving:
Unsaturated Fat: 0g