Whipped Strawberry Cream Cheese
This post may contain affiliate links, meaning that I may receive a commission at no cost to you if you use a link provided. All opinions shared are my own. You can review my full disclosure policy here.
When my husband & I were first married, we ate a lot of blueberry bagels & strawberry cream cheese in the mornings for breakfast before we headed off to college. That might have been what contributed to me gaining 25lbs in the first 4 months of marriage. Anyway, I haven't had a bagel since I worked in a bakery 3 years ago, and those were the best bagels ever, by the way.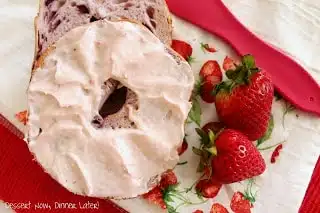 When we were on vacation a month ago, the breakfast buffet at the hotel always had bagels & my almost 4 year old son LOVED eating them. When we were shopping recently, he asked if we could get some bagels as we passed by them in the bakery section, so I caved & bought some for him. I thought it might be fun to make some homemade flavored cream cheese, so I just bought a plain bar & decided to flavor it up at home. I was very pleased with this whipped cream cheese that I put together, so I decided to take some pictures & post it! My kids could probably just eat this spread with a spoon, but I am making sure they only have it with their breakfast bagels. This cream cheese is light, faintly sweet, with a splash of fruit. It's great for bagels, or even as a dip for fruit & graham crackers! Yummy! The texture of this dip is even better once it has had time to chill in the fridge, so you may want to make it ahead of time. Enjoy!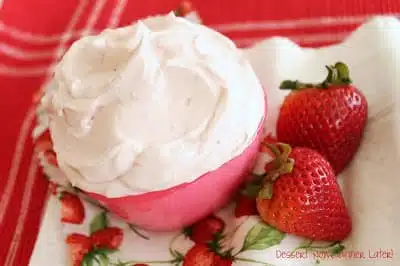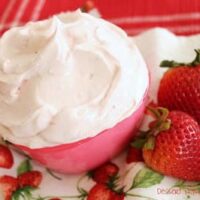 Whipped Strawberry Cream Cheese
Ingredients
1 (8oz) block of cream cheese (I used Neufchatel)
1/2 cup powdered sugar
3 Tbsp strawberry jam
1/2 cup whipped topping (I used light whipped topping)
Instructions
Using a stand mixer with the paddle attachment, beat cream cheese with powder sugar until all lumps are gone. Scrape bowl & mix again as necessary. Add strawberry jam until combined.
Switch the paddle attachment with the whisk attachment & add the cool whip. Whip until light, airy, & stiff peaks form. Ripples will form in the cream cheese as the machine is running when it's ready; approximately 1 minute. Spread onto toasted bagel. Enjoy!
Nutrition Information:
Yield: 8
Amount Per Serving:
Unsaturated Fat: 0g