Apple Streusel Cheesecake Pie + Video
This post may contain affiliate links, meaning that I may receive a commission at no cost to you if you use a link provided. All opinions shared are my own. You can review my full disclosure policy here.
Apple Streusel Cheesecake Pie combines two dessert favorites with a graham cracker crust, creamy cheesecake layer, homemade apple pie filling, and crunchy streusel topping.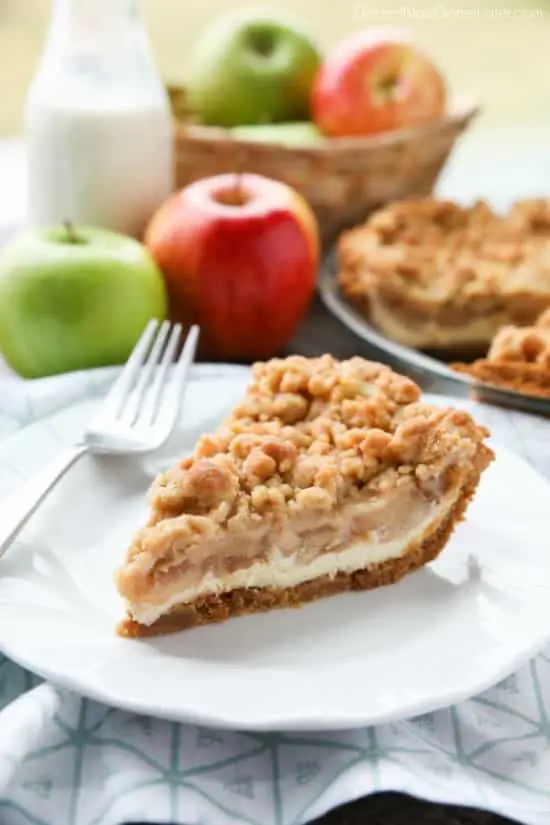 I know Thanksgiving is over and most people move on from pie to other holiday desserts, but I'm a pie fanatic. And this one is just too good not to share! If you love apple pie and cheesecake, then this Apple Streusel Cheesecake Pie is for you!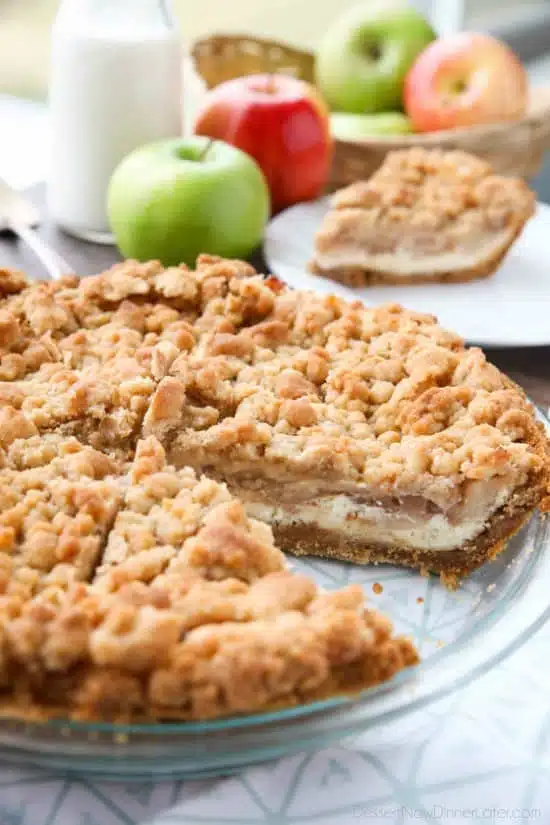 I was a little worried when I first threw this idea together that it would be too sweet. But I am happy to report that everything balanced out quite nicely. Using just enough sugar to enhance the sweetness of each element, without overdoing, it is key.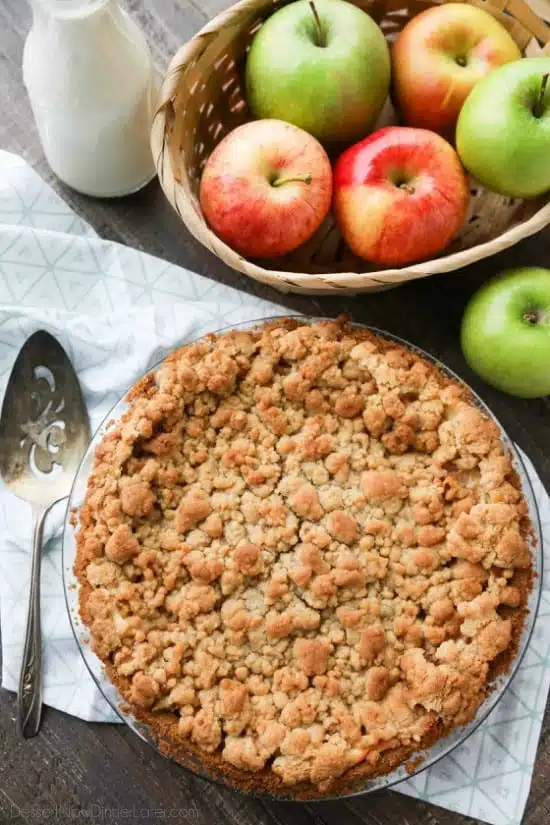 Every time I make a pie I can't help but think back to my childhood. Prepping pies for Thanksgiving and Christmas with my mom was one of my favorite traditions. One that I'm happy to pass on down to my children.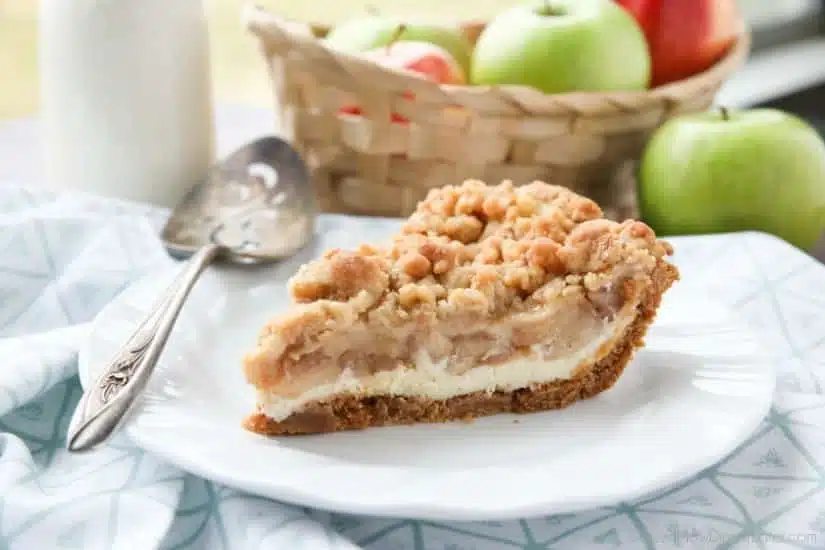 My two year old is the most excited to be in the kitchen, so he usually helps me measure and pour things. I can't wait to see where his passion for food takes him.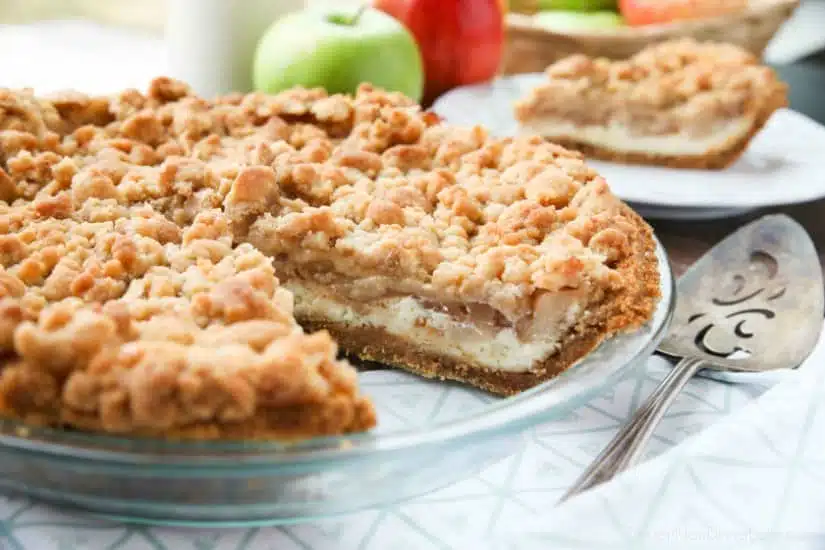 This Apple Streusel Cheesecake Pie is a match made in heaven. You'll be savoring every bite with pure satisfaction. Make it soon!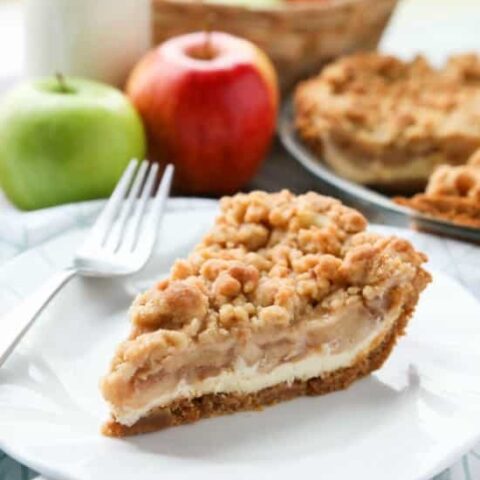 Apple Streusel Cheesecake Pie
Prep Time: 30 minutes
Cook Time: 1 hour
Total Time: 1 hour 30 minutes
Yield: 8 slices
Ingredients
Crust:
7 Tbsp unsalted butter
1 1/2 cups finely crushed graham cracker crumbs (about 9-11 whole graham crackers)
1/4 cup packed brown sugar
1/4 tsp salt
Cheesecake Filling:
1 (8oz) package cream cheese, softened
1/4 cup granulated sugar
1 Tbsp all-purpose flour
1 tsp vanilla
1 large egg
Apple Pie Filling:
1 Tbsp unsalted butter
3 cups apples, peeled, cored, and sliced (2 large apples or 3-4 small/medium apples)
1 Tbsp lemon juice
1/4 cup packed brown sugar
1/2 tsp cinnamon
1/8 tsp nutmeg
1 1/2 Tbsp corn starch
1/2 cup water
Streusel Topping:
1/2 cup unsalted butter, softened
1 cup all-purpose flour
2/3 cup packed brown sugar
1/4 tsp salt
Instructions
PREHEAT OVEN to 350 degrees Fahrenheit.
MAKE CRUST: Melt butter in a glass 9-inch pie dish in the microwave for 30-60 seconds. Add crushed graham crackers, brown sugar, and salt. Mix until everything is combined well. Press evenly onto the bottom and up the sides of the pie dish. Bake for 10 minutes. Let cool.
MAKE APPLE PIE FILLING: Melt butter in a large skillet. Add apples, lemon juice, brown sugar, cinnamon, nutmeg, corn starch, and water. Cook over medium-low heat for 10 minutes or until apples are almost fork tender, stirring constantly. If sauce gets too thick, add more water 1 Tbsp at a time until desired consistency. Let cool.
MAKE CHEESECAKE FILLING: In the bowl of a stand mixer with the paddle attachment, beat the cream cheese until smooth. Add the sugar and flour. Mix until incorporated. Add the vanilla and egg. Beat until the batter is smooth. Set aside.
MAKE STREUSEL TOPPING: Combine the butter, flour, brown sugar, and salt in a large bowl. Rub together with fingers until mixture clumps together in big crumbs.
ASSEMBLE PIE AND BAKE: Pour the cheesecake filling into the cooked graham cracker crust. Carefully spoon apples evenly over the cheesecake filling. (They may sink a little bit.) Sprinkle streusel topping over the apples. Bake at 350 degrees Fahrenheit for 35-40 minutes until streusel topping browns. Cool completely and REFRIGERATE at least 3 hours before serving. TIP: Use a serrated knife to cut back-and-forth through the crunchy topping and through to the pie.
Recommended Products
As an Amazon Associate and member of other affiliate programs, I earn from qualifying purchases.
Nutrition Information:
Yield: 8
Amount Per Serving:
Unsaturated Fat: 0g