Ham Chile and Cheese Baked Omelet
This post may contain affiliate links, meaning that I may receive a commission at no cost to you if you use a link provided. All opinions shared are my own. You can review my full disclosure policy here.
This Ham Chile and Cheese Baked Omelet is a great way to feed a crowd for breakfast, brunch, or brinner!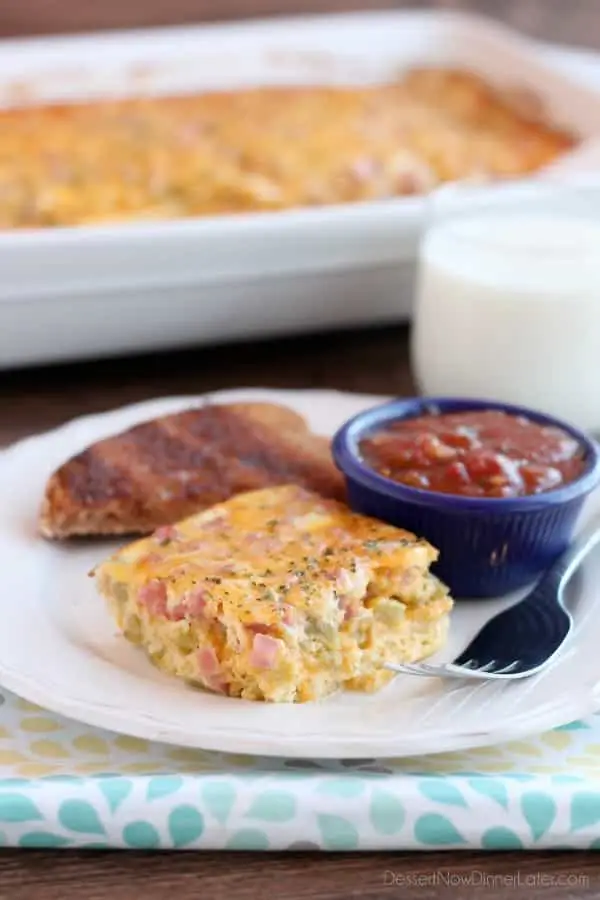 The first time I made this, was last month for a church Christmas breakfast. I liked how it turned out so much that I made it again, just so I could share it with you on the blog. For the record, there were a lot of these baked omelets and other casseroles, and mine was the first to go. That's sayin' somethin'!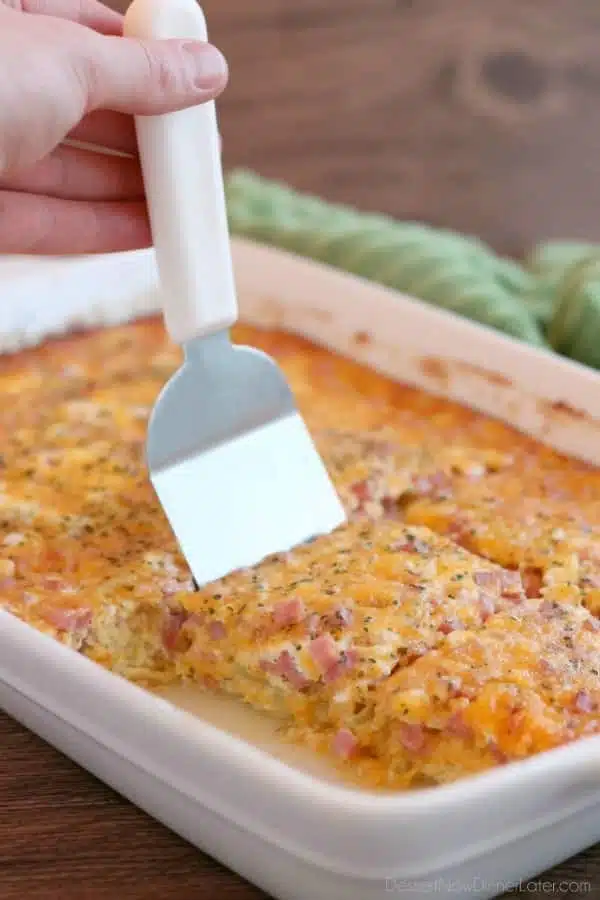 We totally had this for dinner (brinner) and I was rushing to get the pictures taken because the sun was setting around 4:45pm and I was losing all my natural light. Despite the rush, I still think they turned out all right!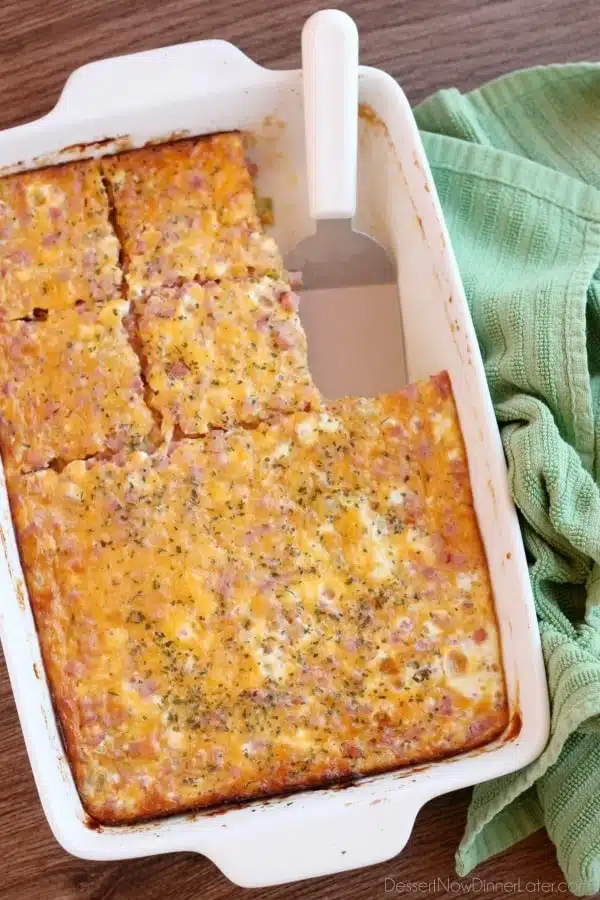 I'm really hoping you can see the yummy goodness in this baked omelet! You build this omelet in layers. Cheese and chiles on the bottom, then diced ham, then the egg mixture and some extra cheese on top with a little sprinkle of parsley for looks!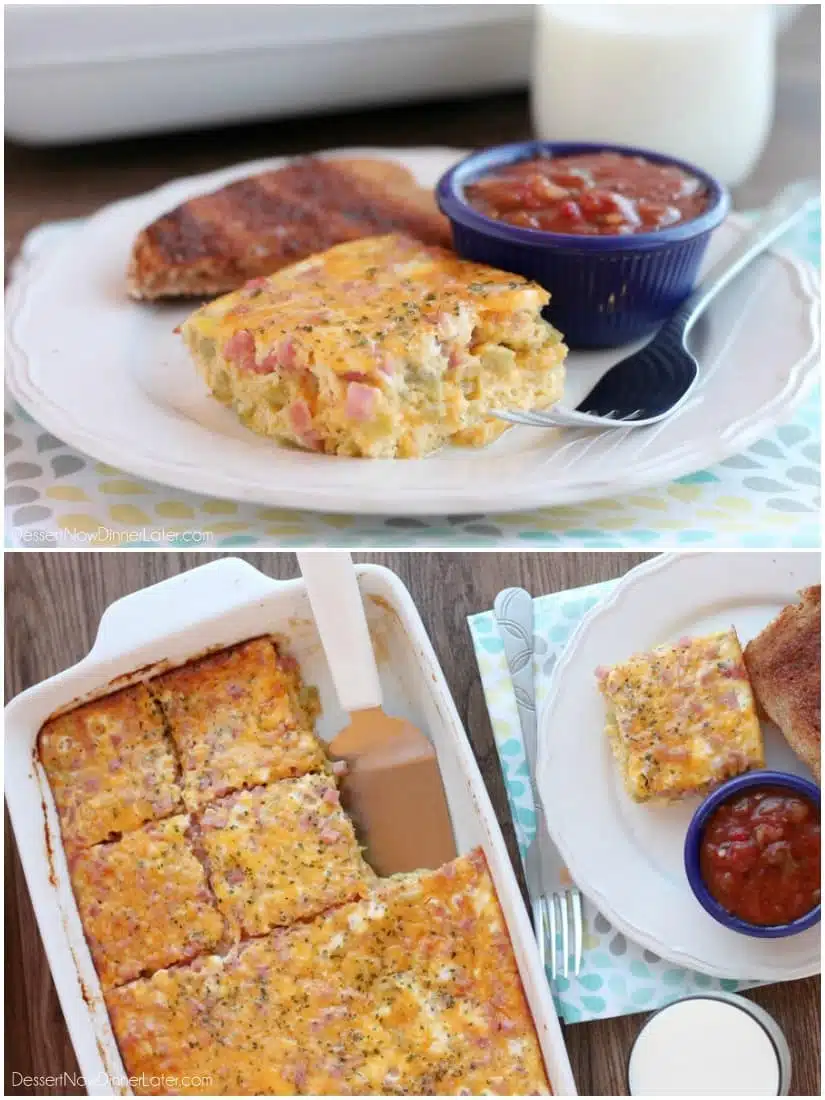 A lot of the ingredients float upwards as it bakes and makes it all speckled and pretty! It's a great dish to serve to groups for breakfast, brunch, or brinner!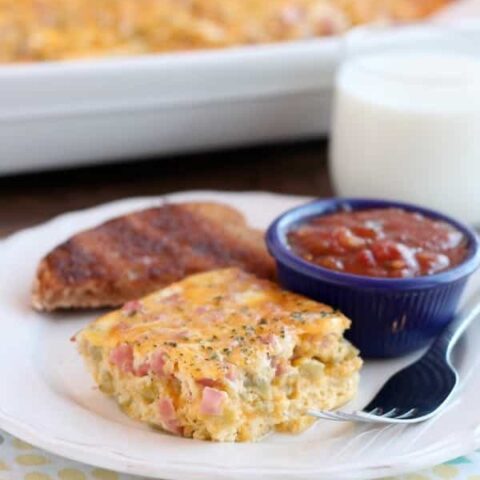 Ham Chile and Cheese Baked Omelet
Ingredients
2 1/2 cups shredded cheddar, divided
2 (4oz) cans diced green chiles
1 (16oz) pkg diced ham
8 eggs
1 (12oz) can fat free evaporated milk (or whatever milk you have in your refrigerator)
Salt and Pepper to taste (Everyone's tastes are different, but I did 3/4 tsp salt and 1/2 tsp pepper. Remember there is salt in the ham and cheese, so determine the amount you use according to your preference.)
Dried Parsley (for looks)
Instructions
Grease a 9x13-inch baking dish with cooking spray.
Combine 2 cups of the shredded cheddar with the 2 cans of diced green chiles. Spoon mixture evenly over the bottom of the prepared baking dish.
Sprinkle the diced ham on top of the chile-cheese mixture.
In a bowl, whisk together the eggs and milk and season with salt and pepper. Pour evenly over ingredients in the baking dish.
Sprinkle the top with the remaining ½ cup of shredded cheddar and sprinkle with dried parsley for looks.
Cover the dish with foil and bake at 375 degrees Fahrenheit for 60 minutes, removing the foil for the last 15 minutes to slightly brown the top. You can tell the casserole is finished when the center is bubbling/rises and is firm when pressed with your finger.
Nutrition Information:
Yield: 12
Amount Per Serving:
Unsaturated Fat: 0g