Hot Ham and Pineapple Campfire Sandwiches
This post may contain affiliate links, meaning that I may receive a commission at no cost to you if you use a link provided. All opinions shared are my own. You can review my full disclosure policy here.
These Hot Ham and Pineapple Campfire Sandwiches are a delicious and easy tin foil recipe. Plus cleanup is a breeze! (You can even bake these in the oven too!)  
*This post is brought to you by Rhodes Bake-N-Serv. Thanks for supporting the brands that make Dessert Now Dinner Later possible.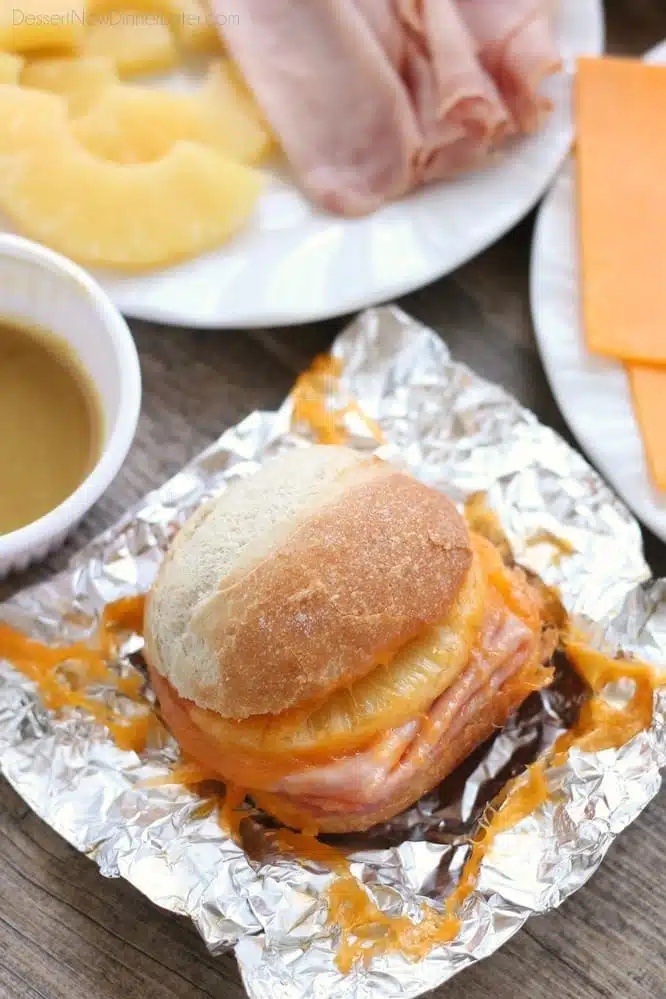 Summer is in full swing and all I can think about are popsicles, late nights, and roasting marshmallows. I secretly wish our family was into camping. We have a lot of gear for it. The last time we went camping was 3 years ago for the fourth of July. It was just us and our two kids at the time. My son was 4 years old and my daughter was 2 years old. It was a great attempt, but my son whined THE. WHOLE. TIME. So, we vowed to never go again, but that doesn't stop me from doing the occasional tin foil dinner. (By the way, my son is now 7 years old and actually wants to try camping, so who knows! We might do it, and make these campfire sandwiches!)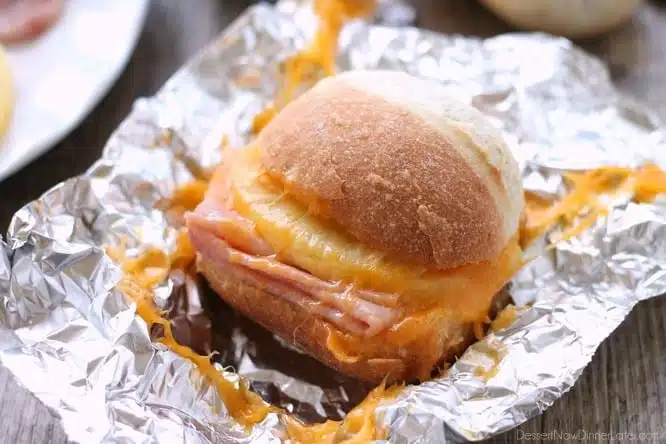 You really don't need to go camping to make these. Who wants to cook in this summer heat? Not me! I grill and cook as minimally as possible. These campfire sandwiches are perfect for the grill or campfire. You can even bake them in the oven if you feel inclined to. Year round hot sandwich dinner? Yes, please!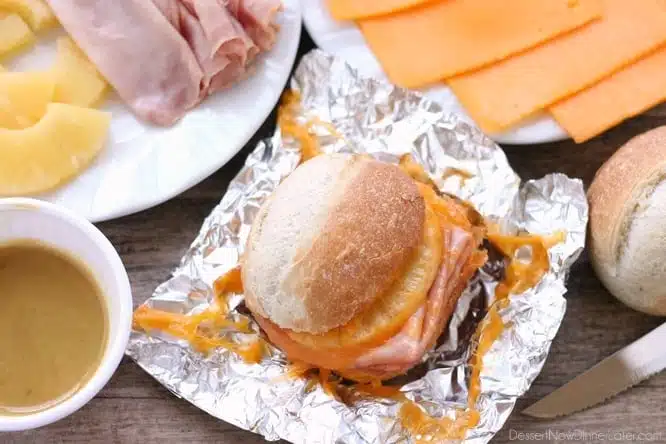 I love that you can eat these campfire sandwiches straight from the foil wrapper, so there is less cleanup. The best! So let's just talk about these sandwiches for a minute. The bread is Rhodes Artisan French Rolls. They are my new favorite Rhodes product since I tried them at Easter dinner. They are a Warm-N-Serv™ product, so they are ready in 8 minutes from the oven. Or you can microwave them, or just let them come to room temperature and eat them that way. But when they are warmed in the oven, they are crisp on the outside and soft in the center. Duh-licious! They are the perfect exterior for these sandwiches.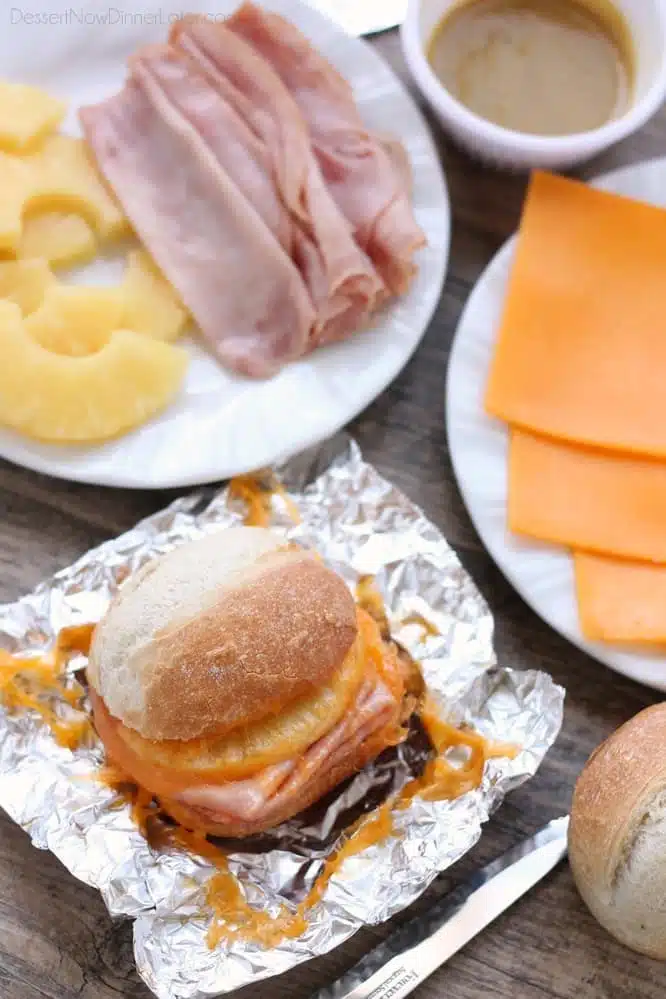 Cut a roll in half, smear it with homemade honey dijon, slices of ham, cheese, and pineapple and you've got yourself a taaaaasty tin foil dinner. It's ridiculous how easy, and how delicious these are. My kids are already asking to have these for dinner again. Maybe next time, we will be enjoying them while camping!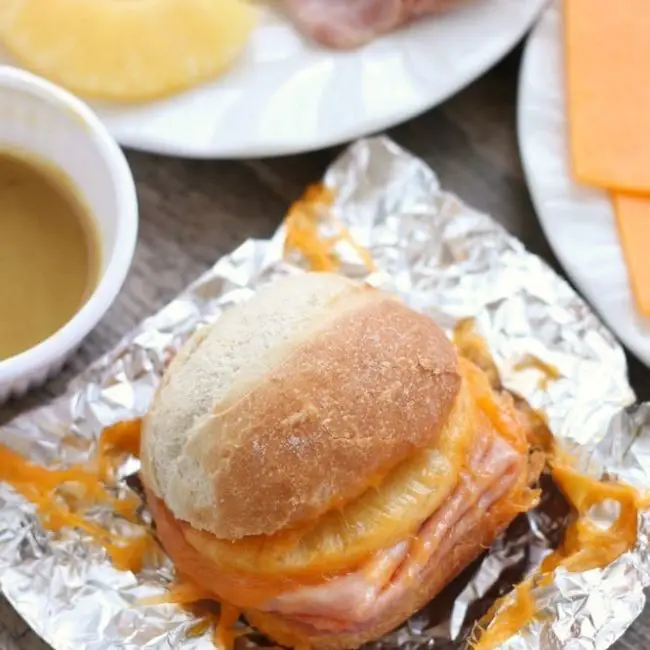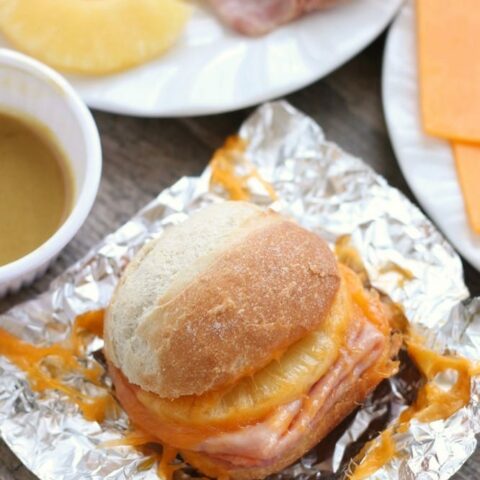 Hot Ham and Pineapple Campfire Sandwiches
Prep Time: 10 minutes
Cook Time: 15 minutes
Total Time: 25 minutes
Yield: 6 servings
These Hot Ham and Pineapple Campfire Sandwiches are a delicious and easy tin foil recipe. Plus cleanup is a breeze! (You can even bake these in the oven too!)
Ingredients
6 Rhodes Artisan French Rolls, thawed to room temperature
9 oz deli sliced ham
6 pineapple rings, cut in half if desired
6 slices cheddar cheese
2 Tbsp Dijon mustard
1 Tbsp honey
Instructions
Cut rolls in half. Mix the Dijon mustard with the honey and spread the bottom of each roll with some of the honey-mustard mixture.
Layer each sandwich as follows: Fold a few pieces of ham and place it on top of the honey-mustard. Top the ham with a pineapple ring, cut in half, if desired. Top pineapple with a slice of cheddar cheese, and the top half of the roll.
Wrap each sandwich well with heavy-duty aluminum foil. Place the sandwiches over hot coals or a grill rack until hot, about 20 minutes depending upon the temperature of your fire. Alternatively, you can bake these sandwiches directly on top of the center rack in a 400 degree Fahrenheit oven for 15 minutes. Carefully unwrap and enjoy!
Nutrition Information:
Yield: 6
Serving Size: 1
Amount Per Serving:
Calories: 281
Total Fat: 12g
Saturated Fat: 6g
Trans Fat: 0g
Unsaturated Fat: 5g
Cholesterol: 55mg
Sodium: 760mg
Carbohydrates: 28g
Fiber: 3g
Sugar: 20g
Protein: 17g
This data was provided and calculated by Nutritionix, and is an estimation only.