Barbecue Chicken with Bacon and Cheddar
This post may contain affiliate links, meaning that I may receive a commission at no cost to you if you use a link provided. All opinions shared are my own. You can review my full disclosure policy here.
This Barbecue Chicken with Bacon and Cheddar is an easy and delicious 4-ingredient dinner that will have you firing up the grill up any time of the year!
I was selected for this opportunity as a member of Clever Girls and provided product samples by Kraft Foods, and the content and opinions expressed here are all my own.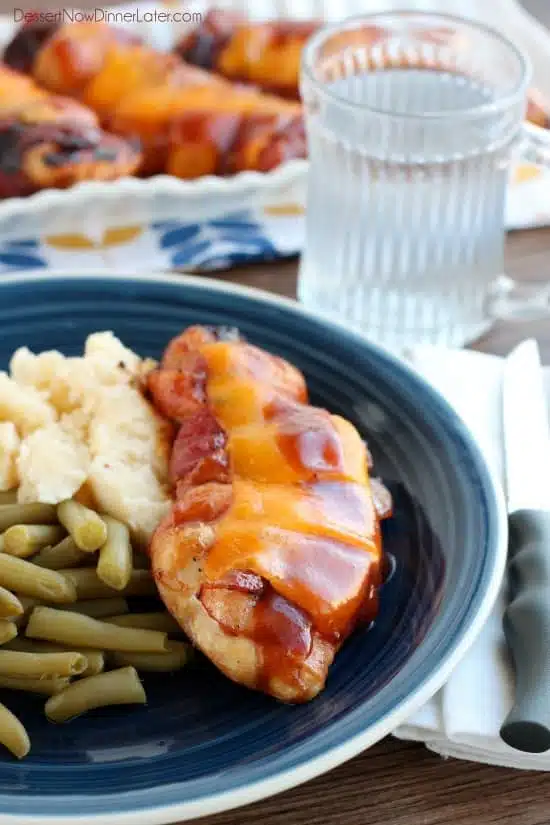 I don't know about you, but we totally grill outside year round. Why not?! Some things are just better grilled, and this Barbecue Chicken with Bacon and Cheddar dinner is definitely one of them!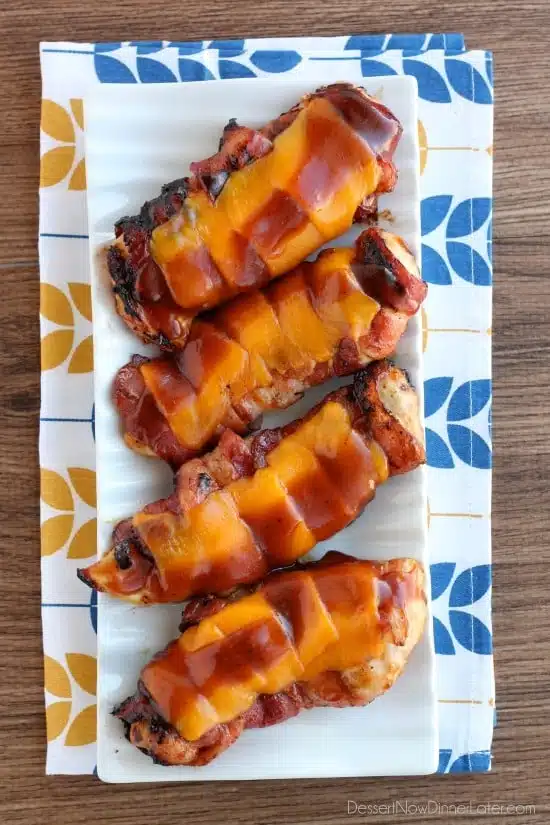 I'm excited to share with you that this month, Kraft Barbecue Sauce is celebrating the launch of a newly revamped line of sauces with recipes that feature high-quality ingredients like tomatoes, sweet molasses, cider vinegar and cane sugar because that's what we barbecue sauce lovers want – bold flavors, high-quality ingredients, and no high fructose corn syrup! Am I right?! Well, Kraft is bringing it! In addition, the sauces will be in a new package design.
New Kraft Barbecue Sauce is available in eight varieties across smoky, sweet and spicy flavors: Original, Hickory Smoke, Sweet Honey (pictured below), Mesquite Smoke, Sweet Brown Sugar, Sweet & Spicy, Spicy Honey, and Thick & Spicy. Doesn't all this talk about sauce make you want to get your barbecue on?!
The recipe I'm sharing today is 4-ingredient easy, but is already on the dinner rotation again for our family, we liked it so much! For each person in your family, wrap a 4-oz chicken breast with 2 slices of bacon, grill it and baste it with Kraft Barbecue Sauce, in this case we used the Sweet Honey variety, and then top it with a slice of cheese that's been quartered and stacked. Drizzle a little more barbecue sauce over the top and you have got a chicken breast dinner to remember!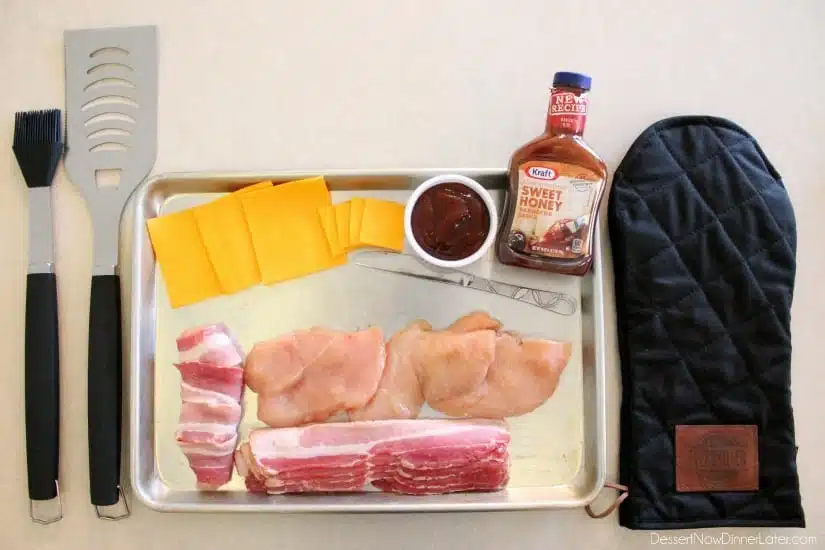 You can see in the picture below my prep set up and the little bit of snow left on the ground. We actually made this a few days before we got hit hard with another storm, so we were lucky it wasn't snowing on us. We're hard core, but maybe not so much when the snow is coming down, haha.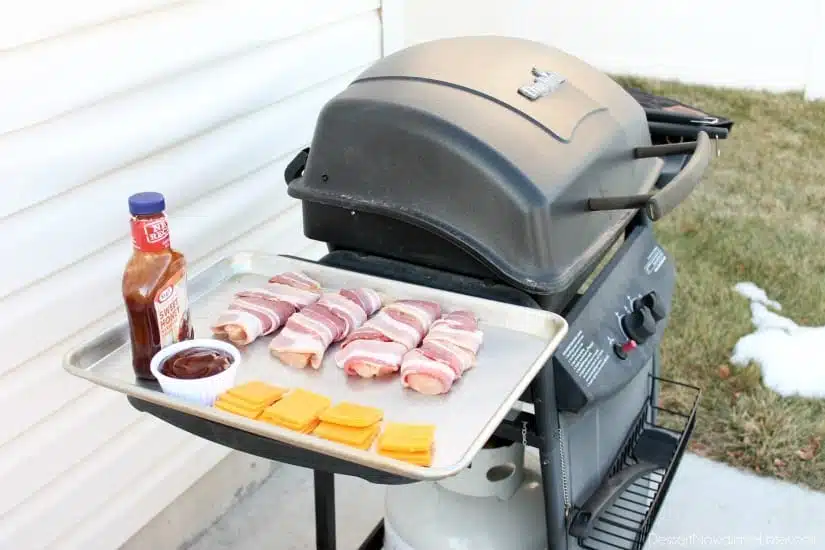 Let's talk about the fun, black mitt shown 2 photos above on the right side of my tray. To celebrate the new Kraft Barbecue Sauces, the brand created custom, over-the-top grilling innovations to help America's well-known grilling gurus, that they are calling "Evergrillers," endure the outdoor elements when they grill year-round. The Evergriller Grill 'N' Flip Mitt was created to inspire Evergrillers to develop new winter grilling traditions just in time for the big game. I mean you can totally make this chicken and serve it for the big game coming up!
Kraft Barbecue Sauce has dubbed grilling devotees, "Evergrillers," because they are the ones who strive to get the perfect char on their meat and take their saucing seriously. I know my husband does. I don't dare touch the grill when he's around! The Evergriller Grill 'N' Flip Mitt was inspired by the grilling challenges of these barbecue lovers as they fire up the grill no matter the weather conditions.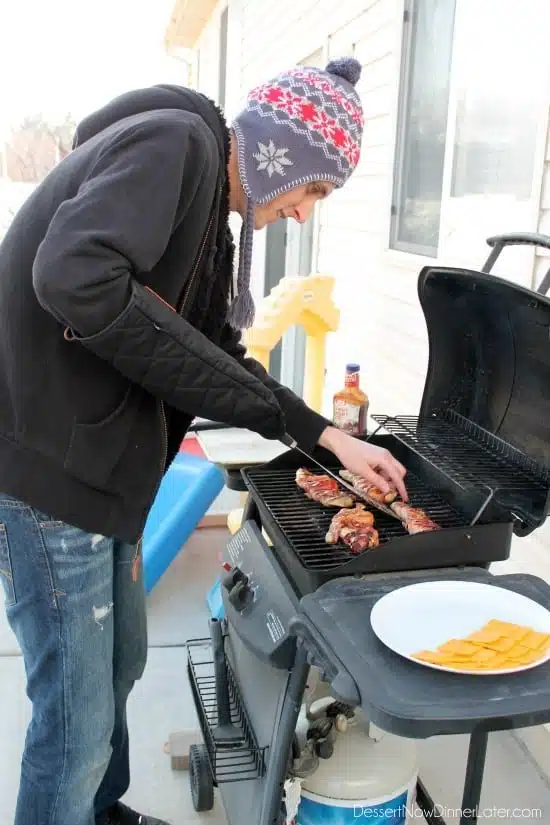 The Evergriller Grill 'N' Flip Mitt is a specially designed, fire-resistant grilling glove that protects the griller's hands from both the heat of the grill and the chill of the outdoors during winter grilling season. The unique design of the top insert can hold many grill tools, making it easy to flip, stab, and baste with ease and precision, as demonstrated by my adorable Evergriller husband: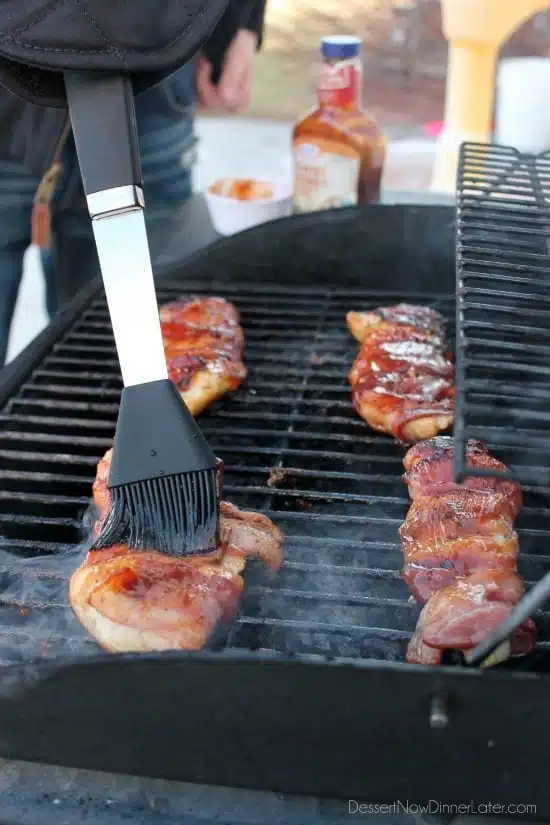 It's such a neat grilling mitt and totally keeps your hands warm while using your grilling tools! Anyway, let's not forget about this chicken! Mmm! Saucy!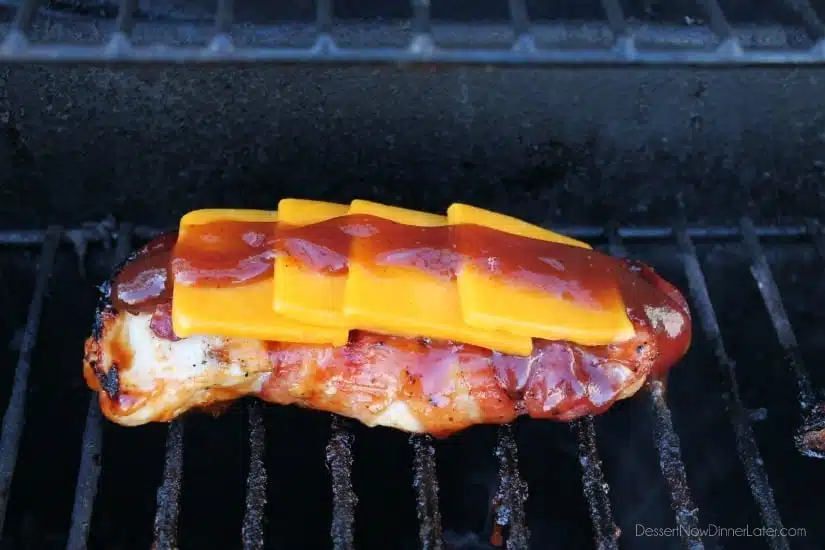 You'll want to make this Barbecue Chicken with Bacon and Cheddar ASAP! Don't wait for the weather to get better! Fire up that grill and enjoy saucy barbecue creations year round!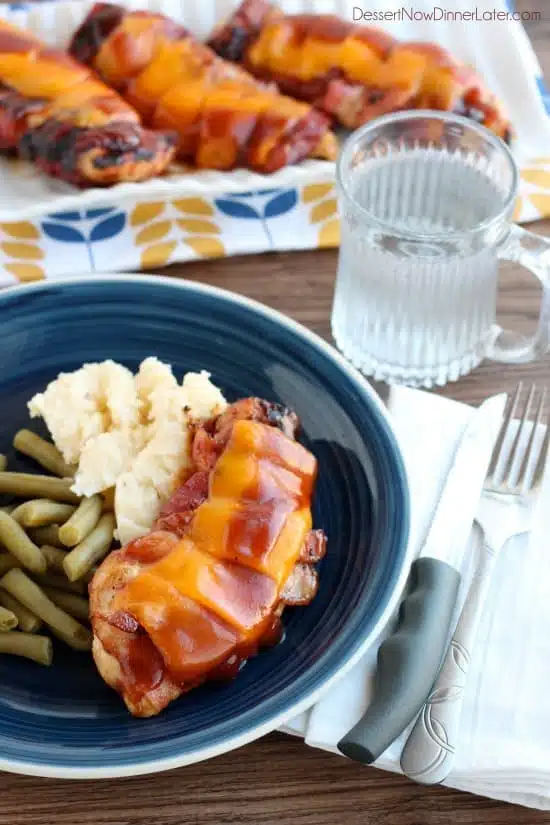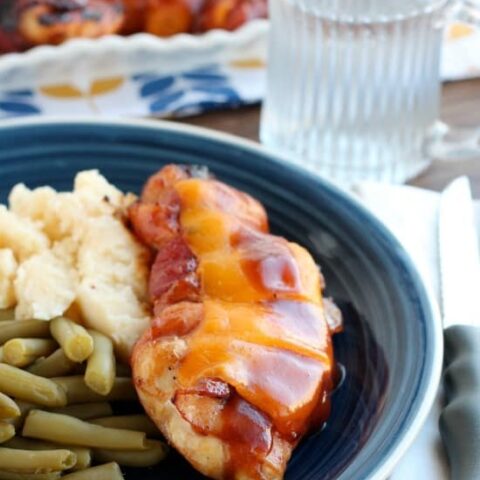 Barbecue Chicken with Bacon and Cheddar
Ingredients
4 (4oz) boneless skinless chicken breasts
8 regular slices of bacon
1/2 cup Kraft Sweet Honey Barbecue Sauce, divided (half for basting, half for drizzling on top of the cheese)
4 slices medium cheddar cheese, quartered
Instructions
Preheat grill outside.
Wrap each piece of chicken tightly with two slices of bacon.
Place chicken on grill and cook about 6 to 7 minutes on each side until the internal temperature of the chicken reaches 165 degrees Fahrenheit, basting with barbecue sauce as desired.
Top with 4 quarter pieces of cheese, shingled over the chicken breast.
Drizzle with remaining barbecue sauce and heat until cheese is melty. Remove from grill and serve.
Nutrition Information:
Yield: 4
Amount Per Serving:
Unsaturated Fat: 0g