Broccoli Cheese Soup
This post may contain affiliate links, meaning that I may receive a commission at no cost to you if you use a link provided. All opinions shared are my own. You can review my full disclosure policy here.
This creamy soup whips up in mere minutes and tastes 10x better than Panera's broccoli cheese soup! A perfect lunchtime soup with fresh bread.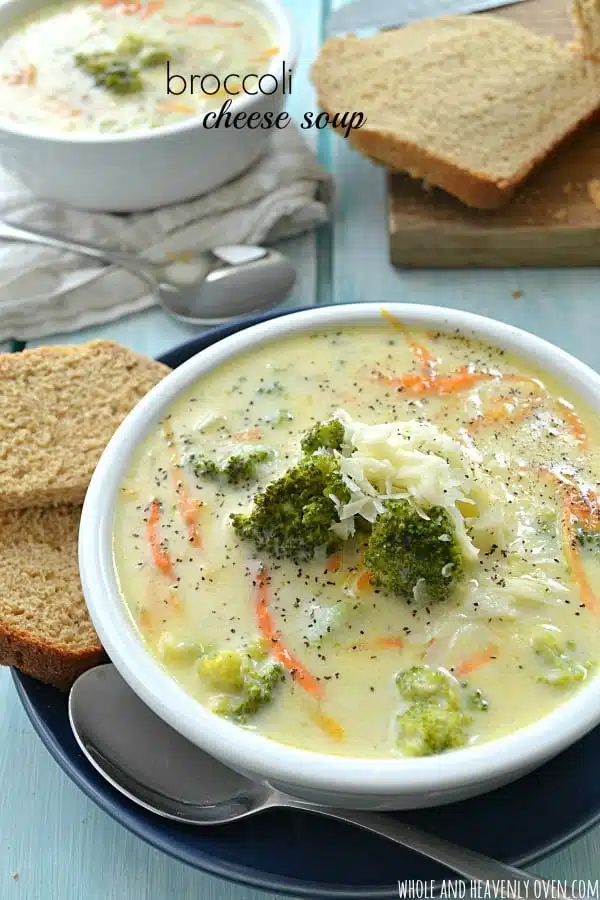 Hey guys! It's Sarah again from over at Whole and Heavenly Oven. I'm pretty pumped to be back again today sharing more deliciousness on Amber's awesome blog!
Today, we're doing soup. Because I don't know about you, but it seems like soup is the main food group (yes, soup has it's own food group in my mind) I've been craving as of late…
One quick look at the archives on my blog tells you pretty much everything about my soup addiction. It's pretty bad 'freakin AWESOME.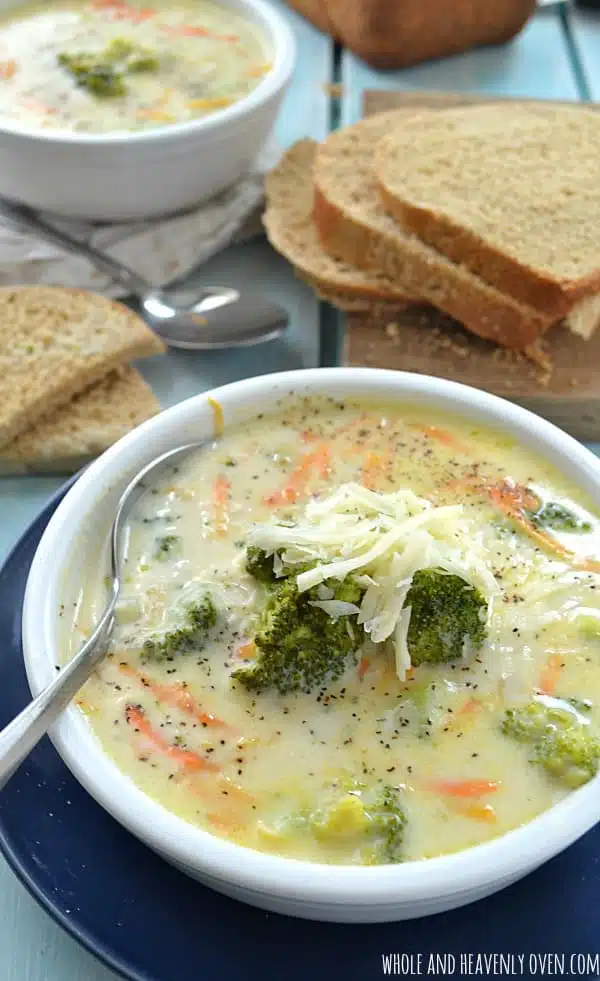 Soup season started about 1 month ago and, at least in THIS house, is going to continue all the way until April. Or at least until the temps get above 50 degrees.
Get out the extra-large soup pot and bring it ON. 😀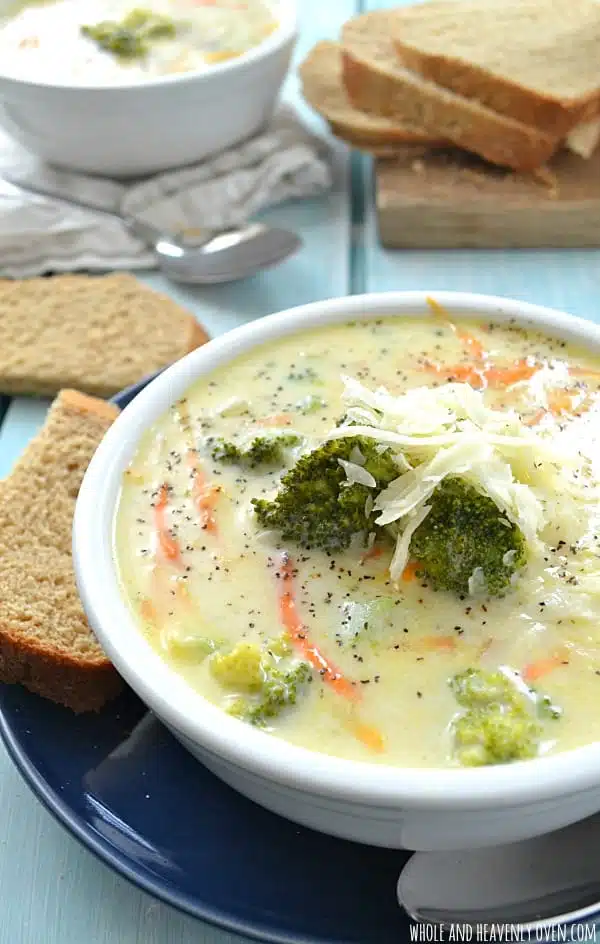 So broccoli cheese soup. It's been in my head basically all of the past summer and obviously HAD to happen the second we hit soup season.
And oh my goodness….can I even describe how much it was worth the wait?!
It's kinda been my lunch for the past two days in a row; that's a simple way to describe how awesome it is. This soup, guys…I can't even…It just BLOWS Panera's broccoli cheese soup right outta the ballpark.
See 'ya later, Panera. I will never be ordering YOUR broccoli cheese soup again. Your hushity-hush recipe is now out for the world to make and love for themselves without spending a fortune.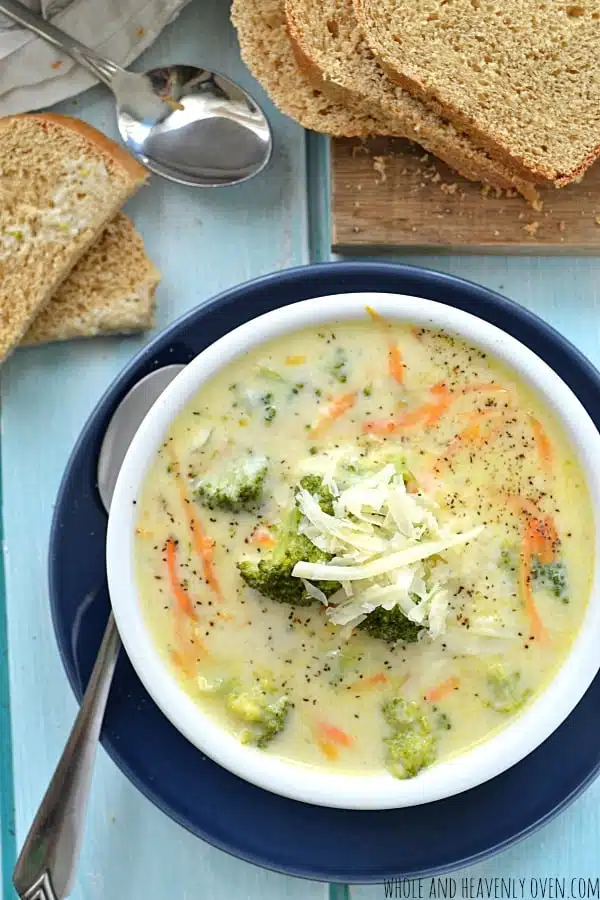 And you know what the scary part is? Panera could definitely WITHOUT a doubt go completely out of business if word got out about this soup.
I'm telling 'ya, this soup is dangerous-good.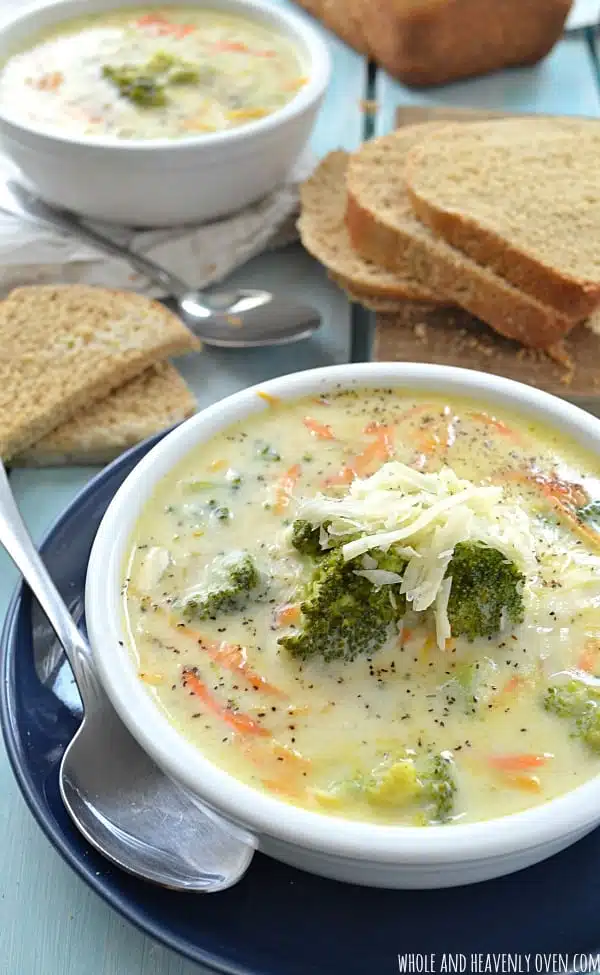 It's pretty much the easy of the EASIEST things you'll ever make. Really, all you're gonna do is saute up some chopped broccoli with onion and garlic until nice and tender…
Stir in some chicken broth, milk, flour, and a little half-and-half for a rich taste…
Bring it all to a low boil until perfectly thick and creamy.
Remove from the heat and go all psycho with the cheese.—This is the point when I don't really measure. I just dump.
The more cheese the merrier. 😀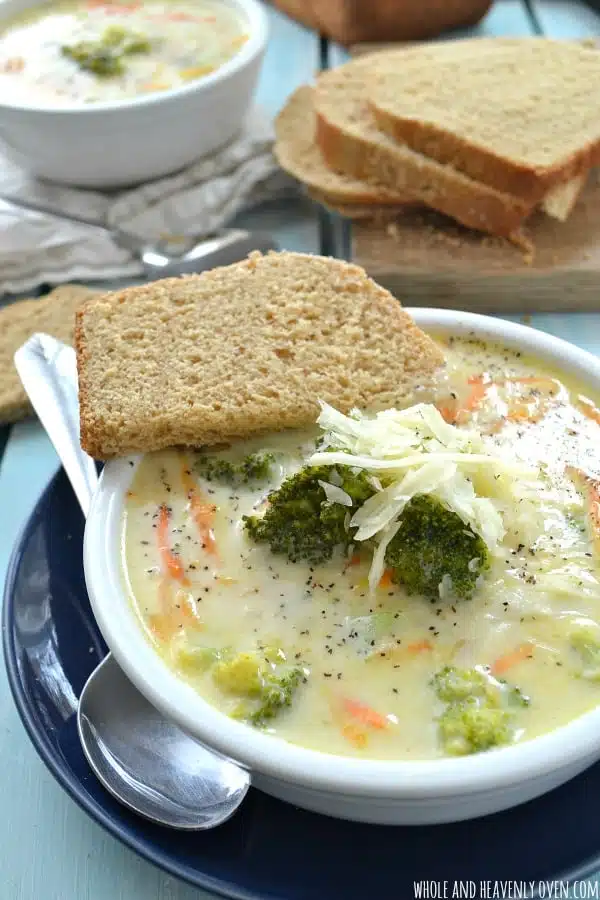 And that's pretty much it! Ladle the hot soup into bowls, warm up some bread for dipping and dig in with both hands.
'Er your SPOON, I mean. 😉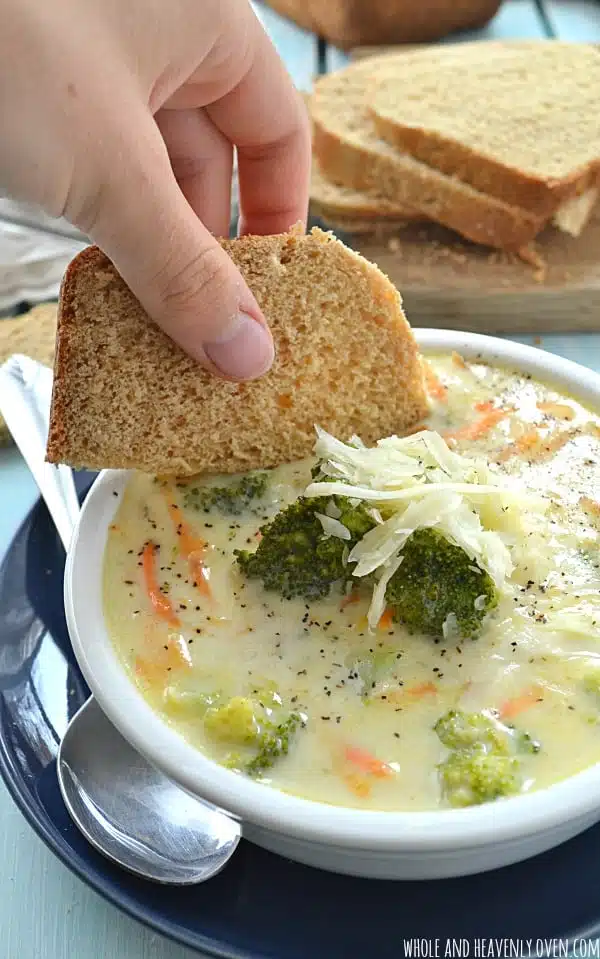 Weekend lunch is served the swanky way. Let's eat!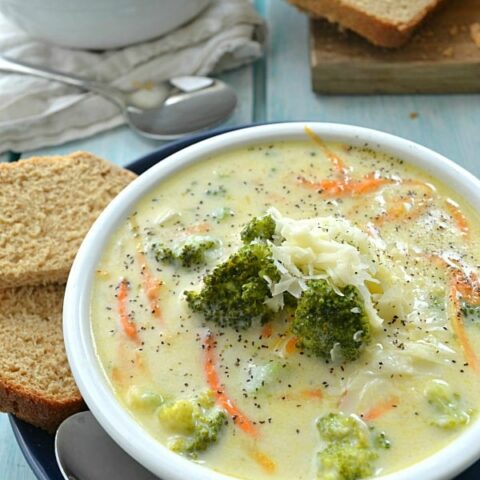 Broccoli Cheese Soup
This creamy soup whips up in mere minutes and tastes 10x better than Panera's broccoli cheese soup! A perfect lunchtime soup with fresh bread.
Ingredients
1/4 cup butter
1 small onion, finely chopped
1 garlic clove, minced
1/4 cup white whole wheat flour
2 cups chicken broth
2 cups milk
1 cup shredded carrots
1 cup chopped broccoli
1 cup shredded cheddar cheese
1/4 teaspoon ground nutmeg
Salt and pepper to taste
Instructions
Place butter, onion and garlic in a medium saucepan. Saute over medium-high heat until butter is melted and mixture is fragrant.
Quickly whisk in flour until smooth, then whisk in broth and milk until evenly incorporated. Stir in shredded carrots and chopped broccoli.
Bring soup to a low simmer over medium heat, stirring occasionally until vegetables are tender.
Remove soup from heat and stir in cheese until melted. Stir in nutmeg and season with salt and pepper. Serve warm.
Nutrition Information:
Yield: 4
Amount Per Serving:
Unsaturated Fat: 0g
Hungry for more soup? You'll love these recipes!