Creamy Pesto Alfredo Fettuccine
This post may contain affiliate links, meaning that I may receive a commission at no cost to you if you use a link provided. All opinions shared are my own. You can review my full disclosure policy here.
This creamy fettuccine combines the best worlds of both alfredo sauce and fresh pesto into one fresh springtime pasta side dish!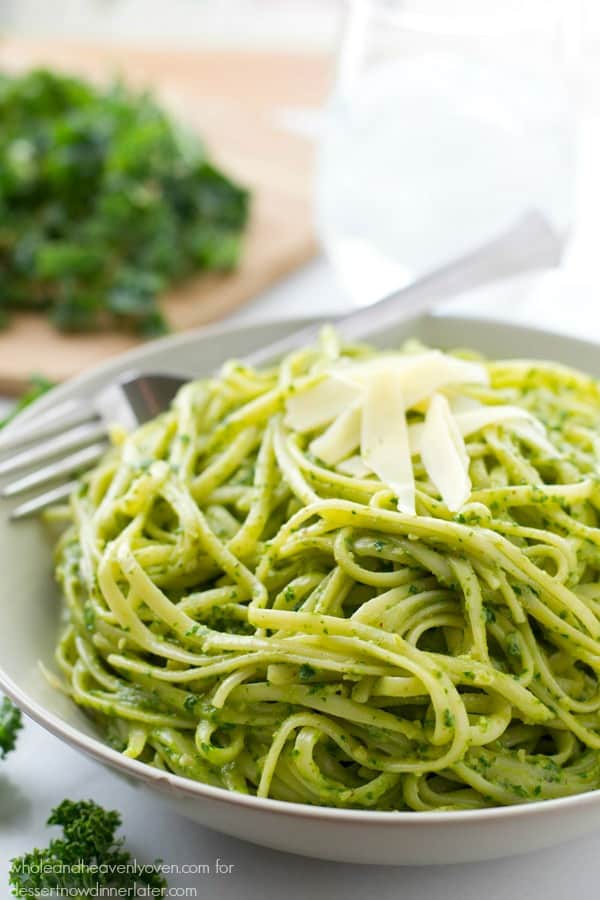 Hi, everyone! Sarah back again from Whole and Heavenly Oven to share another fabulous recipe with ya'll.

So, am I the only one who's kinda relieved that the worst of winter is past us now? We're only one day into spring, but things are already starting to warm up quite nicely around here in Wisconsin and I am LOVING it. Loving. Spring, stay forever m'kay?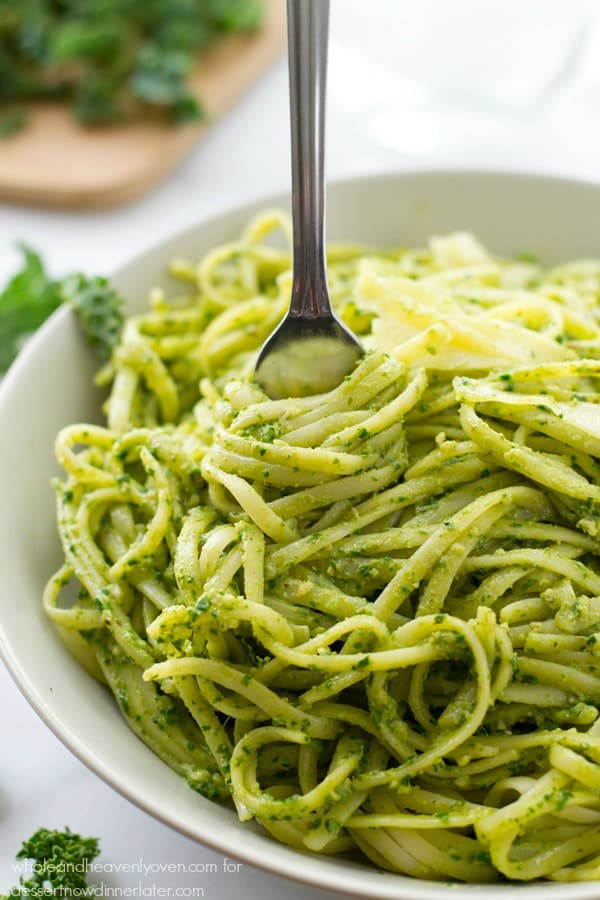 You know what else I'm loving? Pesto. It's totally one of my favorite things year-round, but even more so in the springtime, because it's super-fresh and super-GREEN!
And we all know green things are a beautiful sight this time of year. As are carbs, but I'm pretty sure that's a 24/7 kinda thing. 😉 Enter, pesto pasta. Stay in my life FOREVA.'
Today's recipe isn't just a plain pesto pasta, though. We're taking things one step further and throwing homemade alfredo sauce + pesto sauce together and then tossing it all with the carbs. (i.e. the pasta)
What does all this equal? A bowlful of creamy green noodle heaven.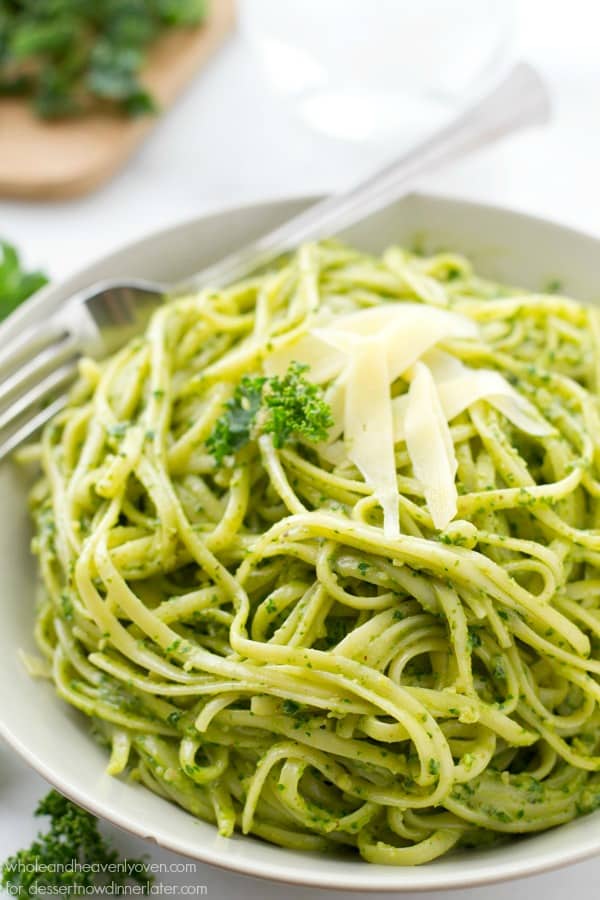 Heaven that even my anti-green family gives it their stamp of approval. SCORE.
The method behind this pasta is fairly basic. We're just going to use a simple pesto sauce. (You can use pre-made or make your own from scratch.) Then move on over to the stove to make a super-basic alfredo sauce…
Now comes the magical part. Combine the two sauces……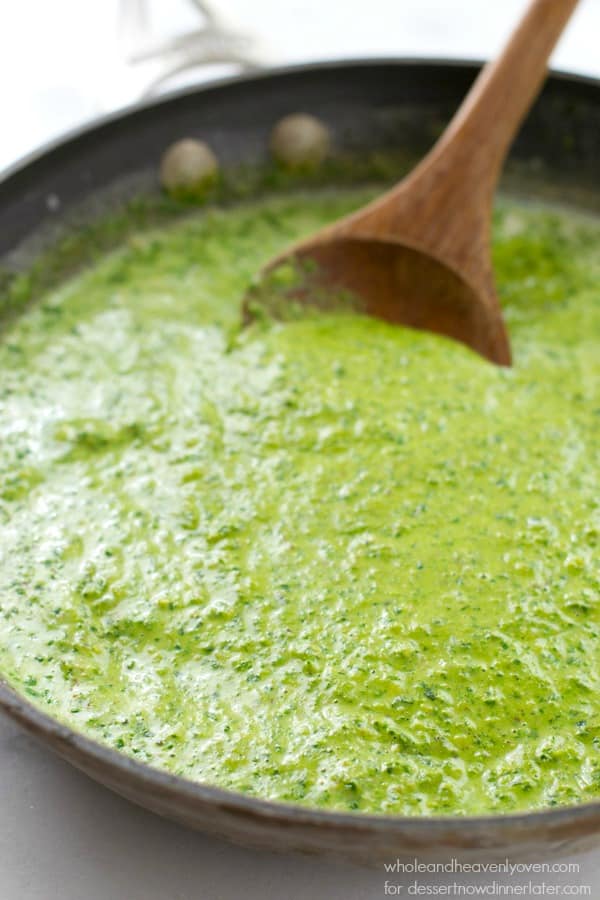 …..and try not to swoon because there's still one last step. Grab your cooked fettuccine, spaghetti, penne, or whatever cut of pasta is your favorite and pour that gloriously-green sauce on top.
Stir 'er up and now you have my full permission to faceplant right into that bowl of green glory.
I personally want to do a cannonball straight into this bowl of 'zee carbs and never, ever come out.
This pasta is a pesto-lover's DREAM, guys! Even if you're not too big a fan of the green stuff, that's totally okay because there's super-creamy alfredo sauce in there too, and that really tames the pesto into a rich, luscious pasta experience.
An experience that, I'm ashamed to admit, has resulted in this pasta being made on a two-to-three-times-per-week basis around here. #obsessed.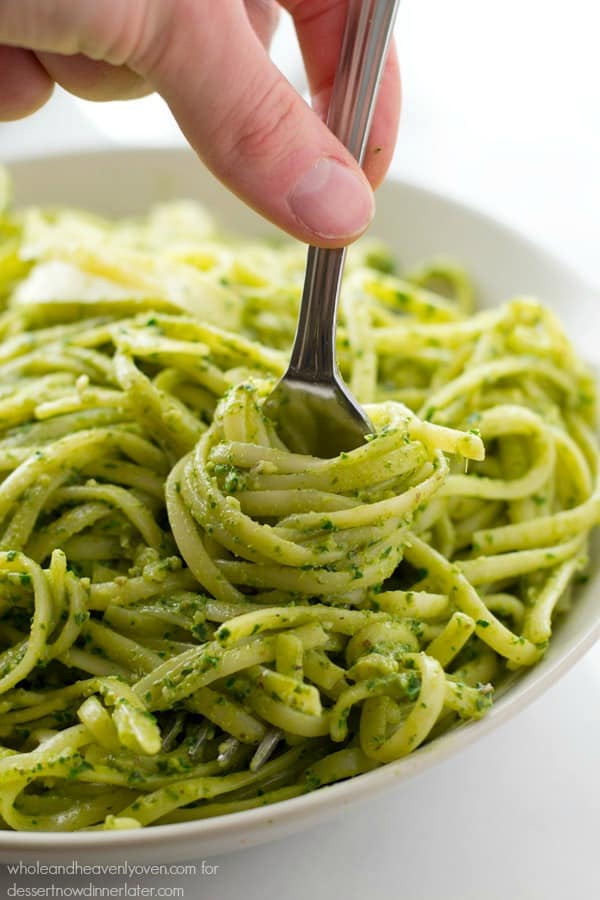 Give this pasta a try this spring, guys! You just can't say no to the green stuff. 😉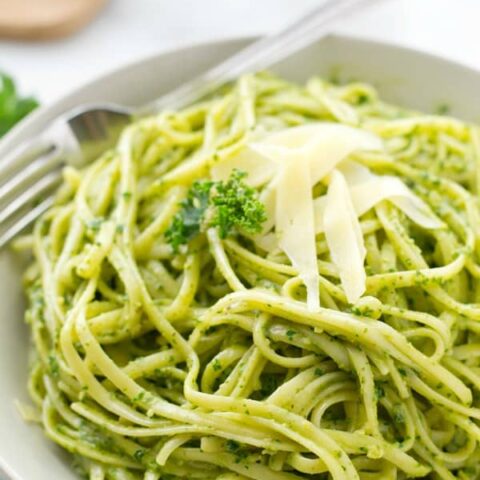 Creamy Pesto Alfredo Fettuccine
This creamy fettuccine combines the best worlds of both alfredo sauce and fresh pesto into one fresh springtime pasta side dish!
Ingredients
3 Tablespoons butter
3 Tablespoons white whole wheat flour
1 1/2 cups milk
1 Tablespoon heavy cream
1/2 cup grated Parmesan cheese
1 cup prepared pesto
1 lb fettuccine pasta
salt and pepper to taste
additional grated Parmesan for topping, optional
Instructions
Place butter in a medium skillet. Melt over medium-high heat, then quickly whisk in flour until smooth.
Very slowly, whisk milk and heavy cream into flour mixture until smooth. Bring sauce to a low simmer, stirring occasionally until sauce is slightly thickened.
Remove from heat and whisk in Parmesan and pesto until smooth.
Meanwhile, prepare pasta according to recipe instructions, reserving 1 cup pasta cooking water.
Pour sauce over pasta and gently toss until noodles are coated.
Slowly drizzle in reserved pasta water until pasta is creamy.
Season pasta with salt and pepper and serve warm with additional cheese if desired.
Nutrition Information:
Yield: 6
Amount Per Serving:
Unsaturated Fat: 0g
Hungry for more pasta? Lucky for you, there's plenty more where that came from!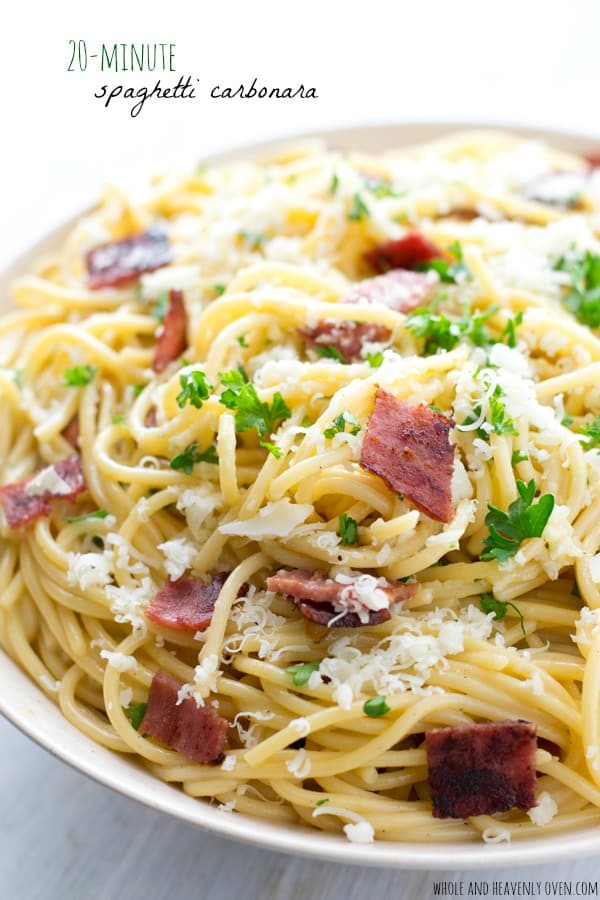 Easy Creamy Cauliflower Alfredo Pasta