Chicken Cordon Bleu Soup
This post may contain affiliate links, meaning that I may receive a commission at no cost to you if you use a link provided. All opinions shared are my own. You can review my full disclosure policy here.
This Chicken Cordon Bleu Soup has chunks of chicken, diced ham, and bacon bits, surrounded in a creamy swiss sauce for a warm and hearty, cold weather meal!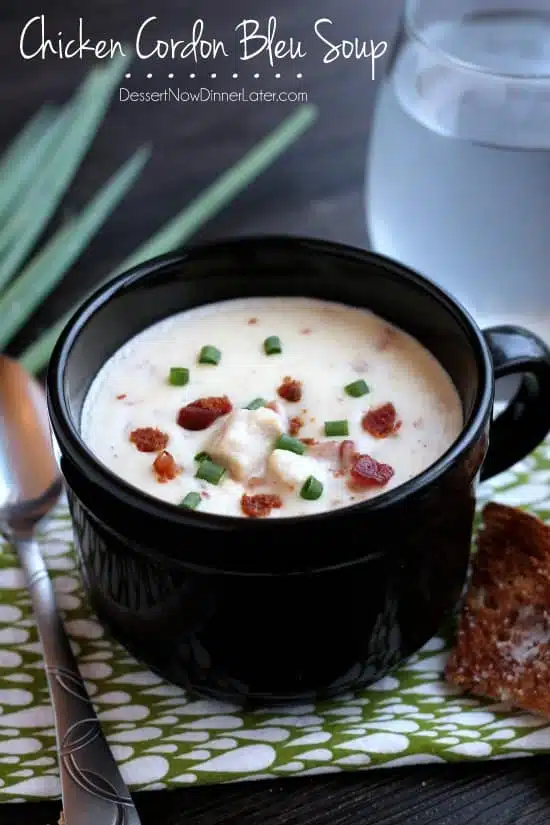 Chicken Cordon Bleu is one of those meals that is so versatile! Roll it up in crescents, serve it with a smokey raspberry chipotle sauce, coat it in a crispy crust, make it in the crockpot, as a casserole, or grilled with pineapple on top! We have had it all, and now, all of those favorite flavors are in a soup!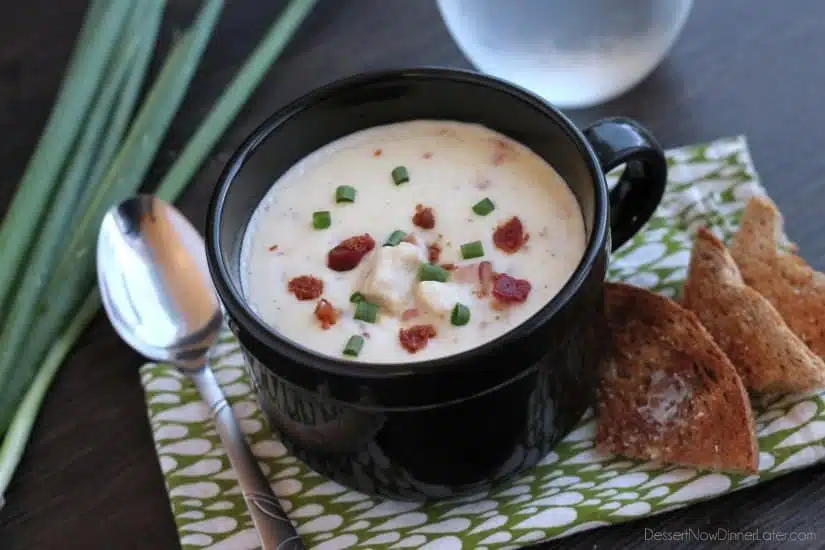 This soup is oh so meaty with chicken, ham, and bacon bits surrounded in a creamy swiss sauce! If you let it cool slightly, it thickens into a chowder type texture. Serve it really hot for a thinner soup.
I think the leftovers of this Chicken Cordon Bleu Soup tasted better than the first day! All those meats had time to marry and flavor the sauce even more!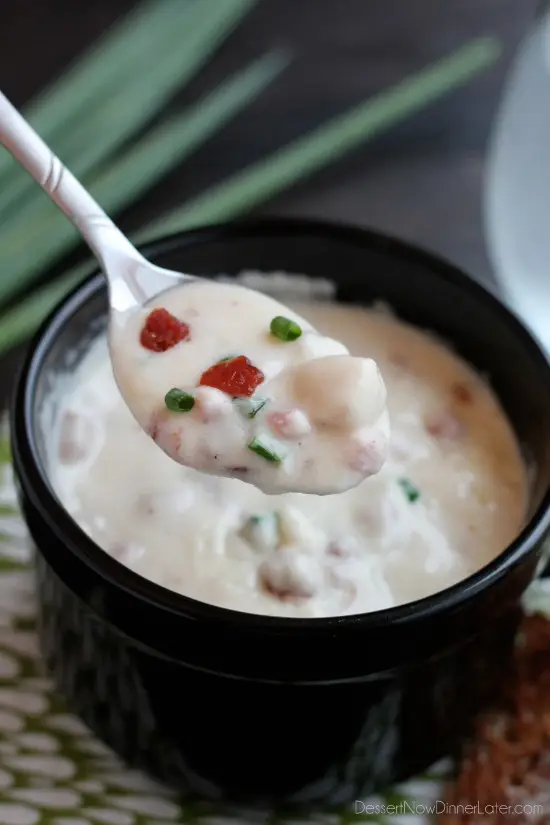 It was really gloomy the day that I shot this recipe, so excuse the bad lighting in my photos, but if you love meat and cheese, this is your soup! It's creamy, hearty, and delicious! Happy soup season!!!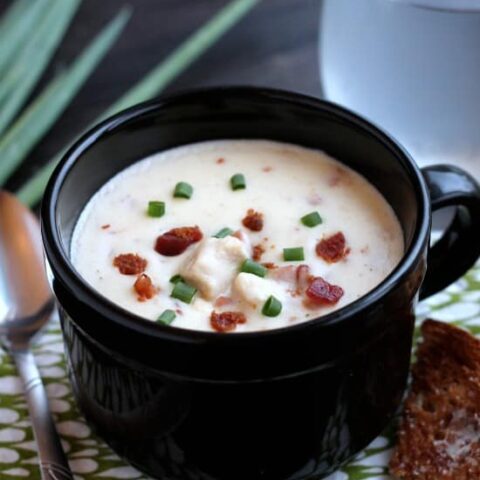 Chicken Cordon Bleu Soup
Ingredients
1 Tbsp olive oil
2 chicken breasts, cut into 1/2-inch cubes
1/4 cup butter
6 Tbsp flour
2 cups half & half
2 cups milk
2 cups chicken broth
8 oz diced ham
1/2 cup real bacon bits
8 oz swiss, shredded
1/4 tsp black pepper
1 tsp garlic salt (or garlic powder and salt to taste)
Instructions
Heat the olive oil in a stock pot. Add the cubed chicken and cook until chicken is no longer pink; about 6 minutes. Remove meat from pan and set aside.
Add butter to the pot and allow it to melt. Whisk in flour and cook until the fragrance is nutty about 1 minute.
Add the half and half, milk, and broth, whisking briskly as you pour. Whisk until all the flour mixture is smooth.
Return the chicken to the pot and add the ham as well. Simmer with the lid on for 15 minutes; the sauce will thicken up.
Remove the pot from the heat and add the bacon bits and shredded swiss. Stir until cheese melts. Taste the soup and add the seasonings to taste. (The ham, bacon, and swiss all have high sodium contents, so you may want to opt for garlic powder instead of garlic salt, or just some black pepper.)
Notes
Tip: Use 2 cups of shredded rotisserie chicken in place of the olive oil and cubed chicken. Add it with the other meats in step 4.
Nutrition Information:
Yield: 8
Amount Per Serving:
Unsaturated Fat: 0g