Copycat Zupas Tomato Basil Soup
This post may contain affiliate links, meaning that I may receive a commission at no cost to you if you use a link provided. All opinions shared are my own. You can review my full disclosure policy here.
This Copycat Zupas Tomato Basil Soup is spot on! With fresh made basil pesto, whole tomatoes, and sauteed vegetables, cooked slow, and pureed smooth. This is one soup you'll love to create at home served with al dente orzo pasta!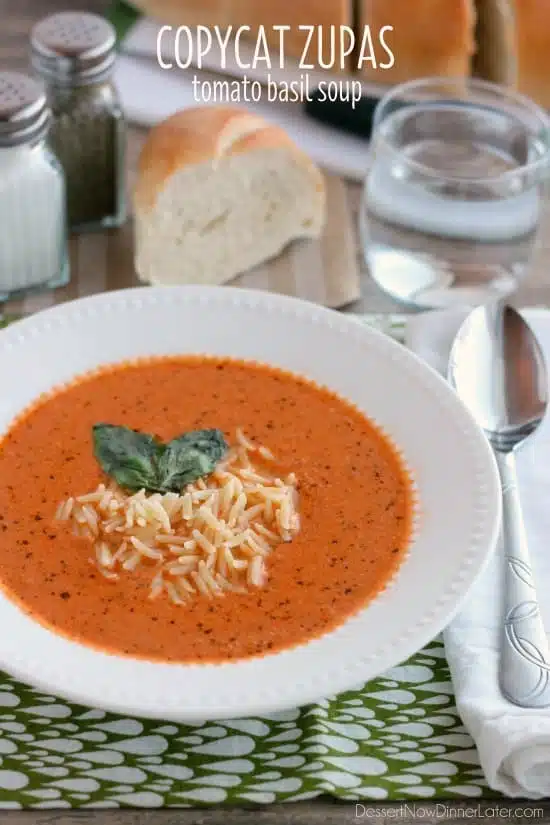 Y'all have no idea how excited I am to share today's recipe! I waited a good 4 months before I finally got around to making it, and boy was it worth the wait! If you've ever had Zupas Tomato Basil Soup and loved it, then you are going to freak now that you know you can make it at home!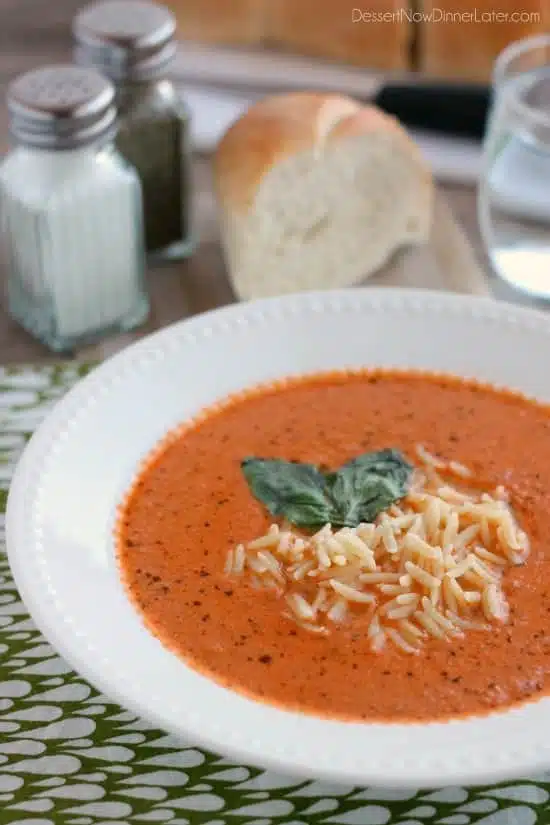 I will start by saying that this is a time intensive soup because you first make pesto, then cut and saute veggies for the soup, and then you have to let it cook slow to marry the flavors for several hours, but it is SO worth it! This recipe seriously makes enough to feed an army! Consider halving the recipe or freezing half of it for dinner another night.
I like mine served with some al dente orzo pasta and fresh baked bread just like they serve it at Zupas. If you're wondering, I totally cheated and used Rhodes White Bread, and rolled it into a baguettue after it thawed. Then I let it rise, cut some slits, and baked it up fresh to serve with this soup. The only thing I was missing is the chocolate covered strawberry they give you at Zupas. 😉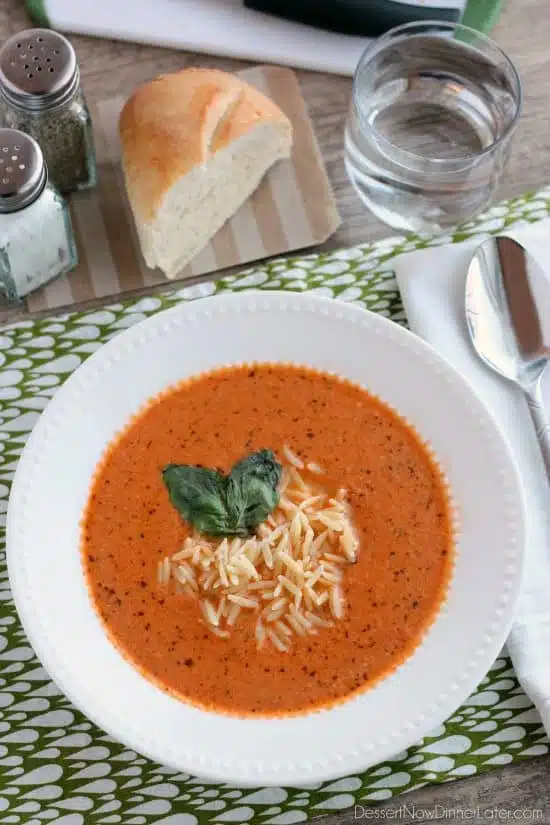 This soup is thick and textured just like Zupas Tomato Basil Soup and I loved the leftovers just as much as the day I made it fresh! You all have to try this recipe!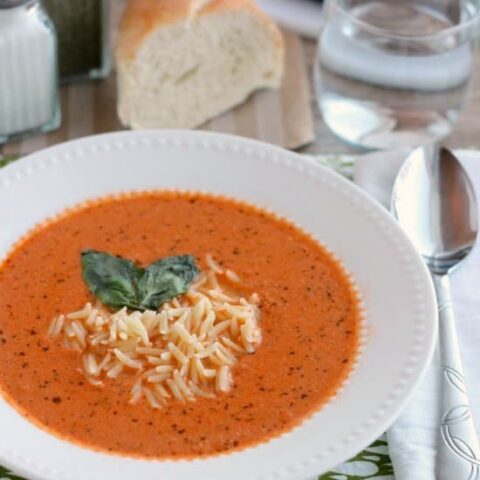 Copycat Zupas Tomato Basil Soup
Ingredients
Classic Pesto:
4 oz fresh basil (Around 2 cups, packed; I bought two 2oz containers available at my store.)
1 cup pine nuts, toasted
1 cup shredded parmesan cheese
5 large cloves of garlic
2 tsp sea salt
1 1/2 cups pure olive oil
Soup:
1/2 cup (1 stick) butter
6 to 7 stalks celery, diced (around 2 1/2 cups)
1 large onion, diced (around 1 1/2 cups)
1 Tbsp dried oregano
4 (28oz) cans whole tomatoes peeled with juices (do not drain)
1 quart half & half
Salt, to taste
Instructions
For the Pesto: Wash and dry the fresh basil and blend it together with the other pesto ingredients in a food processor. For more tips and details, visit my post for Classic Pesto.
For the Soup: In a large stock pot, melt the butter.
Add diced celery and onions. Cook until translucent. Transfer to a 6-quart or 8-quart slow cooker. (I had to split mine into a 2-quart and 4-quart slow cooker since that's all I had.)
Add the pesto, whole tomatoes with juices, and dried oregano. Cook on low for 8 to 10 hours or high for 4 to 6 hours.
Using an immersion blender, blend soup until smooth. Stir in half & half and let it heat through, another 15 to 30 minutes, or serve immediately as is. Add salt to taste, if needed.
Notes
*Optional: Serve with 1 to 1½ cups dry orzo, cooked according to package directions; about 9 to 10 minutes.

**Consider halving the recipe if you're not feeding a crowd. This recipe makes A LOT!
Nutrition Information:
Yield: 24
Amount Per Serving:
Unsaturated Fat: 0g