Raspberry Shortcake Sheet Cake
This post may contain affiliate links, meaning that I may receive a commission at no cost to you if you use a link provided. All opinions shared are my own. You can review my full disclosure policy here.
This EASY and delicious Raspberry Shortcake Sheet Cake is layered with light, fluffy white cake, topped with whipped cream cheese frosting and a fresh raspberry glaze! Perfect for parties, potlucks, or a Valentine's Day dessert!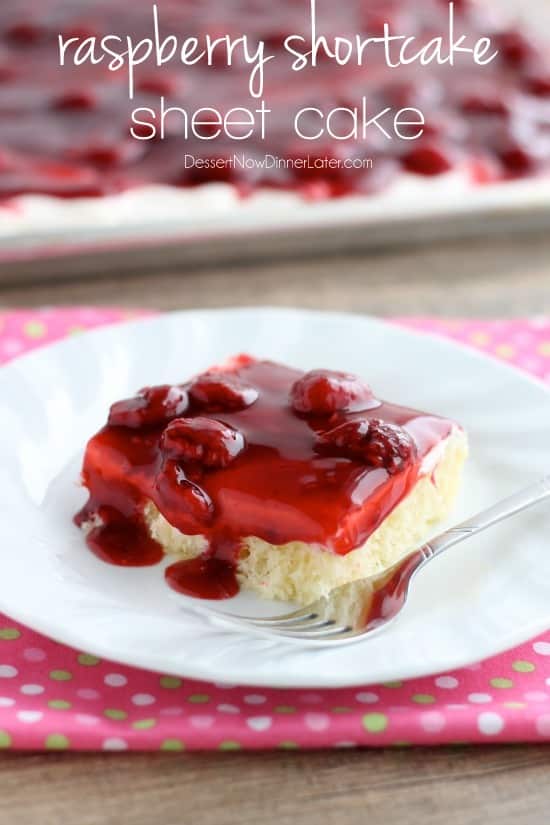 I've missed making desserts for you all, but I've been working on a couple, so yay! This one, is OMGosh good! I seriously had 4 pieces the first day I made it. That's not good for me, or anyone, but it was SOOOOOO delicious and hard to stop eating! This is the MOST PERFECT party or potluck dessert, and I think it's cute enough, and delicious enough, to make for Valentine's Day!
The glaze on top is made with this Danish Dessert. I took a picture of the box so you know what it looks like. Basically you add water and heat it until it thickens up, then add fresh or frozen fruit! So easy and perfectly glossy to top this cake with. Find it in the aisle with the Jell-O/gelatin dessert at the grocery store.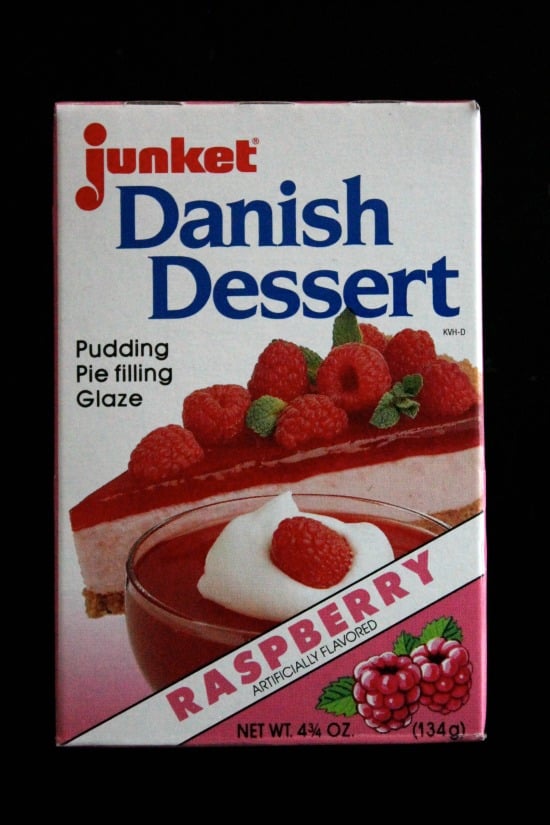 I think I liked this sheet cake so much because the actual layer of cake is thin, fluffy and light! And the frosting and glaze are just thick enough to create the perfect balance between cake and toppings!
Also, I think it's worth mentioning that this cake became a great source of bribery to get my kids to eat their lunch/dinner. They would do anything for a slice of this baby!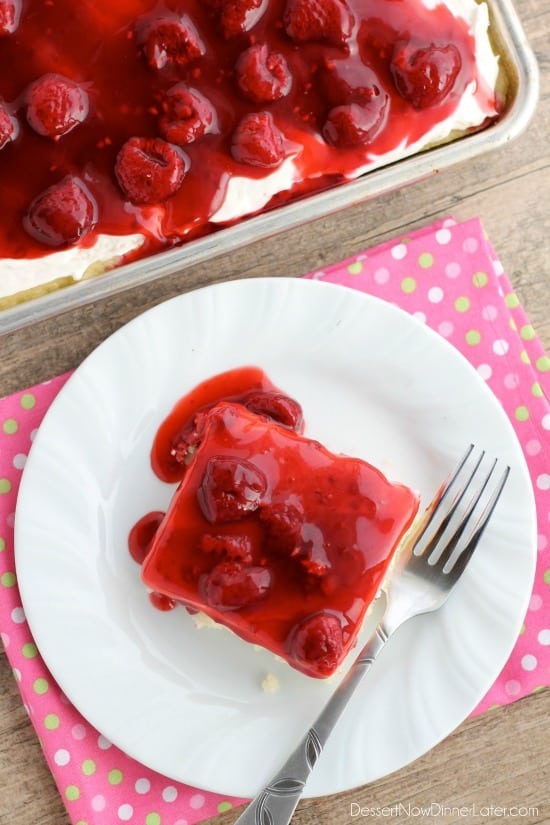 I will most likely be making this cake for my birthday in July, and any other event I can find an excuse to make it for! YUM! 🙂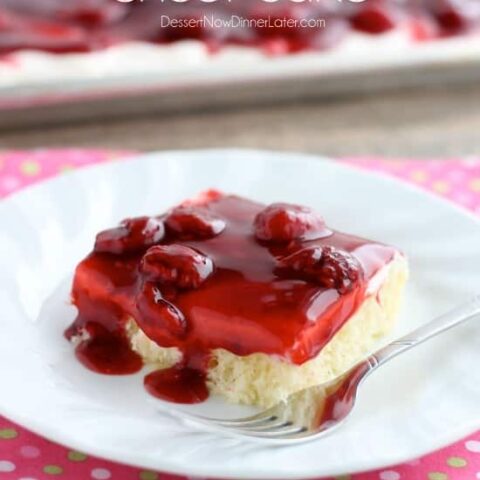 Raspberry Shortcake Sheet Cake
Prep Time: 20 minutes
Cook Time: 15 minutes
Inactive Time: 2 hours
Total Time: 2 hours 35 minutes
Yield: 24 slices
Ingredients
Cake:
1 (15.25oz) box white cake mix, plus ingredients to make cake listed below -- measurements may vary by brand
1 cup water
1/2 cup oil (canola/vegetable)
3 large eggs
Whipped Cream Cheese Frosting:
8oz Neufchâtel cream cheese
4 Tbsp butter
1/2 cup powdered sugar
8oz tub light Cool Whip*
Raspberry Glaze:
1 (4.75oz) box Raspberry Danish Dessert (see photo in post for reference; find in aisle with Jell-O/gelatin dessert)
1 3/4 cup cold water
12oz frozen raspberries (may use fresh as well; about 2 1/2 to 3 cups)
Instructions
Preheat oven to 350 degrees Fahrenheit and prepare cake batter according to box directions. Pour batter into a lightly greased (13x18x1-inch) half sheet pan. Bake for 12 to 15 minutes. When toothpick placed in center comes out clean you know it is done. Cool cake completely.
Meanwhile, prepare whipped cream cheese frosting by beating the cream cheese with the butter until light and fluffy with no lumps, using a hand mixer. Beat in the powdered sugar. Then beat in the Cool Whip. Set aside.
Prepare the raspberry glaze by whisking the Danish Dessert with 1¾ cups cold water in a small saucepan. Heat until boiling and thick, whisking constantly. Immediately stir in the the frozen (or fresh) raspberries. Allow to cool completely; since I used frozen raspberries, it cooled pretty quickly. You may need to place the glaze in the refrigerator on a hot pad, but don't let it set up in the saucepan, just refrigerate it until cool enough to spread on the cream cheese layer.
Once the cake is cool, dollop the whipped cream cheese frosting over the cake and smooth together with an offset spatula, being careful not to pull up the crumbs of the cake. (Hint: Keep the tip of the offset spatula down in the frosting while spreading.)
Once the glaze is cool, gently spread it over the cream cheese layer. Refrigerate cake for 2 hours to overnight to set up the glaze. (If you don't refrigerate it for very long, the glaze will be runny like my photos suggest.)
Notes
Can't find raspberry danish dessert? Try this:
4-5 cups raspberries (fresh or frozen)
3/4 cup (+) granulated sugar, to taste
3 Tbsp cornstarch
1 Tbsp lemon juice
1/4 tsp almond extract, optional
Place ingredients in a saucepan over medium heat stirring constantly until mixture thickens and boils. Remove from heat, stir in the almond extract (if desired) and cool completely before using as topping.
Recommended Products
As an Amazon Associate and member of other affiliate programs, I earn from qualifying purchases.
Nutrition Information:
Yield: 24
Serving Size: 1
Amount Per Serving:
Calories: 161
Total Fat: 12g
Saturated Fat: 4g
Trans Fat: 0g
Unsaturated Fat: 7g
Cholesterol: 41mg
Sodium: 94mg
Carbohydrates: 11g
Fiber: 1g
Sugar: 8g
Protein: 3g
This data was provided and calculated by Nutritionix, and is an estimation only.
Recipe lightly altered from Real Life Dinner and re-written in my own words.