The BEST Macaroni Salad
This post may contain affiliate links, meaning that I may receive a commission at no cost to you if you use a link provided. All opinions shared are my own. You can review my full disclosure policy here.
This Hawaiian-style macaroni salad is super creamy, lightly sweet, and truly the BEST macaroni salad out there! The perfect side dish for any party or potluck!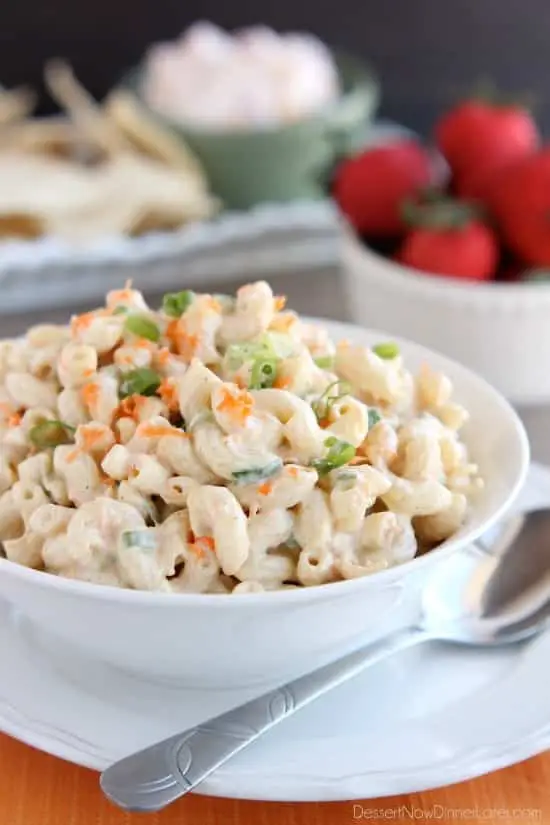 Okay y'all! I've found the BEST recipe for macaroni salad! And once I tell you the ingredients and how to make it, you will be in awe just like I was! I knew there had to be some sort of special ingredient or method to making it taste so good, and there is, or at least it was news to me!
This macaroni salad is Hawaiian-style. You know, they kind they throw on your plate next to your kalua pork and sticky rice? It's SUPER creamy, and doesn't soak up the dressing, but to get it that way, you have to use the right method and ingredients, no substitutions, sorry! This is a full-fat, mac salad!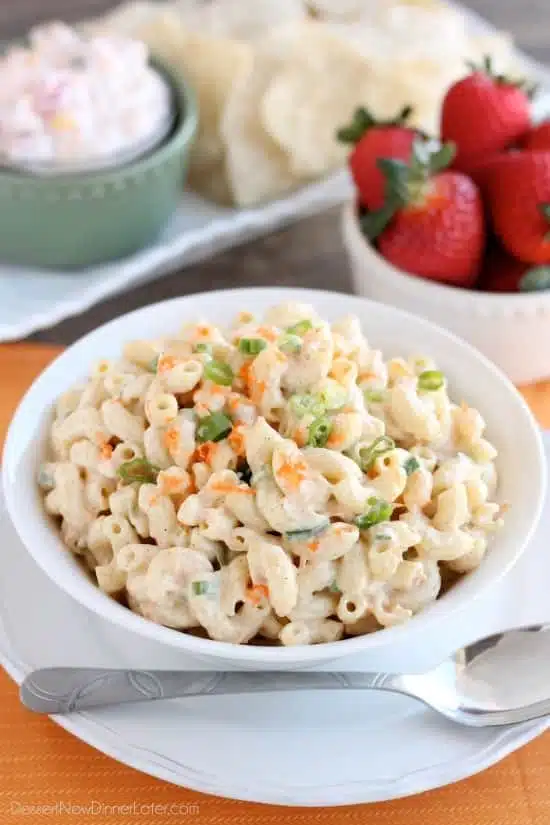 So it's not just the full fat mayonnaise and milk that makes this creamy, you cook the noodles extra long. That way they have pretty much absorbed the max amount of liquid they can before sucking in all that creamy dressing.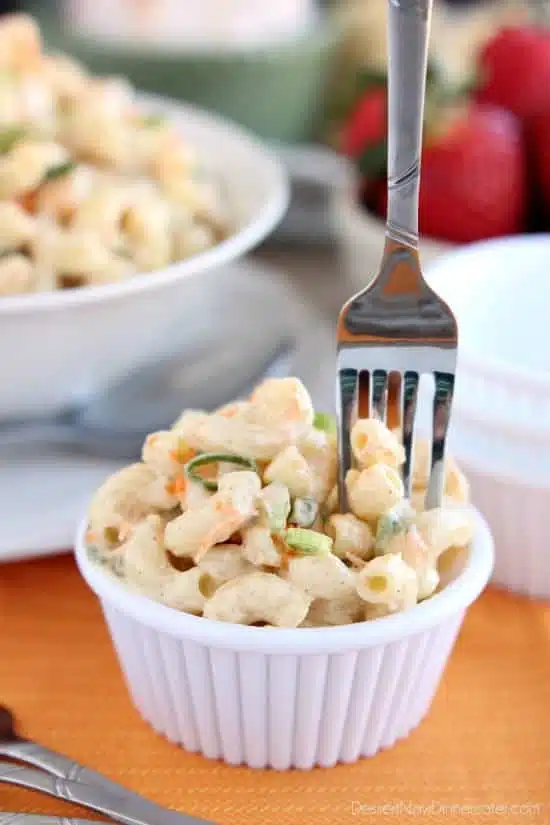 Now, the thing that really intrigued me about this recipe, is that not only do you cook the noodles until very soft, about 14 to 15 minutes compared to 7 or 8 minutes, but you also toss the noodles in some apple cider vinegar while they are still warm. It seriously makes a HUGE difference, and gives it that tangy flavor you want in your mac salad.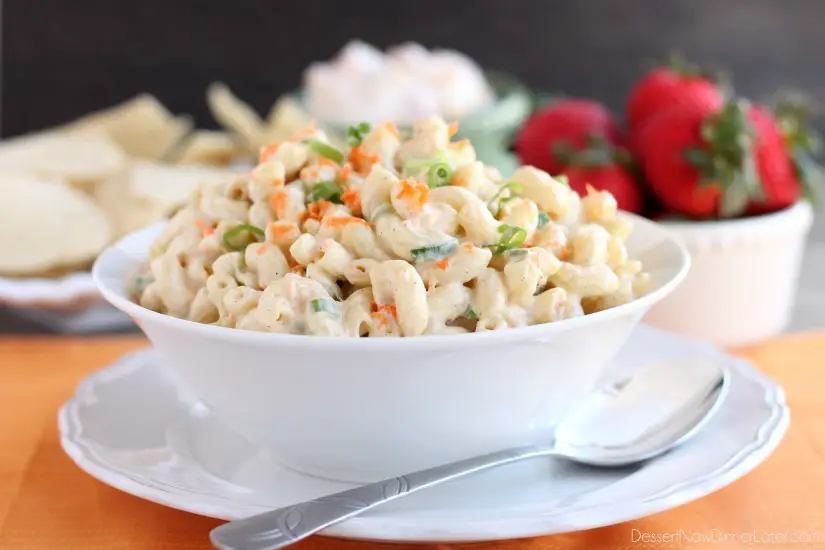 There are only a few vegetables in this macaroni salad: shredded carrots, finely diced celery, and sliced green onions. According to my husband, you could leave out the green onions (he doesn't like them), but I think they add a nice flavor and color to the dish. Either way, this is the BEST mac salad I have ever made at home. I actually just finished eating some leftovers for lunch as I type this. Still super creamy and delicious! The dressing stays creamy, I'm telling you! I love this salad!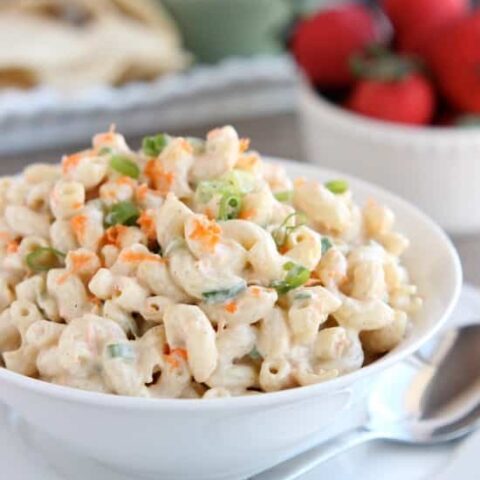 The BEST Macaroni Salad
This Hawaiian-style macaroni salad is super creamy, lightly sweet, and truly the BEST macaroni salad out there! The perfect side dish for any party or potluck!
Ingredients
1 lb elbow macaroni noodles
1/2 cup apple cider vinegar
2 cups 2% or whole milk, divided (do NOT use 1% or skim)
2 cups full fat mayonnaise, divided (do NOT use light or fat free)
2 Tbsp brown sugar
3 or 4 green onions, sliced
1 carrot, shredded
1 celery stalk, finely diced
1/2 to 1 tsp salt
1 1/2 to 2 tsp pepper
Instructions
Bring 4 to 6 quarts of water to a boil. Add 1 tsp of salt and the macaroni; cook until VERY soft, about 15 minutes. Drain and return to pot; add the cider vinegar and toss until absorbed. Let cool for 10 minutes.
Meanwhile, whisk together 1½ cups of the milk, 1 cup of the mayonnaise, the brown sugar, and the salt and pepper. (Start with less salt and pepper, and add more to taste after you have added it to the macaroni.)
Fold the dressing into the macaroni noodles and allow it to cool completely. (I put it in the fridge for a little while.)
Add the remaining ½ cup milk and 1 cup of mayonnaise, along with the scallions, carrot and celery. Stir to combine, then check the seasoning, and adjust the salt & pepper. Chill for at least one hour before serving.
Nutrition Information:
Yield: 16
Amount Per Serving:
Unsaturated Fat: 0g