Frog Eye Salad + Video
This post may contain affiliate links, meaning that I may receive a commission at no cost to you if you use a link provided. All opinions shared are my own. You can review my full disclosure policy here.
Frog Eye Salad is a creamy, fruity, dessert pasta salad that feeds a crowd. Made easy with vanilla pudding (no eggs), whipped topping, acini di pepe pasta, pineapple, mandarin oranges, coconut, and marshmallows. Perfect for any family reunion, bbq, party, or potluck.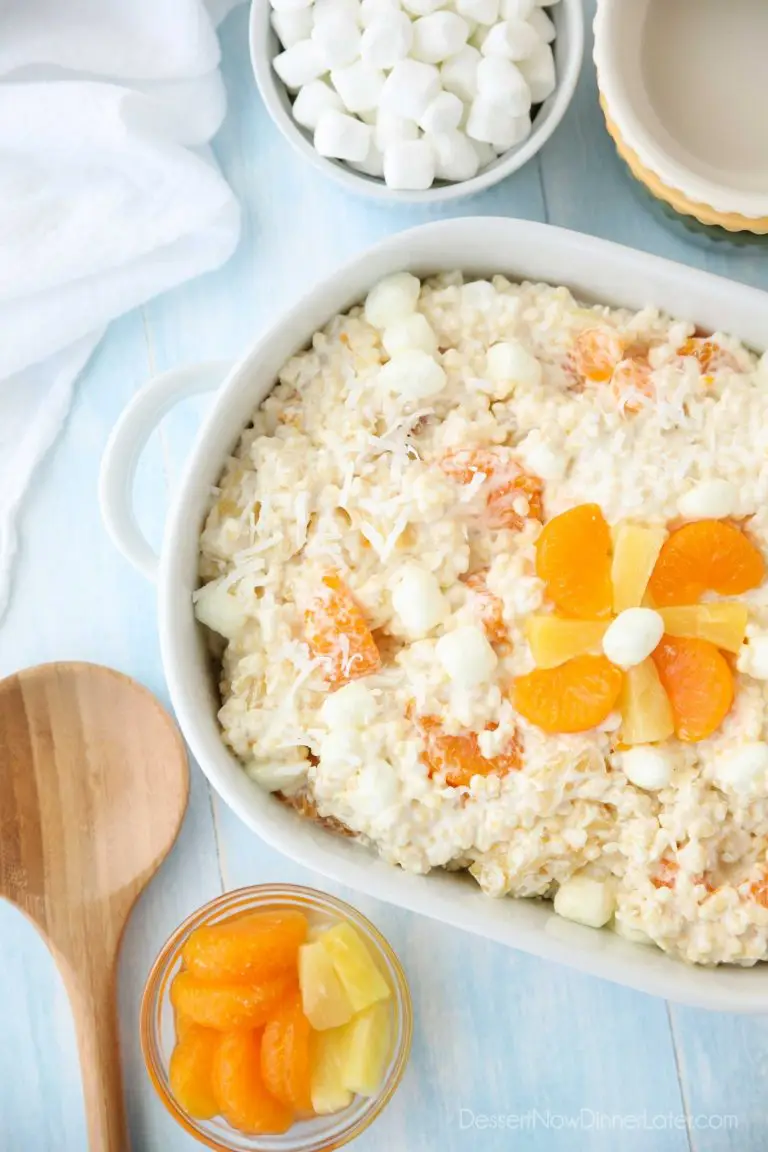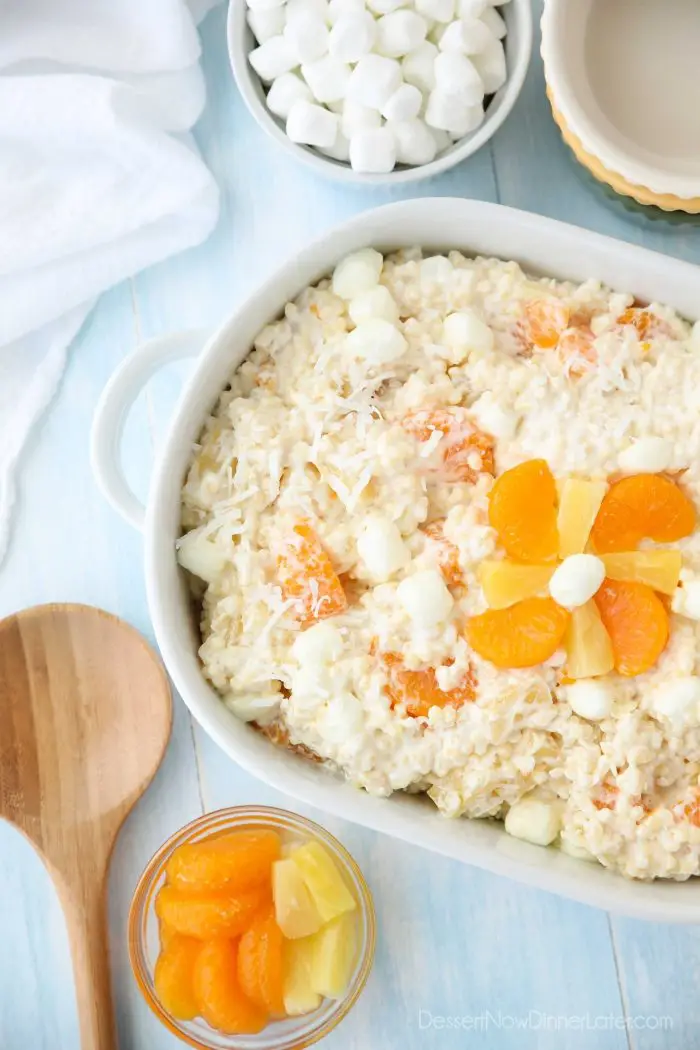 When I worked in this restaurant that also catered, we made this Frog Eye Salad all the time. Especially for catered parties. It is super easy to make and delicious to eat.
I had forgotten how much I actually liked this fruit salad until we had a salad social with a bunch of ladies from church, where someone brought this salad to share.
I made it again myself, the way we used to make it in the restaurant, and realized it makes A LOT! So don't plan on making this frog eye salad unless you have somewhere to share it, or you'll have to eat it every day for a week or two. That may or may not be a bad thing though.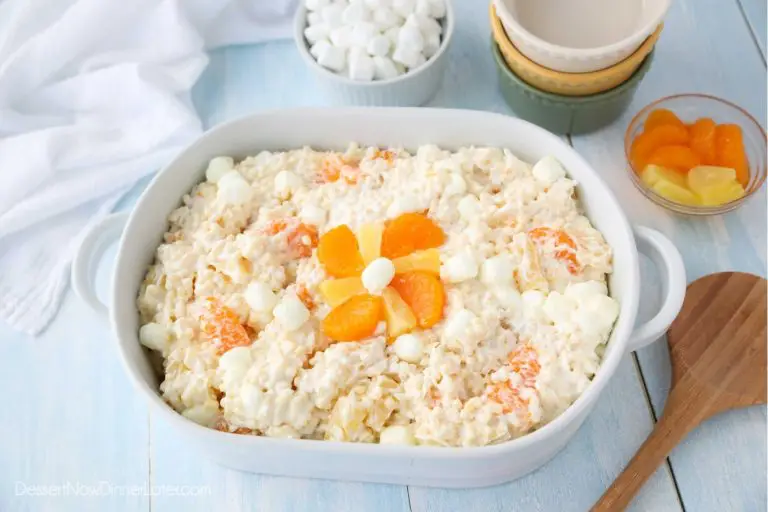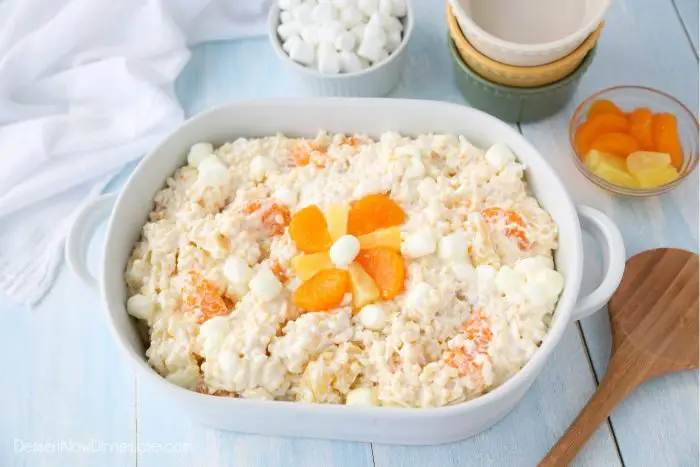 Frog Eye Salad (aka Acini Di Pepe Fruit Salad)
So, why is it called Frog Eye Salad? The tiny round acini di pepe pasta could be compared to tiny little frog eyes, apparently.
I don't necessarily want to be thinking about eyeballs when I'm eating something, but the acini di pepe does add a fun texture and heartiness to this side salad.
Most online recipes will have you make a homemade egg custard, but this recipe is much easier than that. NO eggs, just a vanilla pudding mix, and NO cooking, besides the pasta.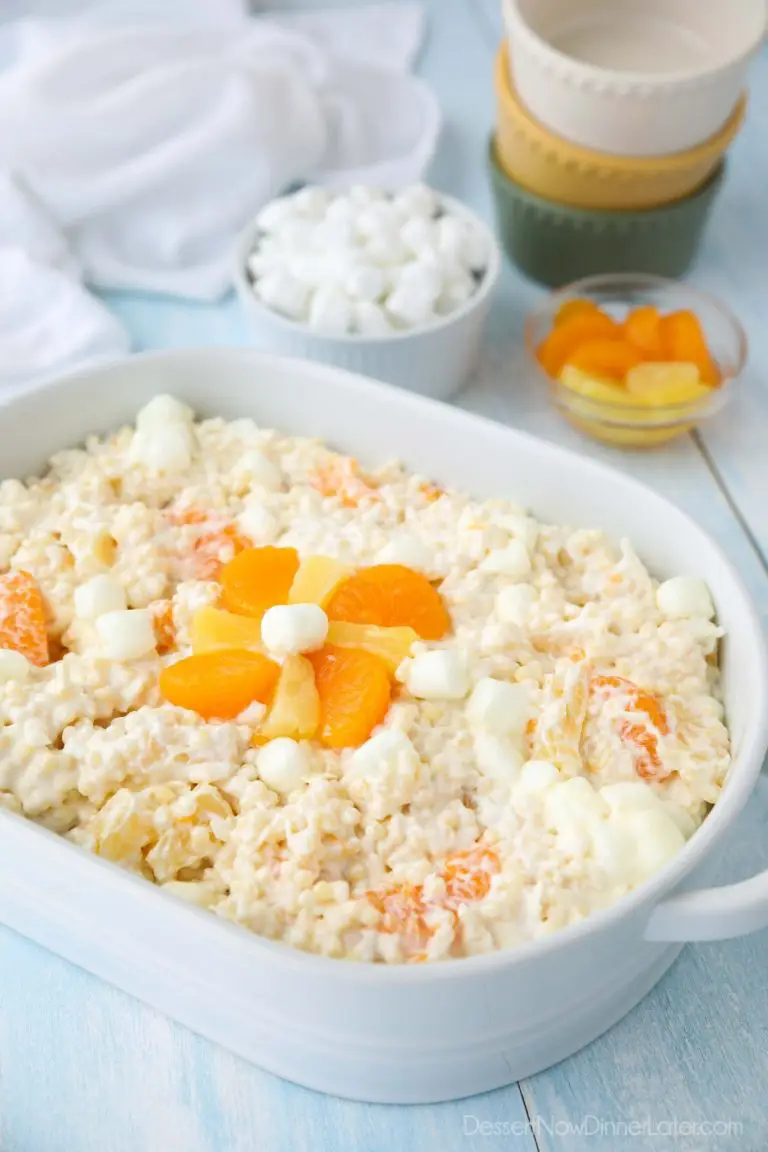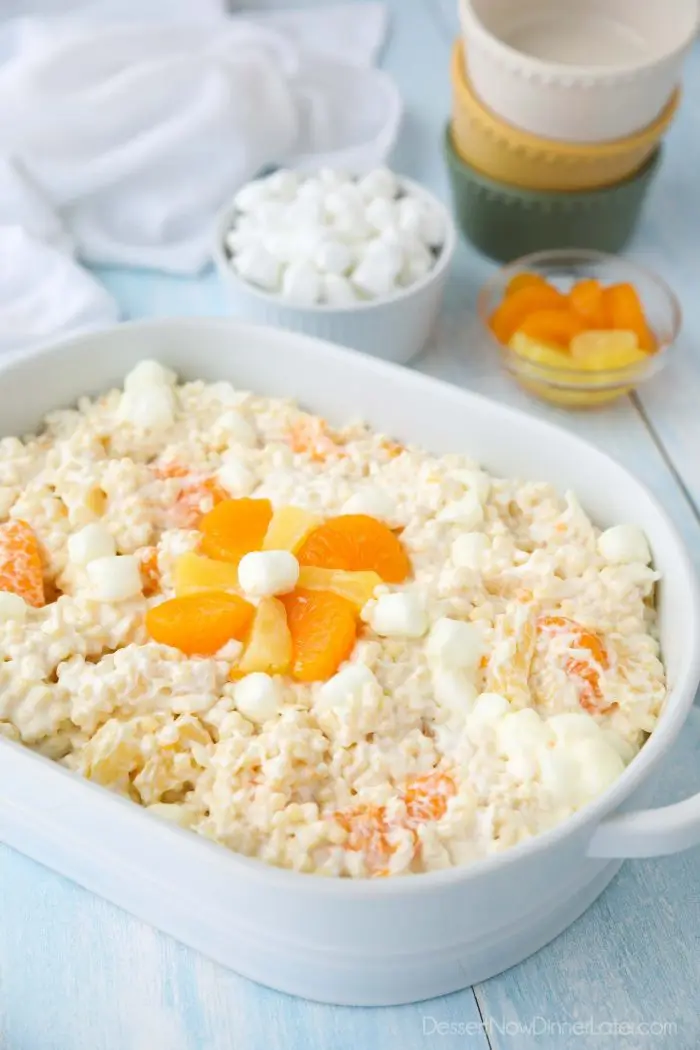 To make this frog eye salad, you will need a handful of pantry and fridge ingredients.
Cook the acini di pepe pasta (in salted water – to flavor the pasta and bring out all the other flavors in the salad) and cool it down.
Drain the cans of mandarin oranges and pineapple tidbits. Save the pineapple juice!
Mix together a box of vanilla pudding with milk and the reserved pineapple juice. The juice helps sweeten the salad.
Fold in the whipped topping (cool whip), cooled pasta, canned fruit, some mini marshmallows and sweetened coconut flakes.
Refrigerate for 1-2 hours to soak up all the flavors and give it a fluffy texture.
Because this recipe makes so much, it's great for parties and get-togethers. Think barbecues and potlucks.
I'm also pretty sure this fruit salad is a mormon (church of Jesus Christ of Latter Day Saints) family reunion staple. Enjoy!
More Fruit Salad Recipes: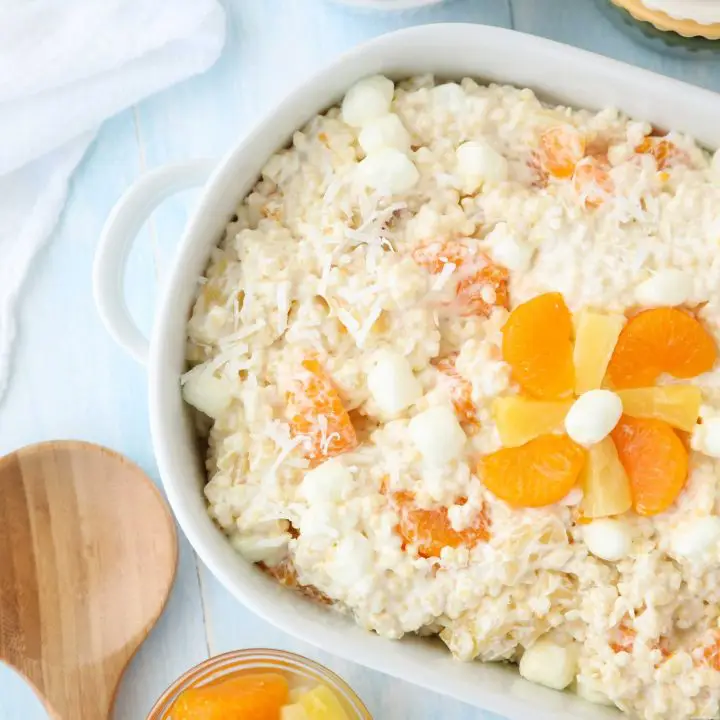 Frog Eye Salad
Prep Time: 10 minutes
Cook Time: 10 minutes
Chill Time: 2 hours
Total Time: 2 hours 20 minutes
Yield: 20 Servings
Frog Eye Salad is creamy, fruity, and feeds a crowd. Made easy with vanilla pudding, whipped topping, acini di pepe, canned fruit, coconut & marshmallows.
Ingredients
1 1/4 cup Acini Di Pepe (small round pasta)
1-2 tsp salt, for cooking water
2 (11oz) cans mandarin oranges, drained
1 (20oz) can pineapple tidbits, drained (save juice*)
1 small (4-serving) box instant vanilla pudding
1 1/2 cups milk (or combination of milk & pineapple juice from the tidbits - see notes)
2 cups whipped topping (Cool Whip)
3 cups mini marshmallows
1/2 cup sweetened coconut flakes
Instructions
Cook acini di pepe according to package directions in salted water (1-2 tsp). Drain and rinse with cold water in a fine mesh strainer until pasta is cool to the touch. Set aside.
Drain cans of fruit, saving the pineapple juice.
In a large bowl, combine the dry pudding mix with milk or a combination of milk and reserved pineapple juice (for a sweeter salad) to equal 1½ cups liquid (see notes). Whisk until combined. Place in the freezer or fridge to firm up pudding; about 5-10 minutes.
Once pudding is firm, fold in the whipped topping. Add the cooked pasta, fruit, marshmallows and coconut. Fold gently. Cover and refrigerate for 1-2 hours to soak up all the flavors and give it a fluffy texture. Serve chilled. Store leftovers in the refrigerator.
Notes
*If using a combination of pineapple juice and milk, there is about 1/2 cup of pineapple juice from the canned fruit, so you'd only need 1 cup of milk to have 1 1/2 cups of liquid total.
Recommended Products
As an Amazon Associate and member of other affiliate programs, I earn from qualifying purchases.
*Originally published 7/21/13. Updated 3/24/20.