Coconut Blueberry Muffins
This post may contain affiliate links, meaning that I may receive a commission at no cost to you if you use a link provided. All opinions shared are my own. You can review my full disclosure policy here.
These coconut blueberry muffins are light and fruity, with coconut extract and coconut flakes inside, and topped with a delicious streusel on the outside!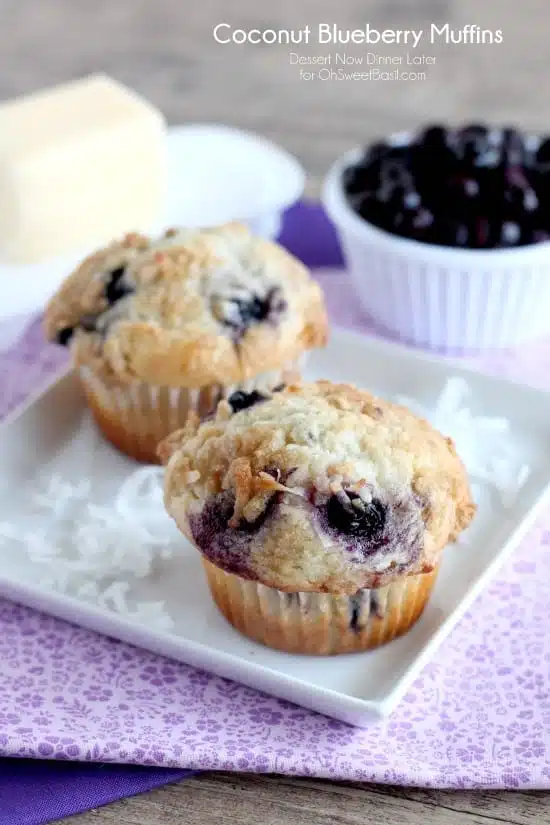 If you have similar tastes as I do, which I'm assuming you do if you regularly follow my blog, then you are going to want to make these Coconut Bluberry Muffins asap! I typically pair coconut with lime, but I was really craving something blueberry and the coconut seemed like it would taste good with blueberries, and it sure did!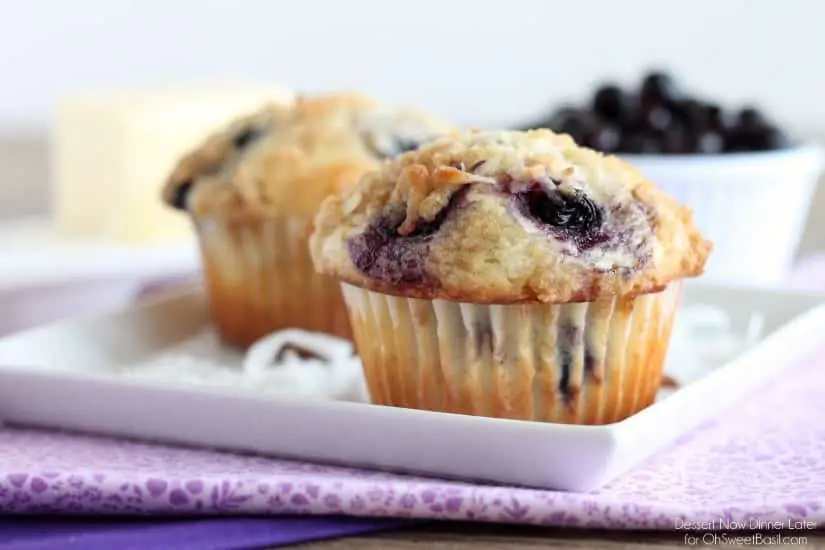 My friend Yvonne from Tried and Tasty, actually did this post recently about using frozen blueberries to replace fresh blueberries in baked goods which is what inspired this post. It worked great, although I shoved a few extra frozen berries on top, without doing the simple trick, which is why they bled a little bit, but if you bite into one of these muffins, you will see a beautifully white muffin with polka dot blueberries. It's a great trick, so go read how to do it!
You are going to love these muffins! They are just so summery and great to grab on the go for all those busy summer activities!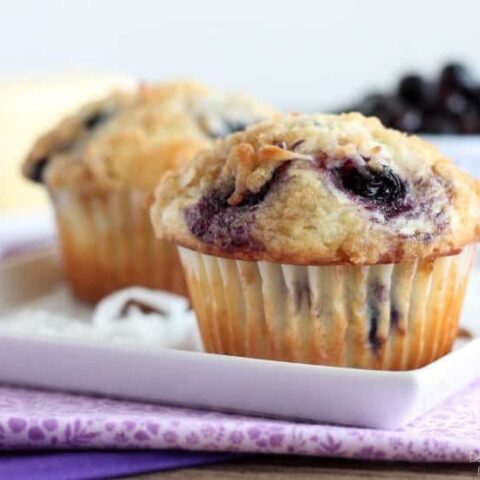 Coconut Blueberry Muffins
Ingredients
Muffins:
2 eggs
1 cup sugar
1/2 cup vegetable/canola oil
1 tsp coconut extract
1 cup sour cream
2 cups all-purpose flour
1/2 tsp salt
1 tsp baking soda
1/2 cup coconut flakes
1 cup blueberries, fresh or frozen (rinse frozen berries until water runs clear, then pat dry with paper towels)
Streusel:
2 Tbsp all-purpose flour
3 Tbsp brown sugar
3 Tbsp coconut flakes
2 Tbsp butter, cold
Instructions
Preheat oven to 400 degrees Fahrenheit.
Grease 16 muffin cups or line with paper muffin liners.
In a large bowl, beat eggs, sugar, oil, coconut extract, and sour cream.
In a separate bowl, combine the flour, salt, baking soda, and coconut flakes. Add the dry ingredients to the wet ingredients. Mix until incorporated.
Gently fold in the blueberries, saving a few to poke in the tops for a pretty look.
Prepare streusel by combining ingredients in a bowl and mashing with a fork until crumbly.
Fill each muffin cup ⅔ full with muffin batter. Poke any remaining blueberries in the tops for looks. Sprinkle the muffin tops with prepared streusel.
Bake for 18 to 20 minutes or until browned on top and around the edges.
Nutrition Information:
Yield: 16
Amount Per Serving:
Unsaturated Fat: 0g
*Recipe added 9/10/15. Also seen on Oh Sweet Basil.