Coconut Key Lime Crinkle Cookies + Video
This post may contain affiliate links, meaning that I may receive a commission at no cost to you if you use a link provided. All opinions shared are my own. You can review my full disclosure policy here.
Coconut Key Lime Crinkle Cookies are puffy, soft, and chewy with a hint of tangy lime and sweet coconut. An easy spring or summer dessert with a tropical flair.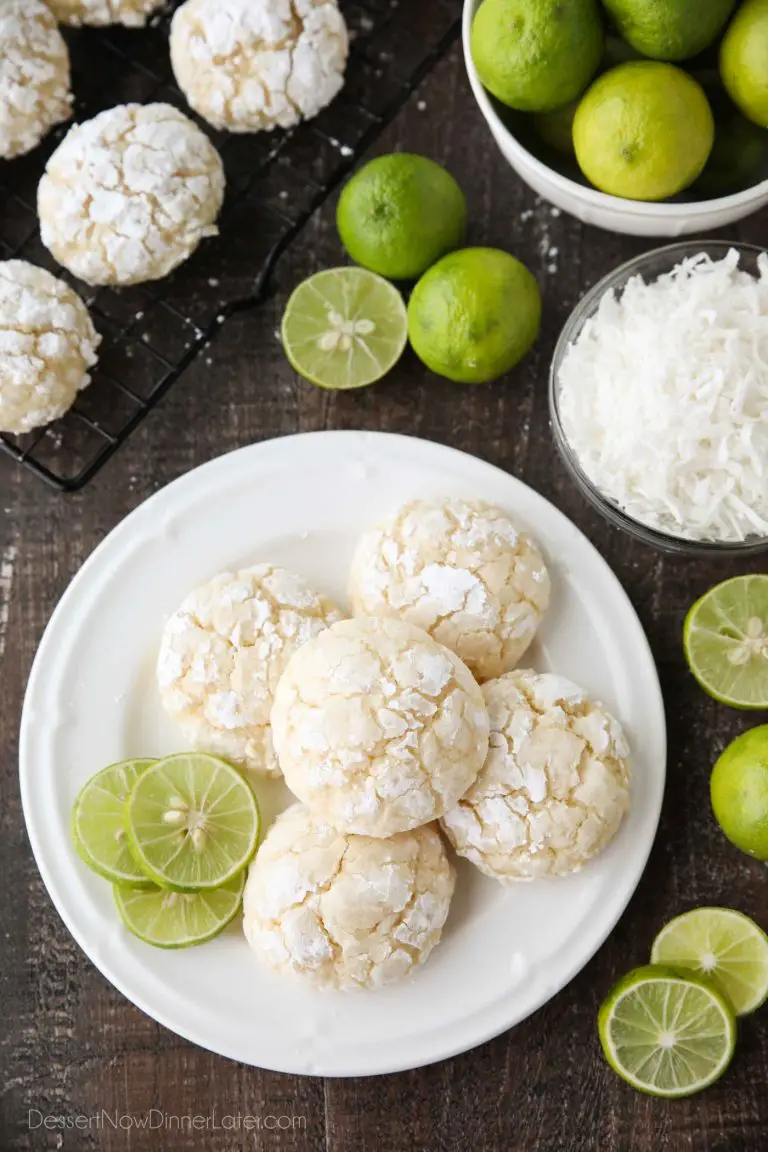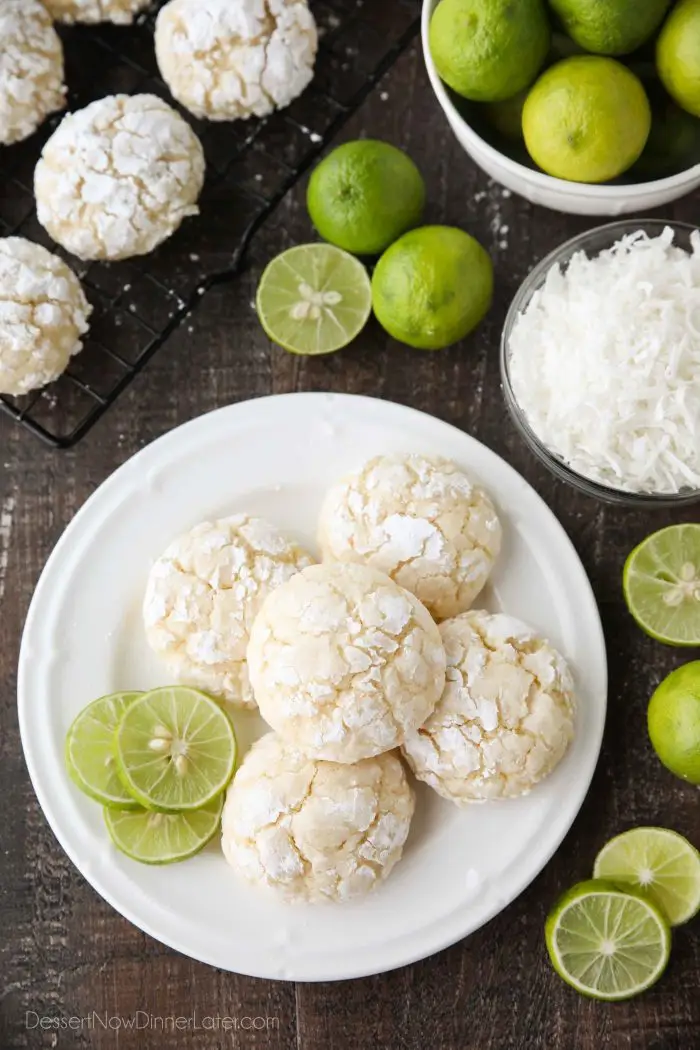 Coconut and lime is a favorite combo of mine, especially come spring or summer. The fresh tropical combo is a fun cookie flavor.
Besides these new crinkle cookies, I've also used coconut and lime in these macaroons and these sugar cookies. It's just so dang good.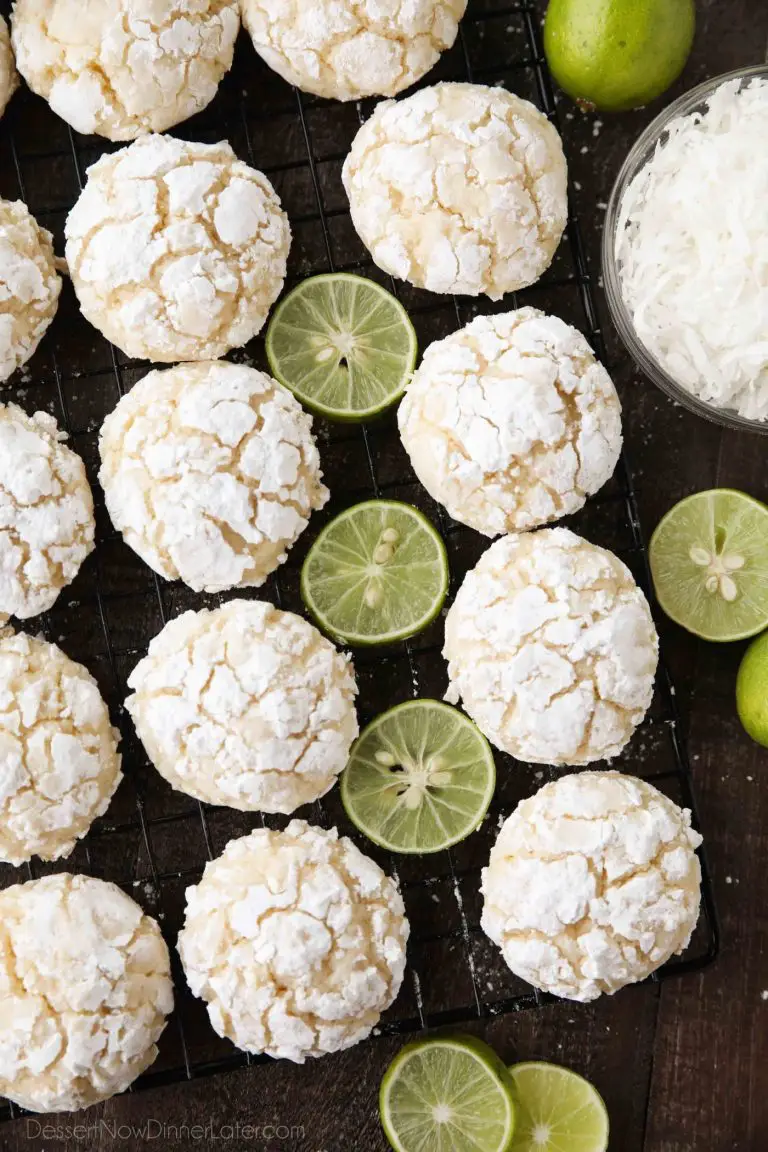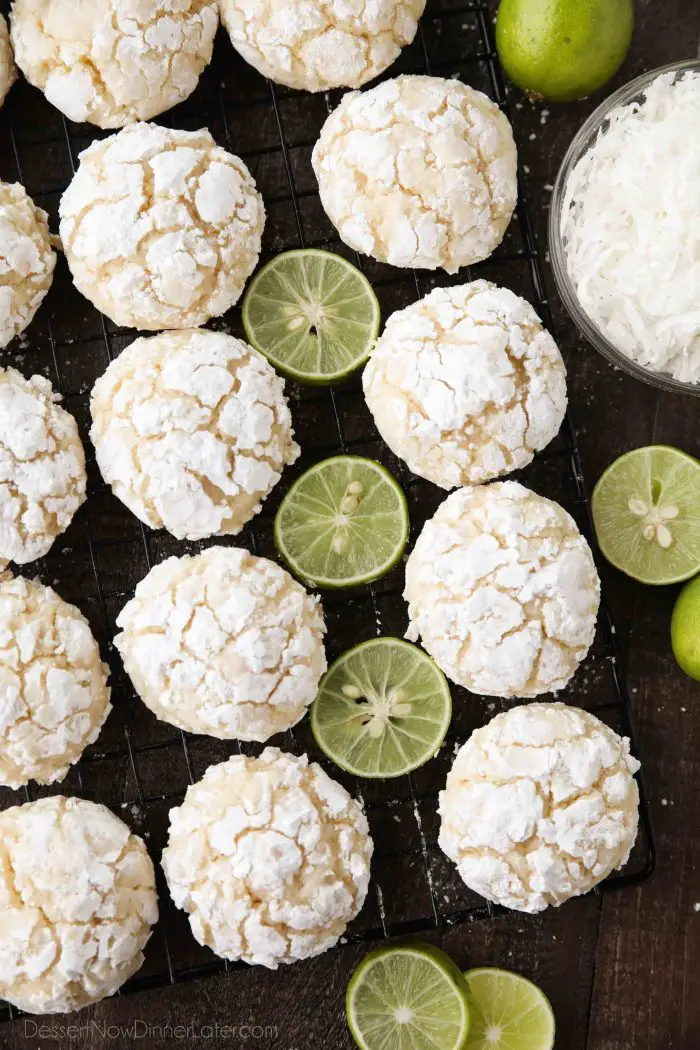 Coconut and lime also work great for frozen drinks, pull-apart bread, cake or cupcakes, pie, dessert bars, and even ice cream.
Literally, if you can think it, coconut and lime will probably be delicious in it. I'm sure there will be plenty more dessert combos to come on this blog with that tasty duo.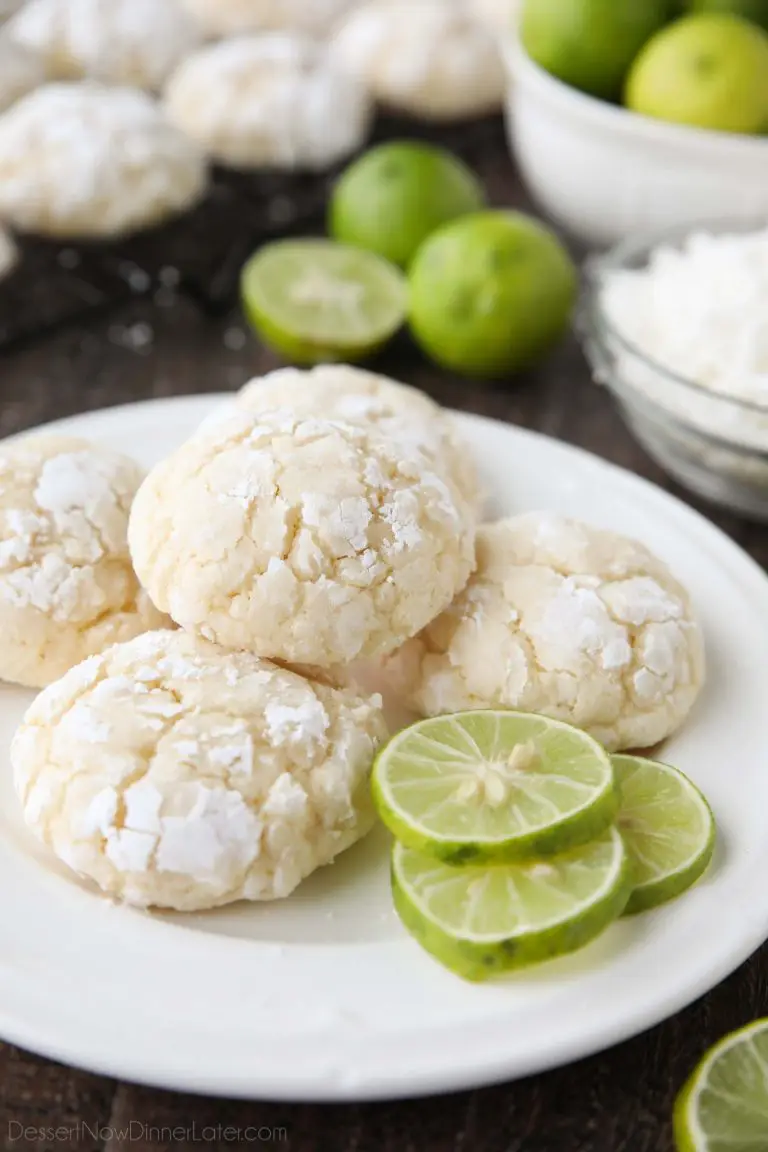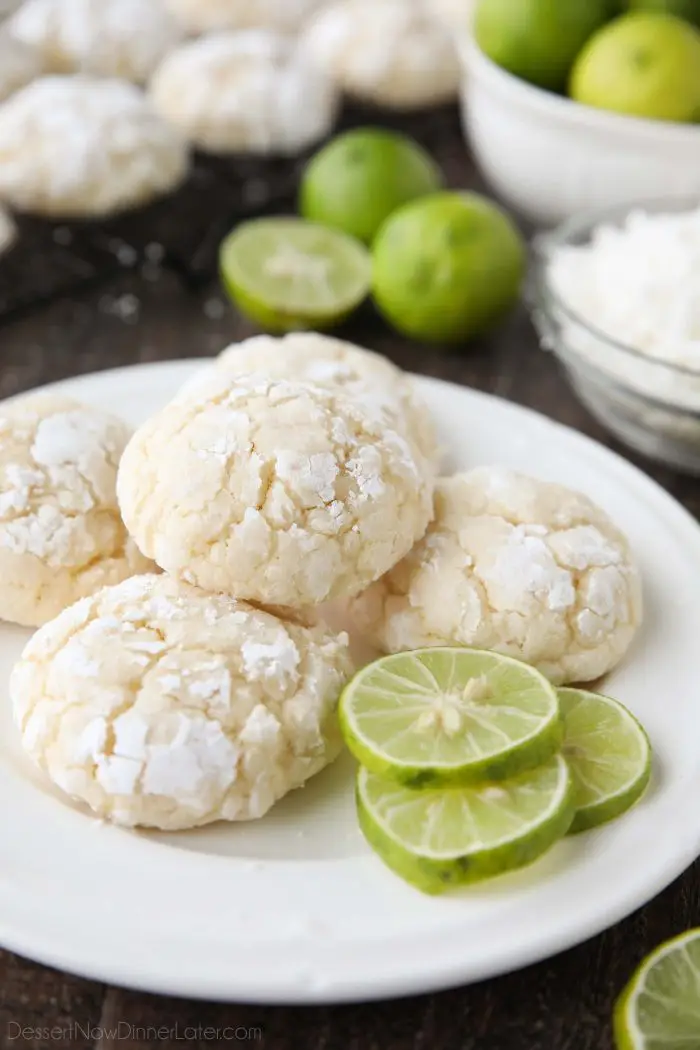 Coconut Key Lime Crinkle Cookies
These coconut key lime crinkle cookies are almost like a cross between a powdered sugar covered donut and a cookie. They are puffy, yet dense and chewy, and completely addicting.
I used key lime juice and zest to give these cookies a pop of citrus flavor. And sweetened shredded coconut and coconut extract give the cookies that sweet, nutty flavor.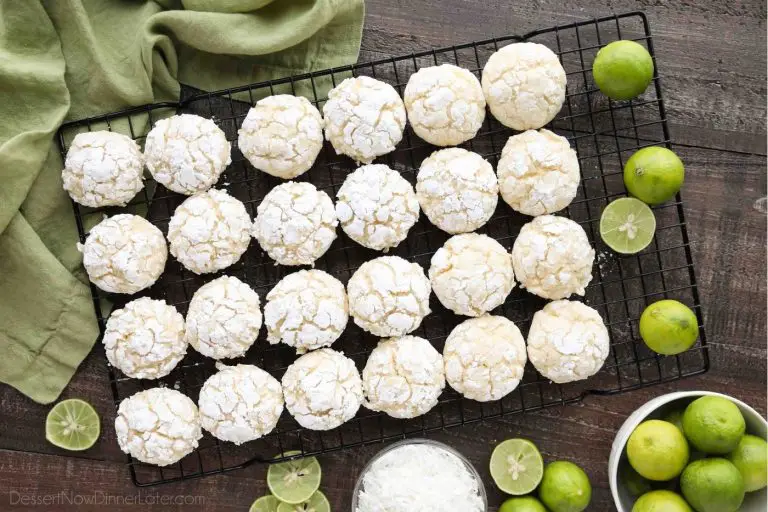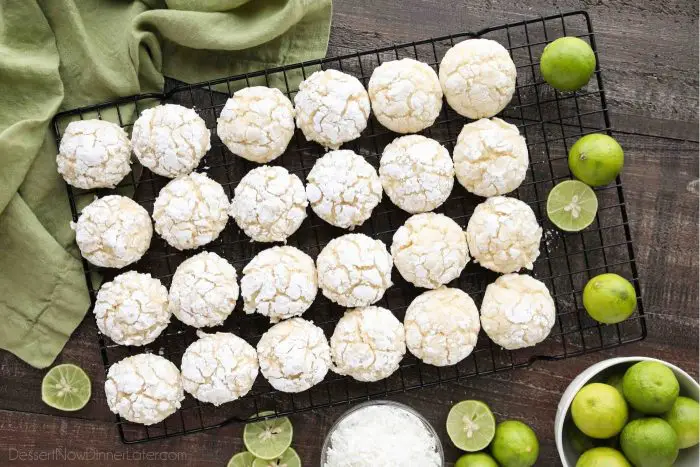 If key limes aren't in season or easy to find, regular limes will work great too. And if you must skip the fresh fruit, there is bottled Key Lime Juice, but believe me, the zest makes a difference.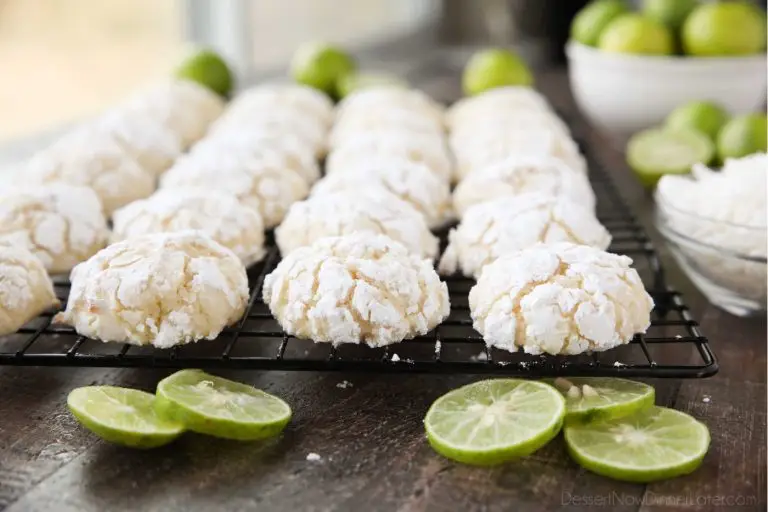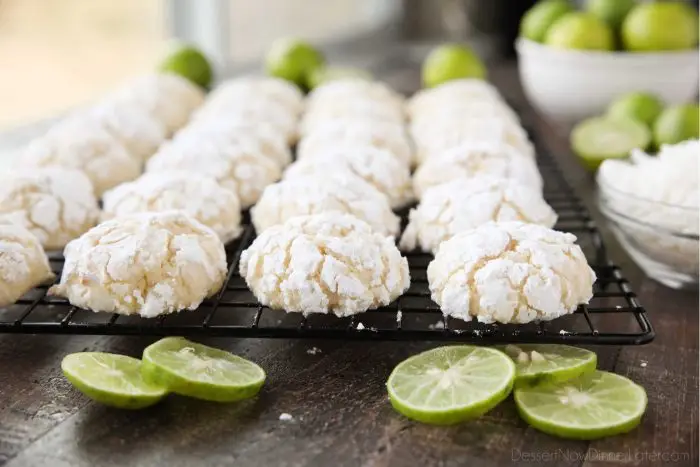 If you're a lover of coconut and lime, you should definitely try these coconut key lime crinkle cookies ASAP!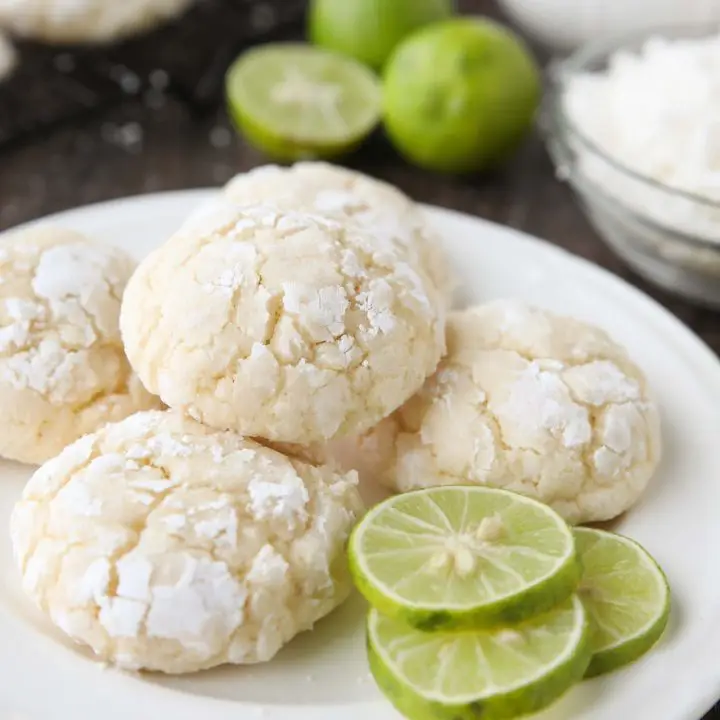 Coconut Key Lime Crinkle Cookies
Prep Time: 15 minutes
Cook Time: 10 minutes
Total Time: 25 minutes
Yield: 28 cookies
Coconut Key Lime Crinkle Cookies are puffy, soft, and chewy with a hint of tangy lime and sweet coconut.
Ingredients
2 1/4 cup all-purpose flour (stir, spoon, & level)
1 tsp baking powder
1/2 tsp salt
1/2 cup butter, soft/room temperature
1 cup granulated sugar
1/2 cup sweetened shredded coconut
2 large eggs
1 tsp key lime zest
1/4 cup key lime juice
1 tsp coconut extract
1/2 cup powdered sugar
Instructions
Preheat oven to 350 degrees Fahrenheit. Line baking sheets with silicone mats or parchment paper.
Whisk together the flour, baking powder and salt in a bowl. Set aside.
Using a stand mixer with the paddle attachment, cream the butter, sugar, and shredded coconut until light and fluffy.
Add the eggs, one at a time, mixing well after each addition. Add the key lime zest, juice, and coconut extract. Mix to combine.
On low speed, gradually add the flour mixture, and mix until just combined. Dough will be thick and slightly sticky.
Place powdered sugar in a small bowl. Using a small cookie scoop (#40 scoop; about 1 1/2 - 1 3/4 Tbsp of dough), spoon the cookie dough into a ball and drop it into the powdered sugar. Roll it around until coated completely and place it on the prepared baking sheet. Repeat process placing cookies about 2-inches apart.
Bake at 350˚F for 9-11 minutes. Until cookies are puffy and the edges are firm to the touch. Cool several minutes on the pan, then transfer to a wire rack to cool completely. Store cookies in an airtight container.
Recommended Products
As an Amazon Associate and member of other affiliate programs, I earn from qualifying purchases.