Coconut Key Lime Macaroons
This post may contain affiliate links, meaning that I may receive a commission at no cost to you if you use a link provided. All opinions shared are my own. You can review my full disclosure policy here.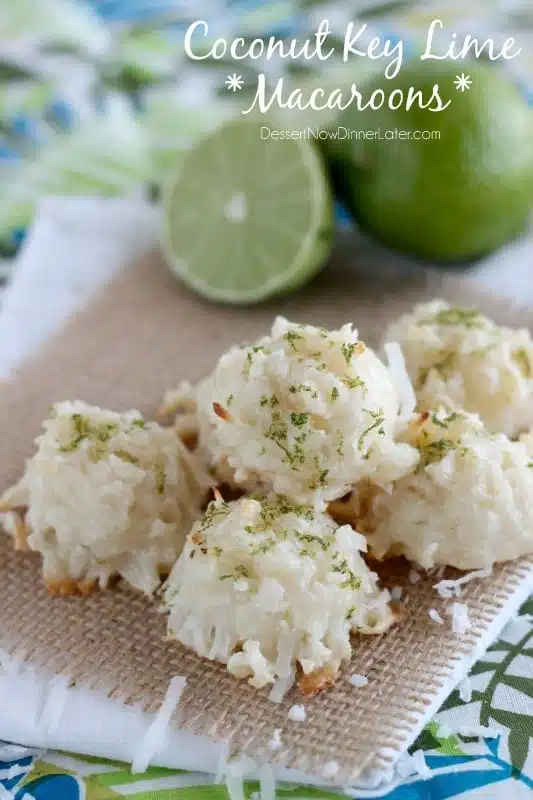 So I let you all have a little break since I last posted about my lime addiction. Remember how I shared some Key Lime Pie Ice Cream and Key Lime Poke Cake? DELICIOUS! Today's recipe for Coconut Key Lime Macaroons is mind blowing! Like, my friend Jessica at A Kitchen Addiction posted these Coconut Lime Macaroons to her site, and it was like our souls united! You all know I love lime, but Coconut-Lime is like the perfect pair! Try my Frozen Coconut Limeade and tell me it's not the best flavor combination in the whole world!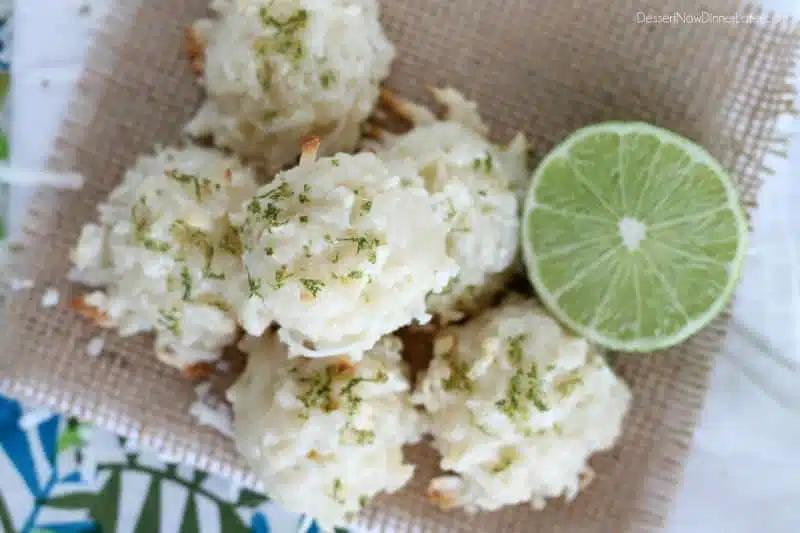 I am crazy in love with these cookies! They were everything I hoped they would be! Sweet and coconutty with the perfect tang of key lime! My husband took the leftovers to work, because I taste everything and then send it out of our house so I don't get fat, and EVERYONE raved about them! I think he mentioned someone saying they were, "the best cookies" they had ever eaten! I can definitely attest to the fact that they are top notch! As much as I love coconut-lime creations, I do love a good caramel pretzel chocolate chip cookie, but these are my favorite fruity cookies for sure! These would be the perfect elegant summery dessert for a baby shower or party, or anything for that matter. Make up an excuse to make these!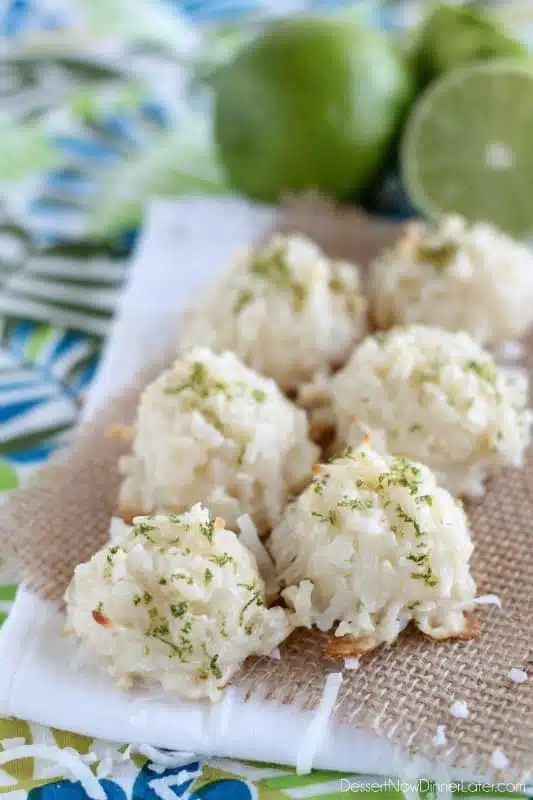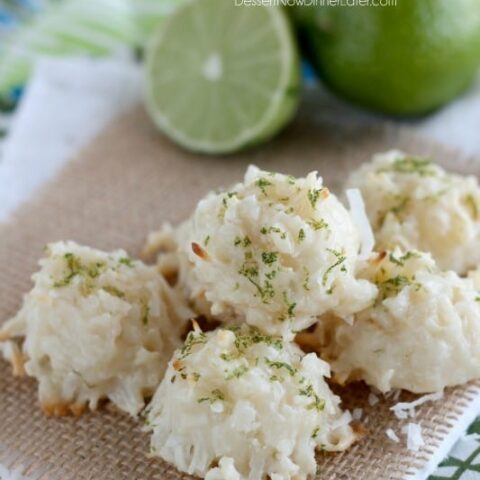 Coconut Key Lime Macaroons
Ingredients
3 1/2 cups sweetened coconut flakes
1/4 cup flour
1/8 tsp salt
2 Tbsp lime zest, divided
3 Tbsp key lime juice, (Nellie & Joe's)
1 (14oz) can sweetened condensed milk
Instructions
Combine sweetened coconut flakes, flour, salt and 1 Tbsp lime zest in a bowl. Mix thoroughly.
Add key lime juice and sweetened condensed milk. Mix well with a spatula.
Using a #50 scoop (about 1½ Tbsp), scoop cookie dough balls onto a greased or lined baking sheet. Sprinkle the tops of the raw macaroons with the remaining zest on top.
Bake at 350*F for 12-15 minutes or until the edges and bottom of the cookies are browned. Allow to cool completely. Enjoy!
Nutrition Information:
Amount Per Serving:
Unsaturated Fat: 0g