Peaches and Cream Dessert
This post may contain affiliate links, meaning that I may receive a commission at no cost to you if you use a link provided. All opinions shared are my own. You can review my full disclosure policy here.
This Peaches and Cream Dessert (aka Peach Delight) has a pecan shortbread crust, no-bake cheesecake filling, and fresh peach layer on top. It's a delicious light and fruity summer dessert.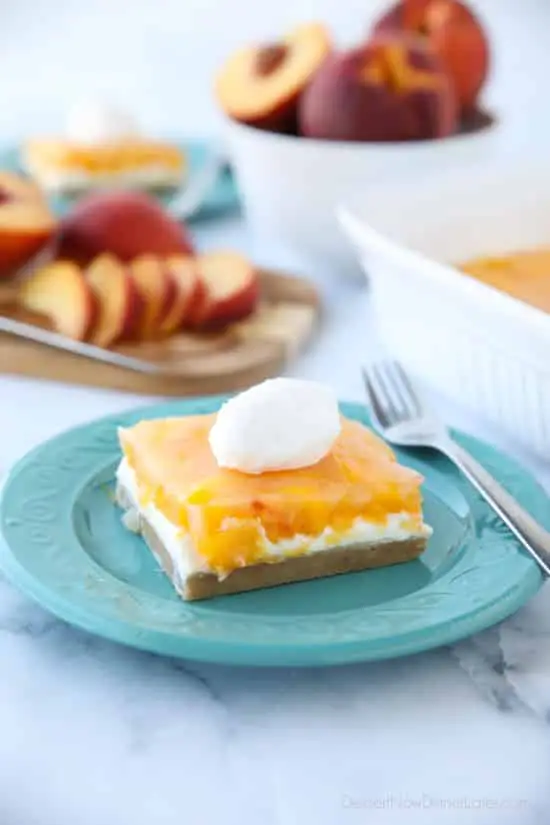 Peaches and cream is a delicious duo for desserts. I love it in my Peaches and Cream Cobbler too. These peaches and cream dessert bars are perfect for those summer potlucks and parties, and it can be made ahead of time.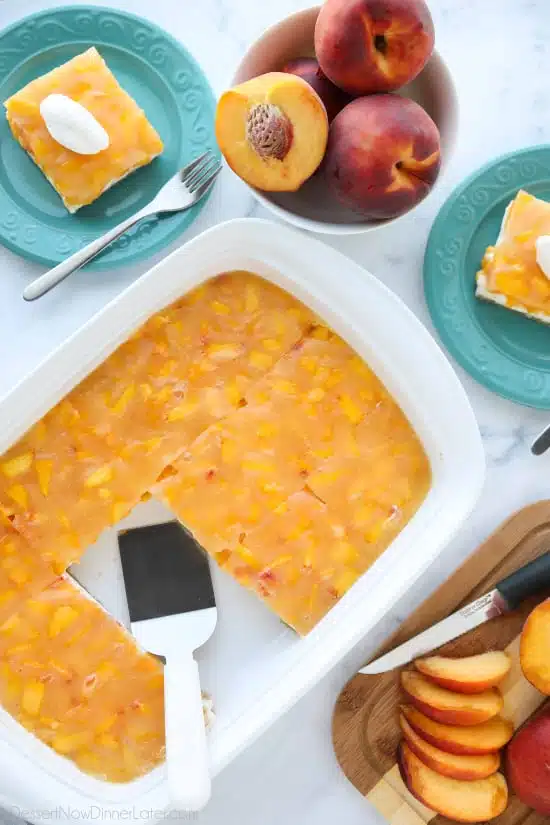 Peaches and Cream Dessert
A delicious, nutty, pecan shortbread crust is baked and topped with an easy no-bake cheesecake filling.
Real, fresh peaches are peeled and diced, then tossed in sugar and lemon juice and set in a colander over a bowl to catch the juices. The juices are thickened with cornstarch and gelatin to create a fruity top layer that allows for perfectly sliced dessert squares.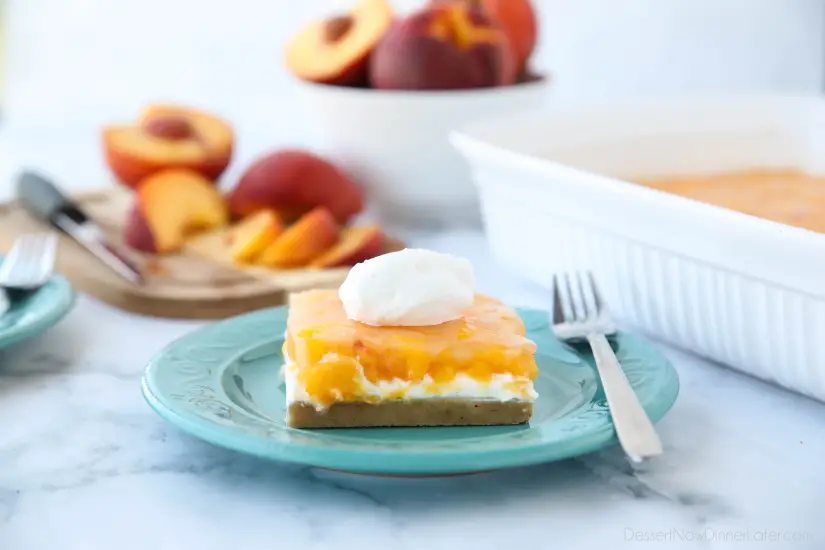 This peaches and cream dessert is lightly sweet, creamy, and fruity, with a rich golden crust. The layers are delicious and blend well together.
To make this dessert completely no-bake, just refrigerate the crust instead of baking it. Serve it up with some whipped cream and it will be eaten in a flash.
More Peach Desserts:
– Fresh Peach Pie – This Fresh Peach Pie has a no-bake filling that uses fresh, uncooked peaches and a simple homemade glaze inside of a crisp pie crust. A great recipe for fresh peaches!
– Peach Crumb Bars – These Peach Crumb Bars are made with fresh summer peaches, sandwiched between a sweet buttery crust and crumb topping, with a hint of cinnamon, and are drizzled with a fresh almond (or vanilla) glaze. The most delicious summer dessert!
– Blackberry Peach Crisp – Combine summer fruits in this delicious crisp with an oatmeal crumb topping.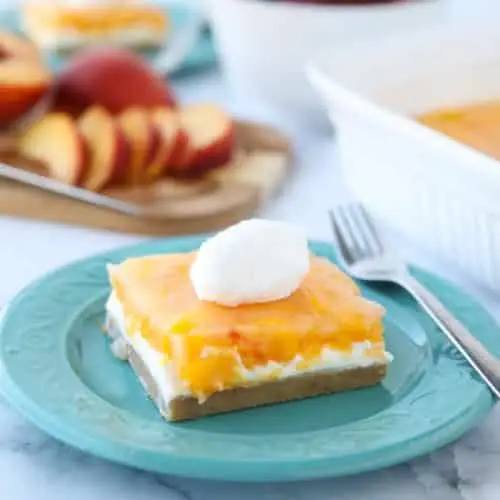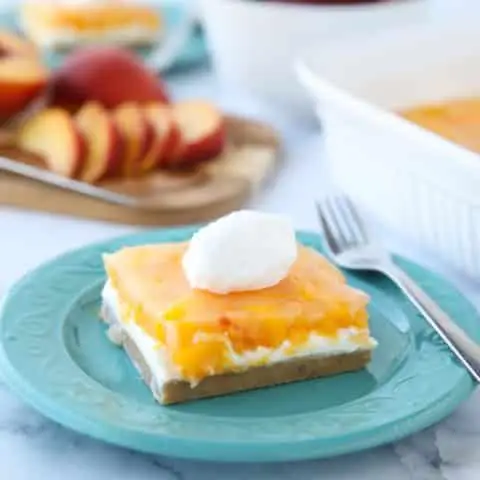 Peaches and Cream Dessert
Prep Time: 30 minutes
Cook Time: 10 minutes
Chill Time: 4 hours
Total Time: 4 hours 40 minutes
Yield: 15 servings
This Peaches and Cream Dessert has a pecan shortbread crust, no-bake cheesecake filling, and fresh peach layer on top.
Ingredients
Peach Layer:
2 1/2 lbs fresh peaches (about 7 small or 5 large peaches; 4 1/2 cups peeled and sliced)
1 cup granulated sugar
1 Tbsp lemon juice
2 Tbsp cornstarch
1 (.25 oz) packet unflavored gelatin* (see notes)
1/4-1/2 tsp almond extract
pinch of salt
Crust:
1 (11.3 oz) package pecan shortbread cookies
6 Tbsp butter* (see notes)
Cream Cheese Layer:
1 (8 oz) brick cream cheese, softened
1 cup powdered sugar
1/2 (8 oz) tub frozen whipped topping, thawed (about 1 1/2 cups)
Instructions
PEACH LAYER: Peel, slice, and dice peaches; be sure to remove and discard the core. Toss diced peaches with the sugar and lemon juice. Place peaches in a large colander and then rest the colander inside of a big bowl to catch the peach juices. Allow 30 minutes for juices to release from fruit.
CRUST: Crush cookies with a food processor or blender until fine crumbs. Melt butter and mix with crumbs. Press into the bottom of an un-greased 9x13-inch baking dish. Bake at 350˚F for 10-12 minutes or until lightly golden brown. Cool completely. (See notes for a no-bake crust.)
CREAM CHEESE LAYER: In a large bowl, beat cream cheese and powdered sugar with an electric mixer until smooth. Beat in the whipped topping until blended. Spread over cooled crust and chill in the refrigerator.
Measure 1 cup of juice from the drained peaches. If not enough, add water to reach 1 cup. Whisk the cornstarch and gelatin in a small saucepan. Whisk in the peach juice and cook over medium heat until boiling and slightly thickened, whisking constantly. Remove from heat. Add almond extract, and a pinch of salt. Whisk to combine. Cool to room temperature, stirring occasionally, so it doesn't set up inside the pan.
Scoop and arrange the peaches on top of the cream cheese layer. Gently pour the cooled juice mixture over the peaches and refrigerate 4+ hours or overnight.
Cut into squares and serve with extra whipped topping, if desired. Keep leftovers refrigerated.
Notes
* You can substitute a small (3oz) box of peach gelatin for unflavored gelatin, if you can find it. Just reduce the sugar on the peaches by 1/4 cup.
*For a No-Bake Crust, start with 4 Tbsp of melted butter with the cookie crumbs (about 2 1/4 cup crumbs). You want just enough butter to bind the crust without it being too wet or too dry.