Blackberry Peach Crisp
This post may contain affiliate links, meaning that I may receive a commission at no cost to you if you use a link provided. All opinions shared are my own. You can review my full disclosure policy here.
This blackberry peach crisp uses frozen fruit and pantry ingredients to create a delicious warm dessert!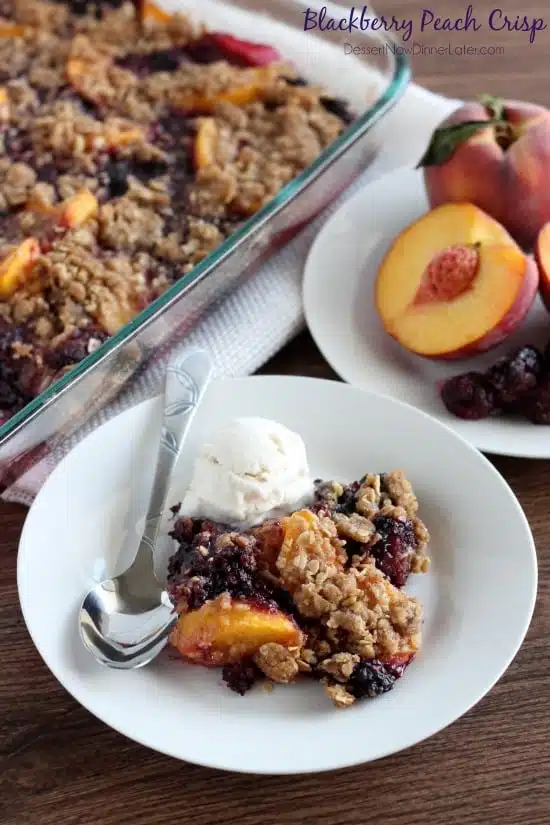 I've had a bunch of frozen fruit stocked up in my freezer and I knew I wanted to do something with it (besides making smoothies), so I polled you all on facebook to see if you wanted to see a fruit pie, cobbler, or crisp and the majority of you voted CRISP! So, I introduce you to this Blackberry Peach Crisp! A new favorite combo of mine with blackberries and peaches. It brings the tart blackberries together with the sweet peaches, and with the crunchy crisp topping, it's so perfect!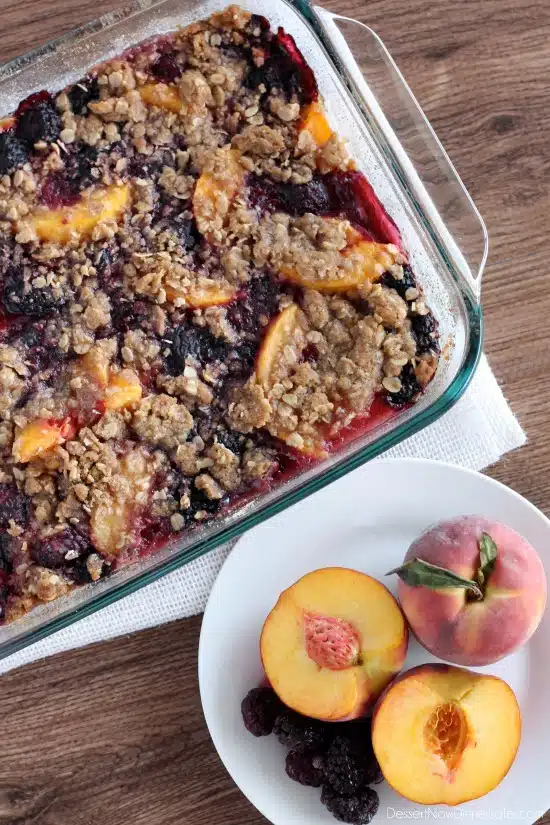 Obviously you can go for fresh, or canned fruit, but I had frozen on hand, which I love using for pies and things like this. I'll be honest, I was a little bummed when only like one person voted for pie. What's up with that?! Ok, I get it! Pie crust is "scary" or whatever, and a crumbled topping like this one is easier to manage. No worries, I like crisps too!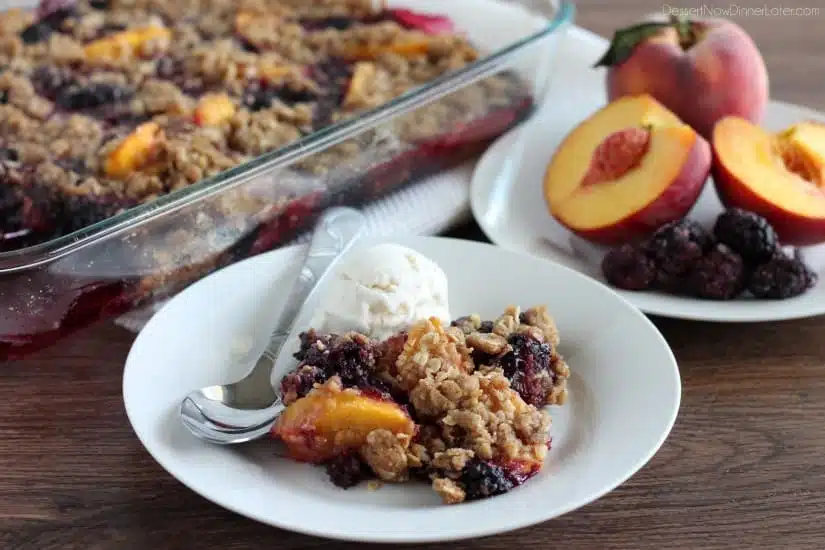 My favorite part about this dessert is eating it hot out of the oven with cold melty ice cream on top. I consider a warm dessert with cold ice cream on top, one of the best dessert pleasures out there! The crisp topping with the tender fruit is just – perfection!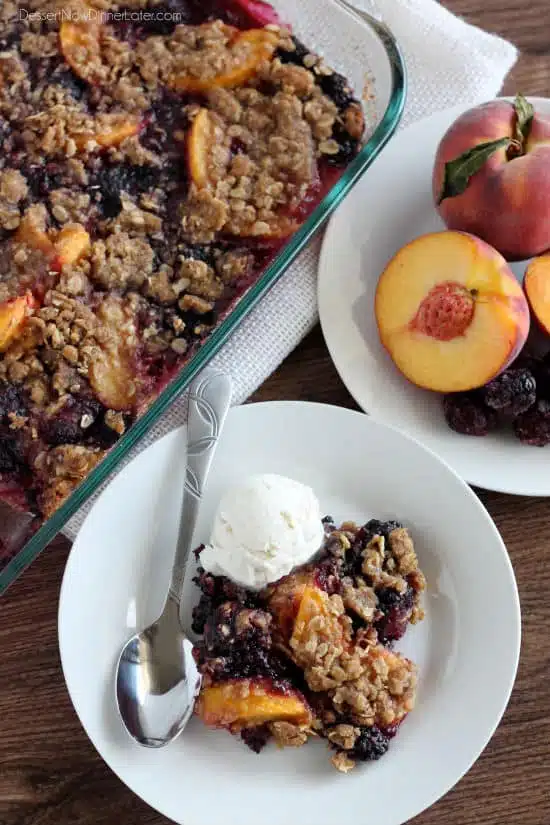 If you are like one of my friends who hates warm fruit (what the?!) just come back another day, because I am basking in this heavenly dessert! I really like the pop of orange from the peaches amongst the dark purple blackberries too; it's pretty and delicious! I hope you love it as much as we do!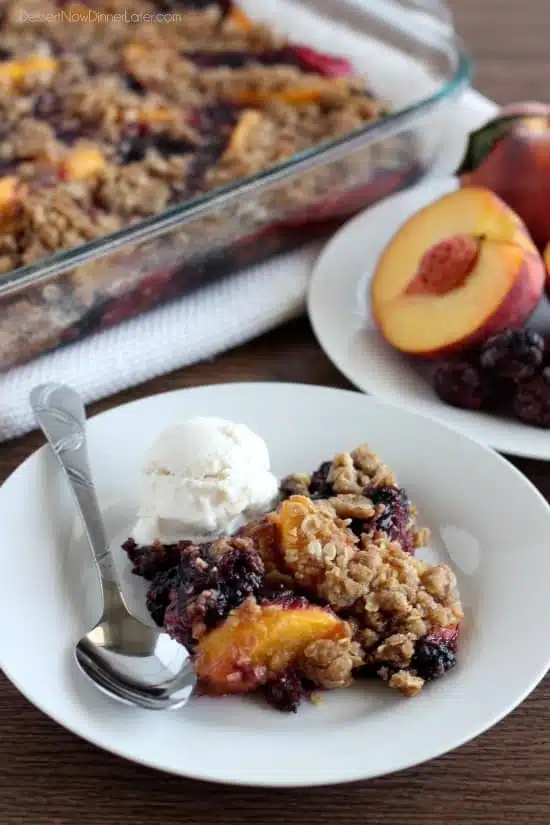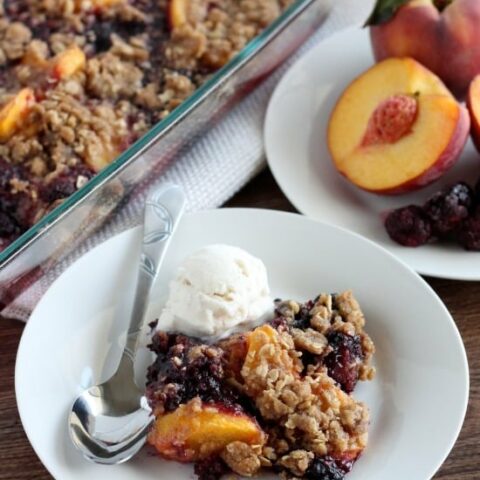 Blackberry Peach Crisp
Ingredients
1 lb or about 2 1/4 cups frozen peach slices
1 lb or about 3 cups frozen blackberries
1/2 cup granulated sugar
5 Tbsp cornstarch
6 Tbsp unsalted butter, cold
1/2 cup brown sugar
1/2 cup old-fashioned whole-rolled oats (not quick cook or instant)
1/2 cup all-purpose flour
1 tsp cinnamon
pinch of salt, optional
Instructions
Preheat oven to 350 degrees Fahrenheit. Spray a 13x9-inch glass baking dish with cooking spray; set aside.
In a large bowl, add the peaches, blackberries, ½ cup granulated sugar, and cornstarch. Toss gently to combine; there will still be sugar/cornstarch that won't stick to the fruit and that's okay. Pour fruit into the prepared baking dish and sprinkle any extra sugar/cornstarch mixture over the top.
In a separate large bowl, add the butter, brown sugar, oats, flour, cinnamon, and optional salt. Using a pastry blender, two forks, or your hands, cut the butter into the dry ingredients until small pea-sized clumps form and some sandy bits form.
Sprinkle the crumble mixture over the fruit and bake for 45 to 48 minutes or until the fruit is bubbling around the edges and center and the crisp on top has browned. Serve warm with vanilla bean ice cream if desired.
Nutrition Information:
Yield: 8
Amount Per Serving:
Unsaturated Fat: 0g