Tropical Overnight Oats
This post may contain affiliate links, meaning that I may receive a commission at no cost to you if you use a link provided. All opinions shared are my own. You can review my full disclosure policy here.
These Tropical Overnight Oats have Silk Almond Coconut Blend, oats, yogurt, and chia seeds. Refrigerate overnight, add some kiwi and pineapple and you have got a tropical breakfast or snack!
This is a sponsored conversation written by me on behalf of Silk. The opinions and text are all mine.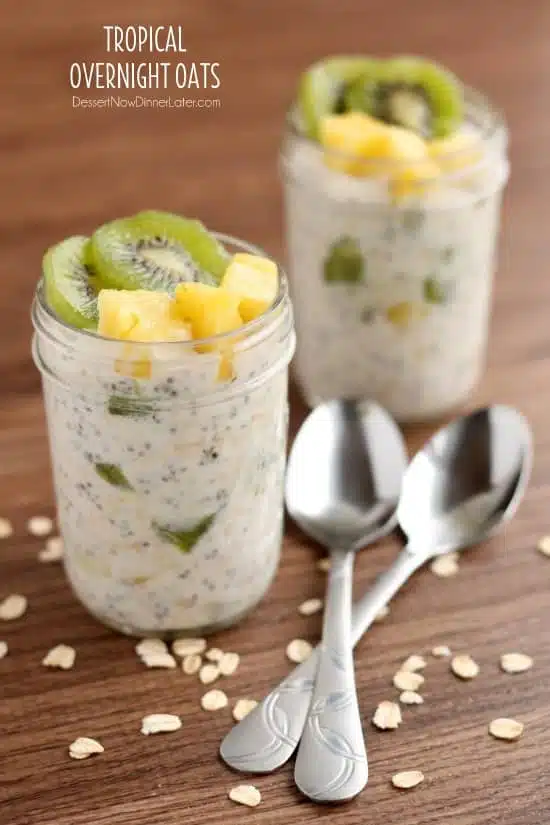 If you read my blog on a regular basis, then you know that I have been participating in a 6 week health challenge. It has seriously made me feel so good to have cleaned up my diet and eat much healthier things. One new thing I tried during my challenge, is Silk Almond Milk. I am not positive, but I think I might be slightly affected by lactose because whenever I have milk, my stomach hurts (it's just with milk, weird, I know). The Silk almond milk has been a great alternative, and I really love the thick texture of it in my cereal. It has 50% more calcium than regular milk, which is great! Plus, my stomach doesn't hurt after I drink it!
I recently got the chance to try this NEW Silk Almond Coconut Blend, and I like it a lot! I have loved using it in my cereal or with a banana, plain greek yogurt, and frozen fruit for a super creamy smoothie. One of my favorite things about Silk milks is that they are low in calories, which really helps when I am counting calories for a health challenge. I am confident that when my challenge is over, I will still be using this Silk milk on a regular basis because it's just a great, healthy product. I have also tried some new breakfast ideas using almond milk like these overnight oats. They are simple to prep and you can add anything in them.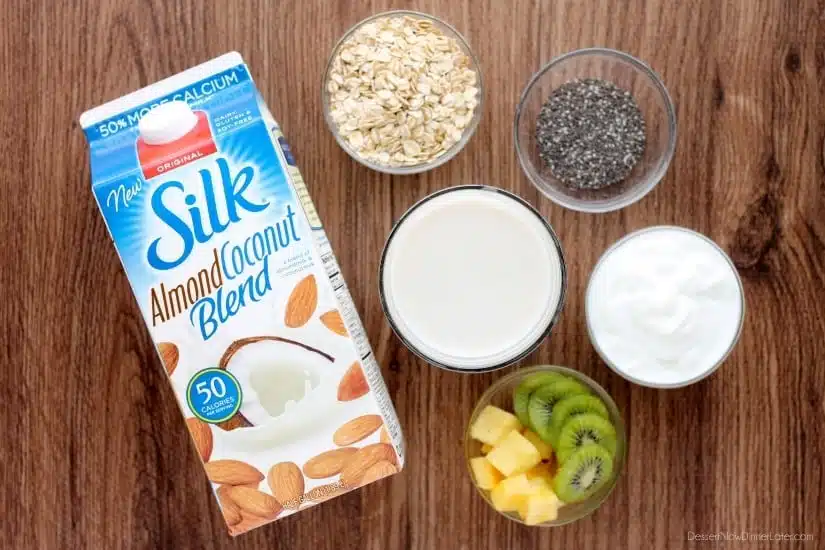 You basically take 1/2 cup old fashioned oats, 1/2 cup vanilla greek yogurt, 1 Tbsp Chia seeds, and 2/3 cup Silk Almond Coconut Blend. Then you stir it up, put it in jars and let it refrigerate overnight for 8 hours.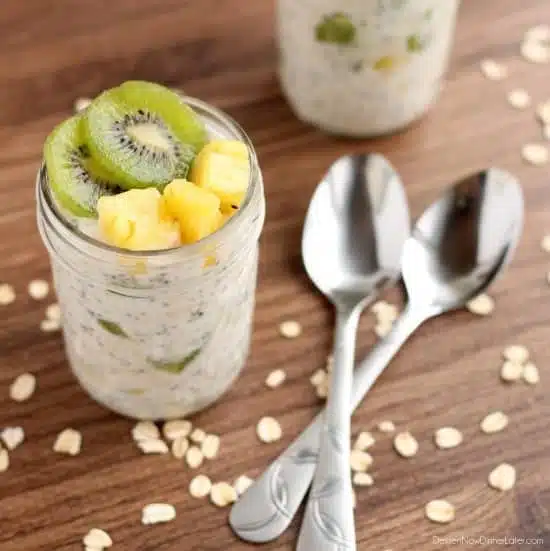 Then in the morning you add fruit and eat! For this particular recipe, I wanted to go tropical with the flavors of coconut from the Silk Almond Coconut Blend, so I added kiwis and fresh pineapple chunks. My husband absolutely loved the combo!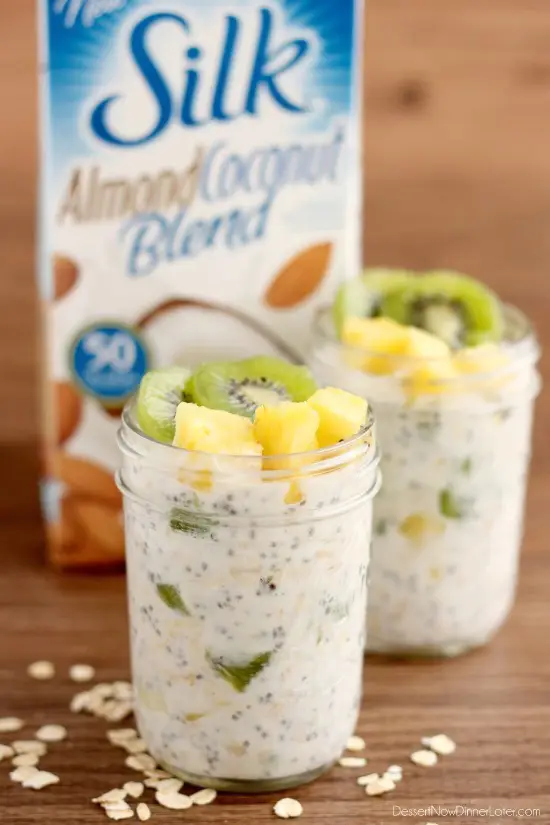 These overnight oats work great as afternoon snacks too, especially if you divide the recipe into two jars, each jar is only 201 calories! (Based off of inputting the recipe into MyFitnessPal.com) It's always great to have something healthy on hand ready to go!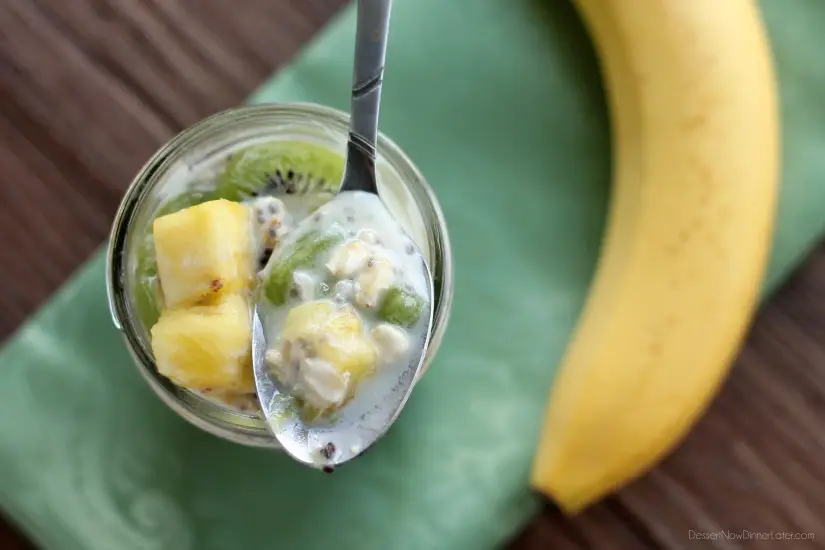 It took me a couple times to get used to eating cold oats, but they are soft and chewy and filling. I think you will love this recipe! And if you don't try the recipe, still try this Silk Almond Coconut Blend because it tastes great on my protein packed (Kashi) cereal! I love this milk!
Right now you can enter to win a coupon to try Silk Almond Coconut Blend or Silk Almondmilk Protein + Fiber for free on Silk's Facebook Page or you can sign up here and get an instant member coupon. It's definitely worth a taste!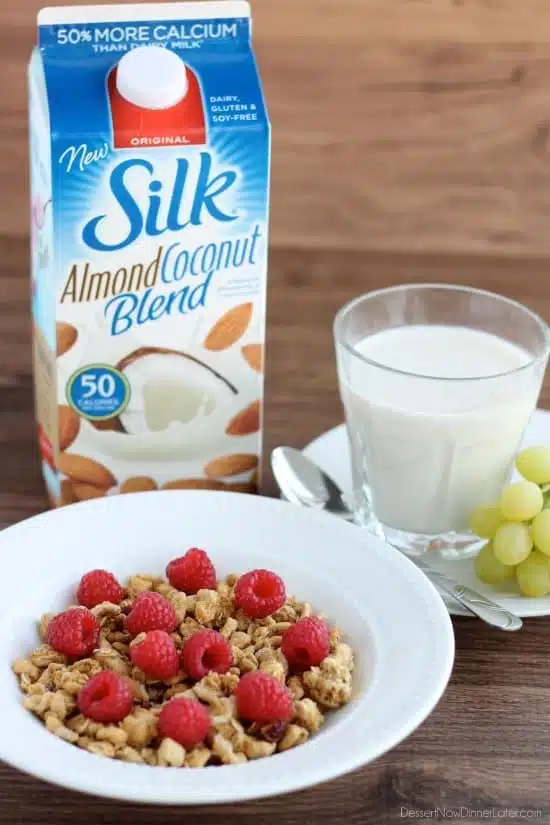 This is a sponsored conversation written by me on behalf of Silk. The opinions and text are all mine.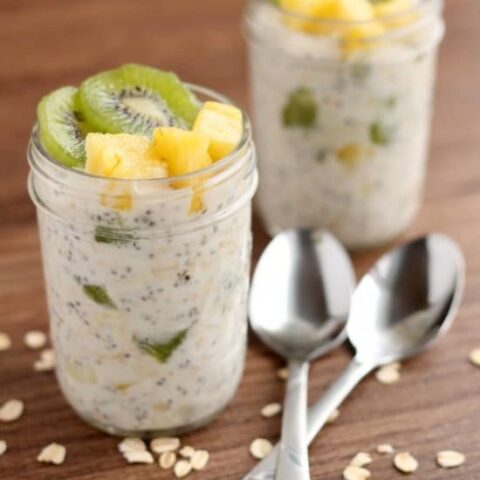 Tropical Overnight Oats
Ingredients
1/2 cup old fashioned oats
1/2 cup Oikos Vanilla Greek Yogurt
1 Tbsp Chia Seeds
2/3 cup Silk Almond Coconut Blend
1 kiwi, peeled and diced
1/4 cup fresh diced pineapple
Instructions
Combine oats, greek yogurt, chia seeds and Silk Almond Coconut Blend. Divide into 2 half pint mason jars. Cover and refrigerate overnight.
Divide the fruit in half and add to each mason jar. Enjoy! Can refrigerate up to 3 days.
Nutrition Information:
Yield: 2
Amount Per Serving:
Unsaturated Fat: 0g