Tropical Green Smoothie
This post may contain affiliate links, meaning that I may receive a commission at no cost to you if you use a link provided. All opinions shared are my own. You can review my full disclosure policy here.
This Tropical Green Smoothie uses tender spinach leaves, plain non-fat greek yogurt, and frozen fruit for a naturally sweet smoothie that's great for breakfast or a snack!
I was provided with a Blendtec blender to review and use to create this post. All opinions and text are 100% mine.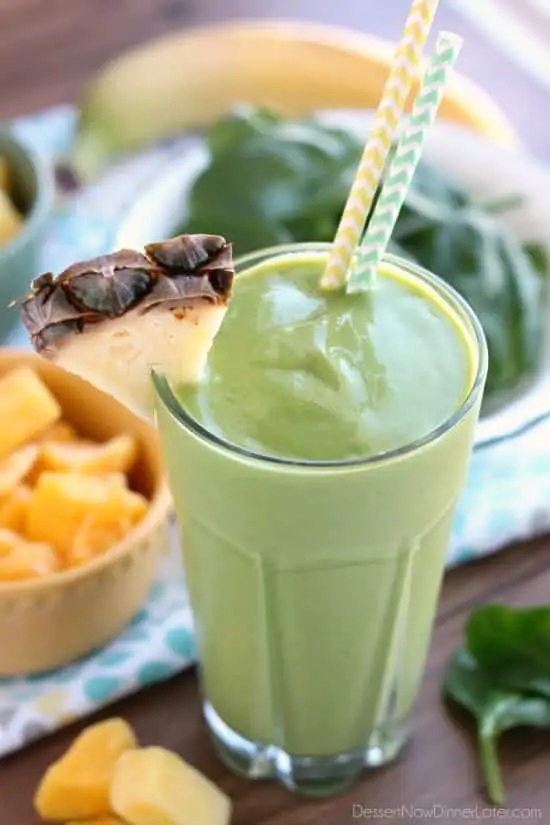 If you follow me on instagram, then you know that I received my dream blender in the mail at the end of last month! Once that box was opened and the Blendtec cleaned, I haven't been able to stop creating recipes since! This week, you are going to get 4 recipes that I have made with my Blendtec Designer 675 and Twister Jar! Today's recipe is a smoothie because, well, I have a smoothie every morning for breakfast, and now I can use A LOT more frozen fruit for a Jamba Juice type of texture! That's the way smoothies ought to be!
My Blendtec has a permanent spot on my countertop with the Wildside+ Jar. 🙂 The Twister Jar sits in the cupboard above for easy access, because I use that one a lot already too! You can make a smoothie in either of these jars. The bonus to the Twister Jar is that it has a fun Twister Lid that twists as you blend, scraping the sides, so thicker items like nut butters, hummus, etc. can be easily made without having to constantly stop the machine and scrape down the sides. It also has a Mini Gripper™ lid for containing thinner blends.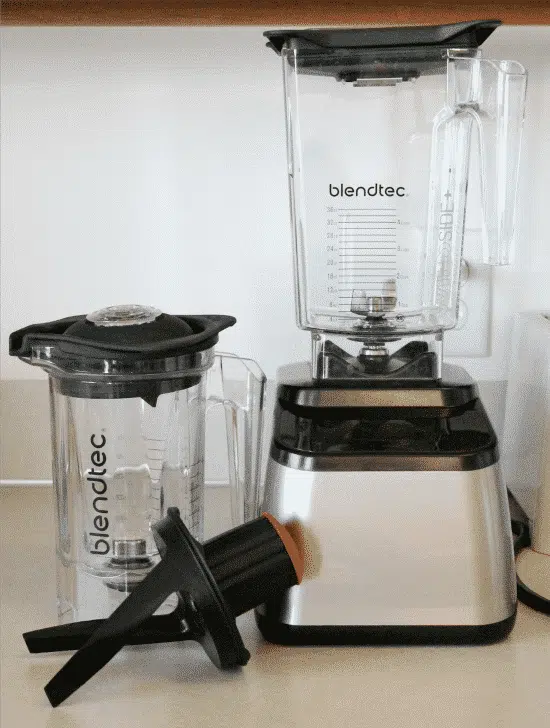 This Designer 675 Blendtec blender has an illuminated touch interface with 5 preprogrammed cycles: Smoothie, Frozen Treats, Whole Juice, Hot Soup, and Clean. There's also an 8-speed capacitive touch slider, Pulse, and "Add 10" option. The illuminated display indicates the remaining blend time and total blend cycle count when you have just turned the machine on or selected a cycle. Believe me, you want this 1675 watt, 3.8 peak horsepower motored Blendtec blender, so I'm giving one away! After you're done reading, enter the giveaway at the bottom of this post.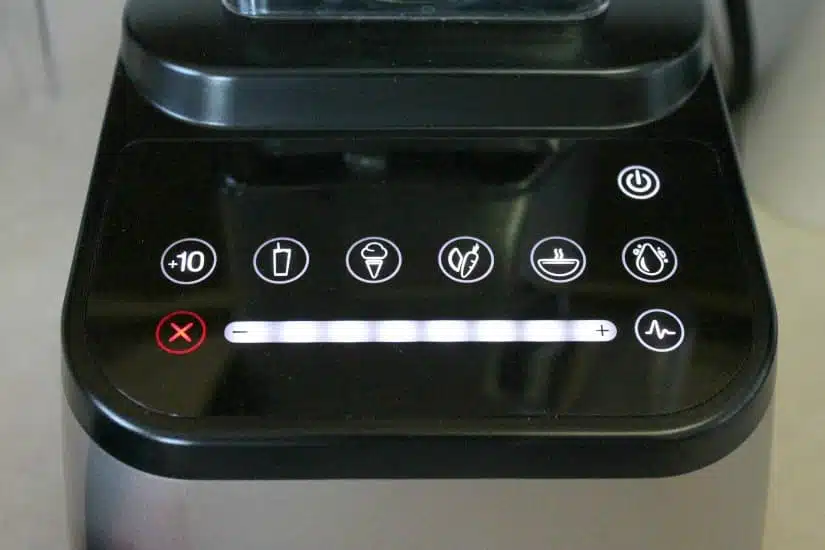 Back to this smoothie! This Tropical Green Smoothie uses tender spinach leaves, plain non-fat greek yogurt, and frozen fruit for a naturally sweet smoothie that's great for breakfast or a snack! It's January, many of you have health goals (if you haven't fallen off the wagon yet), so the recipes I will be sharing with the Blendtec this week are all on the "healthier" side of things.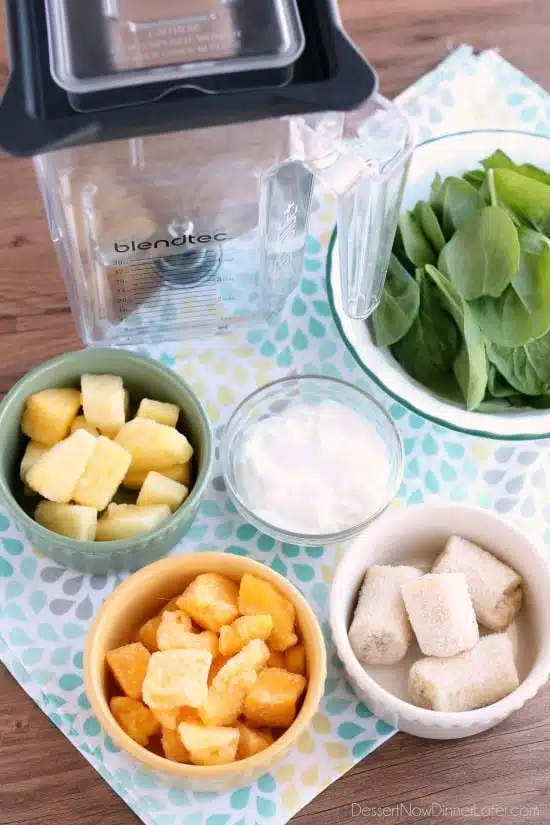 When you load the Blendtec Wildside+ Jar you want to do your liquids first, in this case I used water. You don't need juice to sweeten this smoothie, the fruits do that. Then add your softer ingredients, in this case yogurt and spinach. Lastly, you add your frozen or whole ingredients. This just helps things blend the best and you get the most life out of your Blendtec blender. Stick the lid on, hit the smoothie button and 40 seconds later you have this: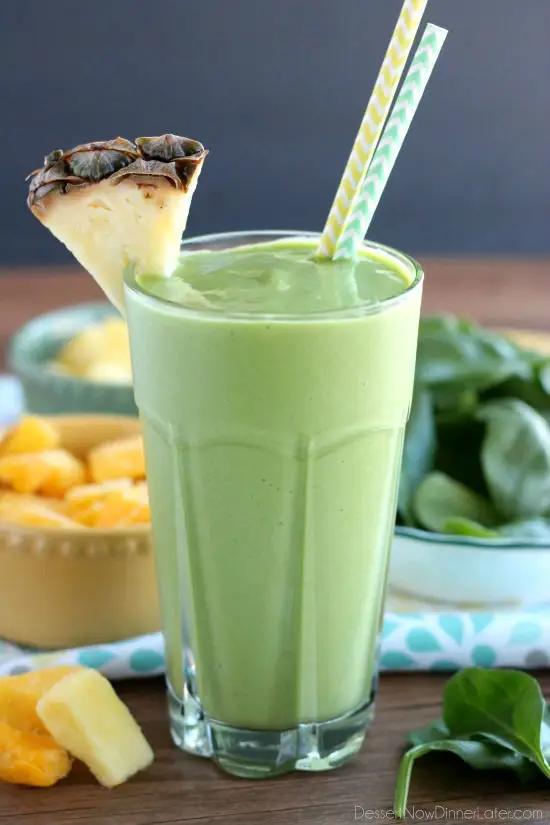 A super smooth, green smoothie with no spinach chunks hiding in there! This is a drink both of my children fight over!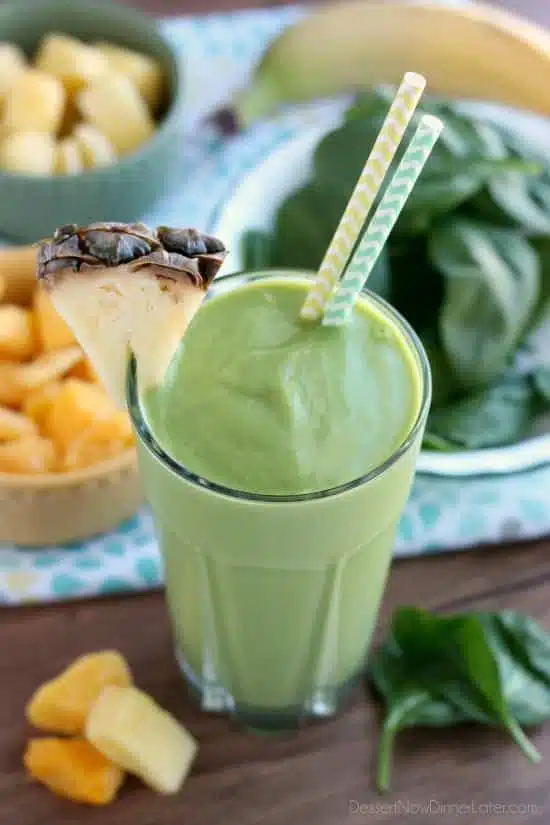 And they know it has spinach in it, but they guzzle it up anyway! We have a hard time getting our greens in, but if we can drink them, it's much easier! 😉 Grab the recipe below: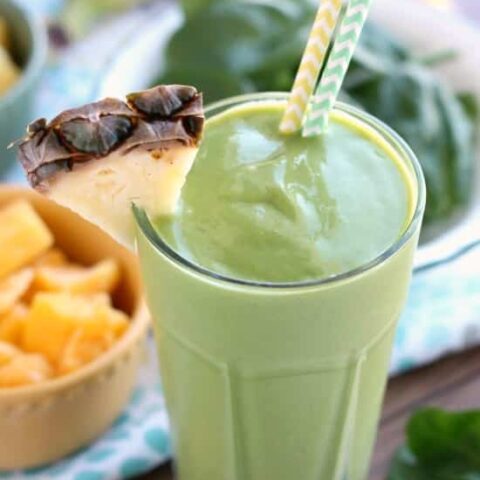 Tropical Green Smoothie
Ingredients
4 oz (1/2 cup) cold water
1/4 cup non-fat plain greek yogurt
1 generous handful of spinach (about 1 cup, packed)
1 cup frozen mango chunks
1 cup frozen pineapple chunks
1 frozen banana
Instructions
Load ingredients into the Wildside+ Jar in the order listed above. Securely place lid on top.
Press the smoothie button and blend away (medium-high for 40 seconds).
Pour smoothie into a cup, add a straw, and enjoy!
Nutrition Information:
Yield: 1
Amount Per Serving:
Unsaturated Fat: 0g