Peppermint Patty Mini Cookie Sandwiches
This post may contain affiliate links, meaning that I may receive a commission at no cost to you if you use a link provided. All opinions shared are my own. You can review my full disclosure policy here.
Peppermint Patty Mini Cookie Sandwiches use YORK MINIS between two dark chocolate cookies for the ultimate dark chocolate and peppermint cookie.
This post brought to you by Hershey's®. All opinions are 100% mine.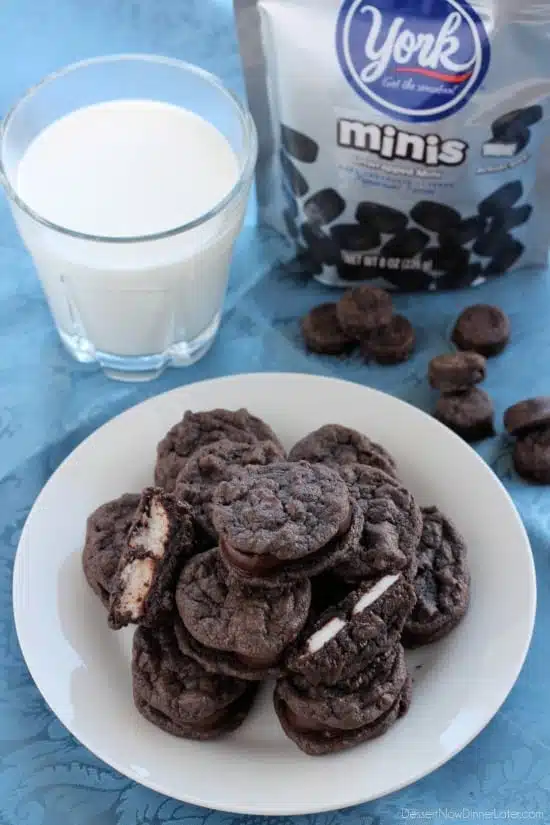 Are ya'll dark chocolate fans like I am? I haven't always been, but now, I will pretty much take chocolate any way I can get it! Haha. Dark chocolate is such a rich, deep color that it makes my mouth water just looking at it! And peppermint goes great with chocolate, so it was time to make these Peppermint Patty Mini Sandwich Cookies! Soft and chewy, dark chocolate cookies, with mini chocolate chips, sandwiched between 2 YORK MINIS. These cookie sandwiches are put together while the cookie is still warm, so that they stick together and get all melty and delicious!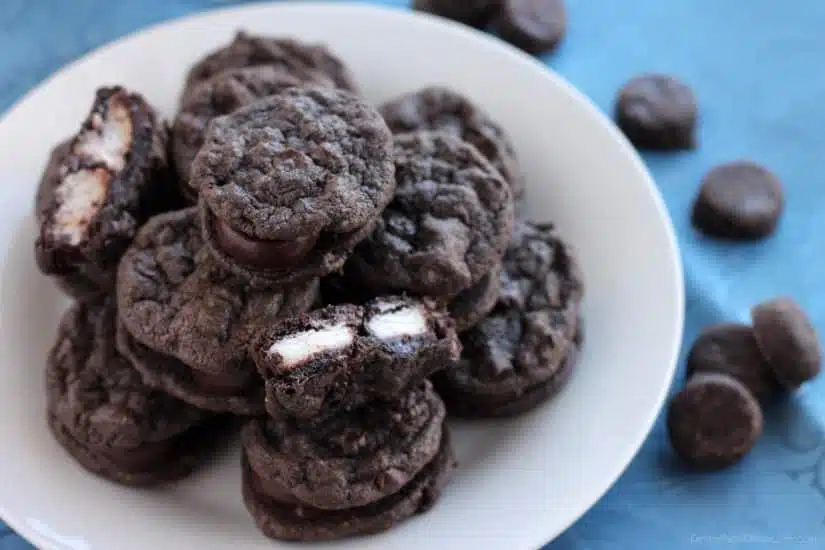 There is just something refreshing about the chocolate and peppermint combo; it just satisfies! I love it! One thing I love almost as much as chocolate, is a good deal, especially coupons! I use them for most restaurants we eat at, and I love a good product coupon too. Right now you can save on all of your Hershey's® candies! YORK MINIS are available for $1 off any two-product purchase. Get your YORK MINIS and get the sensation you love — now bite-sized!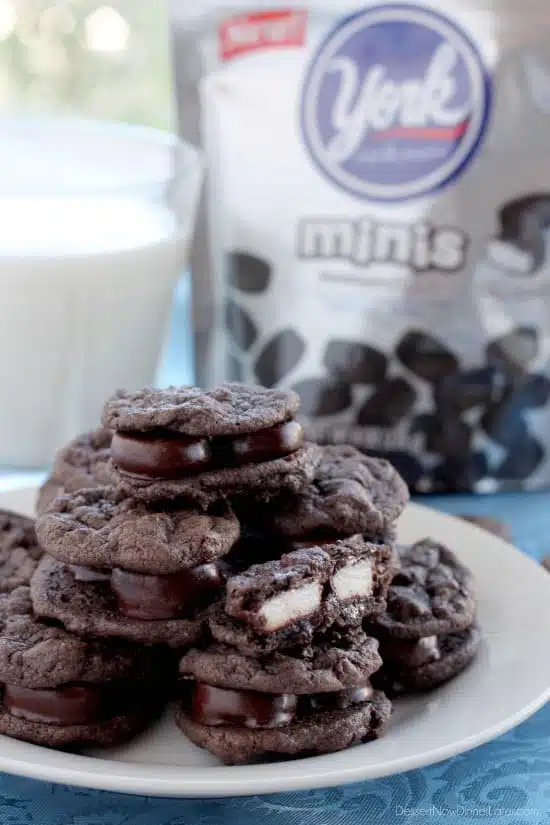 And after you pick up your YORK MINIS, bring them home and make these cookies, ASAP! I just love a mini dessert! They're so cute, and you are going to love these peppermint patty mini cookie sandwiches!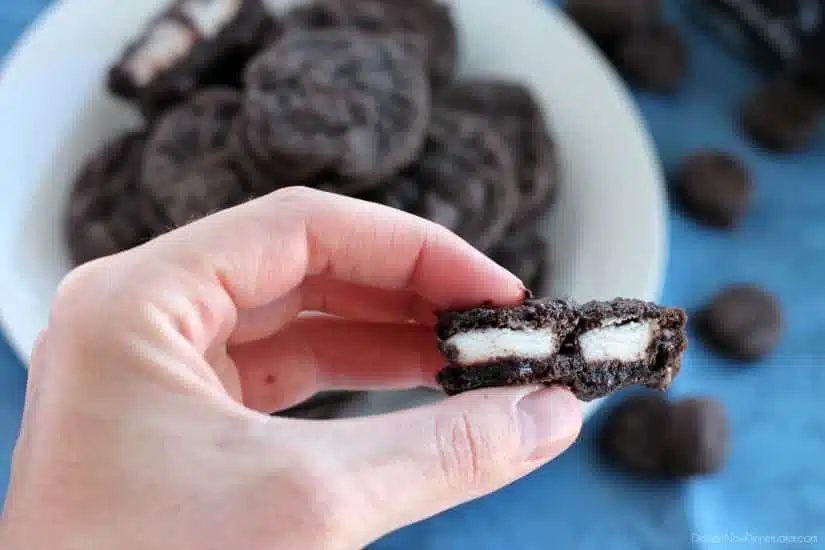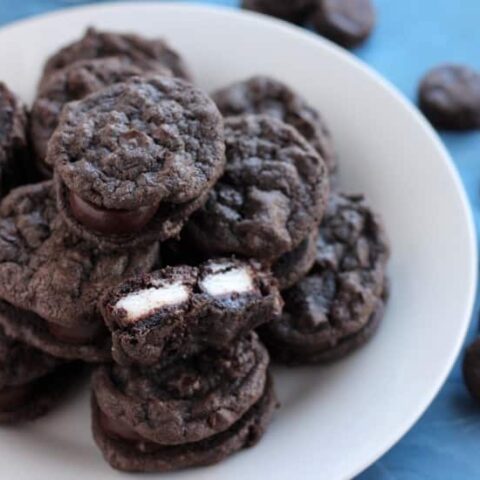 Peppermint Patty Mini Cookie Sandwiches
Ingredients
1/2 cup unsalted butter, room temperature
1/4 cup plus 2 Tbsp light brown sugar
1/4 cup plus 2 Tbsp granulated sugar
1 tsp vanilla
1 egg
1 1/4 cup flour
3 Tbsp Hershey's Special Dark Cocoa Powder
1/2 tsp baking soda
1/2 tsp salt
1 cup mini semi-sweet chocolate chips
1 (8oz) package YORK MINIS (about 40 candies)
Instructions
Preheat oven to 350 degrees Fahrenheit.
In the bowl of a stand mixer, cream together the butter and both sugars until light and fluffy. Add vanilla and egg and mix until smooth, scraping the bowl as necessary.
In a separate bowl, sift together the flour, cocoa, baking soda and salt. Gradually add the flour mixture to the butter mixture until incorporated. Fold in the mini chocolate chips.
Line a baking sheet with parchment paper. Spoon 1 tsp sized cookie dough balls onto tray, about 2-inches apart.
Bake 7 minutes or until puffed and just set.
Let cookies cool for 1 to 2 minutes on the baking sheet, then place 2 YORK MINIS in between 2 warm cookies. Place cookie sandwich on a wire rack to continue cooling. Repeat with remaining cookies. Gently press cookies together as the chocolate melts, helping the cookies stick to the peppermint patties. Enjoy!
Nutrition Information:
Yield: 20
Amount Per Serving:
Unsaturated Fat: 0g